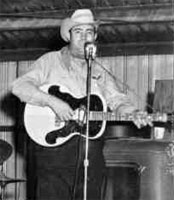 Chanteur Country US né Donald Ray Walser, le 14 Septembre 1934 à Brownfield (Texas). Don Walser est décédé le 20 Septembre 2006.

Even in Texas folk and country music circles, singer and guitarist Don Walser is regarded as unique. The songs Walser specializes in aren't exactly current; he sings classic old Western swing tunes. In a sense, he's a man on a mission: keeping the old Texas country songs alive. Songs like "Cowpoke," "Tumbling Tumbleweeds," and "Mexicali Rose" are signature tunes for Walser, who is also one of the country's premier yodelers. Songs penned and popularized by Bob Wills, the Sons of the Pioneers, Hank Williams, Faron Young, Merle Travis, and Johnny Horton are all part and parcel of what you're likely to hear in the course of a typical Walser show.
Walser's mother died when he was 12 and his father worked nights, so to keep himself company, he listened to the radio in his childhood home of LaMesa in West Texas. He formed his first band at 16, and a year later, he was playing the few clubs and roadhouses around LaMesa. At the same time Walser was playing country music, a west Texas neighbor of his, Buddy Holly, was raising the roofs at local roadhouses playing rock & roll. As rock & roll came into fashion in the late '50s, Walser and other country musicians were nearly run out of business.
With the rise of rock & roll, Walser put his budding music career on hold in 1957 and joined the National Guard. Through a procession of day jobs with the National Guard, Walser's musical adventures remained an avocation. Most recently, he worked as an internal auditor for the state Adjutant General's office in Austin. But through the 39 years with the National Guard, he always played music with various bands, mostly as a hobby. He retired in 1994 and picked up where he'd left off in his youth, taking his act on the road full-time.
Walser's albums for Watermelon Records include a few of his originals, like "Rolling Stone from Texas." Many fans are awestruck upon first hearing Walser's unique voice. His albums for Watermelon include Texas Top Hand, Rolling Stone from Texas, and Down at the Sky-Vue Drive-In. Walser tours around Texas and the U.S. with a group called the Pure Country Band, and he's also quick to credit Ray Benson's group, Asleep at the Wheel, with helping to keep old, often obscure Western swing tunes alive. Now in his late sixties, Walser has lived in Austin since 1984, where he's found legions of supportive fans who believe in and understand the "real country" music he performs.
https://en.wikipedia.org/wiki/Don_Walser
Talents : Vocals, Guitar
Style musical : Traditional Country, Alt-Country, Americana, Western Swing, Yodel
Years in activity :
| | | | | | | | | | | | |
| --- | --- | --- | --- | --- | --- | --- | --- | --- | --- | --- | --- |
| 1910 | 20 | 30 | 40 | 50 | 60 | 70 | 80 | 90 | 2000 | 10 | 20 |
DISCOGRAPHY
Singles
| | | | |
| --- | --- | --- | --- |
| 1970 ? | SP MAKKO 2010 (US) | . | You Walk By / You |
| 1973 | SP CAMARO PAG 3520 (US) | . | A Dream Come True / Hot Lips And Red Wine |
| 1975 | SP RORO 45405 (US) | . | Rollin' Stone From Texas / Den Of Lonliness |
| 1997 | CD No Lie Music NL019 (US) | | Live At Emo's, Volume 2-#3 "This Place Sucks" - Supersuckers : Whiskey River / Don Walser & The Pure Texas Band : I'll Hold You In My Heart Until I Can Hold You In My Arms |
Albums
1992
CD PTB CD-1

TEXAS SOUVENIR -

Rolling Stone From Texas / Tomorrow Is A Million Miles Away / Fuzz Dixon / Long Black Veil / Cowpoke / Big Ball In Cowtown / Dixie Blues / She Got Everything But Me / Bouquet Of Roses / Chime Bells / Two Steppin' Lady / Cowboy Ramsey / You / The Yodel Polka / The Hill Country Waltz / Curtain In The Window / Begging To You / All Around Cowboy /. John Deere Tractor / One More Drink (And Then I'll Go) / New Patches (On Old Garments) / Cattle Call / Casting My Lasso
1993
CD WATERMELON WM-1017 (US)

DOWN AT THE SKY - VIEW DRIVE-IN -

Please Help Me I'm Falling / Hot Rod Mercury / Fool Such As I / In My Dear Old Southern Home / Cherokee Maiden / Ramon / Marie / Are You Teasing Me / Hearts Made Of Stone / Devil's Great Grandson / Eye For An Eye / Rose Marie
1994
CD WATERMELON WM-1028 (US)

ROLLING STONE FROM TEXAS -

Rolling Stone From Texas / Don't Worry About Me / Cowpoke / Shot Gun Boogie / That's Why I'm Walking / California Blues / John Deere Tractor Song / I'll Hold You In My Heart / Cowboy Ramsey / Party Don't Start 'Til The Playboys Get Here / Three Days / Down At The Cantina Play
1995
CD WATERMELON WM-1041 (US)

THE ARCHIVE SERIES - VOL. 1 - Don WALSER & The

PURE TEXAS BAND

-

Casting My Lasso / Bouquet Of Roses / Tomorrow Is A Million Miles Away / Chime Bells / Big Ball's In Cowtown / New Patches / September In The Rain / John Deere Tractor Song / Cattle Call / She's Got Everything But Me / Fuzz Dixon / Lonesome 7-7203 / You / Dixie Blues / Cowboy Ramsey / Curtain In The Window / Jersey Bounce
1995
CD WATERMELON WM-1042 (US)

THE ARCHIVE SERIES - VOL. 2 - Don WALSER & The

PURE TEXAS BAND

-

Yodel Polka / Awaiting For A Train / Side Men / Two Stepping Lady / Love Me / Hill Country Waltz / One More Drink / Take Me Back To Tulsa / All Around Cowboy / Shelly's Winter Love / Cowpoke / Long Black Veil / Begging To You / Rolling Stone From Texas / Austin Waltz / Fraulein / Redskin Gal
03/1996
CD WATERMELON CD-1048 (US)

TEXAS TOP HAND -

Texas Top Hand / Tumbling Tumbleweeds / Whose Heart Are You Breaking Now / Wind Me Up / Weary Blues From Waiting / Signposts Of Life / You Walk By / Divorce Me C.O.D. / Whispering Pines / Mexicali Rose / Big Blue Diamonds / Danny Boy
09/1999
CD SIRE 31074-2 (US)

HERE'S TO COUNTRY MUSIC -

Here's To Country Music / Sugar Moon / Arkansas / Tennessee Saturday Night / At The End Of A Long, Lonely Day / My Ride With Jimmy / We Could / Oakie Boogie / It Makes No Difference Now / Polka Dot Blues / Take Off Time / Paper Rosie
09/2000
CD VALLEY ENTERTAINMENT 15132 (US)

I'LL HOLD YOU IN MY HEART -

Yodeling The Blues / Sweet Thang And Cisco / I'll Hold You In My Heart / Rock-A-Billy Rage Hogue / El Paso Cowboy / If You Don't Want To See Me Going / Buck And Merle / Sweet Kind Of Love / When It's Springtime In The Rockies / Cinderella / Hungry Eyes / Country Gold
11/2001
CD TMG / LONE STAR TMG-LS 4007 (US)

DARE TO DREAM -

THE BEST OF DON WALSER - Rolling Stone From Texas / John Deere Tractor Song / Cowpoke / Shotgun Boogie / Whispering Pines / Texas Top Hand / Danny Boy / Rose Marie / Hot Rod Mercury / Please Help Me I'm Falling / Arkansas / Fool Such As I / We Could / Big Ball's In Cowtown / Legend In My Time / I Really Don't Want To Know / Truck Drivin' Man / Love Song Of The Waterfall / I Ain't Got Nobody - Asleep At The Wheel / Rolling Stone From Texas
10/2006
CD VARESE SARABANDE 302 066765-2 (US)

TEXAS LEGEND -

Don WALSER & The

PURE TEXAS BAND - Casting My Lasso / Cowboy Ramsey / The John Deere Tractor Song / Shelly's Winter Love / Rolling Stone From Texas / Tomorrow Is A Million Miles Away / Cowpoke / Curtain In The Window / All Around Cowboy / Long Black Veil / Big Ball In Cowtown / Bouquet Of Roses / Chime Bells / Fuzz Dixon / You / Yodel Polka / Cattle Call / Hill Country Waltz
03/2007
CD WALSER ARCHIVE RECORDINGS ? (US)

LIVE ON THE AIR! - THE TEXAS PLAINSMEN WITH YODELIN' DONNIE WALSER -

Plainsmen Theme & Intro (4/4/1964) / Rocky Rhodes Stomp / Allen Shell / Rainbow On The Rio Colorado / Midnight Coiffures / Honky Tonk / Rolling Stone From Texas / Miracle Water / Steel Guitar Waltz / Soldier's Joy & Raggedy Ann / Miracle Water 2 / Beggin' To You / Theme (out) / Plainsmen Theme & Intro (8/15/1964) / A String Boogie / Cowpoke / Bozo Burgers / Steel In C / Don't Worry / Bozo Burgers 2 / Down Yonder / The Schedule / Castin' My Lasso / Abilene / Theme
04/2011
CD RUBINCHIK 6497 (US)
JUST ME AND MY OLD GUITAR - Introduction / Rockabilly Rage / Pappy Simmon's Privy / Shove It Up Your Heart / Folks Is Folks / Daddy's Old Home Brew / Time For Growing Up And A Time For Growing Old / The Crucifixion / Talkin' / Den Of Loneliness / Daddy's Diary / Where Buck And Merle Still Play / These Limestone Hills / Pushing Forty Hard / Dream Of The Singing Brakeman / Times Were Never Easy, excerpt / One Last Yodel
© Rocky Productions 27/01/2020