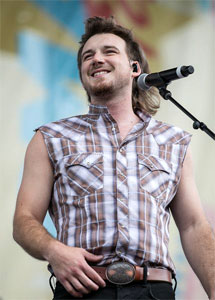 Chanteur Country US né Morgan Cole Wallen, le 13 Mai 1993 à Sneedville (Tennessee).

Morgan Wallen is a singer/songwriter with a taste for all sorts of music, from classic rock to hip-hop, and has a voice that points straight to country. Wallen first made a name for himself in 2014 as a competitor on the televised talent competition The Voice and enjoyed a major career breakthrough in 2017 when he teamed up with Florida Georgia Line for the hit song "Up Down."
Wallen was born in Sneedville, Tennessee, on May 13, 1993, and he grew up in the Knoxville area. His father was a preacher who loved the bombast of hard rock, while his mother was a teacher whose tastes ran to contemporary Christian sounds. Wallen developed a strong interest in music at a very young age; he started singing in church when he was three years old and took up the violin when he was five. He later learned to play piano and guitar, but in high school his passion was baseball, pitching for the team at Gibbs High School in Corryton, Tennessee. Wallen was good enough to earn offers to play college ball on a scholarship, but late in his senior year, an elbow injury put an end to his days as a pitcher, and he began considering music as a career.
In February 2014, Wallen became a competitor on the popular televised singing competition The Voice, blind auditioning for the judges with the song "Collide" by Howie Day. Usher liked Wallen's performance, and Morgan joined his team. After the second Battle Round, Wallen was stolen by Adam Levine's team, but Morgan was eliminated in the playoffs. The Voice gave Wallen nationwide exposure, but it also helped him find a collaborator; Sergio Sánchez of the band Atom Smash was a vocal coach on the show, and the two began writing songs together that suited Wallen's country voice and rock & roll attitude. He moved to Nashville, where he and Sánchez formed a short-lived band, Morgan Wallen & Them Shadows.
After settling in Music City, Wallen landed a manager and an agent, as well as a publishing deal with Big Loud Shirt Music. After placing his songs with a number of up-and-coming artists, Big Loud's record label, Big Loud Music, gave Wallen a chance to record as a solo act, and he went on a tour of radio stations to get back in shape for performing. In 2016, he made an impression on the radio with his tune "The Way I Talk," and a five-song EP featuring the track soon followed. In 2017, he collaborated with Florida Georgia Line on the single "Up Down," which made the Top Ten of the Country Singles charts and earned a gold record. The song became the leadoff track on Wallen's first full-length album, If I Know Me, which was released in April 2018. He returned in 2019 with the single "This Bar," and again in early 2020 with "More Than My Hometown," the latter of which was the first single from his forthcoming sophomore long-player Dangerous: The Double Album.
https://en.wikipedia.org/wiki/Morgan_Wallen
alents : Vocals, Guitar, Songwriter
Style musical : Contemporary Country, Country Rock, Country-Pop, Pop-Rock

https://youtu.be/MS82JAkBkDY
Years in activity :
| | | | | | | | | | | | |
| --- | --- | --- | --- | --- | --- | --- | --- | --- | --- | --- | --- |
| 1910 | 20 | 30 | 40 | 50 | 60 | 70 | 80 | 90 | 2000 | 10 | 20 |
DISCOGRAPHY
EP
| | | | |
| --- | --- | --- | --- |
| 08/2015 | CD Panacea ? (US) | | Stand Alone - Spin You Around / Sleep When We're Dead / Stand Alone / Man Of The South / Yin Yang Girl |
Albums
04/2018
CD Big Loud 783 (US)

If I Know Me - Up Down [feat. Florida Georgia Line] / Happy Hour / Had Me By Halftime / Whiskey Glasses / Whatcha Know 'bout That / Redneck Love Song / Little Rain / If I Know Me / Chasin' You / The Way I Talk / If I Ever Get You Back / Gone Girl / Not Good At Not / Talkin' Tennessee

01/2021
2 CD Big Loud / Republic B0033180-02 (US)

Dangerous - The Double Album :

CD 1 : Sand In My Boots / Wasted On You / Somebody's Problem / More Surprised Than Me / 865 / Warning / Neon Eyes / Outlaw (with Ben B

urgess

) / Whiskey'd My Way / Wonderin' Bout The Wind / Your Bartender / Only Thing That's Gone (with Chris

Stapleton

) / Cover Me Up / 7 Summers / More Than My Hometown
CD 2 : Still Goin Down / Rednecks, Red Letters, Red Dirt / Dangerous / Beer Don't / Blame It On Me / Somethin' Country / This Bar / Country A$$ Shit / Whatcha Think Of Country Now / Me On Whiskey / Need A Boat / Silverado For Sale / Heartless (Wallen album mix) / Livin' The Dream / Quittin' Time
© Rocky Productions 8/01/2021