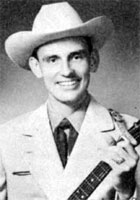 Chanteur Country US né le 2 Novembre 1926 à Copeville (Texas). Charlie Walker a débuté au milieu des années quarante puis il devient un Disc-Jockey réputé. En 1958, il connaît le succès en enregistrant pour Columbia, puis il passe chez Epic, Decca et RCA Records. Toujours en activité en 1990, Charlie Walker est un très bon commentateur de sports et un champion de golf. Il est décédé le 12 Septembre 2008 à Hendersonville (Tennessee).

Country singer Charlie Walker remains best remembered for the 1958 honky tonk classic "Pick Me Up on Your Way Down," a song also responsible for launching the career of its composer, then-unknown Harlan Howard. Born in Copeville, TX, on November 2, 1926, Walker began performing in his teens upon the encouragement of his father, a cotton farmer. In 1943, he signed on as a singer and guitarist with Bill Boyd's Cowboy Ramblers, but enlisted in the U.S. Army the following year, serving in Tokyo as a disc jockey for the American Forces Radio Network. Following World War II Walker settled in San Antonio, where he was hired as an on-air personality with local radio outlet KMAC — famed as "ol' polk salad, cotton-picking, boll-pulling, corn-shucking, snuff-dipping Charlie Walker," he remained with the station for a decade, and grew so popular and influential that in 1981 he was inducted into the Country Music DJ Hall of Fame.
Despite his renown as a broadcaster, Walker continued performing, and in 1952 he signed to Imperial Records, cutting a series of little-noticed singles including "I'm Looking for Another You," "Out of My Arms," and "Stay Away from My Head." The label cut him loose in mid-1953, and a year later he resurfaced on Decca, scoring a regional hit that summer with "Tell Her Lies and Feed Her Candy." In late 1955 Walker reached the national country charts with "Only You, Only You," but the remainder of his Decca output failed to enjoy comparable success, and he parted ways with the label in 1957, landing at Mercury long enough to release two additional singles, "Dancing Mexican Girl" and "I'll Never Let It Show."
Upon signing with Columbia in mid-1958, Walker was assigned "Pick Me Up on Your Way Down," penned by aspiring songwriter Howard, at that time a forklift driver at a California printing factory. With its insistent shuffle rhythm and memorable turn-of-phrase title, the single became an immediate hit, entering the country Top Five and establishing the careers of both men. But while Howard emerged as one of the most prolific and successful composers in Nashville history, Walker never again achieved the same commercial heights — follow-up singles like "I'll Catch You When You Fall," "When My Conscience Hurts the Most," and "Who Will Buy the Wine" still charted, but following 1963's "There's Where Katie Waits," Columbia cut its losses. It took more than a year for Walker to resurface on record via the Epic-label effort "Close All the Honky Tonks."
In mid-1965, he scored a minor hit with "Wild as a Wildcat," and two years later earned some notoriety for the novelty effort "Don't Squeeze My Sharmon," inspired by toilet paper brand Charmin's commercial catch phrase. After spending several years headlining the Las Vegas casino the Golden Nugget, Walker was invited to join Nashville radio's famed Grand Ole Opry in 1967, and his rowdy, witty songs made him a perennial fan favorite throughout his four-decade stint with the program. He also continued recording throughout the 1970s, charting for the last time with 1974's Capitol release "Odds and Ends." In 1985, Walker also made his feature-film debut, playing ill-fated country singer Cowboy Copas in the Patsy Cline biopic Sweet Dreams. A few months after colon cancer forced him to relinquish his Opry duties, Walker died on September 12, 2008.
Talents : Singer
Style musical : Nashville Sound, Traditional Country, Cowboy, Country-Pop, Honky Tonk

https://www.youtube.com/watch?v=6BrBqgLchnA
Years in activity :
| | | | | | | | | | |
| --- | --- | --- | --- | --- | --- | --- | --- | --- | --- |
| 1910 | 20 | 30 | 40 | 50 | 60 | 70 | 80 | 90 | 2000 |
DISCOGRAPHY
Singles
| | | |
| --- | --- | --- |
| 05/1952 | SP IMPERIAL 45-8146 (US) | I'm Looking For Another You / Stolen Kisses |
| 06/1952 | SP IMPERIAL 45-8155 (US) | Flaming Jewels / Two Red Lips |
| 09/1952 | SP IMPERIAL 45-8161 (US) | Out Of My Arms / By Rights You Belongs To Me |
| 12/1952 | SP IMPERIAL 45-8173 (US) | Flock Of Memories / What You Savin' Your Lovin' For |
| 03/1953 | SP IMPERIAL 45-8185 (US) | Stay Away From My Head / I've Never Been Out Of Texas |
| 06/1954 | SP DECCA 9-29154 (US) | Tell Her Lies And Feed Her Candy / You Don't Need No Other Daddy |
| 10/1954 | SP DECCA 9-29334 (US) | When You Know You Have Lost / It Takes That To Satisfied Me |
| 02/1955 | SP DECCA 9-29416 (US) | The Chocolate Song / Hurry Back Home |
| 11/1955 | SP DECCA 9-29715 (US) | You Can't Get There From Here / Only You Only You |
| 05/1956 | SP DECCA 9-29908 (US) | Stand Still / Remembering |
| 03/1957 | SP MERCURY 71081x45 (US) | Dancing Mexican Girl / Gentle Love |
| 04/1957 | SP DECCA 9-30282 (US) | Cheaters Never Win / Sleeping Stones |
| 05/1957 | SP MERCURY 71111x45 (US) | Charlie WALKER with The FOUR PALS - I'll Never Let It Show / Take My Hand |
| 09/1958 | SP COLUMBIA 4-41211 (US) | Pick Me Up On Your Way Down / Two Empty Arms |
| 01/1959 | SP MERCURY 71405x45 (US) | I'm Not Mixed Up Anymore / No Sorrow Tonight |
| 04/1959 | SP COLUMBIA 4-41388 (US) | I'll Catching You When You Fall / I Don't Mind Saying |
| 09/1959 | SP COLUMBIA 4-41467 (US) | Bow Down Your Head And Cry / When My Conscience Hurts The Most |
| 03/1960 | SP COLUMBIA 4-41633 (US) | I Go Anywhere / Who Will Buy The Wine |
| 11/1960 | SP COLUMBIA 4-41820 (US) | Facing The Wall / I Walked Out On Heaven |
| 05/1961 | SP COLUMBIA 4-42000 (US) | Right Back At Your Door / A Way To Free Myself |
| 10/1961 | SP COLUMBIA 4-42176 (US) | Louisiana Belle / Good Deal Lucille |
| 06/1962 | SP COLUMBIA 4-42454 (US) | Life Goes On / I Only Meant To Borrow |
| 12/1962 | SP COLUMBIA 4-42669 (US) | One In Every Crowd / What's Wrong With Me |
| 08/1963 | SP COLUMBIA 4-42860 (US) | There's Where Katie Waits / Running Back To You |
| 10/1964 | SP EPIC 5-9727 (US) | Close All The Honky Tonks / Truck Drivin' Man |
| 02/1965 | SP EPIC 5-9759 (US) | Pick Me Up On Your Way Down / Honky Tonk Song |
| 05/1965 | SP EPIC 5-9799 (US) | Wild As A Wildcat / Out Of A Honky Tonk |
| 10/1965 | SP EPIC 5-9852 (US) | He's A Jolly Good Fellow / Memory Killer |
| 02/1966 | SP EPIC 5-9875 (US) | The Man In A Little White Suit / Fraulein |
| 05/1966 | SP EPIC 5-10021 (US) | Little Ole Wine Drinker Me / I'm Gonna Live |
| 09/1966 | SP EPIC 5-10063 (US) | I'm Gonna Hang Up My Gloves / Daddy's Coming Now |
| 01/1967 | SP EPIC 5-10118 (US) | The Town That Never Sleeps / Why To Say Goodbye |
| 05/1967 | SP EPIC 5-10175 (US) | Don't Squeeze My Sharmon / You Lied To Me |
| 09/1967 | SP EPIC 5-10237 (US) | I Wouldn't Take Her To A Dog Fight / Tonight We're Calling |
| 02/1968 | SP EPIC 5-10295 (US) | Truck Drivin' Cat With Nine Wives / Sweetheart Of The Year |
| 07/1968 | SP EPIC 5-10349 (US) | San Diego / When My Conscience Hurts Me Most |
| 12/1968 | SP EPIC 5-10426 (US) | Honky Tonk Season / Too Many Nights In Too Many Rooms |
| 06/1969 | SP EPIC 5-10499 (US) | Moffat Oklahoma / You're From Texas |
| 12/1969 | SP EPIC 5-10565 (US) | Honky Tonk Women / Rosie Baby |
| 05/1970 | SP EPIC 5-10610 (US) | You're All Dressed Up / Let's Go Fishin' Boy |
| 10/1970 | SP EPIC 5-10665 (US) | God Save The Queen / Becky Who |
| 04/1971 | SP EPIC 5-10722 (US) | My Baby Used To Be That Way / Before I Found The Wine |
| 09/1971 | SP EPIC 5-10799 (US) | Wild Women / Got My Mind On The Border Of Mexico |
| 05/1972 | SP RCA VICTOR 74-0730 (US) | I Don't Mind Goin' Under / Honky Tonk Heart |
| 11/1972 | SP RCA VICTOR 74-0870 (US) | Soft Lips And Hard Liquor / It's Better Than Goin' Home Alone |
| 04/1973 | SP RCA VICTOR 74-0929 (US) | Gonna Drink Milwaukee Dry / Time Changes Everything |
| 01/1974 | SP CAPITOL 3813 (US) | Wanting My Women Again / I Do My Crying At Home |
| 07/1974 | SP CAPITOL 3922 (US) | Society's Got Us / Odds And Ends |
| 03/1975 | SP CAPITOL 4040 (US) | Say You're Gone / The Last Supper |
| 1977 | SP CORRAL 1001 (US) | Deep Water / Good Deal Lucille |
| 1977 | SP PLANTATION PL 165 (US) | I've Had A Beautiful Time / Truck Drivin' Man |
| 1978 | SP PLANTATION PL 168 (US) | T For Texas / Pick Me Up On Your Way Down |
| 1978 | SP PLANTATION PL 172 (US) | Red Skies Over Georgia / My Shoes Are Made For Walkin' |
| 1978 | SP PLANTATION PL 180 (US) | My Shoes Keep Walkin' Back To You / Tonight My Solitare Turns |
| 1979 | SP PLANTATION PL 185 (US) | Don't Sing A Song About Texas / Please Mr Please |
| 19?? | SP MISSION MRL-CW-3 (US) | |
Albums
1961
LP 12" COLUMBIA CS 8491 (US)
CHARLIE WALKER'S GREATEST HITS - Pick Me Up On Your Way Down / Facing The Wall / Two Empty Arms / When My Conscience Hurts The Most / Way To Free Myself / Who Will Buy The Wine / I'll Catch You When You Fall / Bow Down Your Head And Cry / I Go Anywhere / Right Back At Your Door / I Walked Out On Heaven / I Don't Mind Saying
1965
LP 12" EPIC BN 26137 (US)
CLOSE ALL THE HONKY TONKS - Close All The Honky Tonks / Honky Tonk Blues / Band Keeps Playin' On / Wild Side Of Life / Last Call For Alcohol / Truck Drivin' Man / Honky Tonk Song / Shoes Of A Fool / Pick Me Up On Your Way Down / Bad Things I Do / Every Good Reason / Fraulein
1966
LP 12" EPIC BN 26153 (US)
BORN TO LOSE - Walking The Floor Over You / Foggy River / Born To Lose / Fast Way Of Livin' / My Shoes Keep Walking Back To You / I'll Go Down Swinging / Drivin' Nails In My Coffin / Crazy Arms / Bubbles In My Beer / You're Still On My Mind / Gonna Buy Me A Jukebox / I'd Rather Switch Than Fight
1966
LP 12" EPIC BN 26209 (US)
WINE WOMEN & WALKER - Back In My Baby's Arms Again / I'm Gonna Live / Little Ole Wine Drinker Me / Think Of Me / Little Old Heartache Maker Me / Man In The Little White Suit / Memory Killer / He's A Jolly Good Fellow / Dozen More Like You / Out Of A Honky Tonk
1967
LP 12" HARMONY HS 11215 (US)
CHARLIE WALKER'S GOLDEN HITS - Pick Me Up On Your Way Down / Facing The Wall / Two Empty Arms / When My Conscience Hurts The Most / Way To Free Myself / Who Will Buy The Wine / I'll Catch You When You Fall / Bow Down Your Head And Cry / I Go Anywhere / Right Back At Your Door / I Walked Out On Heaven
1967
LP 12" EPIC BN 26328 (US)
DON'T SQUEEZE MY SHARMON - Don't Squeeze My Sharmon / Tail's Been Waggin' The Dog Too Long / I Wouldn't Take Her To A Dog Fight / Moffet Oklahoma / Mr Cool / Pistol Packin' Mama / Here's To The Girls / You Lied To Me / Tonight We're Calling It A Day / Fast Women Slow Horses And Wine
1967
LP 12" VOCALION VL 73814 (US)
COUNTRY STYLE - You Can't Got There From Here / Stand Still, It Takes That To Satisfy Me / Hurry Back Home / Chocolate Song / When You Know You Have Lost / Stepping Stones / Cheaters Never Win / Remembering / Tell Her Lies And Feed Her Candy
1968
LP 12" EPIC BN 26343 (US)
CHARLIE WALKER'S GREATEST HITS - Pick Me Up On Your Way Down / Close All The Honky Tonks / Little Ole Wine Drinker Me / Wild As A Wildcat / Truck Drivin' Man / Don't Squeeze My Sharmon / I Wouldn't Take Her To A Dog Fight / Out Of A Honky Tonk / He's A Jolly Good Fellow / Town That Never Sleeps
1969
LP 12" EPIC BN 26424 (US)
HE IS MY EVERYTHING - Great Speckled Bird / Leaning On The Everlasting Arm / Softly And Tenderly / I'll Fly Away / What A Friend We Have In Jesus / This World Is Not My Home / Gathering Flowers For The Master's Bouquet / There Is A Fountain / Wings Of A Dove / Precious Memories
1969
LP 12" EPIC BN 26483 (US)
RECORDED LIVE IN DALLAS TEXAS - Pick Me Up On Your Way Down / Jambalaya / Almost Persuaded / Moffet Oklahoma / My Shoes Keep Walking Back To You / Don't Squeeze My Sharmon / Honky Tonk Season / San Antonio Rose / El Rancho Grande / One Rose / You're From Texas
1971
LP 12" EPIC BN E 30660 (US)
HONKY TONKIN' WITH CHARLIE WALKER - My Baby Used To Be That Way / Honky Tonk Season / Rosie Bokay / Before I Found The Wine / God Save The Queen / Let's Go Fishin' Boys / Honky Tonk In Dallas / Honky Tonk Women / Bad Girl / Don't Put Down The Honky Tonks / Mountain Dew
1972
LP 12" RCA VICTOR LSP 4737 (US)
I DON'T MIND GOIN' UNDER - Honky Tonk Heart / Thing Called Love / I Start Losing You All Over Again / It's Still There / She Burnt The Little Roadside Tavern Down / Cleveland Street Honky Tonk Blues / Easy Lovin' / Kiss An Angel Good Mornin' / To Get To You / I Don't Mind Goin' Under
1973
LP 12" RCA VICTOR APL1 0181 (US)
BREAK OUT THE BATTLE / BRING ON MUSIC - Gonna Drink Milwaukee Dry / Do It To Someone You Love / Drinking Champagne / Misery Loves Company / Thanks Girl I Needed That / Swimming Pool Full Of Beer / Lord Knows I'm Drinking / Because You Can't Be Mine / Soft Lips And Hard Liquor / Time Changes Everything
1978
LP 12" PLANTATION PLP 535 (US)
GOLDEN HITS - Who Will Buy The Wine / My Shoes Keep Walking Back To You / Out Of A Honky Tonk / Wild As The Wildcat / Little Ole Wine Drinker Me / Good Deal Lucille / Pick Me Up On Your Way Down / Close All The Honky Tonks / Don't Squeeze My Sharmon / Honky Tonk Nights / Odds And Ends / Tell Her Lies And Feed Her Candy
1979
LP 12" PLANTATION PLP 543 (US)
TEXAS GOLD - San Antonio Rose / Keeper Of My Heart / Blue Eyes Crying In The Rain / Corrine Corrina / Please Mr Please / Maiden's Prayer / Stay A Little Longer / Deep Water / Faded Love / Don't Sing A Song About Texas / Right Or Wrong / I Knew The Moment I Lost You
02/1999
5 CD BEAR FAMILY BCD 15852 (GER)
PICK ME UP ON YOUR WAY DOWN - Complete Decca, Columbia, Epic recordings :

CD 1 : I'm Looking For Another You / Stolen Kisses / Flaming Jewels / Two Red Lips / By Rights You Belong To Me / Out Of My Arms / Flock Of Memories / What You Savin' Your Lovin' For / I've Never Been Out Of Texas / Stay Away From My Heart / You Don't Need No Other Daddy But Me / Tell Her Lies And Feed Her Candy / When You Know What You Have Lost / It Takes That To Satisfy Me / The Chocolate Song / Hurry Back Home / Only You, Only You / You Can't Get There From Here / Remembering / Stepping Stones / Stand Still / Cheaters Never Win / I'm Not Mixed Up Anymore / Gentle Love / No Sorrow Tonight / Dancing Mexican Boy / I'll Never Let It Show / Take My Hand (I'll Understand) / Two Empty Arms / Pick Me Up On Your Way Down / Do You Care For Me / Who's Giving Who The Heartaches Now
CD 2 : I'll Catch You When You Fall / I Don't Mind Saying / Broken Hearts Will Haunt Your Soul / Bow Down Your Head And Cry / When My Conscience Hurts The Most / Who Will Buy The Wine / I Go Anywhere / Take Back Your Old Love Letters / A Way To Free Myself / Right Back At Your Door / Facing The Wall / I Walked Out Of Heaven / Good Deal, Lucille / Louisiana Belle / Life Goes On (I Wonder Why) / I Only Meant To Borrow (Not To Steal) / Running Back To You / One In Every Crowd / What's Wrong With Me / There's Where Katie Waits / Truck Driving Man / Close All The Honky Tonks / The Bad Things I Do / I Am Nothing / Last Call For Alcohol / Wild Side Of Life / Honky Tonk Blues / Fraulein / Pick Me Up On Your Way Down
CD 3 : Honky Tonk Song / The Band Keeps Playing On / Every Good Reason / Shoes Of A Fool / Walking The Floor Over You / Foggy River / Born To Lose / You're Still On My Mind / My Shoes Keep Walking Back To You / I'll Go Down Swinging / Drivin' Nails In My Coffin / Gonna Buy Me A Jukebox / I Can Take Anything / I'd Rather Switch Than Fight / Fast Way Of Livin' / Hello, Bill / Bubbles In My Beer / Crazy Arms / Little Old Heartache Maker Me / Wild As A Wildcat / Out Of A Honky Tonk / Try Me One More Time / The Man In The Little White Suit / Memory Killer / He's A Jolly Good Fellow / A Dozen More Like You / Back In My Baby's Arms Again / I'm Gonna Live (As Long As I Can) / Little Old Winedrinker Me / Think Of Me / Daddy's Coming Home (Next Week) / I'm Ashamed Of You / I'm Gonna Hang Up My Gloves / You Lied To Me / The Town That Never Sleeps
CD 4 : The Way To Say Goodbye / Mr. Cool / Don't Squeeze My Sharmon / Moffett, Oklahoma / The Tail's Been Waggin' The Dog Too Long / Tonight, We're Calling It A Day / Pistol Packin' Mama / Fast Women, Slow Horses And Wine / Here's To The Girls / I Wouldn't Take Her To A Dogfight / Sweetheart Of The Year / The One Rose (That's Left In My Heart) / A Bad Girl / When My Conscience Hurts The Most / Truck Drivin' Cat With Nine Wives / A Honky Tonk In Dallas / San Diego / There Is A Fountain / What A Friend We Have In Jesus / Leaning On The Everlasting Arms / Softly And Tenderly / This World Is Not My Home / Precious Memories / I'll Fly Away / Gathering Flowers For The Master's Bouquet / The Great Speckled Bird / Good Old Mountain Dew / She's Much More Of A Woman / Wild Woman / Got My Mind On The Border Of Mexico / Pick Me Up On Your Way Down / Jambalaya / Almost Persuaded / Moffett, Oklahoma / My Shoes Keep Walking Back To You / Don't Squeeze My Sharmon / Honky Tonk Season / San Antonio Rose / El Rancho Grande / The One Rose (That's Left In My Heart) / You're From Texas / Before I Found The Wire / My Baby Used To Be That Way / Becky Who / He Is My Everything / Honky Tonk Season / Till Something Better Comes Along / Too Many Nights In Too Many Arms
CD 5 : You're From Texas / Honky Tonk Women / Rosie Bokay / I Owe The World To You / Let's Go Fishin' Boys (The Girls Are Bitin') / You're All Dressed Up (With Somewhere To Go) / Ode To Stella / Don't Put Down The Honky Tonks / God Save The Queen (Of The Honky Tonks) / On The Wings Of A Dove

08/2003
CD AUDIUM 8187 (US)
GREATEST HONKY TONK HITS - Pick Me Up On Your Way Down / I'll Catch You When I Fall / When My Conscience Hurts The Most / Who Will Buy The Wine / Facing The Wall / Good Deal Lucille / Close All The Honky Tonks / Wild As A Wildcat / He's A Jolly Good Fellow / Man In The Little White Suit / Daddy's Coming Home / I'm Gonna Hang My Gloves / Town That Never Sleeps / Don't Squeeze My Sharmon / I Wouldn't Take Her To A Dogfight / Truck Drivin' Cat With Nine Wives / San Diego / Honky Tonk Season / Honky Tonk Women / Let's Go Fishin' Boys / My Baby Used To Be That Way
© Rocky Productions 24/11/2008