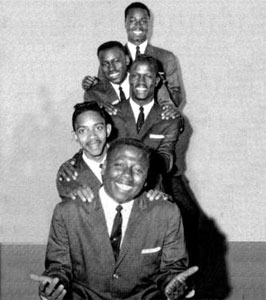 Groupe Doo Wop US fondé en 1959 à Odessa (Texas). Les Velvets étaient composés de Virgil Johnson, Clarence Rigsby, Robert Thursby, William Solomon et Mark Prince.

The Odessa, TX-based Velvets are best remembered for their violin-enriched 1961 Top 40 hit "Tonight (Could Be the Night)," during which the group chanted "doo-wop" behind lead singer Virgil Johnson. It was one of the first uses of the phrase in a song (the Turbans' use of the phrase on the 1955 "When You Dance" predates it by a few years). Johnson was a high school English teacher who recruited four of his students -- Clarence Rigsby (lead tenor), Robert Thursby (tenor), William Solomon (baritone), and Mark Prince (bass) -- to form the Velvets in 1960. They were soon spotted by Roy Orbison, who helped get them signed to the Nashville-based Monument label (he later cut "Lana" a song of theirs, while at the label).
The Velvets' recording career started with a catchy revival of "That Lucky Old Sun," but despite the presence of Nashville's finest session players on their releases, only the up-tempo "Tonight (Could Be the Night)," which was penned by Johnson, would score a U.S. Top 40 hit (number 26 pop, May 1961). This song tells of a guy trying to get his nerve up to ask his girl to marry him. Their next release, the spirited Roy Orbison/Joe Melson-penned "Laugh," became their last chart entry. The group released another six singles before going back to teaching and studying.
Talents : Virgil Johnson : Lead - Clarence Rigsby : Lead Tenor - Robert Thursby : Tenor - William Solomon : Baritone - Mark Prince : Bass
Style musical : Doo Wop, Rhythm 'n' Blues

https://youtu.be/6J2ngwuwPS8
| | |
| --- | --- |
| That Lucky Old Sun (1961) | |
Years in activity :
| | | | | | | | | | |
| --- | --- | --- | --- | --- | --- | --- | --- | --- | --- |
| 1910 | 20 | 30 | 40 | 50 | 60 | 70 | 80 | 90 | 2000 |
DISCOGRAPHY
Singles & EP
Unissued Tracks
| | | |
| --- | --- | --- |
| 196? | Unissued | Be Ever Mine |
| 196? | Unissued | You Done Me Bad |
| 196? | Unissued | Kiss Me |
| 196? | Unissued | Alicia |
| 196? | Unissued | Bird Dog |
| 196? | Unissued | My Love |
| 196? | Unissued | Who Has The Right |
| 196? | Unissued | I'm Trusting in You |
| 196? | Unissued | Almost But Not Quite |
| 196? | Unissued | Husbands & Wives |
| 196? | Unissued | I Can Feel It |
| 196? | Unissued | Poison Love |
| 196? | Unissued | That's Out of My Line |
Albums
1981
LP 12" MONUMENT ‎23AP 2241 (JAP)

All The Velvets' Recordings - Tonight (Could Be The Night) / Spring Fever / Laugh / Lana / Love Express / Don't Let Him Take My Baby / Let The Good Times Roll / The Light Goes On, The Light Goes Off / That Lucky Old Sun / Time And Again / Dawn / Crying In The Chapel / Here Comes That Song Again / Nightmare / If / Let The Fool Kiss You / My Love / Hey Bird Dog / Who Has The Right / Be Evermine / Almost But Not Quite / I'm Trusting In You / Poisoned Love / That's Out Of My Line / Alicia / Husbands And Wives / You Done Me Bad / I Can Feel It / Kiss Me / Baby, The Magic Is Gone

1995
CD SONY AQ 21475 (US)
TONIGHT (COULD BE THE NIGHT) - Tonight (Could Be The Night) / That Lucky Old Sun / Spring Fever / Lana / My Love / Crying In The Chapel / Be Evermine / Laugh / Let The Good Times Roll / Kiss Me / Who Has The Right / Time And Again
03/1996
CD ACE 625 (UK)
THE COMPLETE VELVETS - Tonight (Could Be The Night) / Time And Again / Spring Fever / That Lucky Old Sun / Laugh / Lana / Love Express / Don't Let Him Take My Baby / Let The Good Times Roll / Light Goes On, The Light Goes Off / Crying In The Chapel / Dawn / Here Comes That Song Again / Nightmare / If / Let The Fool Kiss You / Baby The Magic Is Gone / Be Ever Mine / You Done Me Bad / Kiss Me / Alicia / Bird Dog / My Love / Who Has The Right / I'm Trusting in You / Almost But Not Quite / Husbands And Wives / I Can Feel It / Poison Love / That's Out Of My Line
03/1999
CD COLLECTABLES COL-CD-6055 (US)
TONIGHT COULD BE THE NIGHT - Tonight (Could Be The Night) / That Lucky Old Sun / Spring Fever / Lana / My Love / Crying In The Chapel / Be Ever Mine / Laugh / Let The Good Times Roll / Kiss Me / Who Has The Right / Time And Again / Here Comes That Song Again / If / I'm Trusting In You / Alicia / I Can Feel It / Baby The Magic Is Gone
?????
LP 12" MONUMENT CUL-1032-T (JAP)

The Best Of The Velvets - Lana / That Lucky Old Sun / If / My Love / Crying In The Chapel / Tonight (Could Be The Night) / Time And Again / Love Express / Let The Fool Kiss You / Spring Fever

????
2 LP 12" MONUMENT ‎23 AP 2241 (US)

Let The Good Times Roll :

DISC 1 : Lana / Tonight (Could Be The Night) / Let The Good Times Roll / Be Evermine / That Lucky Old Sun / Crying In The Chapel / Love Express / You Done Me Bad / Kiss Me / Alicia / If / Dawn / Spring Fever / Nightmare
DISC 2 : Bird Dog / By Love / Let The Fool Kiss You / Who Has The Right / I'm Trusting In You / Time And Again / Laugh / The Lights Go On, The Lights Go Off / Don't Let Him Take My Baby / Here Comes That Song Again / Almost But Not Quite / Baby The Magic Is Gone / Husbands And Wives / I Can Feel It / Poisoned Love / That's Out Of My Line

????
2 CD Rocket 7070 (US)

Let The Good Times Roll :

CD 1 : Lana / Tonight (Could Be The Night) / Let The Good Times Roll / Be Evermine / That Lucky Old Sun / Crying In The Chapel / Love Express / You Done Me Bad / Kiss Me / Alicia / If / Dawn / Spring Fever / Nightmare
CD 2 : Bird Dog / By Love / Let The Fool Kiss You / Who Has The Right / I'm Trusting In You / Time And Again / Laugh / The Lights Go On, The Lights Go Off / Don't Let Him Take My Baby / Here Comes That Song Again / Almost But Not Quite / Baby The Magic Is Gone / Husbands And Wives / I Can Feel It / Poisoned Love / That's Out Of My Line
© Rocky Productions 2/12/2019