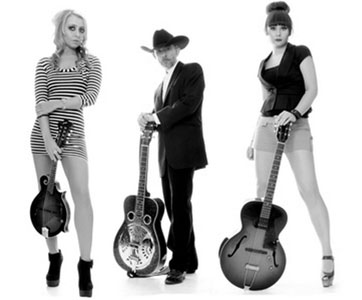 Trio bluegrass et Western Swing Britannique de Birmingham composť de Stewart Johnson et ses filles Sophia et Hannah.

British bluegrass and Western Swing trio from Birmingham included Stewart Johnson and his daughters Sophia and Hannah.
https://en.wikipedia.org/wiki/The_Toy_Hearts
Talents : Stewart Johnson : Banjo, Dobro, Lap Steel - Sophia : Vocal, Guitar, Flatpicking - Hannah : Vocals Mandolin, Songwriter).
Style musical : Bluegrass, Western Swing

https://www.youtube.com/watch?v=J0hgqTTSfn4
Years in activity :
| | | | | | | | | | | | |
| --- | --- | --- | --- | --- | --- | --- | --- | --- | --- | --- | --- |
| 1910 | 20 | 30 | 40 | 50 | 60 | 70 | 80 | 90 | 2000 | 10 | 20 |
DISCOGRAPHY
Albums
Albums
| | | | |
| --- | --- | --- | --- |
| 2006 | CD Woodville Music WVR001 (UK) | | If The Blues Come Calling - If The Blues Come Calling / Two Of A Kind / Believe In Me / Right Or Wrong / Piccadilly Special / The Ocean Wide / Leave This Heart Alone / City Girl / On My Way Home / John Henry / Restless |
| 09/2008 | CD Woodville Music WVR002 (UK) | | When I Cut Loose... - Stronger / Girl In Each State / The Angels Sing To Me / Montpellier Street / Get Along With The Blues / Giving You Back Your Troubles / Sly North Wind / Girl That You Can't Fool / I'll Keep Waiting / Fast Raging River / When I Cut Loose |
| 2011 | CD Woodville Music WVR003 (UK) | | Femme Fatale - Good For Me / Femme Fatale / Carolina / This Little Kitty / Bet Good Money / Tequila And High Heels / The Beck Is Rising / Devil On The Wall / Tear Stained Letter / This Town / The Captain / Crek Bluff Drive / She Got There First |
| 07/2012 | CD Woodville Music WVR004 (UK) | | Whiskey - Bring On The Swing! / Whiskey / I Hear You Talkin' / Mary Jane / Thunderstorms And Neon Signs / Stutter Blues / Big Fool / Pass The Jack / The Lonesome Hearted Blues / Me And My Gin / Another Right Note / Ridin' On Down |
© Rocky Productions 18/04/2021