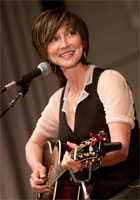 Chanteuse US née le 24 Juillet 1957 à Plant City (Floride). Pam Tillis est la fille de Mel Tillis.

The daughter of country legend Mel Tillis, Pam Tillis made her own way in the music business, eventually becoming a contemporary country star in the '90s. Tillis was born on July 24, 1957, in Plant City, FL, but raised mostly in Nashville and started taking piano lessons at age eight. She switched to guitar at 12 and played in talent contests during her teenage years. Somewhat wild and rebellious, she survived a near-fatal car crash at age 16 that required extensive facial reconstruction. Fortunately, she recovered fully and pursued music aggressively at the University of Tennessee, singing with the High Country Swing Band (which played country-rock and jug band music) and in a folk duo with Ashley Cleveland. She quit school in 1976 and worked at her father's publishing company, placing her composition "I'll Meet You on the Other Side of the Morning" with Barbara Fairchild. She also formed her own backing band, which soon relocated to the San Francisco Bay Area and renamed themselves Freelight; they developed an adventurous style based on jazz and rock, not country. Tillis returned to Nashville in 1979, though, and sang backup for her father while raising her first child as a single parent, fronting an R&B band, and continuing to write songs, a couple of which were recorded by Gloria Gaynor and Chaka Khan.
Tillis performed regularly at Nashville's Bluebird Cafe with several other female singer/songwriters and landed a deal with Warner Brothers in the early '80s. She released one album, the pop-oriented Above and Beyond the Doll of Cutey, in 1983 and had her first chart single the following year with "Goodbye HIghway." Several more singles were released through 1987, but none even managed to make the Top 50; even so, Tillis was making her name as a songwriter for Tree Publishing, with compositions recorded by Highway 101 and Conway Twitty, among others. In 1989, the same year she acted in a Tennessee production of Jesus Christ Superstar, she landed a new deal with Arista. Tillis released her label debut, Put Yourself in My Place, in 1991, and the lead single, "Don't Tell Me What to Do," raced into the Top Five, giving Tillis her long-awaited breakthrough. Of the album's five total singles, "One of Those Things" and "Maybe It Was Memphis" also made the Top Ten (as did the album). 1992's Homeward Looking Angel was an equally successful follow-up, with "Shake the Sugar Tree" and "Let That Pony Run" both making the Top Five.
Tillis co-produced her third Arista album, 1994's Sweetheart's Dance, which proved to be her most successful yet and earned her the ACM's award for Female Vocalist of the Year. "Spilled Perfume," "When You Walk in the Room," and "In Between Dances" all went Top Five, and "Mi Vida Loca (My Crazy Life)" became her first ever number one hit. Released in late 1995, All of This Love was the first album Tillis produced by herself, and gave her Top Tens in "Deep Down" and "The River and the Highway." Two new songs from 1997's Greatest Hits compilation, "All the Good Ones Are Gone" and "Land of the Living," both went Top Five as well. 1998's Every Time reflected her recent divorce from songwriter Bob DiPiero and gave her a near-Top Ten hit in "I Said a Prayer." A reshuffling at Arista delayed the release of Thunder and Roses until 2001, so in the meantime Tillis performed on Broadway in the Leiber & Stoller tribute production Smokey Joe's Cafe. Thunder and Roses found Tillis' commercial momentum slowing down, and she and Arista subsequently parted ways. She caught on at Epic's roots subsidiary Lucky Dog and debuted for them in 2002 with It's All Relative: Tillis Sings Tillis, a collection of her father's material that finally found her embracing his legacy on her own terms. Rhinestoned appeared in 2007 from Stellar Cat Records.
Talents : Vocals, Guitar
Style musical : Contemporary Country, Country Pop, Urban Cowboy
Years in activity :
| | | | | | | | | | | |
| --- | --- | --- | --- | --- | --- | --- | --- | --- | --- | --- |
| 1910 | 20 | 30 | 40 | 50 | 60 | 70 | 80 | 90 | 2000 | 10 |
DISCOGRAPHY
Singles
| | | |
| --- | --- | --- |
| 08/1981 | SP ELEKTRA E-41171 (US) | Every House Should Have One / Holding On To What Is Gone |
| 05/1983 | SP WARNER BROS. 7-29643 (US) | Killer Comfort / (You Just Want To Be) Weird |
| 09/1983 | SP WARNER BROS. 7-29517 (US) | Love Is Sneakin' Up On You / Wish I Was In Love Tonight |
| 10/1984 | SP WARNER BROS. 7-29155 (US) | Goodbye Highway / Somebody Else's |
| 05/1985 | SP WARNER BROS. 7-28984 (US) | One Of Those Things / One Way Ticket |
| 12/1985 | SP WARNER BROS. 7-28806 (US) | Those Memories Of You / Drawn To The Fire |
| 05/1986 | SP WARNER BROS. 7-28676 (US) | I Thought I'd About Had It With Love / Drawn To The Fire |
| 01/1987 | SP WARNER BROS. 7-28444 (US) | I Wish She Wouldn't Treat You That Way / Drawn To The Fire |
| 04/1987 | SP WARNER BROS. 7-28346 (US) | There Goes My Love / Drawn To The Fire |
| 10/1990 | SP ARISTA AS1-2129 (US) | Don't Tell Me What To Do / Melancholy Child |
| 02/1991 | SP ARISTA AS-2203 (US) | One Of Those Things / Already Fallen |
| 07/1991 | SP ARISTA 12268-7 (US) | Put Yourself In My Place / I've Seen Enough To Know |
| 11/1991 | SP ARISTA 12371-7 (US) | Maybe It Was Memphis / Draggin' My Chains |
| 03/1992 | SP ARISTA 12408-7 (US) | Blue Rose Is / Ancient History |
| 07/1992 | SP ARISTA 12454-7 (US) | Shake The Sugar Tree / Maybe It Was Memphis |
| 11/1992 | SP ARISTA 12506-7 (US) | Let That Pony Run / Fine Fine Very Fine Love |
| 04/1993 | SP ARISTA 12552-7 (US) | Cleopatra Queen Of Denial / Homeward Looking Angel |
| 08/1993 | SP ARISTA 12606-7 (US) | Do You Know Where Your Man Is / We've Tried Everything Else |
| 03/1994 | SP ARISTA 12676-7 (US) | Spilled Perfume / Till All The Lonely's Gone |
| 07/1994 | SP ARISTA 12726-7 (US) | When You Walk In The Room / Till All The Lonely's Gone |
| 10/1994 | SP ARISTA 12758-7 (US) | Running Kind (with Radney FOSTER) / Silver Wings (with Radney FOSTER) |
| 11/1994 | SP ARISTA 12759-7 (US) | Mi Vida Loca (My Crazy Life) / Ancient History |
| 02/1995 | SP ARISTA 12802-7 (US) | I Was Blown Away / Calico Plains |
| 05/1995 | SP ARISTA 12833-7 (US) | In Between Dances / They Don't Brake 'Em Like They Used To |
| 09/1995 | SP ARISTA 12878-7 (US) | Deep Down / Tequila Mockingbird |
| 01/1996 | SP ARISTA 12958-7 (US) | River And The Highway / All Of This Love |
| 05/1996 | SP ARISTA 10505-7 (US) | It's Lonely Out There / You Can't Have A Good Time Without Me |
| 09/1996 | SP ARISTA 13045-7 (US) | Betty's Got A Boss Beat / Mandolin Rain |
| 04/1997 | SP ARISTA 13084-7 (US) | All The Good Ones Are Gone / Land Of The Living |
| 06/1998 | SP ARISTA 13125-7 (US) | I Said A Prayer / Lay The Heartache Down |
| 08/1998 | SP ARISTA 13129-7 (US) | Every Time / You Put The Lonely On Me |
| 03/2001 | SP ARISTA 69052-7 (US) | Please / Thunder And Roses |
Albums
| | | | |
| --- | --- | --- | --- |
| 1983 | LP 12" WARNER BROS. 23871 (US) | | ABOVE AND BEYOND THE DOLL OF CUTEY - Killer Comfort / Love Is Sneakin' Up On You / Make It Feel Better / Wish I Was In Love Tonight / You Don't Miss / Never Be The Same / Weird / Popular Girl / It Ain't Easy Bein' Easy / Let's Get Crazy |
| 1991 | CD ARISTA 8642 (US) | | PUT YOURSELF IN MY PLACE - Put Yourself In My Place / Melancholy Child / Maybe It Was Memphis / Blue Rose Is / Don't Tell Me What To Do / One Of Those Things / Draggin' My Chains / Ancient History / I've Seen Enough To Know / Already Fallen |
| 1992 | CD ARISTA 8649 (US) | | HOMEWARD LOOKING ANGEL - How Gone Is Goodbye / Shake The Sugar Tree / Do You Know Where Your Man Is / Cleopatra Queen Of Denial / Love Is Only Human / Rough And Tumble Heart / Let That Pony Run / Fine Fine Very Fine Love / We've Tried Everything Else / Homeward Looking Angel |
| 1994 | CD ARISTA 8758 (US) | | SWEETHEART'S DANCE - Mi Vida Loca / Sweetheart's Dance / Calico Plains / When You Walk In The Room / Spilled Perfume / I Was Blown Away / They Don't Break 'em Like They Used T / In Between Dances / Better Off Blue / Till All The Lonely's Gone |
| 1994 | CD WARNER BROS. 45355 (US) | | COLLECTION - Maybe It Was Memphis / One Of Those Things / I Thought I'd About Had It With Love / There Goes My Love / Sometimes A Stranger Will Do / Those Memories Of You / I Wish She Wouldn't Treat You That Way / Tennessee Nights / Five Minutes / Goodbye Highway |
| 1995 | CD ARISTA 8799 (US) | | ALL OF THIS LOVE - Deep Dawn / Mandolin Rain / Sunset Red And Pale Moonlight / It's Lonely Out There / River And The Highway / You Can't Have A Good Time Without Me / Betty's Got A Bass Boat / Tequila Mockingbird / No Two Ways About It / All Of This Love |
| 1997 | CD ARISTA 8836 (US) | | GREATEST HITS - Land Of The Living / All The Good Ones Are Gone / Don't Tell Me What To Do / Maybe It Was Memphis / Shake The Sugar Tree / Let That Pony Run / Cleopatra Queen Of Denial / Spilled Perfume / When You Walk In The Room / In Between Dances / Mi Vida Loca / River And The Highway |
| 1998 | CD ARISTA 8861 (US) | | EVERY TIME - I Said A Prayer / Every Time / You Put The Lonely On Me / Whisper And A Scream / Lay The Heartache Down / Hurt Myself / Not Me / Whiskey On The Wound / We Must Be Thinking Alike / After Hours / Great Disguise |
| 1998 | CD VIRGINIA 51975 (US) | | GOLDILOCK AND THE THREE BEARS - Froggy's Country Storybook Theme Song / Happiest Girl In The Whole USA / Down Home / Wild One / That's Just About Right / Achy Breaky Heart / Sweet Dreams Performed / I Wanna Love Somebody Like I Love You / Stranger In My House / There's No Place Like Home / Froggy's Country Storybook Theme Song |
| 1999 | CD ARISTA 8885 (US) | | SUPER HITS - Don't Tell Me What To Do / Cleopatra Queen Of Denial / When You Walk In The Room / Deep Down / I Was Blown Away / Betty's Got A Bass Boat / We've Tried Everything Else / I've Seen Enough To Know / Rough And Tumble Heart |
| 2000 | CD WARNER BROS. 47789 (US) | | SUPER HITS - Maybe It Was Memphis / One Of Those Things / I Thought I'd About Had It With Love / There Goes My Love / Sometimes A Stranger Will Do / Those Memories Of You / I Wish She Wouldn't Treat You That Way / Tennessee Nights / Five Minutes / Goodbye Highway |
| 2001 | CD ARISTA 67000 (US) | | THUNDER AND ROSES - Jagged Hearts / Space / It Isn't Just Raining / Please / Tryin' / Thunder And Roses / Which Five Years / Be A Man / Off-White / I Smile / If I Didn't Love You / Waiting On The Wind |
| 2002 | CD EPIC 86546 (US) | | IT'S ALL RELATIVE - TILLIS SINGS TILLIS - Burning Memories / So Wrong / Unmitigated Gall / Violet And A Rose / I Ain't Never / Not Like It Was With You / Mental Revenge / Heart Over Mind / Goodbye Wheeling / Emotions / Honey / Detroit City / Come On And Sing |
| 2002 | CD RCA 65110 (US) | | COUNTRY LEGENDS - Don't Tell Me What To Do / One Of Those Things / Maybe It Was Memphis / Shake The Sugar Tree / Let That Pony Run / Spilled Perfume / When You Walk In The Room / Mi Vida Loca / I Was Blown Away / Fine Fine Very Fine Love / Sweetheart's Dance / Betty's Got A Bass Boat / Land Of The Living / It's Lonely Out There / You Can't Have A Good Time Without Me / Mandolin Rain |
| 04/2007 | CD STELLAR CAT 58299 (US) | | RHINESTONED - Something Burning Out / Band In The Window / Train Without A Whistle / Life Has Changed Us Around (featuring Jon ANDERSON) / Someone, Somewhere Tonight / Down By The Water / Crazy By Myself / Bettin' Money On Love / That Was A Heartache / The Hard Way / Over My Head |
| 07/2013 | CD Red River 48 (US) | | Dos Divas - Lorrie MORGAN - Pam TILLIS - I Am A Woman (Lorrie MORGAN & Pam TILLIS) / I Know What You Did Last Night (Lorrie MORGAN & Pam TILLIS) / Dos Divas (Lorrie MORGAN & Pam TILLIS) / I'm Tired (Lorrie MORGAN & Pam TILLIS) / Last Night's Make Up (Lorrie MORGAN) / Ain't Enough Roses (Pam TILLIS) / Another Chance To (Lorrie MORGAN) / Even the Stars (Pam TILLIS) / That's So Cool (Lorrie MORGAN) / Old Enough To Be Your Lover (Pam TILLIS) / Next Time It Rains [(Lorrie MORGAN) / I Envy the Sun (Pam TILLIS) / Bless Their Hearts (Lorrie MORGAN & Pam TILLIS) / What Was I Thinkin' (Lorrie MORGAN & Pam TILLIS) |
| 11/2017 | CD Goldenlane 738 (US) | | Come See Me And Come Lonely - Lorrie MORGAN & Pam TILLIS - Do Ya / Walk Right Back / It's Over / Guitars, Cadillacs / Summer Wine / Saunders Ferry Lane / Rose In Paradise / Blanket On The Ground / Tennessee Waltz / It Doesn't Matter Anymore / The End Of The World / Come See Me And Come Lonely |
© Rocky Productions 5/02/2018