| | |
| --- | --- |
| | |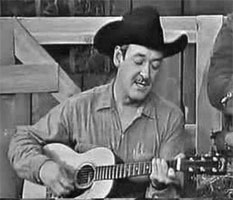 Chanteur Country US né Bishop Milton Sykes, le 6 Août 1928 à Henry County (Tennessee). Bobby Sykes a débuté en 1958 chez Decca, il a passé ensuite chez Epic, Columbia, Starday et Jed Records. Bobby a tourné avec Marty Robbins. Il fut un chanteur régulier au Home Folks On RFD 8 (WSIX-TV, Nashville, Tennessee). Il a chanté aussi sous le nom de Bob Bishop. Bobby Sykes est décédé le 7 Novembre 1994 à Nashville Tennesse.



A top session man -- particularly in association with Marty Robbins, with whom he worked and performed for many years, guitarist/singer Bobby Sykes also enjoyed a recording career of his own on labels such as RCA-Victor, Sims, and Starday during the 1960s. Sykes was already a member of Robbins' band, and Robbins had enjoyed a string of hits in country and rock & roll, and one Western hit, "The Hanging Tree," when Sykes and singer/guitarist and session man Jim Glaser suggested that he record a complete album of Western songs. The result was Gunfighter Ballads and Trail Songs and its follow-up, which opened up a whole new and very fertile field of music for Robbins and hundreds of other country performers in the decades to come.
Sykes and Robbins were thick as thieves where music and politics were concerned. In 1964, Robbins wrote a pair of topical songs, "Ain't I Right" and "My Own Native Land," attacking Communist sympathizers and antiwar protesters and implicitly supporting the presidential candidacy of Barry Goldwater that year. Columbia was afraid of the potential political repercussions of Robbins releasing the songs, and instead Sykes recorded them for the Sims label -- using the alias "Johnny Freedom" -- in a voice so similar to Robbins that for many years the single was mistaken for a Marty Robbins release.
Sykes' own singles on the Jed and Dollie labels during the late '50s and '60s included the ballads "A Touch of Loving" and "Until You're in My Arms" and the classic "Diesel Smoke and Dangerous Curves," a favorite pick of car- and truck-song compilers and country music enthusiasts. He also recorded for Starday, including "Place for Girls Like You," which opens up the multi-artist compilation The Wonderful World of Country Music, released in the mid-'70s. Additionally, Sykes also recorded a dozen or more country numbers for RCA through Reader's Digest for that publisher's Country and Western Jamboree series, six songs in collaboration with singer Lou Darnell and six more solo, with songwriters ranging from Pete Seeger ("On Top of Old Smokey"), Pee Wee King ("Bonaparte's Retreat"), and Jimmie Rodgers ("In The Jailhouse Now") to Hank Williams ("Your Cheatin' Heart"), Jimmie Davis ("You Are My Sunshine"), and Floyd Tillman ("I Love You So Much It Hurts"). His most visible work, however, remains the playing and singing he did on numerous Marty Robbins singles and albums, and their CD reissues.
Talents : Vocals, Songwriter, Guitar, Steel Guitar, Bass Guitar, Drums, Actor
Style musical : Traditional Country, Rockabilly

http://www.youtube.com/watch?v=BfR48ITGpNA
Years in activity :
| | | | | | | | | | | | |
| --- | --- | --- | --- | --- | --- | --- | --- | --- | --- | --- | --- |
| 1910 | 20 | 30 | 40 | 50 | 60 | 70 | 80 | 90 | 2000 | 10 | 20 |
DISCOGRAPHY
Singles
1954
SP FORTUNE 45-176 US)

Take It Or Leave It (Boots Gilbert & Bob Sykes ) / Man! Turn Me Loose ((Boots Gilbert)

1954
SP FORTUNE 45-181 US)

Boots Gilbert & Bob Sykes - Fickle Heart / Please, Mr. Bartender

08/1955
SP FORTUNE 45-184 US)

Sadie And The Cop (Boots Gilbert) / When Señorita Comes To Hear The Señor Play (Boots Gilbert & Bob Sykes)

05/1958
SP DECCA 9-30573 (US)
Touch Of Loving / Got Some Bad News
05/1959
SP EPIC 5-9316 (US)
Delia's Gone / How's The World Treating You?
11/1959
SP EPIC 5-9346 (US)
Never Felt Like This / Moonlight Becomes You
04/1960
SP EPIC 5-9386 (US)
Having Myself A Ball (Roy HAMILTON) / Slowly
09/1960
SP EPIC 5-9413 (US)
And They Did!! / I'm Learning
02/1961
SP COLUMBIA 4-41946 (US)

Memphis Address / The Image Of Me

09/1961
SP COLUMBIA 4-42160 (US)

I Saw The Light Go Out / Only The Hangman

01/1962
SP COLUMBIA 4-42288 (US)

The Guard On The North Wall / One More Chance

05/1962
SP COLUMBIA 4-42488 (US)

The Lonesome Traveler / So Tenderhearted

05/1963
SP STARDAY 630 (US)
Run, Johnny, Run / A Place For Girls Like You
1963
SP STARDAY 7006 (US)
Truck Driver's Queen (WILLIS BROTHERS) / Diesel Smoke, Dangerous Curves (Bobby SYKES)
11/1963
SP STARDAY 654 (US)
Good Girl Bad / I Should Start Running
1964
SP STARDAY 7019 (US)
Release Me (Bobby SYKES & Helen CARTER) / There Stands The Glass (Eddie

Wilson

)
08/1965
SP RIC S-170-65 (US)

Dime / Hey Bo

01/1966
SP RIC S-185-66 (US)

Ballad Of A Good Girl / World-Wide Distributor

07/1966
SP SIMS 296 (US)

Johnny Freedom - My Own Native Land / Ain't I Right

05/1967
SP JED 10.007 (US)

Wonderful World Of Women / Living A Lie

07/1967
SP WAYSIDE WS-1004 (US)
Bob BISHOP - My Crying Chair / I Hate To Sing And Run
10/1967
SP JED 10.010 (US)

Esther / Money Can't Buy Happiness

09/1968
SP ABC 45-11132 (US)
Bob BISHOP - Roses To Reno / It's Gonna Hurt You More Than Me
03/1969
SP ABC 11200 (US)
Bob BISHOP - Another Man's World / Somewhere In The Country
09/1969
SP ABC 11243 (US)
Bob BISHOP - Man Walks Among Us / If Your Sweet Love Don't Find Me
1970
SP HAPPY TIGER HT-550 (US)

Just Keep Doin' It Wrong / Sun Up Sun Down

1972
SP BOYD BB-7204 (US)

What Silly Fools "We Mortals Be" / Gone With The Wind

10/1973
SP JMI JMI-33 (US)
Foggy River / Sugarfoot Rag
1980
SP J AND B J-B 801 (US)

The Next Sunday I'm Gonna Be Saved / Redneck

1980
SP J AND B J-B 802 (US)

He Must Be Lovin' You / Roses To Reno

19??
SP BILIN BS-2200 (US)
Charlie-O-The-Mule (Gene McKOWN) / The Legend Of A Mule (Bobby SYKES)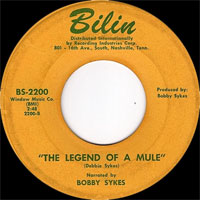 Unissued Tracks
| | | |
| --- | --- | --- |
| 195? | Unissued | Until You're In My Arms |
Albums
1963
3 LP 12" Reader's Digest ‎RDA44 M (US)

Country & Western Music Jamboree :

DISC 1 :

All-Time Country Hits :

Bobby SYKES : You're Cheatin' Heart / I Love You So Much It Hurts / Anytime / Cold, Cold Heart / You Are My Sunshine / Tennessee Waltz / Bobby SYKES Lou DARNELL : Mockin' Bird Hill / Bouquet Of Roses / On Top Of Old Smoky / In The Jailhouse Now / Bonaparte's Retreat / Have I Told You Lately That I Love You
DISC 2 :

Songs Of The West :

The CATTLEMEN : Red River Valley / The Yellow Rose Of Texas / Cool Water / Tumbling Tumbleweeds / The Last Round-Up / Wagon Wheels / Folk Songs : Frank SAUNDERS : Home On The Range / Clementine / Oh, Susanna / The Old Chisholm Trail / Blue Tail Fly / Kentucky Babe
DISC 3 : Folk Music : Gene MARTIN : Birmingham Jail / San Antonio Rose / Wabash Cannon Ball / The Wreck Of The Old 97 / Curly Headed Baby / Frankie And Johnny /

Songs Of Inspiration :

The OLD VILLAGE CHOIR : Rock Of Ages / Whispering Hope / Every Time I Feel The Spirit / In The Garden / Blessed Assurance / Peace In The Valley

1963
9 LP 12" Reader's Digest ‎RD-95 (US)

Country & Western Music Jamboree :

DISC 1 :

All-Time Country Hits

: Bobby SYKES : Oh Lonesome Me / Fraulein / I Can't Stop Lovin' You / Someday (You'll Want Me To Want You) / Born To Lose / Mollie Darling / Lee MILES & Bobby SYKES : Nobody's Business / A Dear John Letter / Why Baby, Why / Broken Down, Merry-Go-Round / Slipping Around / I'll Never Be Free
DISC 2 :

Songs Of The West

: The CATTLEMEN : Ridin' Down The Canyon / Jack O' Diamonds / Cowboy Jack / Medley : Cheyenne - Pony Boy - San Antonio / A Cowboy's Dream / When The Work's All Done This Fall / Whoopee Ti Yi Yo / Take Me Back To My Boots And Saddle / Streets Of Laredo / Bury Me Not On The Lone Prairie / Old Paint / There's An Empty Cot In The Bunkhouse Tonight
DISC 3 :

Songs Of Inspiration :

The OLD VILLAGE CHOIR : I'll Meet You In The Morning / The Old Rugged Cross / Beautiful Isle Of Somewhere / Precious Memories / Will The Circle Be Unbroken / Sweet By And By / What A Friend We Have In Jesus / Near The Cross / Love Lifted Me / Beyond The Sunset / God Will Take Care Of You / Work For The Night Is Coming
DISC 4 :

Timeless Folk Favorites

: Paul CLAYTON : John Henry / The Rovin' Gambler / Johnny's Gone To Hilo / Old Blue's Last Hunt / Jesse James (I Don't Know Where My Jesse's Gone) / In The Pines / The Minstrel Boy / The Fox / He's Gone Away / The Riddle Song / Black Is The Color Of My True Love's Hair / Mollie Malone
DISC 5 :

Songs Of Jimmie Rodgers And Hank Williams - Jimmie Rodgers Songs :

Gene MARTIN : Roll Along Kentucky Moon / Texas For Me / Miss The Mississippi And You / Mule Skinner Blues / The Brakeman's Blues / Waiting For A Train /

Hank Williams Songs :

George McCORMICK : Lovesick Blues / Jamabalaya / I'm So Lonesome I Could Cry / Hey, Good Lookin' / Lonesome Whistle / Half As Much
DISC 6 :

Blue-Grass Square Dance :

Harold MORRISON & The MAPLE HILL BOYS : Soldier's Joy / Sally Goodin / Mississippi Sawyer / Arkansas Traveller / Old Joe Clark / Turkey In The Straw / Little Maggie / All The Good Times Are Past And Gone / New River Train / Maple On The Hill / Uncle Pen / Footprints In The Snow
DISC 7 :

Treasured Folk Music :

Gene MARTIN : Birmingham Jail / San Antonio Rose / Wabash Cannon Ball / The Wreck Of The Old 97 / Curly Headed Baby / Frankie & Johnny / The OLD VILLAGE CHOIR : Rock Of Ages / Whispering Hope / Every Time I Feel The Spirit / In The Garden / Blessed Assurance / Peace In The Valley
DISC 8 :

Songs Of The Wanderer :

The CATTLEMEN : Red River Valley / The Yellow Rose Of Texas / Cool Water / Tumbling Tumbleweeds / The Last Round-Up / Wagon Wheels / Frank SAUNDERS : Home On The Range / Clementine / Oh, Susanna / The Old Chisholm Trail / Blue Tail Fly / Kentucky Babe
DISC 9 :

Songs That Have Won Their Spurs :

Bobby SYKES : Your Cheatin' Heart / I Love You So Much It Hurts / Anytime / Cold, Cold Heart / You Are My Sunshine / Tennessee Waltz / Bobby SYKES & Lou DARNELL : Mockin' Bird Hill / Bouquet Of Roses / On Top Of Old Smoky / In The Jailhouse Now / Bonaparte's Retreat / Have I Told You Lately That I Love You

1963
10 LP 12" Reader's Digest ‎RDS-26 (AUS)

Country & Western Music Jamboree :

DISC 1 :

All-Time Country Hits

: Bobby SYKES : Oh Lonesome Me / Fraulein / I Can't Stop Lovin' You / Someday (You'll Want Me To Want You) / Born To Lose / Mollie Darling / Lee MILES & Bobby SYKES : Nobody's Business / A Dear John Letter / Why Baby, Why / Broken Down, Merry-Go-Round / Slipping Around / I'll Never Be Free
DISC 2 :

Songs Of The West

: The CATTLEMEN : Ridin' Down The Canyon / Jack O' Diamonds / Cowboy Jack / Medley : Cheyenne - Pony Boy - San Antonio / A Cowboy's Dream / When The Work's All Done This Fall / Whoopee Ti Yi Yo / Take Me Back To My Boots And Saddle / Streets Of Laredo / Bury Me Not On The Lone Prairie / Old Paint / There's An Empty Cot In The Bunkhouse Tonight
DISC 3 :

Songs Of Inspiration :

The OLD VILLAGE CHOIR : I'll Meet You In The Morning / The Old Rugged Cross / Beautiful Isle Of Somewhere / Precious Memories / Will The Circle Be Unbroken / Sweet By And By / What A Friend We Have In Jesus / Near The Cross / Love Lifted Me / Beyond The Sunset / God Will Take Care Of You / Work For The Night Is Coming
DISC 4 :

Timeless Folk Favorites

: Paul CLAYTON : John Henry / The Rovin' Gambler / Johnny's Gone To Hilo / Old Blue's Last Hunt / Jesse James (I Don't Know Where My Jesse's Gone) / In The Pines / The Minstrel Boy / The Fox / He's Gone Away / The Riddle Song / Black Is The Color Of My True Love's Hair / Mollie Malone
DISC 5 :

Songs Of Jimmie Rodgers And Hank Williams - Jimmie Rodgers Songs :

Gene MARTIN : Roll Along Kentucky Moon / Texas For Me / Miss The Mississippi And You / Mule Skinner Blues / The Brakeman's Blues / Waiting For A Train /

Hank Williams Songs :

George McCORMICK : Lovesick Blues / Jamabalaya / I'm So Lonesome I Could Cry / Hey, Good Lookin' / Lonesome Whistle / Half As Much
DISC 6 :

Blue-Grass Square Dance :

Harold MORRISON & The MAPLE HILL BOYS : Soldier's Joy / Sally Goodin / Mississippi Sawyer / Arkansas Traveller / Old Joe Clark / Turkey In The Straw / Little Maggie / All The Good Times Are Past And Gone / New River Train / Maple On The Hill / Uncle Pen / Footprints In The Snow
DISC 7 :

Treasured Folk Music :

Gene MARTIN : Birmingham Jail / San Antonio Rose / Wabash Cannon Ball / The Wreck Of The Old 97 / Curly Headed Baby / Frankie & Johnny / The OLD VILLAGE CHOIR : Rock Of Ages / Whispering Hope / Every Time I Feel The Spirit / In The Garden / Blessed Assurance / Peace In The Valley
DISC 8 :

Songs That Have Won Their Spurs :

Bobby SYKES : Your Cheatin' Heart / I Love You So Much It Hurts / Anytime / Cold, Cold Heart / You Are My Sunshine / Tennessee Waltz / Bobby SYKES & Lou DARNELL : Mockin' Bird Hill / Bouquet Of Roses / On Top Of Old Smoky / In The Jailhouse Now / Bonaparte's Retreat / Have I Told You Lately That I Love You
DISC 9 :

Songs Of The Australian Outback :

Buddy

Williams

& The

Overlanders

: Where The White Faced Cattle Roam / Beautiful Queensland / When The Rain Tumbles Down In July / The Pub With No Beer / Game As Ned Kelly / Les Dingo / Lofty / Mandrake / Sweeney / Little Boy Lost / My Pal Alcohol / Billy Brink The Shearer
DISC 10 :

Australian Folk Songs :

William

Clauson

: All Among The Wool, Boys / The Old Keg Of Rum / The Tale Of Bluey Brink / The Ballad Of John Doolan (Or The Wild Colonial Boy) / Jog Along Till Shearing / They've All Got A Mate But Me / Dennis O'Rielly / Early In The Morning (Or The Mustering Song) / Eureka Lead / The Devil's Match / The Bullocky Song / The Old Bullock Dray /

Euabalong Ball

1965
LP 12" HILLTOP JM-6034 (mono) / JS-6034 (stereo) (US)
THE NASHVILLE SOUND OF MODERN COUNTRY MUSIC - Benny MARTIN & Bobby SYKES -Her Baby Girl (Benny MARTIN) / I'm Gonna Cry (Benny MARTIN) / Big Footed Dan (Benny MARTIN) / Big Tiger Ramble (Benny MARTIN) / Dimes Worth Of Dreams (Benny MARTIN) / Good Girl Bad (Bobby SYKES) / Long Lonesome Road (Bobby SYKES) / I Should Start Running (Bobby SYKES) / Run Johnny Run (Bobby SYKES) / A Place For Girls Like You (Bobby SYKES)
1965
LP 12" The United States Air Force Public Service Program ‎437/438 (US)

Country Music Time - The Jordanaires / Bobby Sykes - Jordanaires : Theme: Get On Board / This Land Is Your Land / Wandering' / When We All Get Together With The Lord / Where No One Stands Alone / Theme: San Antonio Rose / Bobby SYKES - Theme: Place For Girls Like You / Once In Every Life Time / Dime / Hey Bo / Just A Closer Walk With Thee / Theme: Wildwood Flower

1969
LP 12" ABC ABC 667 (mono) / ABCS 667 (stereo) (US)
SOMEWHERE IN THE COUNTRY - Bob BISHOP - Roses To Reno / Dreams Of The Everyday Housewife / The World Doesn't End Here / It's Gonna Hurt You More Than Me / Somewhere In The Country / Country Music Fever / Portrait Of A Lonely Man / Let The World Keep On A Turnin'/ Patricia / Big Boys Don't Cry / Movin'
1974
LP 12" JMI 4007 (US)
THE RHYTHM OF RED - Bobby SYKES - Tennessee Border / Foggy River / Chattanooga Sheoshine Boy / Tennessee Saturday Nigh / Sugarfoot Rag / Midnight / M-I-S-S-I-S-S-I-P-P-I / Sunday Down In Tennessee / Just A Closer Walk With Thee / Peace In The Valley
1991
2 CD BeeLog Music ? (US)

Spreading The Word - JUSTIN TUBB - Charlie LOUVIN - Bobby SYKES - Jack Greene - A Jesus Song (Jack Greene) / Keep Me From Blowing Away (Justin TUBB) / The World's A Little Better (Charlie LOUVIN) / Briley Parkway (Jack Greene) / Coronation Day (Justin TUBB) / Jimmy Went To Jesus (Johnny Went To Jail) (Justin TUBB) / Mama's Angels (Charlie LOUVIN) / Tennessee Born (Jack Greene) / You Gave Me Wings (Justin TUBB) / The Good And The Bad (Justin TUBB) / What A Friend We Have In Jesus (Bobby SYKES) / Farther Along (Bobby SYKES) / Portals Of Heaven (Bobby SYKES) / Softly And Tenderly (Bobby SYKES) / Precious Lord Take My Hand (Bobby SYKES) / When The Roll Is Called Up Yonder (Bobby SYKES) / Lord I'm Coming Home (Bobby SYKES) / The King's Highway (Bobby SYKES) / He Looked Beyond My Fault (Bobby SYKES) / Doin' My Best To Live For Lord (Bobby SYKES) / The Lily Of The Valley (Bobby SYKES) / How Great Thou Art (Bobby SYKES) / Mister Jesus (Bobby SYKES) / Near The Cross (Bobby SYKES) / Just A Closer Walk With Thee (Bobby SYKES) / Nobody Cares (Bobby SYKES) / I Have All I Need (Bobby SYKES) / Where Could I Go (Bobby SYKES) / Without Him (Bobby SYKES) / There Is Power In The Blood (Bobby SYKES)
© Rocky Productions 11/05/2019