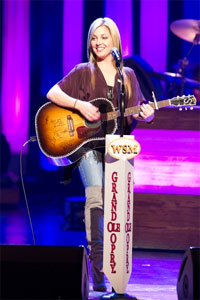 Chanteuse Country US née Sunny Michaela Sweeney,le 7 Décembre 1976 à Houston (Texas).

A brassy country singer whose retro style garnered comparisons to singers like Natalie Maines and Kasey Chambers, Sunny Sweeney grew up in Longview, TX. Sweeney was a gutsy, musically inclined girl, if a tad unpredictable. In her senior year of high school, she busted into choir class and demanded to be allowed to sing Dolly Parton's "9 to 5" in the school's year-end show. Sweeney, who didn't even belong to the class, proceeded to belt out the song, much to the choir teacher's surprise. She got the spot in the year-end show, but Sweeney didn't pursue music after she graduated. Instead, she moved to New York and tried her hand at acting. She performed on the improv comedy circuit and juggled a series of short-lived day jobs (dog walker, nanny, and waitress among them) in order to make ends meet. Sweeney eventually moved back to Texas and hooked up with an improv troupe in Austin. It was at this point that she started taking her talents as a musician seriously. Encouraged by her fellow comedians and particularly her stepfather, who'd tried to teach her some guitar chords when she was a kid, Sweeney picked up a guitar and started practicing. She played her first real gig at Austin's Carousel Lounge in 2004, went on to nail down weekly spots at various honky-tonks throughout the city, and managed to go on a small European tour soon after that. It was at this point that she managed to grab the attention of various music critics in the Austin area, and in 2005 the Austin Music Pundits named Sweeney one of the city's most notable local acts. She landed a record deal with Big Machine soon after that, and her debut, Heartbreaker's Hall of Fame, was released in 2007. Three singles were chosen from that album, "If I Could," "Ten Years Pass," and "East Texas Pines"; none of them charted. Sweeney left Big Machine and eventually signed to Republic Nashville. In 2010 she released the single, "From a Table Away" as both a single and a video; it hit the number 10 spot on the U.S. Country chart. In May of 2011, "From a Table Away," became the highest charting Billboard debut single from a female country artist in four years. "Staying's Worse Than Leaving," which was also accompanied by a videowas the second pre-release single. Her full-length debut for the label, Concrete, was released on August 23 of that same year. It netted two more Top 40 singles, "Staying's Worse Than Leaving" and "Drink Myself Single."
Sweeney left Big Machine in 2012. Interestingly, she was nominated in the Top New Female Artist category at 2013's Academy of Country Music (ACM) awards, and signed to Thirty Tigers shortly thereafter. Her first single for her new label was "Bad Girl Phase." It didn't chart but served as a pre-release for her label debut, Provoked, produced by Luke Wooten. The set was issued in August of 2014, peaking at number 20 on the country chart. Trophy, her second album for Thirty Tigers, followed in March 2017. The LP included co-writes for Sweeney with Lori McKenna, Buddy Owens, and Caitlyn Smith, plus a trio of high-profile guests (Trisha Yearwood, Ray Benson, and Jack Ingram) on backing vocals.
Talents : Vocals, Guitar, Songwriter
Style musical : Contemporary Country, Honky Tonk, Traditional Country

http://www.youtube.com/watch?v=TaTrcO28eHs
Years in activity :
| | | | | | | | | | | | |
| --- | --- | --- | --- | --- | --- | --- | --- | --- | --- | --- | --- |
| 1910 | 20 | 30 | 40 | 50 | 60 | 70 | 80 | 90 | 2000 | 10 | 20 |
DISCOGRAPHY
Singles
Albums
03/2007
CD BIG MACHINE 156602 (US)
HEARTBREAKER'S HALL OF FAME - Refresh My Memory / East Texas Pines / Next Big Nothing / Lavender Blue / Ten Years Pass / Here Lately / Heartbreaker's Hall Of Fame / Slow Swinging Western Tunes / Please Be San Antone / Mama's Opry / If I Could / 16th Avenue
08/2011
CD REPUBLIC 15751 (US)
CONCRETE - Drink Myself Single / From A Table Away / Staying's Worse Than Leaving / The Old Me / Amy / Worn Out Heart / Mean As You / It Wrecks Me / Helluva Heart / Fall For Me
08/2014
CD Aunt Daddy / Thirty Tigers 5290520 (US)

Provoked -

You Don't Know Your Husband / Bad Girl Phase / Second Guessing / Carolina On The Line / Find Me / Can't Let Go / Front Row Seats / My Bed (Sunny

Sweeney

feat: Will

Hoge

) / Uninvited / Sunday Dress / Used Cars / Backhanded Compliment / Everybody Else Can Kiss My Ass
03/2017
CD Aunt Daddy / Thirty Tigers 4188789 (US)

Trophy -

Pass The Pain / Better Bad Idea / Nothing Wrong With Texas / Pills / Bottle By My Bed / Why People Change / I Feel Like Hank Williams Tonight / Grow Old With Me / Trophy / Unsaid
© Rocky Productions 3/03/2017