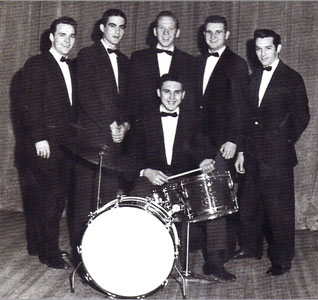 Groupe Rockabilly US originaire de Gainesville (Texas), les Strikes ont enregistréau milieu des années cinquante pour Lin (56) et Imperial Records (57).Le groupe comprenait : Willie Jacobs, Kenneth Ewing Scott, Paul Kunz, Albert Branden Cornelius, Don Alexander (Terry) et Walter Paschal Parsons.

The Strikes were among the numerous white vocal groups that sprung up around the mid-'50s, trying to grab a piece of the rock & roll action that was starting to swirl around the charts. They'd started out as a country vocal trio, consisting of Willie Jacobs on lead, Ken Scott singing tenor and playing rhythm guitar, and Paul Kunz on bass, at North Texas State College in the first half of the '50s -- their sound in those days was honky tonk, and their main influence was Hank Williams, but they also had an interest in and appreciation for rhythm & blues which, combined with their country roots, made them a natural fit for the burgeoning sounds of rock & roll. By 1956, the Strikes -- named, according to one interview, in response to a fellow student's observation that they would "strike out" -- were a sextet, rounded out by top-flight rockabilly guitarist A.B. Cornelius, bassist Don Alexander (who soon started singing as well), and drummer Walter Paschal Parsons. They played around East Texas and cut records backing other artists, most notably Andy Starr at Lin Records in September of 1956, for which Jacobs and Alexander also wrote all four songs that Starr recorded -- in the process, Lin founder Joe Leonard was impressed enough to sign the group up, despite the fact that none of the Starr sides hit.
Their first record, "Baby I'm Sorry" b/w "If You Can't Rock Me," cut in November of 1956, was as good a piece of rock & roll as the Lin/Kliff labels ever released, and that says something, as Leonard was mainlining some of the best musical talent in his corner of Texas. Their music intersected Carl Perkins and Gene Vincent without ever sounding exactly like either, and they also called to mind Buddy Holly & the Crickets. They were equally adept at slow R&B-style numbers, such as "I Do," and the rhythm numbers that showed off their virtuosity -- even better, Alexander, Jacobs, and Scott wrote their own material, and that material worked in various settings, as the surviving alternate takes of the group's sides confirm; Jacobs was a fine solo lead, on top of their usual shared vocals, and Don Alexander was also no slouch as a solo lead. There seemed to be vast potential in the group, but it was never realized -- their first single never charted and their work was later picked up by Imperial Records as part of a national distribution deal involving Lin's one confirmed national star, Ken Copeland. Their music at a second recording session in February of 1957 was as good as that from their first session, but they ran out of time -- Willie Jacobs was drafted in September of 1957, and the members -- except for Alexander and Scott -- soon left music. They continued writing songs, and Alexander (working as Don Terry) recorded a single for Lin Records late in the decade. Ironically, Jacobs enjoyed some welcome and unexpected rewards for his work in music following his stint in the army, when "If You Can't Rock Me," which he'd written, was recorded by Ricky Nelson and included on the pop/rock superstar's debut LP, which was one of the biggest-selling rock & roll LPs of 1959, and Nelson subsequently recorded Alexander's "Baby I'm Sorry" as well. The group's recordings (including unissued tracks) were later unearthed as part of European reissues devoted to the R&B output of Imperial Records and 50's Southern rock & roll, including Bear Family Records' That'll Flat Git It series, and the same label's four-CD set, The Lin & Kliff Story.
Talents : Willie Jacobs : Vocals - Kenneth Ewing Scott : Vocals - Paul Kunz : Vocals - Albert Branden Cornelius : Guitar - Don Alexander : Bass - Walter Paschal Parsons : Drums
Style musical : Rockabilly, Rock 'n' Roll
| | |
| --- | --- |
| IF YOU CAN'T ROCK ME (1956) | |
Years in activity :
| | | | | | | | | | |
| --- | --- | --- | --- | --- | --- | --- | --- | --- | --- |
| 1910 | 20 | 30 | 40 | 50 | 60 | 70 | 80 | 90 | 2000 |
DISCOGRAPHY
78 t. & Singles
Unissued Tracks
| | | |
| --- | --- | --- |
| 195? | Unissued - (Bear Family CD 16288 (#11) / Collectables CD 5300 (#11) / Lesley CD 4 (#9)) | Come Back To Me |
| 195? | Unissued - (Bear Family CD 16288 (#3) / Bop-A-Rama LP 003 (#8) / Luxel CD 7103 (#7) / Sheik 10 101 (#3)) | If You Can't Rock Me [alt. vers.] |
| 195? | Unissued - (Bear Family CD 16288 (#18) / Big Tone CD 5709 (#13) / Chief CD 1156512 [2nd] (#5) / Disky CD 885962 (#19) / EMI/Liberty LP 83096 (#7) / United Artists (England) LP 30312 (#7)) | My Poor Heart |
© Rocky Productions 23/03/2002