Chanteur Rock 'n' Roll US né le 29 Juin 1938 à Dayton (Ohio).

Billy Storm, born on June 29, 1938 in Dayton, Ohio, hit the US charts at No.28 with 'I've Come Of Age' in 1959. Billy had an incredible recording career. As Billy Spicer, he was a member of the Sabers, who recorded 'Always Forever' on Cal-West 847 in 1955 (other members were Sheridan Spencer, Brice Coefield and Walter Carter). In 1956, the group (with Chester Pipkin replacing Carter) recorded as the Chavelles on Vita 127, with 'Valley Of Love'.
By 1957 they had become the Gents, recording 'Happenin' After School' (Aladdin 3387). The same year, they performed as the Valiants, issuing 'This Is The Night' (Keen 34004), then 'Lover Lover' (Keen 34007, 1958), 'Temptation Of My Heart' (Keen 4008, 1958) and 'Please Wait My Love (Keen 4026, 1958).
As Billy Storm and the Valiants, he released 'We Knew' on Ensign 4035, then turned up as Billy Fortune and the Squires for 'Every Word Of The Song' on Dice 478. Billed just as Billy Storm he released 'The Way To My Heart' on Barbary Coast 1001, then signed to the Columbia label.In 1959, his first Columbia single, 'I've Come Of Age' (41356), hit the US charts at No.28. The follow-ups – 'Easy Chair' (41431), 'Emotion' (41494) and 'When The Whole World Smiles Again' (41545), all 1959 - were not successful.
With the Valiants, he released 'This Is The Nite' on Keen 82120, 1960. With the addition of Don Trotter and Ed Wallace, the same group were the Untouchables on Madison 134, with 'Goodnight Sweetheart Goodnight'.
Billy next signed solo for Atlantic, releasing 'Sure As You're Born (2076), which was issued by London in the UK. 1961 saw the release of 'Dear One' (2098) and 'A Kiss From Your Lips' (2112). His next single, '3,000 Tears' came from the Gregmark label.
The group (now consisting of Chester Pipkin, Warren Joyner, Billy Mann, Billy Storm and Gary Pipkin) now appeared as the Electras on Infinity 012, with 'You Lied'. The same line-up appeared as the Freedoms on Constellation 105 with the same song.
In 1962, Billy sang as a member of the Nuggets (under the name William Jones) on 'Just A Friend' (RCA 47-8031). From 1962 to 1964, he pursued a solo career on the Infinity and Buena Vista labels with nine single releases. For Infinity he produced 'Love Theme From El Cid' (013), 'Since I Fell For You' (018) and 'I Can't Help It' (023). Buena Vista singles were 'Puppy Love Is Here To Stay' (403), 'Love Theme From El Cid' (with different flip, 413), 'Double Date' (415), 'Deed I Do' (418), 'He Knows How Much We Can Bear' (424) and 'Since I Fell For You' (again, 429).
In 1964, he turned up as a member of the Charades for 'Flamingo' on Skylark 108, then went solo again for 'Baby Don't Look Down' (Lorna 2001, 1964) and 'Goldfinger Theme' (Lorna 2009, 1965). In 1966, the Electras re-surfaced for 'Mary Mary' (RubyDoo 2), while Billy Storm soloed with 'Please Don't Mention Her Name' (Hanna-Barbera 474). 1968 saw a group called Africa (members Billy Storm, Brice Coefield, Rip Spencer, Chester Pipkin, Gary Pipkin, Ed Wallace, Billy Mann, and Freddie Willis) on Ode 116 with 'Here I Stand' The same year, Billy soloed on 'Down Home' / 'Monday Monday' (Ode 117), later re-released with 'Coal Mine' as the flip, on the same catalogue number. 'Coal Mine' turned up again as the A side of the next single (Ode 120).
Still for Ode, Billy (with Joseph Green, Andrew Herd, Jesse Kirkland, Chester Pipkin, Ed Wallace, Fred Willis and Don Wyatt – and 20 female singers) recorded as the Brothers And Sisters Of Los Angeles on 'Mighty Quinn' (121) and 'The Times They Are A-Changin' (123).
Africa returned in 1969 for 'From Africa With Love' (Ode 126), and again in 1972 for 'Here I Stand' on Epic 5-10848. Billy Storm & the Valiants returned in 1995 with 'This Is The Nite' (a re-issue of the 1960 track, Early Bird 1001) and 'Please Wait My Love' (Early Bird 1003).
Throughout this long career Billy only had two album releases, in 1961 – 'This Is The Night' on Famous F-504, and later 'Billy Storm' (label not known). The Brothers and Sisters of Los Angeles appeared on an album, 'Dylan's Gospel' (Ode Z12 44018, 1969). As you might guess, all the tracks were Bob Dylan songs.
Talents : Vocals
Style musical : Doo Wop, Rock 'n' Roll, Pop/Rock
Years in activity :
| | | | | | | | | | | | |
| --- | --- | --- | --- | --- | --- | --- | --- | --- | --- | --- | --- |
| 1910 | 20 | 30 | 40 | 50 | 60 | 70 | 80 | 90 | 2000 | 10 | 20 |
DISCOGRAPHY
Singles & EP
1958
SP DICE 478 (US)
.

Everyword Of The Song (Billy FORTUNE & The SQUIRES) / Listen To Your Heart (Billy FORTUNE)

07/1958
SP Barbary Coast 45-1001-1 / 45-1001-4 (US)
.

The Way To My Heart / Angel Of Mine

03/1959
SP COLUMBIA 4-41356 (US)
.

I've Come Of Age / This Is Always

06/1959
SP Ensign 3-4035 (US)
.

We Knew (Billy STORM & The VALIANTS) / Walkin' Girl (VALIANTS)

07/1959
SP COLUMBIA 4-41431 (US)
.

Easy Chair / You Just Can't Plan These Things

10/1959
SP COLUMBIA 4-41494 (US)
.

Emotion / I Can't Stop Crying For You

12/1959
SP COLUMBIA 4-41545 (US)
.

When The Whole World Smiles Again / Enchanted

09/1960
SP ATLANTIC 45-2076 (US)
.

Sure As You're Born / In The Chapel In The Moonlight

03/1961
SP ATLANTIC 45-2098 (US)
.

When You Dance / Dear One

07/1961
SP ATLANTIC 45-2112 (US)
.

Honey Love / A Kiss From Your Lips

10/1961
SP Gregmark 9 (US)
.

Who'll Keep An Eye On Jane? / 3000 Tears

01/1962
SP Infinity INX-013 (US)
.

Love Theme From "El Cid" / Don't Let Go

04/1962
SP Infinity INX-018 (US)
.

A Million Miles From Nowhere / Since I Fell For You

09/1962
SP Infinity INX-023 (US)
.
09/1962
SP BUENA VISTA F-403 (US)
.

Puppy Love Is Here To Stay / Push Over

12/1962
SP BUENA VISTA F-413 (US)
.

Cee Cee Rider / Love Theme From El Cid

01/1963
SP BUENA VISTA F-415 (US)
.

Good Girl / Double Date

03/1963
SP BUENA VISTA F-418 (US)
.

Lonely People Do Foolish Things / Deed I Do

07/1963
SP BUENA VISTA F-424 (US)
.

Sometimes I Feel Like A Motherless Child / He Knows How Much We Can Bear

1963
EP BUENA VISTA 45 VS 560 (F)

Lover Come Back To Me - Lover Come Back To Me / Lover Come Back To Me (2ème version) / Walk On The Wild Side / Cee Cee Rider

09/1964
SP LOMA 2001 (US)
.

I Never Want To Dream Again (There In A Garden) / Baby, Don't Look Down

01/1965
SP LOMA 2009 (US)
.

Goldfinger / Debbie And Mitch

08/1965
SP BLUE STAR BS 1965 (US)
.

It's What's Happening, Baby / That Funny Feeling

06/1966
SP Hanna-Barbera HBR 474 (US)

Please Don't Mention Her Name / The Warmest Love

06/1969
SP ODE ZS7-120 (US)

Tonight I'll Be Staying With You / Coal Mine

1995
SP Early Bird EB 001-95 (US)
.

Billy Storm & The VALIANTS - This Is The Nite / Good Golly Miss Molly

1995
SP Early Bird EB 003-95 (US)
.

Please Wait My Love (alternate take) (Billy STORM & The

VALIANTS

) / Temptation Of My Heart (

VALIANTS

)

????
EP ATLANTIC 45-2098 (US) (bootleg)
.

Billy Storm & The Storms - Dear One / When You Dance / A Kiss From Your Lips / Honey Love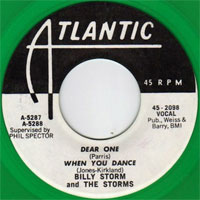 Albums
| | | | |
| --- | --- | --- | --- |
| 1961 | LP 12" Famous F-504 (US) | | This Is The Night - Billy Storm & The VALIANTS- This Is The Night / Temptation Of My Heart / Walkin' Girl / Please Wait My Love / Love Game / Good Golly Miss Molly / Lover Lover / Frieda, Frieda / We Knew / Screwdriver |
| 1963 | LP 12" BUENA VISTA BV 3315 (US) | | BILLY STORM - Lover Come Back To Me / Body And Soul / Walk On The Wilde Side / God Bless The Child / Cee Cee Rider / Lonely People Do Foolish Things |
| 1963 | LP 12" BUENA VISTA 33 VS 561 (F) | | BILLY STORM - Lover Come Back To Me / Body And Soul / Walk On The Wilde Side / God Bless The Child / Cee Cee Rider / Lonely People Do Foolish Things |
| 196? | LP 12" Demand ‎LP 100 (US) | | Billy Storm And The VALIANTS - Good Golly Miss Molly / The Way To My Heart / This Is The Night / We Knew / Temptation Of My Heart / Easy Chair / Lover Come Back To Me / Dear Cindy / Mama Don't Hit That Boy / Frieda Frieda / When You Dance / Lover Lover / Listen To Your Heart / Don't Let Go / I've Come Of Age / Wakin' Girl |
| 06/2015 | CD El Toro R&B 123 (S) | | This Is The Nite - The Chavelles : Valley Of Love / The VALIANTS : This Is The Nite / Good Golly Miss Molly / Lover, Lover / Frieda Frieda / Please Wait For Me / We Knew / Billy STORM : The Way To My Heart / Angel Of Mine / Billy FORTUNE & The SQUIRES : Every Word Of The Song / Listen To Your Heart / Billy STORM : I've Come Of Age / Sure As You're Born / In The Chapel In The Moonlight / Dear One / When You Dance / A Kiss From Your Lips / Honey Love / Don't Let Go / A Million Miles From Nowhere / Since I Fell From You / Educated Fool / Puppy Love Is Here To Stay / Push Over / Cee Cee Rider |
| ???? | LP 12" KEEN K-1000 (US) | | The Best Of The Valiants Featuring Billy Storm - This Is The Night / Good Golly Miss Molly / Lover Lover / Walkin' Girl / Please Wait My Love / Flamingo / Frieda, Frieda / We Knew / Dear Cindy / Surprise / The Way To My Heart / Angel Of Mine / Everyword Of The Song / Listen To Your Heart / Temptation Of My Heart |
© Rocky Productions 24/03/2019