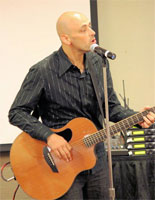 Chanteur Country US né Joel Philip Stacey, le 21 Janvier 1978 ŕ Richmond (Kentucky).

Phil Stacey's first appearance on the sixth season of American Idol was a memorable one, as it was revealed that the Navy officer was missing the birth of his second daughter in order to audition for the show in Memphis. It was a memorable introduction to the American public, presenting the Jacksonville, FL, native in a very appealing light. Of course, it helped that Stacey -- age 29 at the start of the show in 2007 -- had one of the strongest backstories of any of the Top 24 contestants. The son of a pastor, he had been singing in church since childhood and continued to pursue music as an adult, taking lessons while he was in college at Lee University. He married his wife, Kendra, who gave birth to their daughters Chloe and Machaela (the latter being born the week of his AmIdol audition), and he supported his family as a Naval officer, remaining on active duty as he appeared on the TV show.
While he was in the Navy, he regularly sang and appeared in Navy-sponsored music events, including an American Idol-styled competition that he won. Encouraged by a friend, he auditioned for the show and made it from the Memphis rounds to Hollywood, where he eventually made it into the Top 24 (the Navy reassigned him to California so he could compete). The first week on the show, Stacey sang Edwin McCain's "I Could Not Ask for More," which judge Randy Jackson proclaimed as "hot!," elaborating that Stacey gave the best performance of the guys that week. The second week brought a performance of John Waite's "Missing You," which was praised by Jackson and fellow judge Paula Abdul, as well as the show's voting public.
Stacey truly hit his stride during country week, which set the stage for his subsequent career as a recording artist. Following Idol, he signed with Lyric Street Records and began working on an album, the first single from which -- "If You Didn't Love Me" -- was released to country stations early in 2008. His self-titled debut followed in April. Stacey toured in support of the album and returned to the studio several months later, where he chose to focus on his Christian upbringing instead of the Nashville-influenced sounds of his debut. Released in August 2009, Into the Light fused religious themes with pop/rock songwriting.
http://www.myspace.com/philstaceymusic
Talents : Singer, Guitar
Style musical : Contemporary Country, Pop Idol, Pop Rock

https://youtu.be/ZGG95U69nV4
Years in activity :
| | | | | | | | | | | |
| --- | --- | --- | --- | --- | --- | --- | --- | --- | --- | --- |
| 1910 | 20 | 30 | 40 | 50 | 60 | 70 | 80 | 90 | 2000 | 10 |
DISCOGRAPHY
Single
| | | |
| --- | --- | --- |
| 2008 | CD LYRIC STREET BVPR001192 (US) (promo) | If You Didn't Love Me |
Albums
| | | | |
| --- | --- | --- | --- |
| 04/2008 | CD LYRIC STREET 000168002 (US) | | PHIL STACEY - It's Who You Know / Looking Like Love / If You Didn't Love Me / No Way Around A River / 'Round Here / Be Good To Each Other / Find You / You Are Mine / What I'm Fighting For / Still Going Through / Identity |
| 08/2009 | CD Provident Music 10140 (US) | | Into The Light - Inside Out / It's Gotta Be Love / You're Not Shaken / Sanctuary / One / With All My Heart / Into the Light / Some Kind Of Love / Glorious / Hard to Get / Old Glory |
| 03/2011 | CD Conquer EntErtainment ? (US) | | Faith - Have A Little Faith In Me / Praises Everyone / Salvation Is Here / More Than That / Be Good To Each Other / Hold Me Jesus / At The End / The Beatitudes Song / Forgive Me / Search Me / O God |
© Rocky Productions 26/12/2018