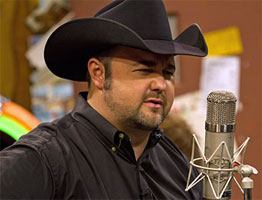 Chanteur Country US né Daryle Bruce Singletary, le 10 Mars 1971 à Wigham (Georgie). Daryle Singletary est mort le 12 Février 2018 à Lebanon (Tennessee).

Neo-traditionalist singer Daryle Singletary was among the brightest new stars to arrive on the contemporary country scene of the mid-'90s, winning fans with his simple, honest songcraft and distinctively gravelly Vocals. Born and raised in Cairo, GA, he grew up singing gospel alongside his cousins and brother, and while attending high school enrolled in a variety of Vocals classes; after graduation, he worked at a tractor dealership before relocating to Nashville to pursue a career in music.
In Music City, Singletary frequently shared open-mike stages and amateur showcases alongside fellow up-and-comers like Tracy Lawrence and Tim McGraw; he eventually found work as a demo singer, recording the track "Old Pair of Shoes" for an independent label. The song made its way to Randy Travis, who decided to record it himself while recommending Singletary to his management team. In short time, Singletary signed to Giant Records, and in 1995 he released his self-titled debut LP, scoring the smash hit singles "I Let Her Lie" and "Too Much Fun." The follow-up, All Because of You, appeared in late 1996 and generated the hit "Amen Kind of Love." Singletary's third album, Ain't It the Truth, was released in early 1998, followed by That's Why I Sing This Way on Audium Records in 2002.
It would be five years before his next release, Straight from the Heart, appeared in 2007 from Shanachie Records. Rockin' in the Country was released by Koch Records in 2009. After a six-year hiatus from recording -- he still performed live in the interim -- Singletary returned in 2015 with There's Still a Little Country Left. In the summer of 2017 he released American Grandstand, a duets album with Rhonda Vincent. Daryle Singletary died unexpectedly at his home in Lebanon, Tennessee on February 12, 2018. He was 46 years old.
https://en.wikipedia.org/wiki/Daryle_Singletary
Talents : Vocals, Songwriter, Guitar
Style musical : Contemporary Country
Years in activity :
| | | | | | | | | | | | |
| --- | --- | --- | --- | --- | --- | --- | --- | --- | --- | --- | --- |
| 1910 | 20 | 30 | 40 | 50 | 60 | 70 | 80 | 90 | 2000 | 10 | 20 |
DISCOGRAPHY
Singles
03/1995
SP GIANT 7-17902 (US)
.

I'm Living Up To Her Low Expectations / My Heart's Too Broke (To Pay Attention)

07/1995
SP GIANT 7-17818 (US)

I Let Her Lie / Ordinary Heroes

04/1996
SP GIANT 7-17650 (US)
.

Workin' It Out / What Am I Doing There

1996
CD GIANT PRO-CD-8879-R (US) (promo)
.

Even The Wind (album version)

03/1997
SP GIANT 7-17399 (US)
.

The Used To Be's (album version) / That's What I Get For Thinkin' (album version)

11/1997
SP GIANT 7-17268 (US)
.

The Note /

I Let Her Lie
11/1997
CD GIANT 9 17268-2 (US)

The Note (album version) / I Let Her Lie (album version)

11/1997
CD GIANT PRO-CD-9078-R (US) (promo)
.
The Note (album version)
07/1998
SP GIANT 7-17172 (US)
.

My Baby's Lovin' [single edit] / Miracle In The Making

07/1998
CD GIANT 9 17172-2 (US)
My Baby's Lovin' [single edit] / Miracle In The Making
1998
CD GIANT PRO-CD-9367-R (US) (promo)
.

My Baby's Lovin' (sinlge edit) / My Baby's Lovin' (album version)
Albums
05/1995
CD GIANT 9 24606-2 (US)
DARYLE SINGLETARY - Too Much Fun / I'm Living Up To Her Low Expectations / There's A Cold Spell Movin' In / Ordinary Heroes / I Let Her Lie / Love That Never Died / Workin' It Out / My Heart's Too Broke (To Pay Attention) / Would These Arms Be In Your Way / What Am I Doing There
10/1996
CD GIANT 9 24660-2 (US)
ALL BECAUSE OF YOU - Used To Be's / Amen Kind Of Love / My Heart Population You / Hurts Don't It / Liar Liar My Heart's On Fire / Even The Wind / All Because Of You / Redneckin' / He'll Heal My Broken Heart / That's What I Get For Thinkin'
02/1998
CD GIANT 9 24696-2 (US)
AIN'T IT THE TRUTH - Note / Love Or The Lack Of / That's Where You're Wrong / Thing Called Love / I'd Live For You / Miracle In The Making / My Baby's Lovin' / You Ain't Heard Nothin' Yet / Real Deal / Ain't It The Truth
07/2000
CD AUDIUM 8125 (US)
NOW AND AGAIN - Too Much Fun / I've Thought Of Everything / You Ain't Heard Nothin' Yet / Amen Kind Of Love / I Let Her Lie / Would These Arms Be In Your Way / Dumaflache / I Knew I Loved You / Now And Again / Note
05/2002
CD AUDIUM AUD-CD-8151 (US)
THAT'S WHY I SING THIS WAY - Love's Gonna Live Here Again / Walk Through This World With Me / I'd Love To Lay You Down / A-11 / Long Black Veil / Kay / That's Why I Sing This Way / I Never Go Around Mirrors / Dim Lights Thick Smoke (And Loud Loud Music) / Make Up And Faded Blue Jeans / After The Fire Is Gone / Old Violin
02/2007
CD SHANACHIE 6201 (US)
STRAIGHT FROM THE HEART - Bottle Let Me Down / Black Sheep (Daryle

Singletary

with guest vocal John

Anderson

) / Some Broken Hearts Never Mend / Promises / I've Got A Tiger By The Tail (Daryle

Singletary

with guest vocal Ricky

Skaggs

) / Jesus And Bartenders / These Days I Barely Get By / Miami, My Amy / I Still Sing This Way / Lovin' On Back Streets / Fifteen Years Ago / We're Gonna Hold On (Daryle

Singletary,

guest Duet vocal Rhonda

Vincent

)
02/2007
CD BIG BAND CONCERT 77407 (US)
LIVE IN CONCERT - Liar, Liar / Ordinary Heroes / That's Where You're Wrong / Low Expectations

/

Amen Kind Of Love / I Let Her Lie / The Note / Ain't It The Truth
04/2009
CD KOCH KOC-CD-9878 (US)
ROCKIN' IN THE COUNTRY - Rockin' In The Country / Love You With The Lights On / That's Why God Made Me / How Can I Believe In You / Goin' Through Hell (With You Again) / Background Noise / If I Ever Get Her Back / Real Estate Hands / She's A Woman / She Sure Looks Good In Black / They Know How They Grow 'em / Take Me Home Country Roads
07/2015
CD

Amazon.com kydc

‎? (US)

There's Still a Little Country Left -

Get Out Of My Country / Say Hello To Heaven / Sunday Mornin' Kind Of Town / Spilled Whiskey / Like Family / So Much Different Than Before / Enough To Lie To Me / Wanna Be That Feeling / Too Late To Save The World / There's Still A Little Country Left / I'm The Only Helly My Mama Ever Raised (Daryle

Singletary

feat: Johnny

Paycheck

)
2015
CD AGR Television 4 260019 221032 (EUR)

There's Still a Little Country Left -

Get Out Of My Country / Say Hello To Heaven / Sunday Mornin' Kind Of Town / Spilled Whiskey / Like Family / So Much Different Than Before / Enough To Lie To Me / Wanna Be That Feeling / Too Late To Save The World / There's Still A Little Country Left / I'm The Only Helly My Mama Ever Raised (Daryle

Singletary

feat: Johnny

Paycheck

)
07/2017
CD UPPER MANAGEMENT UM011 (US)
American Grandstand - Rhonda Vincent & Daryle Singletary - American Grandstand / One / Above And Beyond / As We Kiss Our World Goodbye / A Picture Of Me Without You / After The Fire Is Gone / We Can't Live Life / Golden Ring / Louisiana Woman Mississippi Man / Slowly But Surely / We Must Have Been Out Of Our Minds / Up This Hill And Down
© Rocky Productions 20/08/20178