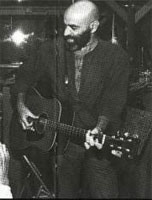 Chanteur et compositeur Country US né Sheldon Alan Silverstein, le 25 Septembre 1932 à Chicago (Illinois). Shel Silverstein est décédé le 10 Mai 1999 à Key West (Floride).

Shel Silverstein was one of those rare "multi-threat" artists -- composer, singer, cartoonist, illustrator, author -- with popular successes in all of those areas. Born in Chicago in 1932, Sheldon Alan Silverstein first attracted notice during his army service, in Japan and Korea, when he became a cartoonist for the U.S. Army publication Stars & Stripes. After returning to civilian life, he made a part of his living selling hot dogs at Chicago's two ballparks, and, according to a 1961 publisher's biography, set a record for the number of hot dogs sold at Thursday night games. He also began drawing cartoons for magazines such as Look, Sports Illustrated, and This Week, but it was when he joined Playboy magazine in mid-'50s that his name started getting known nationally. The magazine was then on the cutting edge of popular culture, and Silverstein's cartoons, which appeared in every issue from 1957 through the mid-'70s, with their satirical and provocative content, were some of the sharpest work in there.
During the late '50s, Silverstein also began exploring other areas of creativity, including writing and music. He recorded an LP, Hairy Jazz, for Elektra Records, which featured two original songs as well as his interpretations, as a singer, of a brace of jazz standards. It was the first of a dozen albums that Silverstein would cut in the course of an active career of more than two decades in music, cutting across all genres -- his next album, Inside Folk Songs, was a sharply comedic look at the early-'60s folk music boom and all of its attendant absurdities, which included the original version of "The Unicorn Song," and he followed that up with a trio of LPs for Chess Records' progressive label, Cadet Records. During this period, apart from his work as a magazine illustrator, Silverstein was busy as an author -- his cartoons appeared in book form, including Now Here's My Plan (Simon & Schuster) and Grab Your Socks (Ballantine), and he wrote a successful children's book, The Lion Book. Additionally, he appeared regularly on radio as a musician and actor on The Jean Shephard Show, and as a regular with Roger Price on television. He also performed, as a singer and banjo player, as part of Papa Bue's Danish Viking New Orleans Jazz Band and as a solo act.
Amid his literary successes, which included Uncle Shelby ABZ Book, Uncle Shelby's Zoo, and Giraffe and a Half, all of which were aimed at children, Silverstein also established himself as a songwriter. A pair of his compositions, "The First Battalion" and "You're Wasting Your Time Trying to Make Me Settle Down," were recorded by Bob Gibson and Hamilton Camp, during the early '60s, but "The Unicorn Song," from his own Inside Folk Songs album, quickly achieved a life of its own when the Irish Rovers turned it into a huge international hit. The Brothers Four also found success recording Silverstein's "25 Minutes to Go," but it was in 1967, when Johnny Cash enjoyed massive success with his version of Silverstein's "A Boy Named Sue," that he achieved stardom as a songwriter. RCA Records subsequently issued an album of Silverstein's music using that song as the title track. Silverstein's most important album from this period, however, and his most successful was Freakin' at the Freakers Ball, released in 1973, in which he turned his jaundiced, satirical eyes toward the counterculture, hippies, and radicals of all stripes. A year before that, however, he saw a new round of success begin as a songwriter with "Sylvia's Mother," an over-the-top romantic lament that reached number five on the charts and turned its artists, Dr. Hook & the Medicine Show, into stars; the group, who played on Freakin' at the Freaker's Ball, subsequently hit even bigger with the satiric "The Cover of the Rolling Stone," also written by Silverstein, and the group was the major vehicle for Silverstein's music for the rest of the 1970s. His song "Don't Give a Dose to the One You Love Most," from Freakin' at the Freakers Ball, was later adopted as a theme in different anti-venereal disease campaigns.
Even as he was celebrated in sophisticated musical circles for his satirical and adult-oriented songs, however, Silverstein was a best-selling author of children's books, including Falling Up (1996), The Missing Piece (1982), Where the Sidewalk Ends (1981), A Light in the Attic (1981), and most enduring of all, The Giving Tree (1964), which has remained in print almost continuously for close to 40 years. He also wrote a play, Wild Life, that had its off-Broadway debut in 1983 to rave reviews, and he earned an Oscar nomination as a songwriter for "I'm Checking Out," which he wrote for the 1990 Mike Nichols film Postcards from the Edge. His songs were also used in such movies as Ned Kelly, Coal Miner's Daughter, Hearts of Fire, and Things Change. The world lost a unique and talented artist when Silverstein died of a heart attack at his home in Key West in May 1999.
http://www.shelsilverstein.com/
https://en.wikipedia.org/wiki/Shel_Silverstein
Talents : Vocals, Guitar, Songwriter
Style musical : Children's Folk, Comedy, Contemporary Folk, Folk Revival, Folksongs, Music Comedy, Novelty, Outlaw Country, Progressive Country

https://youtu.be/Dmt7wo0Tnr8
Years in activity :
| | | | | | | | | | | | |
| --- | --- | --- | --- | --- | --- | --- | --- | --- | --- | --- | --- |
| 1910 | 20 | 30 | 40 | 50 | 60 | 70 | 80 | 90 | 2000 | 10 | 20 |
DISCOGRAPHY
Singles & EP
| | | | |
| --- | --- | --- | --- |
| 1959 | SP ELEKTRA 45-6 (US) | . | I Wonder Who's Kissing Her Now / Broken Down Mama |
| 1963 | EP ATLANTIC 624 (US) | | Selections From "Inside Folk Songs" - Bananas / Boa Constrictor / The Slitheree-Dee / Wreck Of The Old '49 / Blue Eyes / Have Another Espresso / Civil War Song / Standing On The Outside Of Your Shelter |
| 04/1969 | SP RCA VICTOR 74-0158 (US) | . | A Boy Named Sue / Somebody Stole My Rig |
| 04/1970 | SP RCA VICTOR 47-9844 (US) | . | Policeman Woman Taxicab / Three Legged Man |
| 08/1971 | SP COLUMBIA 4-45450 (US) | | A Front Row Seat To Hear Ole Johnny Sing / 26 Second Song |
| 01/1973 | SP COLUMBIA 4-45772 (US) | . | Sahrah Cynthia Sylvia Stout Would Not Take The Garbage Out / Stacey Brown Got Two |
| 02/1973 | EP 33 t. COLUMBIA 7-31119 (US) (jukebox) | | Freakin' At The Freakers Ball - Thumbsucker / Freakin' At The Freakers Ball / Liberated Lady 1999 / Don't Give A Dose To The One You Love Most / Masochistic Baby |
| 06/1973 | SP COLUMBIA 4-45885 (US) | . | All About You / Peace Proposal |
| 1973 | SP CBS CBS 1244 (NL) | | Stacy Brown Got Two / Sahra Cynthia Sylvia Stout (Would Not Take The Garbage Out) |
| 11/1974 | SP COLUMBIA 3-10053 (US) | . | Man Who Got No Sign / Everybody's Makin' It Big But Me |
| 05/1975 | SP COLUMBIA 3-10153 (US) | . | Sarah Cynthia Sylvia Stout Would Not Take The Garbage Out / Man Who Got No Sign |
| 1978 | SP PARACHUTE RR 518 DJ (US) | | Show It At The Beach / The Smoke-Off |
| 1978 | EP 12" 33 t. PARACHUTE RRD 20512 (US) (promo) | | Selected Cuts From Songs And Stories - The Smoke-Off / You Can't Show It At The Beach / Goodnight Little House Plant / Peanut Butter Sandwich |
| 1984 | EP COLUMBIA AE7 1909 (US) (promo) | | Selections From Where The Sidewalk Ends-Recited, Sung And Shouted By Shel Silverstein - Invitation / Eighteen Flavors / Sick / Jimmy Jet And His TV Set / For Sale / Warning / The Yipiyuk / Crocodile's Toothache / Stone Telling / Boa Constrictor / Hug O'War / No Difference / My Hobby / Early Bird |
Albums
1959
LP 12" ELEKTRA EKL-176 (mono) / EKS-7176 (stereo) (US)
HAIRY JAZZ - Shel SILVERSTEIN & The RED ONIONS - I'm Satisfied With My Girl / Somebody Else Not Me / Go Back Where You Got It Last Night / Broken Down Mama / Good Whiskey / I Wonder Who's Kissing Her Now / Who Walks In / Kitchen Man / Sister Kate / Good Man Hard To Find / Pass Me By Just Like You Never Knowed Me / I'm Ragged But I'm Right
1962
LP 12" ATLANTIC 8072 (mono) / SD-8072 (stereo) (US)
INSIDE FOLK SONGS - Bury Me In My Shades / Have Another Espresso / Bananas / Liz / You're Always Welcome At Our House / Civil War Song / Boa Constrictor / 25 Minutes To Go / Folk Singer's Blues / Beans Taste Fine / Slitheree-Dee / It Does Not Pay To Be Hip / Blue Eyes / I'm Standing In The Outside Of Your Shelter / Wreck Of The Old 49 / Never Bite Married Woman On The Thigh / The Unicorn
1963
LP 12" Crestview CRS 7804 (US)

Shel Silverstein's Stag Party - The Wildest Bash On Record - I'm Satisfied With My Girl / Go Back Where You Got It Last Night / Broken Down Mama / Somebody Else, Not Me / Good Whiskey / I Wonder Who's Kissing Her Now / Who Walks In / Kitchen Man / Sister Kate / A Good Man Is Hard To Find / Pass Me By / Ragged But Right

1965
LP 12" CADET LP-4052 (mono) / LPS-4052 (stereo) (US)
I'M SO GOOD I DON'T HAVE TO BRAG - Modern Talk / I Once Knew A Woman / She's My Ever Lovin' Machine / Lookin' For Myself / Ugliest Man In Town / I'm So Good That I Don't Have To Brag / Mermaid / I Can't Touch The Sun / Plastic / Better Not Ask Me / Yowzah / Lemme Be Somethin' / Testing The Bomb
1967
LP 12" CADET LP-4054 (mono) / LPS-4054 (stereo) (US)
DRAIN MY BRAIN - Drain My Brain / Rings Of Grass / Floobie Doobie Doo / Crouchin' On The Outside / Changing Of The Seasons / Dance To It / Handy Man / Hoodoo Voodoo Lady / I Can't Touch The Sun / My Mind Keeps Movin' / Grizzly Bear / Workin' It Out
07/1969
LP 12" RCA VICTOR LSP-4192 (US)
A BOY NAMED SUE

And His Other Country Songs

- Alimoney / Dirty Ol' Me / Cloudy Sky / Kick It Again / Someday's Here / Time / Boy Named Sue / Pathetic Way Of Getting Over Me / Somebody Stole My Rig / Comin' After Jinny / Daylight Dreamer / Bigtime
1970
LP 12" A & M ? (US)
FUCK 'EM - Fuck 'em / I Call That True Love / Julie's Working / Sausalito Witch / Dope / Terrible Thing / Say That I'm Your Fella Stella / Sarah Cynthia Sylvia Stout / Goin' Up To Charlie's / Raquel Welch / No Room For Me / There's No One I Hate / Julie's Working / I Love My Right Hand
1970
LP 12" ATLANTIC SD-8257 (US)
INSIDE SHEL SILVERSTEIN - Bury Me In My Shades / Have Another Espresso / Bananas / Liz / You're Always Welcome At Our House / Civil War Song / Boa Constrictor / 25 Minutes To Go / Folk Singer's Blues / Beans Taste Fine / Slitheree-Dee / It Does Not Pay To Be Hip / Blue Eyes / I'm Standing In The Outside Of Your Shelter / Wreck Of The Old 49 / Never Bite Married Woman On The Thigh / The Unicorn
1972
LP 12" COLUMBIA C-31119 (US)
FREAKIN' AT THE FREAKER'S HALL - Thumbsucker / I Got Stoned And I Missed It / Sahra Cynthia Sylvia Stout Would Not Take The Garbage Out / Stacy Brown Got Two / Polly In A Porny / Freakin' At The Freaker's Ball / All About You / Don't Give A Dose To The One You Love Most / Peace Proposal / Masochistic Baby / Liberated Lady 1999 / The Man Who Got No Sign
1973
2 LP 12" JAMUS 2JLS 3052 (US)
CROUCHIN' ON THE OUTSIDE :

DISC 1 : Modern Talk / I Once Knew A Woman / She's My Ever Lovin' Machine / Lookin' For Myself / Ugliest Man In Town / I'm So Good That I Don't Have To Brag / Mermaid / I Can't Touch The Sun / Plastic / Better Not Ask Me / Yowzah / Lemme Be Somethin' / Testing The Bomb
DISC 2 : Drain My Brain / Rings Of Grass / Floobie Doobie Doo / Crouchin' On The Outside / Changing Of The Seasons / Dance To It / Handy Man / Hoodoo Voodoo Lady / I Can't Touch The Sun / My Mind Keeps Movin' / Grizzly Bear / Workin' It Out

08/1978
LP 12" PARACHUTE RRLP-9007 (US)
SONGS AND STORIES - The Father Of A Boy Named Sue / Peanut Butter Sandwich / Cat And Rat / Goodnight Little Houseplant / Show It At The Beach / Diet Song / Sure Hit Songwriter's Pen / Smoke Off / They Held Me Down / Scum Of The Earth / Never Bite A Married Woman On The Thigh / Someone Ate The Baby / Paranoid
08/1980
LP 12" FLYING FISH FF-211 (US)
THE GREAT CONCH TRAIN ROBBERY - So Good To So Bad / June 25 At The 4th Of July / Don't Go To Sleep / On The Road / Qualudes Again / Going Down To Texas / You Ain't Here / Rough On The Living / He Buys The Wine / Yes Mr Rogers / Piece Of Mind / The Great Conch Train Robbery
1984
LP 12" COLUMBIA FC-39412 (US)
WHERE THE SIDEWALK ENDS : Invitation / Eighteen Flavors / Melinda Mae / Sick / Ickle Me Pickle Me Tickle Me Too / Enter This Deserted House / Jimmy Jet And His TV Set / For Sale / Warning / Yipyuk / Crocodile's Toothache / Stone Telling / Ridiculous Rose / Boa Constrictor / Peanut Butter Sandwich / Listen To The Mustn'ts / Hug O'war, Smart / Forgotten Language / Farmer And The Queen / One Who Stayed / No Difference / Wild Boar / Thumbs / Sahra Cynthya Sylvia Stout / My Hobby / Early Bird / Me-Stew / Captain Hook / With His Mouth Full Of Food / Flying Festoon / Silver Fish / Generals / Worst / Dreadful / My Beard
1984
LP 12" COLUMBIA 9C9 39611 (US) (picture disc)
WHERE THE SIDEWALK ENDS - Invitation / Eighteen Flavors / Melinda Mae / Sick / Ickle Me Pickle Me Tickle Me Too / Enter This Deserted House / Jimmy Jet And His TV Set / For Sale / Warning / Yipyuk / Crocodile's Toothache / Stone Telling / Ridiculous Rose / Boa Constrictor / Peanut Butter Sandwich / Listen To The Mustn'ts / Hug O'war, Smart / Forgotten Language / Farmer And The Queen / One Who Stayed / No Difference / Wild Boar / Thumbs / Sahra Cynthya Sylvia Stout / My Hobby / Early Bird / Me-Stew / Captain Hook / With His Mouth Full Of Food / Flying Festoon / Silver Fish / Generals / Worst / Dreadful / My Beard
1985
LP 12" COLUMBIA FC-40219 (US)
LIGHT IN THE ATTIC - A Light In The Attic / Bear In There / Rock'n Roll Band / Eight Balloons / Sitter / Quick Trip / How Not To Have To Dry The Dishes / Quishy Touch / Little Baigail And The Beautiful Pony / Homework Machine / Crowded Tub / Almost Perfect / Prehistoric / Examination / Kidnapped / Dragon And Grindly Grun / Ladies First / Picture Puzzle Piece / Signals / Little Boy And The Old Man / Clarence / Hula Eel / Nobody / Peckin' / God's Wheel / Zebra Question / Tryin' On Clothes / Anteater / Fancy Dive / Whatif / Backward Bill / Friendship / Captain Blackbeard Did What / Monsters I've Met / Ations / Hitting / Toad And The Kangaroo / Twistable Turnable Man / Outside Or Underneath?
1999
CD Collectors' Choice Music ‎CCM-082-2 (US)

Freakin' At The Freakers Ball - Thumbsucker / I Got Stoned And I Missed It / Sahra Cynthia Sylvia Stout Would Not Take The Garbage Out / Stacy Brown Got Two / Polly In A Porny / Freakin' At The Freaker's Ball / All About You / Don't Give A Dose To The One You Love Most / Peace Proposal / Masochistic Baby / Liberated Lady 1999 / The Man Who Got No Sign / BONUS TRACKS : A Front Row Seat To Hear Ole Johnny Sing / 26 Second Song / Everybody's Makin' It Big But Me

2000
CD COLUMBIA / LEGACY CK 66079 (US)
WHERE THE SIDEWALK ENDS - Invitation / Eighteen Flavors / Melinda Mae / Sick / Ickle Me Pickle Me Tickle Me Too / Enter This Deserted House / Jimmy Jet And His TV Set / For Sale / Warning / Yipyuk / Crocodile's Toothache / Stone Telling / Ridiculous Rose / Boa Constrictor / Peanut Butter Sandwich / Listen To The Mustn'ts / Hug O'war, Smart / Forgotten Language / Farmer And The Queen / One Who Stayed / No Difference / Wild Boar / Thumbs / Sahra Cynthya Sylvia Stout / My Hobby / Early Bird / Me-Stew / Captain Hook / With His Mouth Full Of Food / Flying Festoon / Silver Fish / Generals / Worst / Dreadful / My Beard /

Previously Unreleased

BONUS TRACKS : The Little Blue Engine / If I Had A Brontosaurus / One Inch Tall / Long-Haired Boy / Rain / True Story / Hungry Mungry / Standing / If The World Was Crazy / Hector The Collector / Spaghetti
2002
CD Laugh.com ‎LGH 1119 (US)
SONGS AND STORIES - The Father Of A Boy Named Sue / Peanut Butter Sandwich / Cat And Rat / Goodnight Little Houseplant / Show It At The Beach / Diet Song / Sure Hit Songwriter's Pen / Smoke Off / They Held Me Down / Scum Of The Earth / Never Bite A Married Woman On The Thigh / Someone Ate The Baby / Paranoid
08/2005
CD COLUMBIA / LEGACY 94722 (US) ou CK 77630
THE BEST OF SHEL SILVERSTEIN - A Light In The Attic / A Front Row To Hear Ole Johnny Sing / Freakin' At The Freakers' Ball (Dr. HOOK MEDICINE SHOW) / Monsters I've Met / The Unicorn (The IRISH ROVERS) / The Dragon Of Grindly Grun / Marie Lavaux (Bobby BARE) / Sarah Cynthia Sylvia Stout Would Not Take The Garbage Out / Sylvia's Mother (Dr. HOOK MEDICINE SHOW) / The Taker (Kris KRISTOFFERSON) / Homework Machine / Ickle Me, Pickle Me, Tickle Me Too / Crowded Tub / Rock 'n' Roll Band / Cover Of The Rolling Stone (Dr. HOOK MEDICINE SHOW) / Daddy What If (Bobby BARE) / Zebra Question / Plastic / A Couple More Years (Waylon JENNINGS & Willie NELSON) / Peanut-Butter Sandwich / Queen Of The Silver Dollar (Dr. HOOK MEDICINE SHOW) / The Generals / I Got Stoned and I Missed It / A Boy Named Sue (Johnny CASH) / Boa Constrictor
2005
CD Harper Children's Audio ‎UACD (1)

Runny Babbit - Way Down In The Green Woods / The Funny Bamily / Runny's Hand-New Brat / Runny Mets Guddy / Runny Heeds Fimself / Ploppy Sig Reams His Cloom / Kugs And Hisses / His Kajesty, The Ming / Do Whid It? / Runny Huts His Own Cair / Runny's Hew Nobby / Runny's Brig Beakfast / Runny's Jig Bump / Runny Hets Gandsome / The And-Baid Problem / Runny Bakes A Tath / Runny's Rittle Leminders / Runny And Dungry / Runny's Cat And Hoat / Runny's Heading Rabits / Killy The Bid / Calley At's Kittle Litten / Runny Stets Gretched / Runny's Mancy Feal / Runny Shearns To Lare / The Kungle Jing / He Thought It Meant "Dit Sown" / Runny And The Skancin' Dunk / Runny And The Sea Poup / Runny On Rount Mushmore / Runny's Garty Pames / Runny's Nicpic / Runny's Bight Toots / Runny Loes To Gunch / Runny's Hind Keart / Runny Cooks For Linderella / Runny The Ficken Charmer / Runny And Dankee / Runny's Rig Bomance / A Bittle Laby For Runny? / Runny And The Worty Finks / Runny And The Pig Barade
© Rocky Productions 12/08/2018