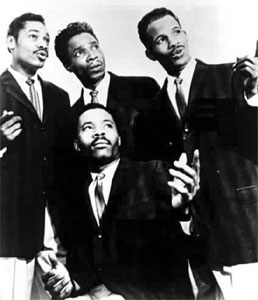 Groupe Doo Wop US originaire de Philadelphie (Pennsylvanie), les Silhouettes étaient composées de Bill Horton puis John "Bootsie' Wilson, Earl Beal, Richard "Rick" Lewis et Raymond Edwards puis Cornelius Brown.

To most listeners, the Silhouettes are another one of rock & roll's one-hit wonders, another of those R&B harmony vocal groups that scored big once (with "Get a Job") and never repeated that trip up the charts. And that is true -- they never scored a second nationally charting single. But they did carry on a lot longer than most people think, continuing to perform and even record right to the end of the 1960s, with at least two of the group's four original members present at any time. Additionally, the impact of "Get a Job," a song that was written by group member Rick Lewis (and credited to all four Silhouettes), is astonishing to contemplate as a popular culture flash point. It became, for many listeners, the quintessential doo wop song -- or, at least, one of a handful of songs thought of automatically when the musical term is mentioned (although some purists also loathed the song for its seeming burlesque of doo wop's attributes). More than that, it inspired good work and imitation in others; the Miracles were one of several groups that delivered "answer songs" to "Get a Job." In this case, their debut single "Got a Job" took up a positive message in contrast to "Get a Job"'s whiny tone. That positive message, in turn, helped to define and distinguish the Miracles and Motown Records from most of their competition for years to come. Some 11 years after that, in the midst of the Vietnam War and the Woodstock era, a group of young enthusiasts for old-time rock & roll, looking for a name to call their outfit, went back to an old song, "Get a Job," and its backing chorus, and ended up called themselves "Sha Na Na."
The Silhouettes' history went back five years earlier than "Get a Job," to the early '50s, when Earl Beal (born July 18, 1924) and Raymond Edwards (born September 22, 1922) formed a gospel group called the Balladeers, who performed in the Philadelphia area and recorded a pair of singles in 1954. That same year, Bill Horton (born December 25, 1929; died December 23, 1995) joined as lead singer, replacing original Balladeer member Clarence Basil, and a little later the group changed their name to the Gospel Tornadoes. More personnel changes followed, and in 1956, Rick Lewis (born September 23, 1933) joined. Lewis had not only sung with different gospel outfits since the early '50s, but had started writing songs while he served in the U.S. Army. The group was popular but was barely making any kind of a living at all performing gospel, and it was in those circumstances that Lewis convinced them to give rock & roll a try.
The Gospel Tornadoes became the Thunderbirds. They tried without success to get a record out until they crossed paths with disc jockey Kae Williams, who was trying to start up a label of his own in Philadelphia and liked what he heard one night at a club where they were performing. The group was signed to his Junior Records label and cut its first single in the fall of 1957 -- the intended A-side was the original ballad "I Am Lonely," backed with an upbeat tune that Lewis had written after getting out of the army entitled "Get a Job." Just as they were preparing to cut the record, they also learned of another outfit called the Thunderbirds, that had a prior claim on the name -- in response, at the suggestion of Beal, they changed their name once again, borrowing the title of a 1957 hit by the group the Rays, called "Silhouettes."
"I Am Lonely" b/w "Get a Job" came out on Junior Records in November of 1957. The song was picked up by Dick Clark for play, as an almost certain hit, on American Bandstand that same month, but with a caveat -- Junior Records was a tiny local label, and if the record broke on American Bandstand and got any kind of response, Williams was going to be in over his head fulfilling orders. He made a licensing deal with Al Silver's Herald-Ember Records, a much larger New York-based independent, with access to more working capital and plants with more pressing capacity. It proved a wise move. "Get a Job" was hard to resist, with strong singing, a great beat, and an array of a half-dozen memorable hooks (starting with the "yip-yip-yip" opening), and even a memorable tenor sax break by Ronnie McGill. The group and the record were featured on Bandstand more than once from late 1957 until mid-1958, and there were 200,000 orders for the single after its first play on the show. It eventually topped both the Hot 100 and the R&B charts in Billboard magazine, only the third doo wop single to reach number one in the pop listings.
The Silhouettes' second single, "Headin' for the Poorhouse" b/w "Miss Thing," was far less successful, although it did generate some airplay in early 1958 -- both songs tried to recreate some aspect of "Get a Job"'s hooks and sound, to no avail. A third single, "Bing Bong," failed to chart nationally despite selling well in New York and Philadelphia (which, together, comprised a big chunk of the whole U.S. market), and its failure prompted Williams to end his licensing deal with Ember. The next two singles were issued nationally by Ace Records, and both sold respectably without ever charting nationally. The Silhouettes ceased recording after 1958, because of their unhappiness with Williams' decisions as their producer, and the fact that, according to subsequent interviews, the group saw precious little money for their having had a number one record.
By the end of 1961, Horton and Edwards had left the group, while Lewis and Beal soldiered on with two new members, John "Bootsie" Williams on lead vocals and Cornelius "Brother" Brown as bass. Things began looking up when the reconstituted Silhouettes were signed by producer Jerry Ragovoy, who got three modestly successful records out from them. By 1963, they were back with Williams, who tried to repeat the "Get a Job" formula and sound with "Rent Man." It failed to chart, although it did sell locally when released through Junior Records. By 1966, the group, revamped yet again, was being billed as the New Silhouettes. In 1968, the first album ever issued of Silhouettes material, The Original and New Silhouettes '58/'68 Get a Job, showed up on the Goodway label -- it was made up of classic Silhouettes material and new songs cut by the current lineup.
Ironically, the group called it quits at just the time when Sha Na Na became favorites of the rock & roll revival boom, using a name derived from the Silhouettes' signature song. The Silhouettes weren't even around to cash in on those revival shows, or the "oldies circuit" that grew up in its wake. It wasn't until the 1980s that the original Silhouettes got back together, initially as a one-off event at the behest of disc jockey Norm N. Nite. The response was so overwhelming that they continued working together, partly for the fun of it, but also to reclaim their legacy. The Silhouettes hadn't known much about the business of music when they'd started out recording together, but they'd learned a lot over the years, and in the mid-'80s, as the copyright renewal date for "Get a Job" approached, they reclaimed ownership of that song and, subsequently, everything else they'd written. The original four members kept working together until Horton's death in 1995. The Silhouettes remain among the most loved and respected of R&B harmony groups of the 1950s.
https://www.thesilhouettes.org/
https://en.wikipedia.org/wiki/The_Silhouettes
Talents : Bill Horton : Lead (1956-61, 1980-93) then John Wilson : Lead (1961-1968) - Earl Beal : Baritone (1956-68, 1980-93) - Richard "Rick" Lewis : Tenor (1956-68, 1980-93) - Raymond Edwards : Bass (1956-61, 1980-93) , then Cornelius Brown : Bass (1961-1968)
Style musical : Doo Wop, Rhythm 'n' Blues

https://youtu.be/tANdsZW_vY4
| | |
| --- | --- |
| Get A Job (1957) | |
Years in activity :
| | | | | | | | | | | | |
| --- | --- | --- | --- | --- | --- | --- | --- | --- | --- | --- | --- |
| 1910 | 20 | 30 | 40 | 50 | 60 | 70 | 80 | 90 | 2000 | 10 | 20 |
DISCOGRAPHY
78 t. & Singles
Albums
1968
LP 12" Goodway ‎GLP-100 (US)

The Original And New '58/'68 Silhouettes - Get A Job - Get A Job / I Am Lonely / Rent Man / Your Love (Is All I Need) / Bing Bong Lover / Get A Job (New 1968) / Not Me Baby / Gaucho Serenade / Climb Ev'ry Mountain / We Belong Together

1983
LP 12" C.R.S. ‎CRS-03 (US)

Workin' Hard! - I Wonder Where / Once In A Life Time / I Want To Be With You / Someone / She's Gone / Workin' Hard / You Left Me / Lovely Love Affair / Making Believe

11/1996
CD COLLECTABLES COL-5748 (US)

Get A Job - A Golden Classics Edition - Get A Job / I Am Lonely / Miss Thing / Heading For The Poorhouse / Bing Bong / Voodoo Eyes / I Sold My Heart To The Junkman / What Would You Do / Never Will Part / Evelyn / Vision In The Night / Rent Man / Your Love Is All I Need

08/2001
CD Rhythm 1006 (US)

The Complete Package - Get A Job / I Sold My Heart To The Junkman / I Wanna Know / Shadow (Bill HORTON & The DAWNS) / Rentman / Move On Over (To Another Land) / I Am Lonely / The Push / Climb Every Mountain / Headin' For The Poor House / Like To See You In That Mood (Bill HORTON & The DAWNS) / No One Can Take Your Place / Gaucho Serenade / Miss Thing / Never Will Part / Working Hard / For Your Precious Love / Bing Bong / Which Way Did She Go / Vision In The Night / Stormy Weather / What Would You Do / VooDoo Eyes / Not Me Baby / She's Gone / Evelyn / Wish I Could Be There / Never / Your Love Is All I Need / Bull Frog

09/2009
CD COLLECTABLES ? (US)
THE SILHOUETTES MEET THE FIVE CROWNS - SILHOUETTES : Get A Job / I Am Lonely / I Sold My Heart To The Junkman / Heading For The Poorhouse / Bing Bong / FIVE CROWNS : You're My Inspiration / Keep It A Secret / $19.50 Bus / A Star / You Came To Me
04/2010
CD ZYX SIS 11602 (US)
GOLD - The Platters / The

Silhouettes

-

Platters : Only You (And You Alone) / I'm Sorry / (You've Got) The Magic Touch / You'll Never Never Know / My Prayer / On My Word of Honor / The Great Pretender / Smoke Gets In Your Eyes / Twilight Time /

Silhouettes

: Get A Job / I Am Lonely / Heading For The Poorhouse / I Sold My Heart To The Junkman / Voodoo Eyes / Miss Thing / What Would You Do / Bing Bong
04/2010
CD Music & Melody MUS 110282 (UK)

The Best of the Platters & the Silhouettes - Platters : Only You (And You Alone) / I'm Sorry / (You've Got) The Magic Touch / You'll Never Never Know / My Prayer / On My Word of Honor / The Great Pretender / Smoke Gets In Your Eyes / Twilight Time / Silhouettes : Get A Job / I Am Lonely / Heading For The Poorhouse / I Sold My Heart To The Junkman / Voodoo Eyes / Miss Thing / What Would You Do / Bing Bong
© Rocky Productions 11/08/2018