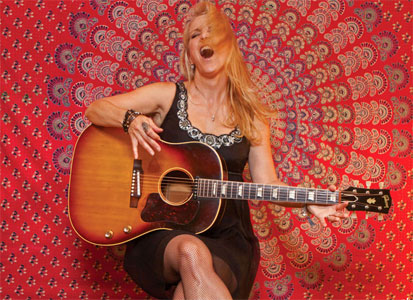 Chanteuse Country US originaire de San Diego (Californie).

Born in California, USA. Selis grew up in the San Diego region and as a youngster began performing in her local church band, all the while dreaming of becoming a rock star. After an abortive spell at university studying musical theatre and English, Selis began performing on the local bar band circuit but was forced to hold down a number of day jobs while she pursued her dream. At the start of the 90s she teamed up with guitarist and songwriter Marc 'Twang' Intravaia in King's Road, assuming the lead vocalist position. Selis toured and recorded with this highly fęted unit, but despite modest local success the band failed to make much of a national impact.
Selis continued to work with Intravaia when she branched out as a solo artist in the late 90s, making her debut in 1998 with Out On A Wire. This rollicking blend of pop, rock and country went some way to confirming Selis' claim to be 'the Queen of Roadhouse Rock', although the album struggled to match the intensity of the singer's live shows. She boosted sales for the follow-up, Long Road Home, by promoting her music vigorously on the Internet, most notably on the download site MP3.com. The album was showered with praise by the critics, as was the 2002 follow-up Do You Know Me, but despite her prominent presence on the Internet Selis remained largely unheralded outside the San Diego region. Her fourth album, Nothing But The Truth, featured terrific readings of Kim Richey's 'Those Words We Said' and Tom Petty's 'Room At The Top', alongside a number of swaggering Selis/Intravaia originals.
Talents : Singer, Guitar, Songwriter
Style musical : Country Rock, Alternative Country

https://youtu.be/QOKR8oMPI64
Years in activity :
| | | | | | | | | | | | |
| --- | --- | --- | --- | --- | --- | --- | --- | --- | --- | --- | --- |
| 1910 | 20 | 30 | 40 | 50 | 60 | 70 | 80 | 90 | 2000 | 10 | 20 |
DISCOGRAPHY
Singles
| | | | |
| --- | --- | --- | --- |
| 2004 | CD PROPER PRPEVE1 (UK) | | Blame It On The Rain (radio edit) / Blame It On The Rain (album version) / Honky Tonk Town |
Albums
08/1998
CD STUNT STCD 1011 (US)
OUT ON A WIRE - Show Me What Love Is / Memphis / Beyond The Moon / Foolish Heart / Out On A Wire / Indiana Summer / Union Mills / Lonesome Tonight / Testify / Carry Me / Trail Of Tears / Mary Mary / Flowers In Her Garden / I Still Believe In You
1999
CD STUNT STCD 1012 (US)

Into The Sun - Cry Of Love / Nothing Without You / Where Angels Walk / Everything I Need / Brave New World / Into The Sun / Forgiven / Mary Mary / Back Down On My Knees / Flowers In Her Garden / Shelter / I Still Believe In You / If It Comes To That

05/2000
CD STUNT 1013 (US)
LONG ROAD HOME - Long Road Home / What I Mean To Say / Just 3 Words / The Lucky One / Happy To Be With You / Folsom Prison Blues / Hearts On Fire / Sweet Companion / Can't Get You Out Of My Mind / Dog House / Hit The Road / Christmas In Washingtom / Hot Dog! That Made Him Mad
2002
CD STUNT ? (US)
WHEN WISHES COME TRUE - When Wishes Come True / Christmas Time Is Here / Santa Claus Is Comin' To Town / Rockin' Around The Christmas Tree / Nothing But A Child / Mary Did You Know? / Little Drummer Boy / Rudolph The Red-Nosed Reindeer / Let It Snow
09/2002
CD HCT HCTCD 002 (US)
DO YOU KNOW ME - Tear This Old House Down / Russellville / Do You Know Me / In My Dreams / Ain't Got Nothin' / Same Train / My Whisper / Catch The Wind / Passin' Thru / Down To Love / Love Came Just In Time / From Where I Stand / Broken Things
09/2005
CD PROPER 017 (UK)
NOTHING BUT THE TRUTH - Heart Shaped Tattoo / Ballad Of Kate Morgan (with Jim LAUDERDALE) / Those Words We Said / Blame It On The Rain / Nothing But The Truth (with Harry STINSON) / Mr. Lincoln / Hony Tonk Town (with Lynn ANDERSON) / Pocket Full Of Stones / Beautiful Day / Let Love Come Through / Someday / Room At The Top / Love Is On Your Side
06/2008
CD HIPPY CHICK TWANG HCTCD 016 (US)
ANGELS AND EAGLES -

Angels And Eagles / Cryin' Days / I Believe In Love / Street That I Grew Up On / Goodbye / That's Enough / Touching The Eiffel Tower / One Day At A Time / The Gift / Love You Away From Me / 1000 Kisses / She / Better Days / Welcome To Paradise

06/2012
CD HIPPY CHICK TWANG HCTCD 1111 (US)
FAMILY TREE - Rubber And Glue / Any Day / When Is Everything Enough / Family Tree / Crazy That I Love / All Roads Lead To Here / Don't You Feel Lonesome / Bump In The Road / Witness To Your Life / Water Off A Duck's Back / I Don't Want To Cry / 65 Roses / Stop The Train / Hallelujah
2012
CD NOT ON LABEL (US)

A Merry Little Christmas - The Christmas Song / Mr. Santa / Blue Christmas / It Came Upon A Midnight Clear / Run Run Rudolph / Together / Waiting On Mary / River / Santa Baby / Go Tell It On The Mountain / A Baby Changes Everything / Have Yourself A Merry Little Christmas

07/2016
CD HIPPY CHICK TWANG HCTCD 0513 (US)

See Me With Your Heart - Fearless Heart / Still Have A Long Way To Go / See Me With Your Heart / Can't See Past Myself / Beautiful Dreamer / Little Wars / While The Night Is Still Young / Already Gone / The Man He Never Was / Slow Down / Love Has The Final Say

2016
CD SELF RELEASED ? (US)

When Wishes Come True - An Acoustic Christmas - When Wishes Come True / Christmas Time Is Here / Rockin' Around The Christmas Tree / Santa Claus Is Coming To Town / Nothing But A Child / Mary, Did You Know? / Little Drummer Boy / Rudolph, The Red-Nosed Reindeer / Let It Snow / It Came Upon A Midnight Clear
© Rocky Productions 23/05/2018