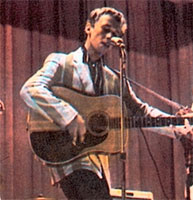 Chanteur US né Ronald Self, le 5 Juillet 1938 à Tin Town (Missouri), Ronnie Self a fait ses débuts en 1956 à Nashville, pour ABC Records. Il signe ensuite à la Columbia où entre Février et Décembre 1957, il grave l'essentiel de son oeuvre. Il passe en 1959 chez Decca où il enregistre quatre singles, puis chez Kapp, Amy et Scratch Records. Compositeur réputé, il a travaillé pour Brenda Lee. Ronnie Self est mort le 28 Août 1981 à Springfield (Missouri).

Why Ronnie Self never made it as a performer is one of the great mysteries and injustices of pop music history. He had the look and the sound — a mix of country, rockabilly, and R&B that sometimes made him sound like a white Little Richard, but mostly like the young Elvis or Carl Perkins — and he wasn't lacking for good songs, which he mostly wrote himself. He should have been there, thought of in the same breath as Perkins or Jerry Lee Lewis; instead, he's a footnote in rock & roll history outside of Europe, where he's treated as a legend.
Self was born in Tin Town, MO, on July 5, 1938, the first of five children of Raymond Self, a farmer-turned-railroad worker, and the former Hazel Sprague. Self had a reputation as a wild boy, with incidents of vandalism and assault in his background. He became interested in music while still a boy, and began writing songs while in his teens. He was always submitting demos, and in 1956, Self got hooked up with Dub Albritton, who managed Red Foley, among other artists, and owned a publishing house, and Self was signed to a songwriting contract. His first recording sessions were held in Nashville on behalf of ABC Records, which led to a contract and the release of a single, "Pretty Bad Blues"/"Three Hearts Later," both sides of which were written by Self. Issued in 1956, the record failed to chart — although ABC listed a second single release by Self, "Sweet Love"/"Alone," that disc has never been found, nor have the tapes for those two songs.
In January of 1957, Self was picked by Albritton to perform as part of the Phillip Morris Caravan. Most of the acts on the package show were country players, and Self was the resident rockabilly representative — he quickly began attracting attention with his wild and highly animated stage act, not to mention the nature of his songs, which combined the intensity of R&B with high-energy rockabilly. His success on the tour helped get him a contract with Columbia Records in February of 1957.
Self was back in the studio that month with a session band that included Grady Martin and Hank Garland on guitars with the singer, Floyd Chance, on bass, Buddy Harman on drums, and Floyd Cramer at the ivories. The resulting single, "Big Fool"/"Flame of Love," failed to chart, and a third song, Self's own "Black Night Blues," was unissued until 1990. Four months later, he had another try with four numbers cut in June of that year, which fared no better than their predecessors. Then, in December, he went in for one more session that yielded a piece of rapid-fire, high-powered rock & roll called "Bop a Lena." The raw power of Self's singing, coupled with the frantic beat, has resulted in "Bop a Lena" being labeled as the first punk single in some quarters. That might be a bit extreme, but not too far off the mark — that record moves, and it's just anarchic enough to be recognizable not only to modern rockabilly practitioners like the A-Bones, but lots of punkers as well.
Self's career kept rolling, and in 1958 he even got picked for a screen test for the movie Rally Round the Flag, Boys. Meanwhile, "Bop a Lena," issued in the spring of 1958, began climbing the charts and eventually made it to number 68 — not too high, but at least a beginning, or so it seemed. The single's success was, of course, welcomed, but it could not have come at a worse time. Self had married immediately after the "Bop a Lena" session, and by the time the single started to break around the country, the birth of Self's first child was an imminent prospect. He pulled out of the Phillip Morris tour and never made the screen test because of the birth of his son.
Self's dropping out of the package tour was understandable. Coupled with his established reputation as something of a wild man and being somewhat unreliable, however, it led to his being all but barred from any major engagements, just as "Bop a Lena" was getting airplay and starting to generate sales. No live television variety show (and almost all of them were live then) was willing to book him for fear that he wouldn't turn up, "Bop a Lena" stalled low on the charts and disappeared soon after. By the end of 1958, Self was dropped by Columbia Records.
It was a year of between his final Columbia session in March of 1958 and his next one, for Decca as part of a three-year contract, in the summer of 1959. He never charted a song as a recording artist during his time with Decca, but he did see some success as a songwriter when Brenda Lee covered "I'm Sorry." He had other songs covered by Lee, and also by Jerry Lee, among other artists, and it was his songwriting that gave Self what little solvency he had in those years. By the early '60s, the bottom had fallen out of his reputation, however, as his chronic alcoholism began taking its toll. Pressured by the twin responsibilities of taking care of a family and maintaining a career, he chose the career, but he couldn't keep that going properly either. He left Decca in 1962 without a hit or many prospects and was signed to the Kapp label, where he cut a pair of songs, "Houdini" and "Bless My Broken Heart."
An attempt to get Self onto the Amy-Mala-Bell labels fell apart in the mid-'60s. He continued writing songs and living out a chaotic personal life, which was characterized by increasingly bizarre and self-destructive episodes, some played out in public and many a product of his triple-threat addictions to alcohol, marijuana, and various pills.
Self had some good moments and good times as a performer later in his career — he was especially highly regarded in Europe, practically like visiting royalty. The violent moments began to outnumber the others, however, and he deteriorated physically and mentally later on in life. By the early '80s, his condition had deteriorated more severely so that he couldn't work any longer. On August 28, 1981, he died in Springfield, MO.
Self left behind some 30 songs, and what is amazing is their sheer quality. As a singer and recording artist, he was a triple threat, equally strong as a singer of country ballads, hot white (and white-hot) R&B, and some of the fastest, most bracing rockabilly heard this side of the Sparkletones. It's been said too many times about too many performers, but as a singer, Self could have been another Elvis Presley, and had the potential to be bigger — he lacked Elvis' dark, brooding, charismatic sexuality (although he had a dark side, to be sure), which translated well onscreen, but he could take a song and turn it into the hottest piece of Dixie-fried rock & roll this side of Perkins, and with a frantic Jerry Lee edge to it as well. He may have been a little too country-fried for the rock & roll market after 1956 (a problem that Perkins also ran into), but his songwriting had enough variety to keep his stuff fascinating, and the quality of his music was extraordinary.
https://en.wikipedia.org/wiki/Ronnie_Self
Talents : Vocals, Guitar
Style musical : Rockabilly, Rock 'n' Roll
| | |
| --- | --- |
| BIG FOOL (1957) | |
Years in activity :
| | | | | | | | | | | | |
| --- | --- | --- | --- | --- | --- | --- | --- | --- | --- | --- | --- |
| 1910 | 20 | 30 | 40 | 50 | 60 | 70 | 80 | 90 | 2000 | 10 | 20 |
DISCOGRAPHY
Singles & EP
06/1956
SP ABC-PARAMOUNT 45-9714 (US)
.
Pretty Bad Blues / Three Hearts Later
11/1956
SP ABC-PARAMOUNT 45-9768 (US)
.
Sweet Love / Alone
04/1957
SP COLUMBIA 4-40875-c (US)
.
Big Fool / Flame Of Love
09/1957
SP COLUMBIA 4-40989-c (US)
.
Ain't I'm A Dog / Rocky Road Blues
01/1958
EP COLUMBIA B-2149 (US)
Ain't I'm A Dog / Rocky Road Blues / Big Fool / Flame Of Love
02/1958
SP COLUMBIA 4-41101 (US)
.
Bop-A-Lena / I Ain't Goin' Nowhere
05/1958
SP COLUMBIA 4-41166 (US)
.
Big Blon' Baby / Date Bait
09/1958
SP COLUMBIA 4-41241 (US)
.
You're So Right For Me / Petrified
1958
EP PHILIPS 429 390 BE (NL)

Rockin' Ronnie Self - BBig Fool / Flame Of Love / Ain't I'm A Dog / Rocky Road Blues

1958
EP CBS CORONET KEP-126 (AUS)

Ain't I'm A Dog - Date Bait / Bop-A-Lena / Big Blon' Baby / Ain't I'm A Dog

08/1959
SP DECCA 9-30958 (US)
.
This Must Be The Place / Big Town
08/1960
SP DECCA 9-31131 (US)
.
So High / I've Been There
1960
EP COLUMBIA CBEP 56002 (BRA)

Date Bait / Petrified / You're So Right For Me / Big Blon' Baby

01/1962
SP DECCA 31351 (US)
.
Something You Can't Change / Instant Man
10/1962
SP DECCA 31431 (US)
.
Oh Me, Oh My / Past, Present And Future
06/1963
SP CBS CW 281 209 (GER)

Teenbeat Serie 1 - Bop-A-Lena / I Ain't Goin' Nowhere

08/1963
SP KAPP K K-546 (US)
.
Houdini / Bless My Broken Heart
10/1963
SP CBS 1.209 (NL)
1967
SP SCRATCH 9701/2 (US)
.
Long Distance Kiss /Ain't A Dandy
03/1968
SP AMY 11.009 (US)
.
High On Life / The Road Keeps Winding
05/1968
SP CBS 3423 (GER)
ROCK & ROLL AGAIN - Bop-A-Lena / I Ain't Goin' Nowhere
1981
EP CBS LAAEP 101 (AUS)

Ain't I'm A Dog -

Ain't I'm A Dog / Bop-A-Lena / Petrified / Date Bait
02/2003
EP NORTON 45-024 (US)
MR. FRANTIC - Bop-A-Lena / Rocky Road Blues / Flame Of Love / WTOL radio interview
2011
SP Sleazy SR31 (S)

You're So Right For Me / Rocky Road Blues

2017
EP Velocità 429 390 EP (I) (bootleg)

Rockin' Ronnie Self -

Big Fool / Flame Of Love / Ain't I'm A Dog / Rocky Road Blues
Date Unknown
????
EP NOT ON LABEL PB 001 (B)

Teenbeat! VOL. 1 - Rockin Ronnie - Bop-A-Lena / Ain't I'm A Dog / Rocky Road Blues / You're So Right For Me / Pretty Bad Blues / Big Fool

????
EP 33 t. ROCKET '88' REP 001 (?) (bootleg)

Rockin' With Ronnie Vol. 1 - Bop-A-Lena / Big Fool / Petrified / Date Bait / Pretty Bad Blues / Three Hearts Later

????
EP 33 t. ROCKET '88' REP 003 (?) (bootleg)

Rockin' With Ronnie Vol. 2 -

Ain't I'm A Dog / You're So Right For Me / I Ain't Goin' Nowhere / Flame Of Love / Big Blon' Baby / Rocky Road Blues
????
EP Teenbeat! SELF 117 (?) (bootleg)

Rockin Ronnie VOL1 - Bop-A-Lena / Ain't I'm A Dog / Rocky Road Blues / You're So Right For Me / Pretty Bad Blues /Big Fool
Unissued Tracks
19??
Unissued - (Hydra CD 27113 (#8) / Redita [2nd series] LP 139 (#8))

About Cured?

19??
Unissued - (Redita [2nd series] LP 139 (#7))

Ain't That Good Wood

19??
Unissued - (Redita [2nd series] LP 139 (#17))

Beat, Broke And Blue

19??
Unissued - (Redita [2nd series] LP 139 (#2))

Biggest Dog In Town

19??
Unissued - (Bear Family CD 15436 (#11) / Colde LP LE2014 (#5) / Fantastic Voyage CD 098 (#37))

Black Night Blues

19??
Unissued - (Cotton Town Jubilee CD 3 (#10) / - Cotton Town Jubilee CD 4 (#13) / Flame LP 012 (#10) / Hydra CD 27113 (#1))

Bop-A-Lena [alt. vers. 1]

19??
Unissued - (Cotton Town Jubilee CD 3 (#25) / Hydra CD 27113 (#7))

Boppin' The Blues [vers. 1]

19??
Unissued - (Redita [2nd series] LP 139 (#5))

The Boss' Daughter

19??
Unissued - (Bear Family CD 15436 (#15))

Do It Now

19??
Unissued - (Redita [2nd series] LP 139 (#15))

Get Out Of My Life

19??
Unissued - (Bear Family CD 15436 (#29))

Go Go Cannibal

19??
Unissued - (Hydra CD 27113 (#5) / Redita [2nd series] LP 139 (#10))

Grandma's Rockin'

19??
Unissued - (Hydra CD 27113 (#9) / Redita [2nd series] LP 139 (#3))

Hair Of The Dog

19??
Unissued - (Hero CD 002 (#15) / Redita [2nd series] LP 139 (#1))

Home In Your Hand

19??
Unissued - (Redita [2nd series] LP 139 (#9))

I Can't Kick You

19??
Unissued - (Cotton Town Jubilee CD 3 (#6) / Hydra CD 27113 (#11))

I Want You To Know

19??
Unissued - (Hydra CD 27113 (#13) / Redita [2nd series] LP 139 (#12))

Keep A Knockin'

19??
Unissued - (Hydra CD 27113 (#14) / Redita [2nd series] LP 139 (#13))

Long Train To Memphis

19??
Unissued - (Hydra CD 27113 (#6) / Redita [2nd series] LP 139 (#11))

Money Honey

19??
Unissued - (Bear Family CD 15436 (#26))

Moon Burn

19??
Unissued - (Hydra CD 27113 (#28) / Redita [2nd series] LP 139 (#4))

My Own Kick Going

19??
Unissued - (Cotton Town Jubilee CD 3 (#22) / Hydra CD 27113 (#10))

Rocky Road Blues [alt. vers.]

19??
Unissued - (Cotton Town Jubilee CD 3 (#28) / Hydra CD 27113 (#4))

Roll Over Beethoven

19??
Unissued - (Cotton Town Jubilee CD 3 (#15) / Hydra CD 27113 (#2))

Short Fat Fanny

19??
Unissued - (

Bear Family CD 15436 (#19))

Some Other World

19??
Unissued - (Cotton Town Jubilee CD 3 (#31) / Hydra CD 27113 (#12))

Sweet Little Sixteen

19??
Unissued - (Redita [2nd series] LP 139 (#16))

That Woman

19??
Unissued - (Bear Family CD 15436 (#5) / Colde LP LE2014 (#7))

Too Many Lovers

19??
Unissued - (Bear Family CD 15436 (#30))

Ugly Stick

19??
Unissued - (Hydra CD 27113 (#17) / Redita [2nd series] LP 139 (#14))

When He Flies Away

19??
Unissued - (Bear Family CD 15436 (#22))

Whistling Words

19??
Unissued - (Hydra CD 27113 (#29) / Redita [2nd series] LP 139 (#6))

Wild And Wooly Life
Need Information
| | | |
| --- | --- | --- |
| 19?? | Need info - (Hydra CD 27113 (#20)) | Bop-A-Lena [alt. vers. 2] |
| 19?? | Need info - (Hydra CD 27113 (#19)) | Boppin' The Blues [vers. 2] |
| 19?? | Need info - (Hydra CD 27113 (#3)) | Flame Of Love [alt. vers.] |
| 19?? | Need info - (Hydra CD 27113 (#25)) | Here Comes Authority |
| 19?? | Need info - (Hydra CD 27113 (#22)) | How Careless Of Me |
| 19?? | Need info - (Hydra CD 27113 (#21)) | The Hurt Is Free |
| 19?? | Need info - (Hydra CD 27113 (#26)) | I Started World War 1 |
| 19?? | Need info - (Hydra CD 27113 (#18)) | I'm Gonna Try You |
| 19?? | Need info - (Hydra CD 27113 (#27)) | I've Been Brought Down |
| 19?? | Need info - (Hydra CD 27113 (#30)) | Waitin' For The Gin To Hit Me |
Albums
1960
LP 12" COLUMBIA 37109 (BRA)
Rock Infernal - Ronnie Self - Carl Perkins - Bop-A-Lena (Ronnie SELF) / Tutti Frutti (Carl PERKINS) / You're So Right For Me (Ronnie SELF) / Shake, Rattle And Roll (Carl PERKINS) / Big Blon' Baby (Ronnie SELF) / That's All Right (Carl PERKINS) / Flame Of Love (Ronnie SELF) / Long Tall Sally (Carl PERKINS) / Date Bait (Ronnie SELF) / Jenny, Jenny (Carl PERKINS) / Petrified (Ronnie SELF) / Ready Teddy (Carl PERKINS) / Big Fool (Ronnie SELF) / Good Rockin' Tonight (Carl PERKINS)
1977
LP 12" GOLDE 2014 (US)

| | |
| --- | --- |
| | RONNIE SELF - Pretty Bad Blues / Three Hearts Later / Big Fool / Flam Of Love / Ain't I'm A Dog / Rocky Road Blues / Bop A Lena / I Ain't Goin' Nowhere / Date Bait / Big Blon' Baby / You're So Right For Me / Petrified / This Must Be The Place / Big Town / Houdini / Bless My Broken Heart |

1986
LP 12" Alligator 56.0077 (S)

Ronnie Self - Pretty Bad Blues / Three Hearts Later / Big Fool / Ain't I'm A Dog / Rocky Road Blues / Bop-A-Lena / I Ain't Goin' Nowhere / Date Bait / Big Blon' Baby / You're So Right For Me / Petrified / This Must Be The Place / Houdini / Bless My Broken Heart

07/1990
CD BEAR FAMILY 15436 (GER)
BOP-A-LENA - Bop-A-Lena / I Ain't Goin' Nowhere / You're So Right For Me / Ain't I'm A Dog / Too Many Lovers / Date Bait / Big Blon' Baby / Petrified / Flame Of Love / Big Fool / Black Night Blues / Pretty Bad Blues / Three Hearts Later / Rocky Road Blues / Do It Now / Bless My Broken Heart / This Must Be The Place / Big Town / Some Other World / Instant Man / Oh Me, Oh My / Whistling Words / Past, Present, And Future / So High / I've Been There / Moonburn / Some Things You Can't Change / Houdini / Go Go The Cannibal / Ugly Stick
09/2001
CD HYDRA 27113 (GER)
MR. FRANTIC IS BOPPIN' THE BLUES - Introduction by Biff Collie / Bop-A-Lena / Short Fat Fannie / Flame Of Love / Roll Over Beethoven / Grandma's Rockin' / Money Honey / Boppin' The Blues / About Cured? / Hair Of The Dog / Rocky Road Blues / I Want You To Know / Sweet Little Sixteen / Keep A Knockin' / Long Train To Memphis / High On Life / The Road Keeps Winding / When He Flies Away / I'm Gonna Try You / Boppin' The Blues / Bop-A-Lena / The Hurt Is Free / How Careless Of Me / Long Distance Kiss / Ain't I A Danoy / Here Comes Authority / I Started World War I / I've Been Brought Down / My Own Kick Going / Wild And Wooly Life / Waitin' For The Gin To Hit Me
01/2019
CD JASMINE JASCD 1003 (UK)

Ain't I'm A Dog! - Singles As & Bs 1956-1962 …Plus - Pretty Bad Blues / Three Hearts Later / Big Fool / Flame Of Love / Ain't I'm A Dog / Rocky Road Blues / Bop-A-Lena / I Ain't Goin' Nowhere / Big Blon' Baby / Date Bait / Petrified / You're So Right For Me / This Must Be The Place / Big Town / So High / I've Been There / Some Things You Just Can't Change / Instant Man / Oh Me, Oh My / Past, Present And Future / Black Night Blues / Too Many Lovers / Do It Now / I'm Sorry (Brenda LEE) / Sweet Nothin's (Brenda LEE) / Everybody Loves Me But You (Brenda LEE) / Anybody But Me (Brenda LEE) / Eventually (Brenda LEE)
© Rocky Productions 11/05/2019