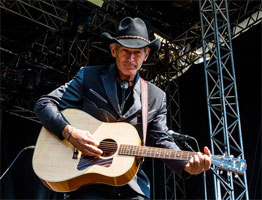 Chanteur Country US né Douglas Seegers en 1952 à Setauket (New York).

Doug Seegers is an Americana singer and songwriter based in Nashville. While growing up in Setauket, New York (on Long Island), Seegers was drawn to the music his parents loved and sang: hard country music from Hank Williams, Patsy Cline, Faron Young, Webb Pierce, etc. Like most teens, he fell in love with rock & roll and learned to play guitar. He was especially taken with the music of John Lennon. He attended college and graduate school in New York City.
In the early '70s, Seegers' musical aspirations took him to Austin, where he renamed himself "Duke the Drifter." There he encountered guitarist and producer Buddy Miller, and for a time they not only played together, but Seegers lived with Miller and his wife. While there, he heard -- and was deeply moved by -- the country-rock emerging from the Byrds, Buffalo Springfield, Neil Young, and Gram Parsons' recordings with Emmylou Harris, claiming they brought him back to his first musical love.
Seegers left Austin and relocated to upstate New York, where he married and had children. After they were grown, he left for Nashville to once more pursue his dream of being a musician. He busked on the streets and played for tips wherever he could. He worked as a carpenter whenever possible, but bad luck and addiction claimed everything but his voice, and he became homeless. He continued busking and playing songwriters' nights at the Little Pantry That Could, a charity run by Stacy Downey.
In early 2014 Jill Johnson, a Swedish country music star, came to Nashville to make a documentary about down-and-out musicians for Swedish national television. She learned of Downey's charity and became interested in her songwriters' nights. Downey took the production crew to places where street performers often played. When she spotted Seegers coming out of an alley, she introduced him to Johnson. He initially refused to play, but eventually sat down on the grass on the side of the alley and sang: "I'm going down to the river, to wash my soul again/I been running with the devil, and I know he is not my friend." She and her producer were stunned. Her entire project became Seegers, the man and artist. She took him to the Cash Cabin (Johnny and June's studio) and recorded "Going Down to the River." When it was released in Sweden, it became a smash, topping the Scandinavian iTunes charts.
This fueled more recordings. With producer Will Kimbrough, Seegers entered Cowboy Jack Clement's Sound Emporium and recorded an entire album in three days. He reunited with Miller, who initially begged off the session due to time constraints -- until he learned who it was. He dropped everything and drove right down. He in turn enlisted Emmylou Harris to sing on a cover of Parsons' "She." The completed 12-song album, entitled Going Down to the River, featured an all-star cast including Phil Madeira, Kimbrough, Al Perkins, and Barbara Lamb, to name a few. It was released in Sweden in June of 2014 and garnered sales, radio play, and chart success. Seegers went over for a highly successful tour and his reputation began to spread throughout Western Europe. Rounder Records issued Going Down to the River in the U.S. in October.
Going Down to the River went Gold in Sweden, helping establish him as a star in that country. He appeared on Jill Johnson's television show Jill's Veranda, and then recorded an album called In Tandem with her; it went to number one upon its March 2015 release. A seasonal album, Let's All Go Christmas Caroling Tonight, appeared in time for the 2015 holiday season, following by Walking on the Edge of the World in May 2016. Sings Hank Williams, his tribute to the father of modern country music, was released in May 2017.
Talents : Vocals, Guitar, Songwriter
Style musical : Honky Tonk, Traditional Country, Country Boogie

http://youtu.be/XMR0HuH5zkA
Years in activity :
| | | | | | | | | | | |
| --- | --- | --- | --- | --- | --- | --- | --- | --- | --- | --- |
| 1910 | 20 | 30 | 40 | 50 | 60 | 70 | 80 | 90 | 2000 | 10 |
DISCOGRAPHY
Album
05/2014
CD Lionheart LHICD0166 (SWE)

Going Down to the River -

Angie's Song / Going Down To The River / She (Doug

Seegers

feat: Emmylou H

arris

) /

Lonely Drifter's Cry / Hard Working Man / Pour Me / There'll Be No Teardrops Tonight (Doug

Seegers

feat: Buddy

Miller

) / Memory Lane / Gotta Catch That Train / Burning A Hole In My Pocket / She's In A Rock 'n' Roll Band / Baby Lost Her Way Home Again
10/2014
CD Rounder 11661-36117-02 (US)

Going Down to the River -

Angie's Song / Going Down To The River / She (Doug

Seegers

feat: Emmylou H

arris

) /

Lonely Drifter's Cry / Hard Working Man / Pour Me / There'll Be No Teardrops Tonight (Doug

Seegers

feat: Buddy

Miller

) / Memory Lane / Gotta Catch That Train / Burning A Hole In My Pocket / She's In A Rock 'n' Roll Band / Baby Lost Her Way Home Again
03/2015
CD Lionheart 0602547-27040 (SWE)

In Tandem - Jill JOHNSON & Doug SEEGERS - We'll Sweep Out The Ashes In The Morning / Dancin' / Boulder To Birmingham / Do Right Woman / Precious Wedding Vow / Lord I'm Trying / So Sad To Watch Good Love Go Bad / Do I Ever Cross Your Mind / True Love Never Dies / Here We Go Again / Noise Without A Sound

10/2015
CD Capitol 0602547-59879 (SWE)

Let's All Go Christmas Caroling Tonight - Daddy's Still Around / The Christmas Song / Rockin' Around The Christmas Tree / Let's All Go Christmas Caroling Tonight / Silent Night / Rudolph The Red-Nosed Reindeer / Christmas Time's A Comin' / Let Me Ride With You Stacy / Winter Wonderland (feat. Elizabeth Cook) / I'll Be Home For Christmas / Santa Looked A Lot Like Daddy

05/2016
CD Capitol 0602547-86992 (EUR)

Walking On The Edge Of The World - Walking On The Edge Of The World / From Here To The Blues / Zombie / Will You Take The Hand Of Jesus / She's My Baby / How Long Must I Roll / Before The Crash / Give It Away / Far Side Banks Of Jordan / If I Were You; Mr Weavil / Don't Laugh At Me

05/2017
CD Capitol 3623761 (EUR)

Doug Seegers Sings Hank Williams - Lovesick Blues / Hey, Good Lookin' / Ramblin' Man / Kaw-Liga / Long Gone Lonesome Blues / I'm So Lonesome I Could Cry / Settin' The Woods On Fire / Cold, Cold Heart / I'll Never Get Out Of This World Alive / You Win Again / Mind Your Own Business / Jambalaya (On The Bayou)
© Rocky Productions 18/05/2018