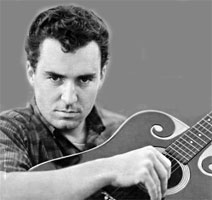 Chanteur et occasionnellement acteur, né John Allan Seay, Jr., le 15 Juillet 1940 à Gulfport (Mississippi). Johnny Sea a enregistré son premier disque en 1958, année où il débuta au Louisiana Hayride. Il est resté à Shreveport (Louisiane) jusqu'en 1960 pour ensuite partir à Nashville (Tennessee). Il a eu quelques hits et fut nominé pour un Grammy Award.
Johnny Sea est mort dans un accident d'avion, le 14 Mai 2016.

Singer and occasional actor Johnny Sea had a few country hits in 1959 and several in the mid-'60s. Born John Allan Seay, Jr., in Gulfport, Mississippi, he was raised in Atlanta, Georgia. He got his start at age 17, when he won a state talent competition. During the finals, a record company heard young Sea sing and offered him a contract, while another got the youth signed to Louisiana Hayride. He remained there two years before debuting on the Grand Ole Opry. Sea first appeared on the country charts in 1959 with a Top 15 single for NRC, "Frankie's Man Johnny." His 1960 follow-up, "Nobody's Darling but Mine," did equally well. When his career slowed down, Sea headed west to become a cowboy, living in different areas ranging from Los Angeles to Pawhuska, Oklahoma.
Sea returned to recording by 1964, when "My Baby Walks All Over Me" reached the Top 30. A year later, he had another hit with "My Old Faded Love." This success landed him a contract with Warner Brothers and his biggest hit, "Day for Decision," in 1966. The song, a reply to Barry McGuire's protest anthem "Eve of Destruction," not only peaked in the Top 15 in the country charts, but also crossed over to hit the Top 40 on the pop charts. He moved to Columbia in 1967, where he reverted to his birthname, Johnny Seay, and had a minor hit in 1968 with "Goin' to Tulsa." That year he also had his final chart appearance with "Three Six Packs, Two Arms and a Juke Box." Later that year, he wrote a song about his hard-luck neighbors the Yorks, "Willie's Drunk and Nellie's Dyin'," which led to an article about them in Life magazine. Sea later left to become a cowboy in Justiceburg, Texas. 2003 brought Sea's debut on the compact disc format when Collectables reissued his 1966 LP, Day for Decision.
Johnny Sea was killed in a crop dusting plane crash near West, Texas, May 14, 2016.
https://en.wikipedia.org/wiki/Johnny_Seay
Talents : Vocals, Guitar, Actor
Style musical : Traditional Country, Honky Tonk
I Won't Be Easy To Forget (1958) (Johnny SEA)

Nobody's Darling But Mine (1959) (Johnny SEA)

Ghost Riders In The Sky (1960) (Johnny SEAY)

My Baby Walks All Over Me (1964) (Johnny SEA)

IF (1967) (Johnny SEAY)
Years in activity :
| | | | | | | | | | | | |
| --- | --- | --- | --- | --- | --- | --- | --- | --- | --- | --- | --- |
| 1910 | 20 | 30 | 40 | 50 | 60 | 70 | 80 | 90 | 2000 | 10 | 20 |
DISCOGRAPHY
Singles
| | | | |
| --- | --- | --- | --- |
| 07/1958 | SP NRC NRC No. 006 (US) | . | Johnny SEA - I Won't Be Easy To Forget / I Love You |
| 01/1959 | SP NRC NRC-019 (US) | . | Johnny SEA - Frankie's Man, Johnny / Loneliness |
| 06/1959 | SP NRC NRC No. 026 (US) | . | Johnny SEA - Stranger / Judy And Johnny |
| 12/1959 | SP NRC NRC-049 (US) | . | Johnny SEA - Nobody's Darling But Mine / My Time To Cry |
| 10/1960 | SP NRC NRC-060 (US) | . | Johnny SEAY - Ghost Riders In The Sky / Mr. & Mrs. Sippi |
| 06/1961 | SP CAPITOL 4585 (US) | . | Johnny SEAY - The Torch And The Flame / No Tears Tonight |
| 10/1961 | SP CAPITOL 4686 (US) | . | Johnny SEAY - Livin' Is Lovin' / The Wayward Wind |
| 02/1964 | SP PHILIPS 40164 (US) | . | Johnny SEA - My Baby Walks All Over Me / There's Another Man |
| 07/1964 | SP PHILIPS 40214 (US) | . | Johnny SEA - All Mixed Up / Standing Room Only |
| 03/1965 | SP PHILIPS 40267 (US) | . | Johnny SEA - My Old Faded Rose / It's A Shame |
| 07/1965 | SP PHILIPS 40307 (US) | . | Johnny SEA - If It Wasn't For Hard Luck / Hitchin' And Hikin' |
| 06/1966 | SP WARNER BROS. 5820 (US) | | Johnny SEA - Day For Decision / Mary Rocks Him To Sleep |
| 11/1966 | SP WARNER BROS. 5861 (US) | . | Johnny SEA - Things You Gave Me / Wheels On The Highway |
| 01/1967 | SP WARNER BROS. 5889 (US) | . | Johnny SEA - Nothin's Bad As Bein' Lonely / Ain't That Right |
| 08/1967 | SP COLUMBIA 44268 (US) | . | Johnny SEAY - Behind My Baby's Berdroom Door / If |
| 01/1968 | SP COLUMBIA 44423 (US) | | Johnny SEAY - Going Out To Tulsa / There's A Shadow Bar |
| 05/1968 | SP COLUMBIA 44542 (US) | . | Johnny SEAY - Mama When I'm Gone Don't Cry For Me / Song Number Nine-And-A-Half In Time |
| 09/1968 | SP COLUMBIA 44634 (US) | . | Johnny SEAY - Three Six Packs, Two Arms And A Juke Box / I Loved Her Fine |
| 12/1968 | SP COLUMBIA 44717 (US) | . | Johnny SEAY - A Poor Boy, Just Trying To Get Along / I've Learned A Lot Today |
| 03/1969 | SP COLUMBIA 44805 (US) | . | Johnny SEAY - Everybody's Friend / Cryin' Grey Tombstone |
| 1970 | SP VIKING VK-1011 (US) | . | Johnny SEAY - Willie's Drunk And Nellie's Dying / Fort Worth Girl |
| 1970 | SP VIKING VK-1017 (US) | . | Johnny SEAY - Annie's Going To Sing Her Song / Stormy Weather Girl |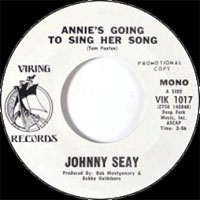 Albums
| | | | |
| --- | --- | --- | --- |
| 08/1964 | LP 12" PHILLIPS PHM-200139 (mono) / PHS-600139 (stereo) (US) | | THE WORLD OF A COUNTRY BOY - Johnny SEA - My Baby Walks All Over Me / Every Day / Mystery Train / Blue Moon Of Kentucky / Drown In My Sins / Standing Room Only / All Mixed Up / Why Can't I Just Come Home (And You Be Gone) / When My Blue Moon Turns To Gold Again / There's Another Man / That's Where It All Began / Lonesome Road |
| 06/1965 | LP 12" PHILLIPS PHM-200194 (mono) / PHS-600194 (stereo) (US) | | LIVE AT THE BITTER END - Johnny SEA - Hitchin' And Hikin' / It Ain't Me Babe / Riders In The Sky / Red, White And Blue / Masters Of War / Ain't Nothing About You I Can Stand / Their Hearts Were Full Of Spring / Just Wish You'd Maybe Change Your Mind / It's A Shame / Johnny I Hardly Knew You / Corina Corina |
| 1965 | LP 12" HILLTOP JM-6018 (mono) / JS-6018 (stereo) (US) | | EVERYBODY'S FAVORITES - MR. JOHNNY SEA - Frankie's Man Johnny / Stranger / Judy & Johnny / Nobody's Darling / Time To Cry / Ghost Riders In The Sky / Mr. And Mississippi / I Love You / It Won't Be Easy / Lonliness |
| 1965 | LP 12" GUEST STAR G-1479 (mono) / GS-1479 (stereo) (US) | | CROWN PRINCE OF COUNTRY MUSIC - Johnny SEA : Nobody's Darling / My Time To Cry / Loneliness / Mr. And Mississippi / Frankie And Johnny / A Man In Love / I Love You / Bill CARLISLE : Blue Arizona Moon / Rattlin' Daddy / I Can't Hardly Wait |
| 06/1966 | LP 12" WARNER BROS. W-1659 (mono) / WS-1659 (stereo) (US) | | DAY FOR DECISION - Johnny SEA - Day For Decision / God Bless America / This Land / I Believe / When Johnny Comes Marching Home / The Turning Point / America / What Is So Rare? / Generation / The Star Spangled Banner |
| 06/1999 | CD LOST GOLD LG 4339 (US) (US) | | AMERICAN REFLECTION - Johnny SEAY - Day For Decision / God Bless America / This Land / I Believe / When Johnny Comes Marching Home / The Turning Point / America / What Is So Rare? / Generation / The Star Spangled Banner / Mary Rocks Him To Sleep |
| 06/2000 | CD JOHNNY SEAY ? (US) | | THE GOOD YEARS - HIS MUSIC 1958-1999 - Johnny SEAY - Three Six Packs, Two Arms And A Juke Box / My Baby Walks All Over Me / My Old Faded Rose / Willie's Drunk And Nellie's Dyin' / Behind My Baby's Bedroom Door / Nothin's Bad As Bein' Lonely / Everybady's Friend / Everyday / Why Can't I Just Come Home And You Be Gone / Standing Room Only / Mystery Train / There's Another Man / Hitchin' And Hikin' / If It Weren't For Hard Luck, I'd Have No Luck At All / It's A Shame / It Won't Be Easy To Forget / Mary Rocks Him To Sleep / If / Fort Worth Girl / Tecumseh Valley / Strawberry Roan / In The Early Morning Rain / Ballad Of The Tarantula Express / The Brazos River Song |
| 2003 | CD COLLECTOR'S CHOICE 339 (US) | | DAY FOR DECISION - Johnny SEA - Day For Decision / God Bless America / This Land / I Believe / When Johnny Comes Marching Home / The Turning Point / America / What Is So Rare? / Generation / The Star Spangled Banner |
| 09/2006 | CD BEAR FAMILY BCD 16153 (GER) | | BLUE MOON OF KENTUCKY - Johnny SEAY - Blue Moon Of Kentucky / My Baby Walks All Over Me / Mystery Train / When My Blue Moon Turns To Gold Again / Drown In My Sins / All Mixed Up / Why Can't I Just Come Home / There's Another Man / That's When It All Began / Lonesome Road / Standing Room Only / Every Day / If It Wasn't For Hard Luck / My Old Faded Rose / Hitchin' And Hikin' / It's A Shame / It Won't Be Easy To Forget / I Love You / Loneliness / Frankie's Man Johnny / Judy And Johnny / Stranger / My Time To Cry / Nobody's Darling But Mine / Ghost Riders In The Sky / Mister And Mississippi / A Man In Love |
© Rocky Productions 1/05/2018