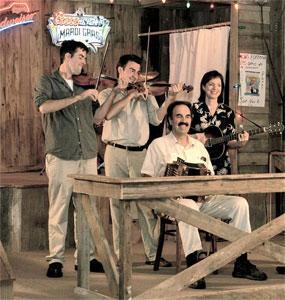 Après avoir bourlinguer avec toute la « vieille » scène Cajun depuis 1977, Marc et Ann Savoy fondent avec leurs deux fils le Savoy Family Band. Ensemble ils perpétuent une musique traditionnelle : celle des anciens Dewey Balfa, Dennis McGee ou Amédée Ardoin.

The Savoy Family Cajun Band plays honed down, Hard-core Cajun music laced with an earthy sensuality. Though the old tunes have been revived and returned to new life intensity in their hands, the Savoy Family Cajun band doesn't play from a studied angle. The musicians in the band, Marc and Ann Savoy and their sons Joel and Wilson, each holds their own as strong individual group members, making up a tight, intense sound.
Marc Savoy born in Louisiana has been playing accordion since he was 12 and now builds accordions at the Savoy Music Center. They have played at presidential inaugurations, the Newport Folk Festival, JFK Center and Queen Elizabeth Hall in London, to name a few.
Ann Savoy is a musician, author, record producer and photographer. She has appeared in documentaries on Cajun music and played in movies, working with artists like Linda Ronstadt, T Bone Burnett, John Fogerty and many others. She plays guitar, fiddle and accordion.
Their sons, Joel and Wilson, were both raised among all of the greats in Cajun music. Frequent visitors to the family home were some of the finest musicians of most folk cultures. Joel plays the Cajun fiddle and has performed with the Red Stick Ramblers and as an onscreen musician in The Divine Secrets of the YaYa Sisterhood (Warner) with his mother, and All the Kings Men (Sony Pictures) with his brother. He also plays mandolin, lap steel, banjo and drums. Wilson plays the keyboard and piano for the Savoy Family Cajun Band and also plays with his band the Pine Leaf Boys. He is a filmmaker producing music videos and documentaries as well.
Although the Savoy Family Cajun Band insists upon maintaining a more acoustic approach to Cajun music the band can hold its own amongst Cajun music lovers everywhere. In fact, the band loves seeing how much power and sound they can get out of just four instruments. Their repertoire is chosen carefully and the songs show the spectrum of Cajun life from sorrow and lost love to nonsense and the joy of dance.


Talents : Marc Savoy : Accordion - Ann Savoy : Guitar, Fiddle, Accordion - Joel Savoy : Fiddle, Mandolin, Lap Steel, Banjo, Drums - Wilson Savoy : Keybord, Piano
Style musical : Traditional Cajun
Années en activité :
| | | | | | | | | | |
| --- | --- | --- | --- | --- | --- | --- | --- | --- | --- |
| 1910 | 20 | 30 | 40 | 50 | 60 | 70 | 80 | 90 | 2000 |
DISCOGRAPHY
Albums
08/2003
CD ARHOOLIE 508 (US)
CAJUN ALBUM - Lake Arthur Stomp

[instr.]

/ Reno Waltz / Catin, Catin / Chataignier Two Step

[instr.]

/ Woman With A Broken Heart / Don't Bury Me / Tout Les Deux / Bayou Two Step

[instr.]

/ Valse De Chagrin / Ossun Two Step

[instr.]

/ Willie's Breakdown

[instr.]

/ Sunset Blues / Choupique / Sam's Big Rooster / Midland Two-Step
01/2008
CD ARHOOLIE 525 (US)
TURN LOOSE BUT DON'T LET GO - Crowley Two Step

[live / instr.]

/ Tous les Soirs Quand Ça Fait Noir / 'Tite Robe Courte / Baby And The Gambler / Je Me Sens Comme Une Pauvre Orpheline / I'll Be Lonely / Rockin' Chair Two Step

[live / instr.]

/ Sugar Bee / Madame Atchen / Rosa, Tomorrow Is Not Sunday (Adieu Rosa) / You're So Easy To Love / Valse Des Reeds / Two Step De Prairie Soileau / You Don't Know Me / Cheese Cloth

[live / instr.

]
© Rocky Productions 25/01/2008