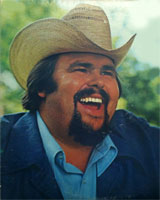 Chanteur Country US né John Bright Russell, le 23 Janvier 1940 à Moorehead (Mississippi). Johnny Russell est décédé le 3 Juillet 2001 à Nashville (Tennessee).

Active as a performer and recording artist in the 1970s and 1980s, Johnny Russell was remembered for "Rednecks, White Socks, and Blue Ribbon Beer," perhaps country music's quintessential blue-collar anthem. He had several other moderate hits, but his greatest legacy was as a successful country songwriter whose compositions were recorded by artists ranging in time from Jim Reeves to George Strait. Russell was born and raised in the Mississippi Delta's Sunflower County. He heard the Grand Ole Opry as a youngster and was influenced by the music of Ernest Tubb, Lefty Frizzell, and Roy Acuff. His family moved to Fresno, CA, when Russell was 11, and he began to dream of a performing career. As a high school student he took steps to realize his dreams -- he entered and won various talent contests, and he began writing songs.
Soon after turning 18 he recorded his first song, "In a Mansion Stands My Love," in 1958. The single had little impact, but it caught the attention of RCA producer and A&R czar Chet Atkins. Atkins suggested to Jim Reeves that he record the song, and it became the B-side of Reeves' monster 1960 hit "He'll Have to Go." That helped establish Russell's reputation as a songwriter, although his recording career on the ABC label went nowhere. Russell's next major triumph came in 1963, when Buck Owens recorded Russell's "Act Naturally" (co-written with Voni Morrison of Owens' backing band) and had a number one hit. Two years later, the Beatles covered the tune with country enthusiast Ringo Starr on vocals. The song had its genesis when Russell broke a date with a girlfriend when he was offered a recording session in Hollywood. "They're gonna put me in the movies," Russell explained apologetically to the girlfriend -- and then wrote "Act Naturally" in a few minutes.
Russell landed a staff songwriter position at the Wilburn Brothers' publishing house in Nashville, penning several hits in the late '60s and early '70s. These included the Wilburn Brothers' own "Hurt Her Once for Me." In 1971, Russell renewed his effort to become a recording star in his own right, and Atkins signed him to RCA. His debut single, "Mr. and Mrs. Untrue," and its follow-up, "What a Price," both became mid-level hits. Russell had his first Top 20 hit in 1973 with "Catfish John," and later that year "Rednecks, White Socks, and Blue Ribbon Beer" peaked in the Top Five and became his biggest hit. He had six more hits through 1975, including "Hello I Love You." In 1977, he finished his stint at RCA with six more mid-range hits, including "The Son of Hickory Holler's Tramp." He then switched to Mercury and had a Top 30 hit with "How Deep in Love Am I?" He had several more hits with label, including "Here's to the Horses," but none of them made it past the Top 50.
He continued to find success as a songwriter, however, teaming once again with Morrison for the Porter Wagoner/Dolly Parton duet "Making Plans." Russsell adapted his honky tonk themes to the MOR sound that flourished around 1980. With Wayland Holyfield he co-wrote the major Statler Brothers hit "You'll Be Back Every Night (In My Dreams)," and he wrote or had a hand in such familiar numbers of that era as Gene Watson's "Got No Reason Now (For Going Home)" and the young George Strait's "Let's Fall to Pieces Together." In the mid-'80s, Russell joined the Grand Ole Opry as a comedy and vocal act, and in his later years he was a familiar sight in live appearances and on television, his 300-pound girth contained by colorful suspenders. Russell teamed up with Little David Wilkins in 1987 to record the minor hit "Butterbeans." Before the year was out, Russell had a mild stroke, and the following year he underwent surgery to remove a blockage from his chest. Still, he continued to perform and tour as before, serving as MC when Garth Brooks joined the Opry in 1990. As his health problems worsened in 2001, younger performers he had mentored, including Brooks and Vince Gill, gathered for a benefit concert at the Grand Ole Opry House in Nashville. His untimely death at the age of 61 was due to complications surrounding diabetes.
https://en.wikipedia.org/wiki/Johnny_Russell_(singer)
Talents : Vocals, Guitar, Drums
Style musical : Traditional Country, Country-Pop, Comedy

https://youtu.be/_A2dATLTmXo
Years in activity :
| | | | | | | | | | | | |
| --- | --- | --- | --- | --- | --- | --- | --- | --- | --- | --- | --- |
| 1910 | 20 | 30 | 40 | 50 | 60 | 70 | 80 | 90 | 2000 | 10 | 20 |
DISCOGRAPHY
Singles
| | | |
| --- | --- | --- |
| 04/1959 | SP RADIO R-125 (US) | Rome Wasn't Built In A Day / In A Mansion Stands My Love |
| 01/1960 | SP MGM K-12872 (US) | Lonesome Boy / Baby Won't You Tell Me So |
| 09/1961 | SP ABC 45-10249 (US) | He's A Lot Like Me / To The River In The Morning |
| 03/1962 | SP ABC 45-10302 (US) | Please Don't Tell Joe / In A Mansion Stands My Love |
| 06/1966 | SP FABOR F-147 (US) | Making Plans / You Would Might Be Turning |
| 1966 | SP FABOR F-149 (US) | Her And Our Baby / In A Mansion Stands My Love |
| 05/1971 | SP RCA VICTOR 47-9990 (US) | Open Up The Door (To Your Heart) / Sure Gets Hard Being Me |
| 07/1971 | SP RCA VICTOR 48-1000 (US) | Mr And Mrs Untrue / I'm Stayin' |
| 10/1971 | SP RCA VICTOR 74-0570 (US) | What A Price / Listening To The Rain |
| 02/1972 | SP RCA VICTOR 74-0665 (US) | Mr Fiddle Man / Crying Takes More Practice Everyday |
| 06/1972 | SP RCA VICTOR 74-0729 (US) | Rain Falling On Me / I'll Cry To That |
| 10/1972 | SP RCA VICTOR 74-0810 (US) | Catfish John / Promises Of Your Love |
| 03/1973 | SP RCA VICTOR 74-0908 (US) | Chained / (Drinkin' A Beer) And Singing A Country Song |
| 07/1973 | SP RCA VICTOR APBO-0021 (US) | Rednecks White Socks And Blue Ribbon Beer / She's A Natural Woman |
| 11/1973 | SP RCA VICTOR APBO-0165 (US) | Baptism Of Jesse Taylor / Making Plans |
| 03/1974 | SP RCA VICTOR APBO-0248 (US) | She's In Love With A Rodeo Man / Someday I'll Sober Up |
| 08/1974 | SP RCA VICTOR PB-10038 (US) | She Burnt The Little Upside Tavern Down / It Sure Seemed Right |
| 12/1974 | SP RCA VICTOR PB-10135 (US) | That's How My Baby Builts A Fire / Act Naturally |
| 02/1975 | SP RCA VICTOR GB-10168 (US) | Rednecks White Socks And Blue Ribbon Beer / Baptism Of Jesse Taylor |
| 04/1975 | SP RCA VICTOR GB-10258 (US) | Hello I Love You / You Ain't Got No Class |
| 09/1975 | SP RCA VICTOR GB-10403 (US) | Our Marriage Was A Failure / Catfish John |
| 02/1976 | SP RCA VICTOR GB-10563 (US) | I'm A Trucker / Your Fool |
| 05/1976 | SP RCA VICTOR GB-10667 (US) | This Man And Woman Thing / Over Georgia |
| 11/1976 | SP RCA VICTOR GB-10853 (US) | Son Of Hickory Holler's Tramp / I Wonder How She's Doing How |
| 05/1977 | SP RCA VICTOR GB-10984 (US) | Obscene Phone Call / If I Want To Get It Right |
| 11/1977 | SP RCA VICTOR GB-11160 (US) | Leona / Your Fool |
| 04/1978 | SP POLYDOR PD-14475 (US) | You'll Be Back (Every Night In My Dreams) / Is Anybody Leaving San Antone |
| 05/1978 | SP MERCURY 55030 (US) | You'll Be Back / Is Anybody Leaving San Antone |
| 10/1978 | SP MERCURY 55045 (US) | How Deep In Love Am I / Shall We Gather At The Ridge |
| 05/1979 | SP MERCURY 55060 (US) | I Might Be Awhile In New Orleans / Make Up My Mind |
| 10/1979 | SP MERCURY 57008 (US) | Ain't No Way To Make A Bad Love Grow / Keep The Change |
| 02/1980 | SP MERCURY 57016 (US) | Falsely Accused / While The Choir Sang The Hymns |
| 06/1980 | SP MERCURY 57026 (US) | We're Back In Love Again / Love Makes A Fool Of Us All |
| 11/1980 | SP MERCURY 57038 (US) | I'm Gettin' Holes In My Boots (From Climbing The Walls) / Song Of The South |
| 03/1981 | SP MERCURY 57050 (US) | Here's To The Heroes / Take Me To Heart |
| 1982 | SP TANGLEWOOD TGW-1911 (US) | George / Driftin' Away |
| 06/1987 | SP 16TH AVENUE B-70401 (US) | Johnny RUSSELL & Little David WILKINS - Butterbeans / Stone Country |
| 10/1987 | SP 16TH AVENUE B-70406 (US) | Johnny RUSSELL & Little David WILKINS - It's Quittin' Time / I Owe I Owe |
Albums
| | | | |
| --- | --- | --- | --- |
| 09/1971 | LP 12" RCA VICTOR LSP-4588 (US) | | MR. AND MRS. UNTRUE - Mr And Mrs Untrue / Act Naturally / Touching Home / Sweet Thang / She Goes Walking Through My Mind / This Old Heart Won't Let Go / I'm Staying, Listening To The Rain / Year That Clayton Delaney Died / Just One Time |
| 02/1973 | LP 12" RCA VICTOR LSP-4851 (US) | | CATFISH JOHN / CHAINED - Catfish John / She Needs Someone To Hold Her / Rain Falling On Me / Jamestown Ferry / Chained / Mr Fiddle Man / What A Price / It Sure Seemed Right / Altogether Now Let's Fall Apart / My Mind Hangs On To You |
| 09/1973 | LP 12" RCA VICTOR APL1-0345 (US) | | REDNECKS, WHITE SOCKS AND BLUE RIBBON BEER - Rednecks White Socks And Blue Ribbon Beer / Finer Thing In Life / Baptism Of Jesse Taylor / Remembering / Queen Of My Heart / Got Leavin' On Her Mind / She's A Natural Woman / You've Never Been This Far Before / Singin' A Country Song / Making Plans |
| 04/1974 | LP 12" RCA VICTOR APL1-0542 (US) | | SHE'S IN LOVE WITH A RODEO MAN - She's In Love With A Rodeo Man / Someday I'll Sober Up / Crystal Chandeliers / She Burnt The Little Roadside Tavern Down / Gingham Queen / Only Song I'll Sing / Amazing Love / Some Kind Of A Woman / Too Late To Turn Back Now / Draggin' Shackles |
| 10/1975 | LP 12" RCA VICTOR APL1-1211 (US) | | HERE COMES JOHNNY RUSSELL - Birmingham / Hello I Love You / I'm A Trucker / Over Georgia / Seems Like I Can't Live With You But I Can't Live Without You / Our Marriage Was A Failure / Catfish John / Your Fool / That's How My Baby Builds A Fire / Nobody Touches My Baby |
| 08/1979 | LP 12" MERCURY SRM1-5019 (US) | | PERSPECTIVES - I Might Be Awhile In New Orleans / How Deep In Love Am I / Shall We Gather At The Ridge / I Only Wish We'd Met Ten Years Ago / Every Now And Then (I Still Dream Of You) / He Stopped Loving Her Today / Make Up My Mind / This Could Be A Cheatin' Song / Married Strangers / You'd Think By Now (My Tears Would Dry) / You'll Be Back (Every Night In My Dreams) |
| 1982 | LP 12" K-TEL NC 553 (US) | | Catfish John - Catfish John / Red Necks, White Socks & Blue Ribbon Beer / Act Naturally / All I Have To Offer You (Is Me) / Making Plans / Today I Started Loving You Again / The Door Is Always Open / Blue Eyes Crying' In The Rain / Luckenbach, Texas (Back To The Basics Of Love) / Good Hearted Woman / Baptism Of Jesse Taylor / King Of The Road / Jambalaya / Workin' Man Blues / Busted / Kaw-Liga |
| 10/1986 | LP 12" JRCD-102896 (US) | | Here's Johnny - Rednecks, Whitesocks And Blue Ribbon Beer [Jimmy C. Newman] / Catfish John / Crystal Chandeliers / Johnny Russell - Talking Live / The Son Of Hickory Holler's Tramp / You've Never Been Far Before / The Baptism Of Jesse Taylor / In A Mansion Stands My Love / Got No Reason Now For Goin' Home / The New Wore Off / Act Naturally / The Jamestown Ferry / The Year That Clayton Delaney Died / No One Will Ever Know / Just One Time / Sweet Thang / I'll Be Gone Before You Even Know I Left / She's In Love With A Rodeo Man / He's Got You Rightwhere I Want You / I Wonder How She's Doing Now / (Drinkin' A Beer And) Singing A Country Song / Making Plans / Do I Even Cross Your Mind / Don't Throw Me Away / Chained / Ain't You Even Gonna Cry |
| 1987 | CD NQD NQD-890-CD (US) | | Almost Alive - Introduction by Jimmy Newman / Rednecks, White Socks And Blue Ribbon Beer / Catsfish John / Crystal Chandeliers / Dialogue / The Son Of Hickory Holler's Tramp / You;ve Never Been This Far Before / The Baptism Of Jesse Taylor / In A Mansion Stands My Love / Got No Reason Now For Goin' Home / The New Worte Off / Act Naturally / The Jamestown Ferry / The Year Clayton Delaney Died / Dialogue / No One Will Ever Know |
| 1987 | LP 12" RCA VICTOR NL-90000 (GER) | | MR. ENTERTAINER - Leona / I'm Stayin' / Your Fool / This Man And Woman Thing / What A Price / Nobody Touches My Baby / Our Marriage Was A Failure / Someday I'll Sober Up / Too Late To Turn Back Now / She Goes Walking Through My Mind / Over Georgia / She Burnt The Little Roadside Tavern Down / Finer Things In Life / Queen Of My Heart / Remembering / Some Kind Of A Woman |
| 1989 | CD COUNTRY STORE CST-44 (UK) | | THE COUNTRY STORE COLLECTION - Act Naturally / Catfish John / Rednecks White Socks Blue Ribbon Beer / All I Have To Offer You Is Me / Making Plans / Blue Eyes Crying In The Rain / Good Hearted Woman / Luckenbach Texas (Back In The Basics Of Love) / Busted / Jambalaya (On The Bayou) / Kaw-Liga / Today I Started Loving You Again / Workin' Man Blues / King Of The Road |
| 06/1993 | CD DOMINION 3141-2 (US) | | GREATEST HITS - Rednecks White Socks And Blue Ribbon Beer / Catfish John / Luckenbach Texas (Back To The Basics Of Love) / Jambalaya (On The Bayou) / Today I Started Loving You Again / Good Hearted Woman / Act Naturally / Baptism Of Jesse Taylor / Blue Eyes Crying In The Rain / Kaw-Liga |
| 04/2000 | CD OMS 25020-2 (US) | | ACTIN' NATURALLY - Act Naturally / In A Mansion Stands My Love / Ain't You Even Gonna Cry / Do I Even Cross Your Mind / Forty Acres Of Hell / I'm Leavin' / Making Plans / I'll Be Gone Before You Even Know I Left / I Give Up / Let's Fall To Pieces Together / He's Got You Right Where I Want You / New Wore Off / I'm Stayin' / Got No Reason Now For Going Home |
| 03/2002 | CD K-TEL 3071-2 (US) | | ALL-TIME GREATEST HITS - Act Naturally / Rednecks White Socks And Blue Ribbon Beer / Catfish John / Kaw-Liga / Blue Eyes Crying In The Rain / Workin' Man Blues / Baptism Of Jesse Taylor / Good Hearted Woman / Today I Started Loving You Again / Jambalaya (On The Bayou). |
© Rocky Productions 16/11/2022