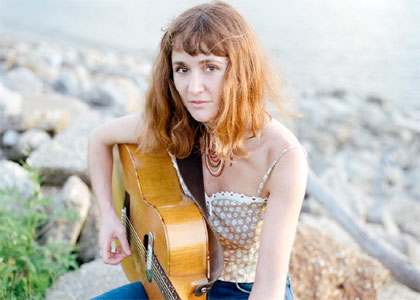 Chanteuse Country US de Detroit (Michigan).

Equal parts poignant and lighthearted, Esther Rose's honeyed retro-country has the crossover appeal of artists like Margo Price and Kelsey Waldon. Steeped in dreamy, rustic twang, her solo debut, This Time Last Night, arrived in 2017. Her third album, 2021's How Many Times, added a touch of pop luminance to the mix without diluting her songs' folksy charm.
Born in Detroit and based New Orleans, Rose began her recording career in collaboration with her then-husband, Luke Winslow-King, in 2013. They split in 2015, and she set about putting together an album of her own. Recorded in April 2017 with a band consisting of Lyle Werner on fiddle, Matt Bell on lap steel, Callie Millington on bass, and Cameron Snyder on drums, the resulting This Time Last Night appeared on the Mashed Potato label in June. That year, she also accepted an invitation to provide backing vocals for two tracks on Jack White's 2018 album Boarding House Reach.
Rose soon signed with Father/Daughter Records, which released her second long-player, You Made It This Far, in 2019. It featured the same band but with Dan Cutler on bass instead of Millington. A covers EP, My Favorite Mistakes, followed on Father/Daughter in mid-2020, with Rose's take on songs originally by Hank Williams, Roy Orbison, Sheryl Crow, and Nick Lowe.
Co-produced by Rose and Ross Farbe of synth pop band Video Age, her third full-length, 2021's How Many Times, was recorded with her previous album's lineup and additional contributors including electric guitarist Max Bien-Kahn. It arrived in March 2021 on Father/Daughter (U.S.) and Full Time Hobby (U.K.).
https://www.facebook.com/therealestherrose/about
Talents : Vocals, Guitar
Style musical : Traditional Country, Contemporary Country

https://youtu.be/K2uaee4wm-4
Years in activity :
| | | | | | | | | | | | |
| --- | --- | --- | --- | --- | --- | --- | --- | --- | --- | --- | --- |
| 1910 | 20 | 30 | 40 | 50 | 60 | 70 | 80 | 90 | 2000 | 10 | 20 |
DISCOGRAPHY
Albums
| | | | |
| --- | --- | --- | --- |
| 04/2013 | CD Bloodshot BS 206 (US) | | The Coming Tide - Luke Winslow-King Featuring Esther Rose - The Coming Tide / Moving On (Towards Better Days) / Let Em Talk / Staying In Town / Keep Your Lamp Trimmed And Burning / You Don't Know Better Than Me / I've Got The Blues For Rampart Street / You & Me / I Know She'll Do Right By Me / Ella Speed / I've Got My Mind Set On You |
| 2017 | CD Mashed Potato ? (US) | | This Time Last Night - Wanton Way Of Loving / The Game / Lightning Strikes / This Time Last Night / Starting Over / Friend Or Foe / Jump Down Baby / The Yard Dance / The Key / Money Tree / Someday |
| 08/2019 | CD Father/Daughter FD 083CD (US) | | You Made It This Far - Always Changing / Handyman / Five Minute Drive / Only Loving You / Sex And Magic / Lower 9 / Valentine / Three / Rio En Medio / You Made It This Far / Don't Blame It On The Moon |
| 03/2021 | CD Father/Daughter 92 (US) | | How Many Times - How Many Times / Keeps Me Running / My Bad Mood / Coyote Creek / Good Time / When You Go / Songs Remain / Mountaintop / Are You Out There / Without You |
© Rocky Productions 27/03/2021