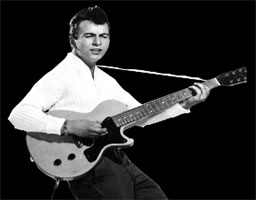 Chanteur Rock 'n' Roll US né le 7 Juillet 1941 à Billings (Montana).

A somewhat obscure but quite interesting performer from the tail end of the initial '50s rock & roll explosion, Latino guitarist and singer Romero is most famous for writing and singing the original version of "Hippy Hippy Shake." Causing only a minor ripple in the U.S. upon its 1959 release, it became a standard part of the repertoire for Liverpool bands in the early '60s. The Swinging Blue Jeans had a huge hit with it in 1964, reaching number two in the U.K. (and the U.S. Top 40). Although they never recorded it in the studio, the Beatles performed it often on the BBC; a superb 1963 version from this source, featuring a cord-shredding Paul McCartney vocal, was released on the group's Live at the BBC compilation.
Romero had more to offer than the typical one-song wonder, but didn't get much of a chance to prove it in the studio. Born to Mexican parents in Billings, MT, Romero began performing in the late '50s. The success of trailblazing Latino rocker Ritchie Valens impressed him deeply, spurring him to pen "Hippy Hippy Shake," an up-tempo rocker modeled on Valens. A tryout at Specialty lead to nothing, but in the wake of Valens' tragic death in February 1959, Romero's manager contacted the late singer's label, Del-Fi. Though perhaps opportunistic, the strategy was entirely appropriate; Romero's raw and enthusiastic high-pitched vocals and rockabilly-derived guitar playing was a pretty close approximation of Valens' style.
"Hippy Hippy Shake" did make number three in Australia, leading to a 1960 tour there with Jerry Lee Lewis, but Chan Romero's records didn't do much in the United States. Romero did record some other respectable sides for Del-Fi which, like Valens, saw him alternating raucous rockers with ballads. Del-Fi went as far as to have Romero record with the same musicians as Valens had, Rene Hall's Danelectro bass guitar (which was played as assertively as a lead instrument) being the most distinguishing feature of the arrangements. And Chan reminded Valens' mother of her late son so much that he stayed in her home for several months.
But Romero didn't stay at Del-Fi (or indeed record much there at all), leaving the label in the early '60s. Over the next few years he made some one-off singles for other companies, working on separate occasions with legendarily weird producers Kim Fowley and Shadow Morton. Eventually he concentrated on Christian-inspired music, founding his own Warrior label in the mid-'60s for that purpose. He remains an active performer, occasionally playing on the oldies circuit.
https://en.wikipedia.org/wiki/Chan_Romero
Talents : Vocals, Guitar
Style musical : Rock 'n' Roll

https://youtu.be/I-TAjlXJ72w
| | |
| --- | --- |
| The Hippy Hippy Shake (1959) | |
Years in activity :
| | | | | | | | | | | | |
| --- | --- | --- | --- | --- | --- | --- | --- | --- | --- | --- | --- |
| 1910 | 20 | 30 | 40 | 50 | 60 | 70 | 80 | 90 | 2000 | 10 | 20 |
DISCOGRAPHY
Singles
| | | | |
| --- | --- | --- | --- |
| 07/1959 | SP DEL-FI 4119 (US) | . | The Hippy Hippy Shake / If I Had A Way |
| 11/1959 | SP DEL-FI 4126 (US) | . | My Little Ruby / I Don't Care Now |
| 03/1965 | SP CHALLENGE 59285 (US) | . | It's Not Fine / Funniest Things |
| 08/1966 | SP PHILIPS 40391 (US) | | Humpy Bumpy / A Man Can't Dog A Woman |
| 19?? | SP WARRIOR NRF-542-45 (US) | . | The Best Thing I Ever Had / The Fire In My Light |
| 19?? | SP COLLECTABLES COL-3945 (US) | . | Ooh My Head (Ritchie VALENS) / The Hippy Hippy Shake (Chan ROMERO) |
| 19?? | SP DEL-FI 4126 (US) (bootleg) | | The Hippy Hippy Shake / My Little Ruby |
Unissued Tracks
1959
Unissued - (Del-Fi CD 71251-2 (#12))

Baby Doll

1959
Unissued - (Del-Fi CD 71251-2 (#13))

Boppin' & Hoppin'

1959
Unissued - (Del-Fi CD 71251-2 (#11))

Hippy Hippy Shake [alt. vers.]

1959
Unissued - (Del-Fi CD 71251-2 (#14))

La Bamba

1959
Unissued - (Del-Fi CD 71251-2 (#6))

Memories Of You

1959
Unissued - (Del-Fi CD 71251-2 (#10))

My Angel

1959
Unissued - (Del-Fi CD 71251-2 (#15))

Playboy

1959
Unissued - (Del-Fi CD 71251-2 (#9))

Rock House

1959
Unissued - (Del-Fi CD 71251-2 (#7))

Your Love

19??
Unissued - (Warrior Tunes LP 13498 (#8))

California Earthquake

19??
Unissued - (Warrior Tunes LP 13498 (#10))

Country Sunshine

19??
Unissued - (Rockhouse CD 9501 (#9))

Drownin' In My Tears

19??
Unissued - (Warrior Tunes LP 13498 (#11))

Happy Country Song

19??
Unissued - (Rockhouse CD 9501 (#1))

I Don't Want You Fooling With My Heart

19??
Unissued - (Del-Fi CD 71251-2 (#4) / Rockhouse CD 9501 (#7) / Warrior Tunes LP 13498 (#3))

I Want Some More

19??
Unissued - (Rockhouse CD 9501 (#4))

Love's Imitation

19??
Unissued - (Rockhouse CD 9501 (#10))

My Love

19??
Unissued - (Warrior Tunes LP 13498 (#12))

On The Street

19??
Unissued - (Warrior Tunes LP 13498 (#6))

The Rooster

19??
Unissued - (Warrior Tunes LP 13498 (#7))

The Rooster, Part 2 (instr.)

19??
Unissued - (Warrior Tunes LP 13498 (#5))

So Much

19??
Unissued - (

Rockhouse CD 9501 (#8))

Thrill Me So Much

19??
Unissued - (Rockhouse CD 9501 (#6))

Trying To Forget

19??
Unissued - (

White Label LP 8959 (#10))

Walk'n And Talk'n

19??
Unissued - (Rockhouse CD 9501 (#11))

The Wind

19??
Unissued - (Warrior Tunes LP 13498 (#9))

Xavies Song
Albums
1993
CD WARRIOR TUNES WHT13498 (US)

Rockin' From The 50's Through The 90's / Chan Romero - The Hippy Hippy Shake / I Don't Care Now / I Want Some More / My Little Ruby / So Much / The Rooster / The Rooster, Part 2 (instr.) / California Earthquake / Xavies Song / Country Sunshine / Happy Country Song / On The Street

1995
CD DEL-FI 71251-2 (US)
HIPPY HIPPY SHAKE - THE STUDIO TRACKS :

My Little Ruby / I Don't Care / Hippy Hippy Shake / I Want Some More / If I Had A Way / Memories Of You / Your Love / It's Not Fair /

Chan Unplugged :

Rock House / My Angel / Hippy Hippy Shake (alternate) / Baby Doll / Boppin' & Hoppin' / La Bamba /Playboy

1996
CD ROCKHOUSE 9501 (NL)

FIFTIES Flash Back - I Don't Want You Fooling With My Heart / My Little Ruby / I Don't Care Now / Love's Imitation / The Hippy Hippy Shake / Trying To Forget / I Want Some More / Thrill Me So Much / Drownin' In My Tears / My Love / The Wind

07/2006
CD COLLECTABLES 9988 (US)
HIPPY HIPPY SHAKE - Hippy Hippy Shake / Memories Of You / La Bamba

[unplugged version]

/ My Little Ruby / I Want Some More / Baby Doll / If I Had A Way / Your Love

[unplugged version]

/ Boppin' & Hoppin'

[unplugged version]

/ I Don't Care Now
© Rocky Productions 20/02/2018