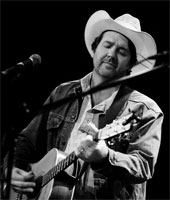 Chanteur Country US né le 11 Juin 1966 et basé à Austin (Texas). Bruce Robison est le mari de Kelly Willis et le frère de Charlie Robison.

The Austin, TX-based singer/songwriter Bruce Robison issued his self-titled debut LP in 1995. He also attracted notice thanks to his inclusion on several compilations, including 1995's Austin Country Nights: Rising Stars From the Heart of Texas collection and True Sounds of the New West. The full-length Wrapped followed in 1995, and his sophomore effort, Long Way Home From Anywhere, appeared four years later.
He switched to Boar's Nest for 2001's Country Sunshine, which featured a co-billing for his wife, Kelly Willis. The two cut a Christmas record called Happy Holidays in 2006 -- that same year he released the solo Eleven Stories -- and in 2007 he signed with Premium for It Came from San Antonio. He stayed there for the next decade, releasing The New World in 2008 and two duet albums with Willis -- Cheater's Game and Our Year -- in 2013 and 2014. He formed the Back Porch Band for his 2017 album, Bruce Robison & the Back Porch Band.
Talents : Vocals, Guitar, songwriter
Style musical : Contemporary Country, Country Rock, Country-Folk

http://youtu.be/WXOxPMX9WBg
Years in activity :
| | | | | | | | | | | |
| --- | --- | --- | --- | --- | --- | --- | --- | --- | --- | --- |
| 1910 | 20 | 30 | 40 | 50 | 60 | 70 | 80 | 90 | 2000 | 10 |
DISCOGRAPHY
Albums
07/1996
CD VIREO 1105-2 (US)

BRUCE ROBISON -

It's Gonna Be Easy / Lonely Too / Match Made In Heaven / Not Forgotten You / Take It All Out On You / Travellin' Soldier
05/1998
CD LUCKY DOG EK-69134 (US)

W

RAPPED -

Rayne, Louisiana (with Charlie ROBISON) / Wrapped / Angry All The Time / When I Loved You (with Kelly WILLIS) / My Brother And Me / Desperately / 12 Bar Blues / Go To Your Heart / I Dream Too / End Like That / Don't You Ever Call My Name / See You Around
07/1999
CD LUCKY DOG EK-69173 (US)
LONG WAY HOME FROM ANYWHERE -

Drivin' All Night Long / Just Married / Red Letter Day / Travelin' Soldier / The Good Life / Trouble / Anymore Good Lovin' / What Did You Think / Emotionally Gone / Long Way Home From Anywhere

09/2000
CD LUCKY DOG EK-63790 (US)
UNLEASHED LIVE - CHARLIE ROBISON, JACK INGRAM, BRUCE ROBISON - The Good Life / Rayne, Louisiana / Angry All The Time / Red Letter Day / My Hometown / Sunset Boulevard / Loving Country / Barlight / Mustang Burn / Work This Out / Travis Country / Barbie Doll
09/2001
CD BOAR'S NEST 25 (US)

COUNTRY SUNSHINE -

Can't Get There from Here / Bed Of Ashes / Blame It On Me / Devil May Care / Valentine / Friendless Marriage / What Would Willie Do / The First Thing About Mary / Sixteen / Anyone But Me / Tonight
04/2006
CD SUSTAIN 10132 (US)

ELEVEN STORIES -

Every Once In A While / Virginia / Tennessee Jed / More And More / Days Go By / All Over But The Cryin' / Don't Call It Love / You Really Let Yourself Go / I Never Fly / Kitchen Blues / Bandera Waltz
08/2006
CD RYKODISC RCD 10882 (US)
HAPPY HOLIDAYS - KELLY WILLIS & BRUCE ROBISON - Santa Baby / Winter's Tale / In The Bleak Midwinter / Baby, It's Cold Outside / Christmas Waltz / Please Daddy, Don't Get Drunk / Blue Christmas / Shut In At Christmas / Santa Looked A Lot Like Daddy / Have Yourself A Merry Little Christmas / Oklahoma Christmas
05/2007
CD PREMIUM LATIN MUSIC 1873 (US)

IT CAME FROM SAN ANTONIO -

It Came From San Antonio / When It Rains / Lefeline / My Baby Now / Anywhere But Here / What Makes You Say / 23A
09/2008
CD PREMIUM LATIN MUSIC 003 (US)

THE NEW WORLD -

The Hammer / Only / Bad Girl Blues / California 85 / Larosse / The New One / Twistin' / Hanging On Hopeless / She Don't Care / Echo
01/2009
CD PREMIUM LATIN MUSIC 022 (US)

HIS G

REATEST -

Travelin' Soldier / Desperately / The Good Life / Angry All The Time / My Brother And Me / Wrapped / Poor Man's Son / Not Forgotten You / Red Letter Day / Rayne, Louisiana
02/2013
CD PREMIUM / THIRTY TIGERS 499093 (US)
CHEATER'S GAME - KELLY WILLIS - BRUCE ROBISON -

Cheater's Game / Border Radio / We're All The Way / Long Way Home / 9,999,999 Tears / Leavin' / But I Do / No Kinda Dancer / Lifeline / Ordinary Fool / Born To Roll /

Waterfall /

Dreamin'

05/2014
CD PREMIUM 225593 (US)

Our Year -

BRUCE ROBISON - KELLY WILLIS - Departing Louisiana / Motor City Man / Carousel / Lonely For You / A Hangin' On / Shake Yourself Loose / Harper Valley PTA / Anywhere But Here / I'll Go to My Grave Loving You / This Will Be Our Year
04/2017
CD Motel Time Music ? (US)

Bruce Robison and The Back Porch Band - Rock And Roll Honky Tonk Ramblin' Man / Long Time Comin' / Paid My Dues (feat. Jack Ingram) / Lake Of Fire / Squeezebox / The Years / Long Shore / Sweet Dreams / Still Doin' Time (In A Honky Tonk Prison)
© Rocky Productions 19/01/2018