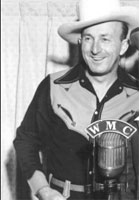 Guitariste et chef d'orchestre US né Ethmer Cletus Rhodes en 1912 à Pocohontas (Arkansas). Slim Rhodes fut populaire dans la région de Memphis (Tennessee) dès le début des années quarante. Il enregistra plusieurs singles à la Sun Records de Memphis, chanté par Dusty ou Dot Rhodes au milieu des années cinquante. Il a aussi enregistré pour Cotton Town, Jubillee & Hart's Records. Slim Rhodes and his Mountaineers furent un orchestre régulier sur WMCT (Memphis, Tennessee) et sur KATV (Pine Bluff, Arkansas) en 1955. Slim Rhodes est décédé le 10 Mars 1966.

Slim Rhodes and his Mountaineers were a popular act in Memphis going back to the 1930s. So much so, that the Sun Record company signed them to a recording contract in the 1950s.
The group got its start back in 1932, when Slim and two of his brothers formed a group while they were in high school and played such venues as the country fairs.
In a 1946 letter to the editor attributed to Slim Rhodes, he mentions they were on WMC in Memphis, Tennessee at 11:30am each day as well as the Central Quality Network, sponsored by Mother's Best Flour. Slim said they had been with their sponsor for seven years by then.
It was written in a 1955 article we found that a state senator gave the boys their colorful nicknames after hearing them perform - Slim, Dusty and Speck.
Some may recognize the name Speck Rhodes. He played the bass fiddle then and did comedy work. Remember him now? Later in his career, he was part of Porter Wagoner's band. And yes, Slim, Dusty and Speck were brothers.
Slim Rhodes and his Mountaineers had a weekly Saturday show over WMCT in Memphis, from 12:00 to 12:30. They also had a 30-minute show over KATV in ine Bluff, Arkansas every Tuesday.
Slim was mentioned very briefly a couple times in the book, "For the Record: Sun Records, An Oral History" by Dave Marsh, including one mention that they recorded "Romp and Stomp".
https://en.wikipedia.org/wiki/Slim_Rhodes
Talents : Vocals, Guitar, emcee, manager
Style musical : Traditional Country, Rockabilly
HOT FOOT RAG (195?)

SIXTY DAYS (1951)

DON'T BELIEVE (1955) (Slim Rhodes / vocals Dusty & Dot)

GONNA ROMP AND STOMP (1956) (Slim Rhodes / vocals Dusty & Dot)

DO WHAT I DO (1957) (Slim Rhodes featuring Sandy Brooks)

TAKE AND GIVE (1957) (Slim Rhodes featuring Sandy Brooks)
Years in activity :
| | | | | | | | | | | | |
| --- | --- | --- | --- | --- | --- | --- | --- | --- | --- | --- | --- |
| 1910 | 20 | 30 | 40 | 50 | 60 | 70 | 80 | 90 | 2000 | 10 | 20 |
DISCOGRAPHY
78 t. & Singles
| | | |
| --- | --- | --- |
| 194? | EP 8" 33 t. LANG-WORTH WES 26 (US) | Slim RHODES & The MOUNTAINEERS - Kentucky Waltz / Carroll County Blues / Beaumont Rag / Rubber Doll Rag |
| 194? | EP 8" 33 t. LANG-WORTH WES 30 (US) | Slim RHODES & The MOUNTAINEERS - Mother's Only Sleeping / Forgive Me One More Time / Leaf Of Love / Freight Train Boogie |
| 194? | EP 8" 33 t. LANG-WORTH WES 31 (US) | Slim RHODES & The MOUNTAINEERS - Over The Waves / Draggin' The Bow / Under The Double Eagle / Wednesday Night Waltz |
| 195? | EP 8" 33 t. LANG-WORTH WES 51 (US) | Slim RHODES & The MOUNTAINEERS - Red Wing / Spanish Two Step / San Antonion Rose / Steel Guitar Rag |
| 195? | EP 8" 33 t. LANG-WORTH WES 71 (US) | Slim RHODES & The MOUNTAINEERS - South / Memphis Bounce / Skunk Hollow Boogie / Saturday Night Rag |
| 195? | EP 8" 33 t. LANG-WORTH WES 72 (US) | Slim RHODES & The MOUNTAINEERS - Hot Foot Rag / Devil's Dream / Turkey In The Straw / Chicken Reel |
| 195? | EP 8" 33 t. LANG-WORTH WES 73 (US) | Slim RHODES & The MOUNTAINEERS - Sally Goodin' / Cacklin' Hen / Twinkle Twinkle Little Star / John Henry |
| 195? | EP 8" 33 t. LANG-WORTH WES 74 (US) | Slim RHODES & The MOUNTAINEERS - Arkansas Traveller / Haste To The Wedding / Listen To The Mocking Bird / Buffalo Gals (Luby Fan Won't You Come Out Tonight ?) |
| 10/1950 | 78 t. GILT-EDGE 5015 (US) | Save A Little Love For Me / Skunk Hollow Boogie |
| 03/1951 | 78 t. GILT-EDGE 5026 (US) | Sixty Days / Memphis Bounce |
| 1951 | 78 t. GILT-EDGE 5034 (US) | Time Marches On / Hot Foot Rag |
| 1951 | 78 t. GILT-EDGE 5044 (US) | Red, White And Blue / Ozark Boogie |
| 04/1955 | 78 t. & SP SUN 216 (US) | Uncertain Love (Slim RHODES / Vocals DOT, DUSTY & BRAD) / Don't Believe (Slim RHODES / Vocals DUSTY & DOT) |
| 10/1955 | 78 t. & SP SUN 225 (US) | Are You Ashamed Of Me / The House Of Sin (Slim RHODES / Vocals DOT, DUSTY & BRAD) |
| 04/1956 | 78 t. & SP SUN 238 (US) | Gonna Romp And Stomp (Slim RHODES / Vocals DUSTY & DOT) / Bad Girl (Slim Rhodes / Vocals Brad SUGGS) |
| 01/1957 | 78 t. & SP SUN 256 (US) | Slim RHODES featuring Sandy BROOKS - Do What I Do / Take And Give |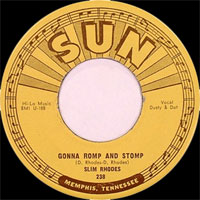 Unissued Tracks
| | | |
| --- | --- | --- |
| 195? | SUN unissued - (Bear Family CD 16405 (#7) / Bopcat LP 400 (#4)) | Do What I Do [alt. vers.] |
| 195? | SUN unissued - (Bear Family CD 16405 (#19) / Bopcat LP 400 (#5)) | Take And Give [alt. vers.] |
Album
| | | | |
| --- | --- | --- | --- |
| 1997 | CD Gee-Dee CD 270132-2 (GER) | | Gonna Romp And Stomp - Do What I Do / Uncertain Love / I've Never Been So Blue / Gonna Romp & Stomp / Don't Believe / Take & Give / House Of Sin / Are You Ashamed Of Me / Bad Girl / Slim's Boogie / Black Mountain Rag / Anybody But Me / Uncertain Love / Mary Ann / Speck Down At Skunk Hollow / I Don't Believe Nobody / Watching My World Fall Apart / Little Shirt That Mama Made For Me / Just A Closer Walk With Thee / Take Me Back To Memphis / Slim's Boogie |
© Rocky Productions 15/09/2017