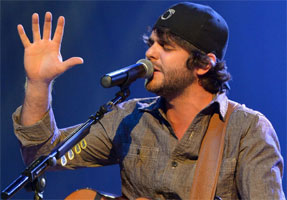 Chanteur Country US né le Thomas Rhett Akins, Jr., le 30 Mars 1990 ŕ Valdosta (Georgie). Thomas Rhett est le fils de Rhett Akins.

Georgia-born singer/songwriter Thomas Rhett, the son of award-winning country crooner Rhett Akins,, didn't seriously start considering following in his father's footsteps until his senior year in high school. Raised on a steady diet of Merle Haggard, Hank Williams, Led Zeppelin, and the Rolling Stones, Rhett inked a publishing deal with EMI just two years into his college career, and landed a song ("I Ain't Ready to Quit") on fellow country-rocker Jason Aldean's 2010 release, My Kind of Party. Like Aldean, Brantley Gilbert, and Justin Moore, Rhett splits the difference between slick contemporary country and rowdy good-time rock & roll, an equation he put to the test on his 2011 debut single, "Something to Do with My Hands." A self-titled EP appeared early in 2013, and later that year his debut full-length, It Goes Like This, arrived. The album reached number six on the Billboard 200 and the Top 30 in Canada on the strength of the Top Ten Country hit singles "It Goes Like This," "Get Me Some of That," and "Make Me Wanna," all of which topped Billboard's Country Airplay chart.
Led by the single "Crash and Burn," which reached number one on Billboard's Country Airplay chart and number two on the Hot Country chart, Rhett's sophomore album, Tangled Up, appeared in September 2015. A second number one smash, "Die a Happy Man," and third single, "T-Shirt," helped turn Tangled Up into a big hit that stayed on the charts into 2016. That year, a deluxe edition of the album appeared, featuring the single "Star of the Show," which went into the Top Ten as well. In 2017, Rhett returned with his third studio-album, Life Changes, which included the single, "Craving You," featuring Maren Morris. The album topped both the Billboard 200 and Top Country Albums charts. "Look What God Gave Her" followed in 2019 as the lead-off single to the full-length Center Point Road.
https://en.wikipedia.org/wiki/Thomas_Rhett
Talents : Vocals, Guitar, Songwriter
Style musical : Contemporary Country, Country-Pop

https://youtu.be/I4keD5Qvya4
Years in activity :
| | | | | | | | | | | | |
| --- | --- | --- | --- | --- | --- | --- | --- | --- | --- | --- | --- |
| 1910 | 20 | 30 | 40 | 50 | 60 | 70 | 80 | 90 | 2000 | 10 | 20 |
DISCOGRAPHY
Singles & EP
2011
CD V

alory

? (US)

Thomas Rhett Acoustic EP - Whatcha Got In That Cup / Beer With Jesus / Something To Do With My Hands / I Ain't Ready To Quit / Tobacco / Front Porch Junkie

2012
CD V

alory

VMCTR0101 (US) (promo)
.

Something To Do With My Hands / Something To Do With My Hands / Something To Do With My Hands

2012
CD V

alory

? (US) (promo)

Beer With Jesus - Intro / Radio Edit / Radio Edit / Album Version

2013
CD V

alory

? (US) (promo)
.

Get Me Some Of That - Intro / Album Version

2013
CD V

alory

? (US) (promo)
.

It Goes Like This - Intro / It Goes Like This

2014
CD V

alory

? (US) (promo)

Make Me Wanna - Radio Edit

2016
CD BIG MACHINE ? (UK) (promo)

T-Shirt

2017
CD BIG MACHINE ? (UK) (promo)

Unforgettable

2017
CD BIG MACHINE ? (UK) (promo)

Craving You
Albums
10/2013
CD V

alory

VMCTR 0100 A (US)

It Goes Like This -

Whatcha Got In That Cup / Something To Do With My Hands / Get Me Some Of That / Call Me Up / It Goes Like This / Make Me Wanna / Front Porch Junkies [remix] / In A Minute / Take You Home / Sorry For Partyin' / All-American Middle Class White Boy / Beer With Jesus
09/2015
CD V

alory

0200 (US)

Tangled Up -

Anthem / Crash And Burn / South Side / Die A Happy Man / Vacation / Like It's The Last Time / T-Shirt / Single Girl / The Day You Stop Lookin' Back / Tangled / Playing With Fire (Thomas

Rhett

feat: Jordin

Sparks

) / I Feel Good (Thomas R

hett

feat: Lunch Money L

ewis

) / Learned It From the Radio
09/2017
CD Big Machine / V

alory

3003232 (US)

Life Changes - Craving You / Unforgettable / Sixteen / Drink A Little Beer / Marry Me / Leave Right Now / Smooth Like The Summer / Life Changes / When You Look Like That / Sweetheart / Kiss Me Like A Stranger / Renegades / Gateway Love / Grave

05/2019
CD Valory 3004119 (US)

Center Point Road - Up / Don't Threaten Me With A Good Time / Blessed / Look What God Gave Her / Center Point Road / That Old Truck / VHS / Notice / Sand / Beer Can't Fix / Things You Do For Love / Remember You Young / Don't Stop Drivin' / Barefoot / Dream You Never Had / Almost

04/2021
CD Valory VMCTR5001A (US)

Country Again Side A - Want It Again / Growing Up / What's Your Country Song / Where We Grew Up / Heaven Right Now / To The Guys That Date My Girls / More Time Fishin' / Country Again / Put It On Ice (featuring Michael Hardy) / Blame It On A Backroad / Ya Heard

04/2022
CD Valory 3007309 (US)

Where We Started - The Hill / Church Boots / Bass Pro Hat / Anything Cold / Angels / Half Of Me / Bring The Bar / Paradise / Death Row / Mama's Front Door / Slow Down Summer / Simple As A Song / Us Someday / Somebody Like Me / Where We Started
© Rocky Productions 1/04/2022