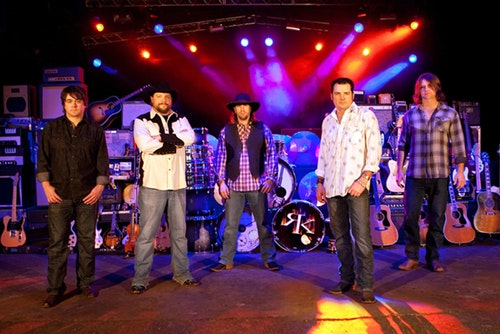 Groupe Country US fondé en 1998 à Bend (Oregon) et composé de Brothers Willy , Cody Braun, Casey Pollock, Chris Schelske et Jay Nazz.

Led by brothers Willy and Cody Braun, alternative country-rock outfit Reckless Kelly formed in Bend, OR, before relocating to Austin, TX, in January 1997. The Brauns had previously toured with their father in Muzzie Braun & the Boys, a Western swing band, and were joined in their own group by lead guitarist Casey Pollock, bassist Chris Schelske, and drummer Jay Nazz.
Reckless Kelly's debut album, Millican, appeared in 1998; Acoustic: Live at Stubb's and Day both followed two years later, after which David Abeyta replaced Pollock on lead guitar. Under the Table and Above the Sun from 2003 began the band's relationship with the high-profile Sugar Hill label and won the hearts of the music press and honky tonkin' legend Joe Ely, who sang the band's praises in interviews. Wicked Twisted Road was released in 2005, and the next year the live album Reckless Kelly Was Here, which featured songs from all of their previous studio records, as well as three covers, and truly captured the band's stage presence, came out. Bulletproof appeared from Yep Roc in 2008, and Somewhere in Time, also on Yep Roc, followed in 2010 and then Reckless Kelly parted ways with the label. The next year the group released Good Luck & True Love on their Red Eye-distributed imprint No Big Deal, a label that also housed their 2013 album Long Night Moon. In 2016, the group celebrated their 20th anniversary with the back-to-basics set Sunset Motel, and in 2019 they issued the concert album Bulletproof Live.
For the first set of original Reckless Kelly material in nearly five years, Willy Braun set out to write a concept album. That record turned out to be American Jackpot, but he wound up writing a bunch of songs that didn't fit his theme, so Reckless Kelly gathered those tunes as American Girls. The two records came out as the double-LP American Jackpot/American Girls in May 2020.
Talents : Brother Willy : Vocals, Guitar - Cody Braun : Vocals, Fiddle, Mandolin, Harmonica - Cassey Pollock : Guitar - Chris Schelske : Bass - Jay Nazz : Drums
Style musical : Country Rock, Contemporary Country
Years in activity :
| | | | | | | | | | | | |
| --- | --- | --- | --- | --- | --- | --- | --- | --- | --- | --- | --- |
| 1910 | 20 | 30 | 40 | 50 | 60 | 70 | 80 | 90 | 2000 | 10 | 20 |
DISCOGRAPHY
Single
2003
CD SUGAR HILL 3968 (US)
.
Nobody's Girl
2006
CD SUGAR HILL ? (US) (promo)

Break My Heart Tonight

2010
CD YEP ROC ? (US) (promo)
.

Best Forever Yet (Audio (FCC Clean))

2012
SP No Big Deal

12-0730

(US)

Pennsylvania Avenue / Back In The USA
Albums
07/1998
CD RUMMY 7001 (US)
MILLICAN - Walton Love / Back Around / It's All Over / I Still Do / Black And White / Waitin' On The Blues / Hatax / Hey Say May / Drink Your Whiskey Down / Baby's Gone Blues / Time Bomb
06/2000
CD VALLEY 15116 (US)
ACOUSTIC - LIVE AT STUBB'S - My Soul Ain't Sold / Hottest Thing In Town / Don't Come Back / Subterranean / Homesick / Wild Western / Windblown Band / She Sang The Red River Valley / Shook Me All Night Long / You Should Be Gone / Ballad Of Tommy & Maria / Strung Out And Wound / Eight More Miles / Whole Lotta Love
10/2000
CD VALLEY 15135 (US)
THE DAY - Floodwater / Basin Butte Blues / Come On Over / Arizona Skies / What Would You Do / Lonely All The Time / Little Mama / Hard Fight To Win / Walk Out Now / Torn Up / Crazy Eddie's Last Hurrah / Alice White
05/2003
CD SUGAR HILL 3968 (US)
UNDER THE TABLE AND ABOVE THE SUN - Let's Just Fall / Nobody's Girl / Desolation Angels / Everybody / I Saw It Coming / Vancouver / Willamina / Mersey Beat / Se Me Free / Snowfall / You Don't Want Me Around / May Peace Find You Tonight
02/2005
CD SUGAR HILL 3992 (US)
WICKED TWISTED ROAD - Wicked Twisted Road / Dogtown / Seven Nights In Eire / A Lot To Ask / Motel Cowboy Show / These Tears / Sixgun / Nobody Haunts Me Like You / Wretched Again / Broken Heart / Stick Around / Baby's Got A Whole Lot More / Wicked Twisted Road (reprise)
08/2006
2 CD + 1 DVD SUGAR HILL 4020 (US)
RECKLESS KELLY WAS HERE :

CD 1 : Sixgun / Castanets / Motel Cowboy Show / I Still Do / 1952 Vincent Black Lightning / Seven Nights In Eire / Break My Heart Tonight / Nobody's Girl / Hey Say May - Guacamole / Vancouver
CD 2 : Wiggles & Ritalin / Wild Western Windblown Band / Baby's Gone Blues / Wicked Twisted Road / Crazy Eddie's Last Hurrah / Revolution / Break My Heart Tonight [studio version] / Wiggles & Ritalin [studio version]
DVD : Six Gun / Castanets / Motel Cowboy Show / I Still Do / 1952 Vincent Black Lightning / Seven Nights In Eire / Break My Heart Tonight / Nobody's Girl / Hey Say May - Guacamole / Vancouver / Wiggles & Ritalin / Wild Western Windblown Band / Baby's Gone Blues / Wicked Twisted Road / Crazy Eddie's Last Hurrah

07/2007
CD SUGAR HILL SHCD 4034 (US)
BEST OF THE SUGAR HILL YEARS -

Nobody's Girl / Wicked Twisted Road / Seven Nights In Eire / You Don't Want Me Around / Break My Heart Tonight / Stick Around / Let's Just Fall / Broken Heart / Vancouver / Motel Cowboy Show / Snowfall / Rider In The Rain / Baby's Got A Whole Lot More / Set Me Free / Crazy Eddie's Last Hurrah

06/2008
CD YEP ROC 2164 (US)
BULLETPROOF - Ragged As The Road / You Don't Have To Stay Forever / Love In Her Eyes / Passin' Through / I Never Had A Chance / One False Move / A Guy Like Me / American Blood / How Was California? / Mirage / Don't Say Goodbye / God Forsaken Town / Wandering Eye / Bulletproof
02/2009
CD YEP ROC 2209 (US)
SOMEWHERE IN TIME - Little Blossom / The Ballad Of Elano Deleon / Bird On A Wire / I've Done Everything I Could Do Wrong / Some People's Kids / I Hold The Bottle, You Hold The Wheel / Best Forever Yet / Idaho Cowboy / Pure Quill / You Cared Enough To Lie / Thelma / Somewhere In Time
09/2011
CD NO BIG DEAL 5671 (US)
GOOD LUCK & TRUE LOVE - Give It A Try / Save Me From Myself / Guarded Heart / She Likes Money, He Likes Love / I Never Liked St. Valentine / Weatherbeaten Soul / Good Luck & True Love / I Stayed Up All Night Again / New Moon Over Nashville / Hit The Ground Runnin'
09/2013
CD NO BIG DEAL CD-NBDR-003 (US)

Long Night Moon - Long Night Moon / Real Cool Hand / Irish Goodbye / Every Step Of The Way / Be My Friend (In Real Life) / The Girl I Knew / I Can't Stand It / The Last Goodbye / Didn't Mean To Break Your Heart / The Only Home I've Ever Known / Long Night Moon (reprise) / Idaho

09/2016
CD NO BIG DEAL

CD NBDR 004 (US)

Sunset Motel -

How Can You Love Him (You Don't Even Like Him) / Radio / Buckaroo / Sunset Motel / The Champ / One More Last Time / Forever Today / Volcano / Give It Up / Who' Gonna Be Your Baby Now / Moment In The Sun / Sad Songs About You / Under Lucky Stars
05/2020
2 CD NO BIG DEAL

69296CD

(US)

American Jackpot / American Girls :

CD 1 : North American Jackpot / Thinkin' 'bout You All Night / Tom Was A Friend Of Mine / 42 / Mona / Another New Year's Day / Grandpa Was A Jack Of All Trades / Put On Your Brave Face Mary / Company Of Kings / Goodbye Colorado
CD 2 : I Only See You With My Eyes Closed / American Girls / All Over Again (Break Up Blues) / Miss Marissa / Lonesome On My Own / Anyplace That's Wild / Lost Inside The Groove / No Dancing In Bristol / Don't Give Up On Love / My Home Is Where Your Heart Is
© Rocky Productions 23/05/2020