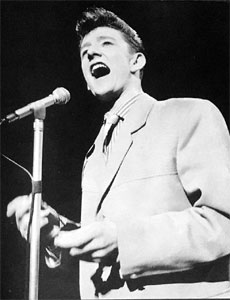 Chanteur Rock 'n' Roll Britannique né Richard Charles Kneller le 21 Octobre 1941. Dickie Pride est décédé le 26 Mars 1969.

Dickie Pride, one of the singers signed to Larry Parnes' stable of artists in the late '50s, enjoyed one brief week of chart success in 1959 with the song "Primrose Lane." He was born Richard Charles Knellar in Thornton Heath on October 21, 1941. As a young boy he won a scholarship to the Royal College of Church Music in Croydon and had a fine operatic voice, but like many young men at that time, he preferred popular music and formed his own skiffle group called the Semi-Tones. While performing one night at the Castle pub in Tooting, South London, his singing was heard by Russ Conway, who was so impressed that he recommended him to Parnes, who signed him on the spot. After the obligatory name change (which all of Parnes' singers had to do), he entered the professional world as Dickie Pride -- still only 16 years old -- with a first gig at the Kilburn Gaumont cinema, at that time the biggest cinema in the country. The Record Mirror wrote of his performance that "he ripped it up from the start," and he so shook up the theater that he became known as "the Sheik of Shake." Norrie Paramore signed him to the Columbia Records label and he made his TV debut on Jack Good's Oh Boy in February of 1959. He made several appearances on the flagship pop music show and also on a new Jack Good-produced program for ATV called Wham, which featured future hitmakers including Billy Fury, Joe Brown, Johnny Kidd & the Pirates, Jess Conrad, and the Vernons Girls.
Unable to find a song that would launch him into the big time, Larry Parnes and Norrie Paramore supplied the song "Primrose Lane," a ballad that just scraped into the charts for one week at number 28 in October 1959, and despite his obvious talent for singing live, it never transferred successfully to recordings. One final attempt was made in 1961 with an album of Tin Pan Alley standards featuring the Ted Heath Orchestra; called Pride Without Prejudice, the LP was intended to position him as a mainstream all-around entertainer. When it sold very badly, he was dropped by Larry Parnes and his life moved from one drug-addicted problem to another, attempting to form several groups including the Guvnors and the Sidewinders. However, finding work and any sort of commercial success eluding him, he fell deeper into heroin addiction and died on March 26, 1969, just 27 years of age, from an overdose of sleeping pills. Many of the stable of Larry Parnes' artists, including Billy Fury and Joe Brown, were devastated, claiming that out of all of them, Dickie Pride had been the most talented and the best singer, but fate had decreed it just wasn't to be.
https://en.wikipedia.org/wiki/Dickie_Pride
https://www.facebook.com/DickiePride4169/
Talents : Vocals, Guitar
Style musical : Rock 'n' Roll

https://youtu.be/qMDg5Rcduhw
Years in activity :
| | | | | | | | | | | | |
| --- | --- | --- | --- | --- | --- | --- | --- | --- | --- | --- | --- |
| 1910 | 20 | 30 | 40 | 50 | 60 | 70 | 80 | 90 | 2000 | 10 | 20 |
DISCOGRAPHY
Singles & EP
| | | | |
| --- | --- | --- | --- |
| 03/1959 | SP COLUMBIA DB 4283 (UK) | . | Slippin' 'n' Slidin' / Don't Make Me Love You |
| 06/1959 | SP COLUMBIA DB 4296 (UK) | . | |
| 09/1959 | SP COLUMBIA DB 4340 (UK) | . | |
| 10/1959 | EP COLUMBIA SEG 7937 (UK) | | The Sheik Of Shake - Fabulous Cure / Slippin' 'n' Slidin' / Don't Make Me Love You / Midnight Oil |
| 01/1960 | SP COLUMBIA DB 4403 (UK) | . | Betty Betty (Go Steady With Me) / No John |
| 02/1960 | EP COLUMBIA ESDF 1298 (F) | | Primrose Lane - Primrose Lane / Frantic / Slippin' 'n' Slidin' / Midnight Oil |
| 04/1960 | SP COLUMBIA DB 4451 (UK) | . | Bye Bye Blackbird / You're Singin' Our Love Song To Somebody Else |
| 1962 ? | SP LOST NITE L.N. 219 (US) | | When My Little Girl Is Smiling (Jimmy JUSTICE) / Frantic (Dickie PRIDE) |
Album
| | | | |
| --- | --- | --- | --- |
| 03/1961 | LP 12" COLUMBIA SCX 3369 (UK) | | Pride Without Prejudice - Dickie Pride with Eric Jupp & His Orchestra - Anything Goes / It's Only A Paper Moon / Isn't This A Lovely Day / I Could Write A Book / You Turned The Tables On Me / Too Close For Confort / Loch Lomond / There Is A Small Hotel / Falling In Love / They Can't Take That Away Form Me / Give Me The Simple Life / Lulu's Back In Town |
| 1992 | CD See For Miles SEE CD 344 (UK) | | The Sheik Of Shake - Dont Make Me Love You / Slippin' n' Slidin' / You're Singing Our Love Song To Somebody Else / Bye Bye Blackbird / Fabulous Cure / Midnight Oil / Betty Betty Go Steady With Me / No John / Primrose Lane / Frantic / Anything Goes / Its Only A Paper Moon / Isn't This A Lovely Day / I Could Write A Book / You Turned The Tables On Me / Too Close For Comfort / Loch Lomond / Theres A Small Hotel / Falling In Love / They Can't Take That Away From Me / Give Me The Simple Life / Lulu's Back In Town |
| 2013 | CD PEAKSOFT MEDIA PEA 021 (UK) | | Blood Brothers - Slippin 'n' Slidin / Don't Make Me Love You / Fabulous Cure / Midnight Oil / Primrose Lane / Frantic / Betty Betty (Go Steady With Me) / No John / Bye Bye Blackbird / You're Singing Our Love Song To Someone Else / Give Me The Simple Life / Lulu's Back In Town / Loch Lomond / Anything Goes / You Turned The Tables On Me / There's A Small Hotel / Falling In Love / They Can't Take That Away From Me / I Could Write A Book / Too Close For Comfort / Isn't This A Lovely Day / It's Only A Paper Moon / Let's Make A Habit Of This / The Kissing Had To Stop / I Must Be Dreaming (Billy Fury) / In Thoughts Of You (Billy Fury) / It's Only Make Believe (Billy Fury) / Break Up (Billy Fury) / Nobody's Child (Billy Fury) / My Life (Tony Damond) / Love Don't Let Me Down (Johnny Storme) |
© Rocky Productions 22/02/2021