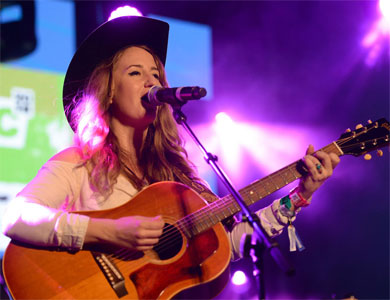 Chanteuse Country US née Margo Rae Price, le 4 Avril 1983 à Buffalo Prairie (Illinois).

US Country singer born Margo Rae Price, April 4, 1983 in Buffalo Prairie (Illinois). Margo Price might be something of a throwback, not only styling her country music after the classic sounds of Loretta Lynn, Tammy Wynette, and Emmylou Harris, but also writing like a classic '70s singer/songwriter. She has an eye for details and a knack for narrative that help keep her brand of traditionalism from seeming like nostalgia on her debut, Midwest Farmer's Daughter, an album recorded at Sun Studios and released on Jack White's Third Man Records in 2016.
Like White, Margo Price is a Nashville transplant who originally hails from the Midwest. A native of Aledo, Illinois -- a small town near the state's Western border -- Price grew up singing in church and wound up studying dance and theater while in college. Once she reached the age of 20 in 2003, she decided to drop out and head to Nashville, where she slowly started working at a musical career while working odd jobs. She met a bassist named Jeremy Ivey and soon the two formed the group Buffalo Clover; the pair would later marry. Between 2010 and 2013, Buffalo Clover released three independent albums. Once this band split, Price assembled Margo & the Pricetags, a band with a revolving lineup that sometimes featured future alt-country star Sturgill Simpson.
Price financed a solo album she recorded at Sun Studios in 2015 and, after hearing through the Nashville grapevine that Jack White was a fan of hers -- he spotted her at local showcases -- she sent him the album. Impressed, White signed Price to Third Man Records and released the album as Midwest Farmer's Daughter in March of 2016 -- the LP garnered nearly unanimous critical accolades.
In July 2017, Price released the four-track Weakness EP, whose title track wound up as the first single from her second album, All American Made, which appeared in October of that year. The record featured a guest performance from Willie Nelson on the track "Learning to Lose." All American Made peaked at 12 on Billboard's Country charts and helped elevate Price's profile, culminating in a Grammy nomination for Best New Artist in 2019. After receiving this nod, she moved to Lomo Vista Records and began working on her third album, a record produced by Sturgill Simpson. Featuring cameos by Benmont Tench and Pino Palladino, the resulting That's How Rumors Get Started was delayed in the wake of the COVID-19 pandemic, leading her to issue Perfectly Imperfect at the Ryman, a live album documenting her 2018 stint at the legendary Nashville venue, that May. That's How Rumors Get Started appeared in July 2020, debuting at 17 on Billboard's Country charts and 151 on its Top 200.
https://www.facebook.com/MargoAndThePriceTags
Talents : Vocals, Guitar, Piano, Drums, Songwriter
Style musical : Traditional Country, Americana, Bluegrass

https://youtu.be/LtxUDSRfmto
Years in activity :
| | | | | | | | | | | | |
| --- | --- | --- | --- | --- | --- | --- | --- | --- | --- | --- | --- |
| 1910 | 20 | 30 | 40 | 50 | 60 | 70 | 80 | 90 | 2000 | 10 | 20 |
DISCOGRAPHY
Singles
12/2015
SP Third Man TMR-347 (US)

Hurtin' (On The Bottle) / Desperate And Depressed

2016
CD Third Man TMR-339-FY (US) (promo)
.

Four Years Of Chances (radio edit)

07/2017
SP Third Man TMR-502-A/B (US)

Weakness -

Weakness / Just Like Love
07/2017
SP Third Man TMR-502-C/D (US)

Paper Cowboy :

Paper Cowboy / Good Luck
08/2017
2 SP Third Man TMR-502 (US) (limited edition)

Weakness :

DISC 1 : Weakness / Just Like Love
DISC 2 : Paper Cowboy / Good Luck

2018
SP Third Man TMR428 (US)

Margo

Price

&

Shovels & Rope

-

Luck Mansion Sessions

- Joey / The Pain of Loving You

2019
CD BELLA UNION ? (UK) (promo)
MERCURY REV feat. MAGO PRICE - Sermon
2020
SP Loma Vista LVR01082(US)
.

A Series Of Rumors #1 - Twinkle Twinkle / He Made A Woman Out Of Me (Billy Reed FAME Session)

10/2020
SP Loma Vista LVR01402 (US)
.

A Series Of Rumors #2 - Letting Me Down / I'd Die For You (synthphonic)

07/2021
SP Loma Vista LVR01694 (US)
.

A Series Of Rumors #3 - Hey Child / Long Live The King

07/2021
SP

33

t. Loma Vista LVR01881 (US)
.

A Series of Rumors #4 - Heartless Mind/You're No Good

07/2021
SP Loma Vista LVR01968 (US)
.

A Series of Rumors #5 - That's How Rumors Get Started / Hitman

2021
SP

33

t. Loma Vista LVR01969 (US)
.

A Series Of Rumors #6 - Prisoner Of The Highway / Later On

2021
SP Loma Vista LVR01970 (US)
.

A Series Of Rumors #7 - Stone Me / Better Than Nothin'

2021
7 SP Loma Vista LVR0108/1402/1694/1881/1968/1969/1970 (US

A Series Of Rumors :

#1 -

Twinkle Twinkle / He Made A Woman Out Of Me (Billy Reed FAME Session)

#2 -

Letting Me Down / I'd Die For You (synthphonic)

#3 -

Hey Child / Long Live The King

#4 -

Heartless Mind/You're No Good

#5 -

That's How Rumors Get Started / Hitman

#6 -

Prisoner Of The Highway / Later On

#7 -

Stone Me / Better Than Nothin'
| | |
| --- | --- |
| | |
Albums
03/2016
CD Third Man TMR 339CD (US)

Midwest Farmer's Daughter -

Hands Of Time / About To Find Out / Tennessee Song / Since You Put Me Down / Four Years Of Chances / This Town Gets Around / How The Mighty Have Fallen / Weekender / Hurtin' (On The Bottle) / World's Greatest Loser
11/2016
CD Third Man TMR-418 (UK)

Live At Rough Trade East - Desperate And Depressed / Tennessee Song / Hands Of Time / Heartaches And Hangovers / It Ain't Drunk Driving If You're Riding A Horse / Hurtin' On The Bottle

03/2017
LP 12" + SP + DVD Third Man TMR 432 (US)
LIVE 2016 :

LP :

Live At The Hamilton 11-09-16 :

Hands Of Time / Black Rose / Tennessee Song / Paper Cowboy / Yeah You're Right / Desperate And Depressed / Weekender / Red Bandana / Me And Bobby McGee / Four Years Of Chances / Ain't Living Long Like This
SP :

Blue Room Sessions :

You Told Me With Your Eyes / Gotta Travel On
DVD :

Live At Austin City Limits 10/03/2016 :

Swarmin' / About To Find Out / Tennessee Song / Learning To Lose / Black Rose / Weekender / Since You Put Me Down / Desperate And Depressed / It Ain't Drunk Driving If You're Riding A Horse / Hands Of Time / Four Years Of Chances / This Town Gets Around / I Wanna Be Your Mama Again / Paper Cowboy / Hurtin' On The Bottle / Gotta Travel On / Old Ways / Ooh Las Vegas / Outro - Band Exit / Full Post-Perfomance interview with Terry Lickona

10/2017
CD Third Man 813547024602 (US)

All American Made - Don't Say It / Weakness / A Little Pain / Learning To Lose / Pay Gap / Nowhere Fast / Cocaine Cowboys / Wild Women / Heart Of America / Do Right By Me / Loner / All American Made

07/2020
CD Loma Vista 1057 (US)

That's How Rumors Get Started - That's How Rumors Get Started / Letting Me Down / Twinkle Twinkle / Stone Me / Hey Child / Heartless Mind / What Happened To Our Love / Gone To Stay / Prisoner Of The Highway / I'd Die For You

12/2020
CD Loma Vista 1537 (US)

Perfectly Imperfect at the Ryman - A Little Pain [Waltz version] / Weekender [Funk version] / Wild Women / Ain't Livin Long Like This / Revelations / Worthless Gold / Hurtin' On The Bottle / Proud Mary / All American Made / Honey, We Can't Afford To Look This Cheap / World's Greatest Loser

01/2023
CD CONCORD / Loma Vista 7247870 (US)

Strays - Been To The Mountain / Light Me Up (featuring - Mike Campbell) / Radio (featuring - Sharon Van Etten) / Change Of Heart / County Road / Time Machine / Hell In The Heartland / Anytime You Call (featuring - Lucius) / Lydia / Landfill / Homesick (featuring - Jonathan Wilson)
© Rocky Productions 14/01/2023