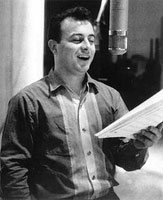 Chanteur Rock 'n' Roll US né John Preston Courville, le 18 août 1939 à Port Arthur (Texas). Johnny Preston est décédé le 4 Mars 2011 à Beaumont (Texas).

Born as John Preston Courville in Port Arthur, Texas, of Cajun ancestry, Preston sang in high school choral contests throughout the state of Texas. He formed a rock and roll band called "The Shades", who were seen performing at a local club by J. P. "The Big Bopper" Richardson.
Richardson offered Preston the chance to record a teenage tragedy song he had written, "Running Bear", which they did in Houston, Texas, in 1958. The "Indian" sounds on the record were performed by Richardson and George Jones. The record was released after the Big Bopper's death in the same plane crash that killed Buddy Holly and Ritchie Valens. It entered the U.S. Hot 100 in October 1959, reaching number one in January 1960 and remaining there for three weeks. It was a transatlantic chart-topper, reaching #1 in the United Kingdom in March 1960. The sales of the record exceeded one million copies, earning Preston his first gold disc.
Preston quickly followed up with another hit called "Cradle of Love," (Billboard #7, UK # 2) and made several other records during the early 1960s that met with modest success. "Cradle of Love" was a hit in both the UK Singles Chart and in Athens, Greece. Preston's "I'm Starting to Go Steady", a song on the flip side of "Feel So Fine", (Billboard #14), was released in June 1960. Preston made appearances on American Bandstand (ABC-TV) and The Milt Grant Show and also The Buddy Deane Show (East Coast, United States).
Preston's pioneering contribution to the genre was recognized by the Rockabilly Hall of Fame. He also performed at Dick Clark's American Bandstand Theater in Branson, Missouri. In 2009, Preston performed at the Lamar State College, in his hometown.
Preston had coronary artery bypass surgery in 2010. He died of heart failure in Beaumont, Texas on Friday 4 March 2011, at the age of 71, after years of heart-related illnesses.
http://www.rockabillyhall.com/JohnnyPreston1.html
Talents : Singer, Guitar
Style musical : Rock 'n' Roll

http://youtu.be/4XBXjH6QET4
RUNNING BEAR (1959)

CRADLE OF LOVE (1960)

CHARMING BILLY (1961)

FREE ME (1961)
Années en activité :
| | | | | | | | | | |
| --- | --- | --- | --- | --- | --- | --- | --- | --- | --- |
| 1910 | 20 | 30 | 40 | 50 | 60 | 70 | 80 | 90 | 2000 |
DISCOGRAPHY
Singles & EP
Albums
| | | | |
| --- | --- | --- | --- |
| 1961 | LP 12" MERCURY MG-20592 (mono) / SR-60250 (stereo) (US) | | RUNNING BEAR - Running Bear / What Am I Living For / Earth Angel / Guardian Angel / Hearts Of Stone / Quiet Heartbreak / The Twist / You'll Never Walk Alone / Pretend / Danny Boy / Dream / Madre De Dios |
| 1961 | LP 12" MERCURY MG-20609 (mono) / SR-60609 (stereo) (US) | | COME ROCK WITH ME - Charming Billy / Just Little Boy Blue / That's All I Want / The Angels Gave You To Me / Token Of Love / Feel So Good (Feel So Fine) / Leave My Kitten Alone / Sitting Here Crying / Do What You Did / Please Believe Me / Cradle Of Love / My Imagination |
| 197? | LP 12" DEMAND DS-005 (US) | | COME ROCK WITH ME - Running Bear / Charming Billy / Cradle Of Love / Leave My Kitten Alone / Fell So Fine / Do What You Did / Chief Heartbreak / The Twist / Kissin Tree All Around The World / Willie And The Hand Jive / That's All I Want / I ve Got My Eyes On You / The Angels Gave You To Me / Sitting Here Crying |
| 1989 | CD BEAR FAMILY BCD-15473 (D) | | RUNNING BEAR - Charming Billy / Running Bear / Cradle Of Love / Chief Heartbreak / My Heart Knows / That's All I Want / Just Little Boy Blue / Leave My Kitten Alone / Sitting Here Crying / I Want A Rock And Roll Guitar / Hearts Of Stone / Do What You Did / I Played Around With My Love / Chosen Few / Up In The Air / Kissin' Tree (1) / Four Letter Word / Feel So Good / She Once Belonged To Me / A New Baby For Christmas / City Of Tears / I'm Startin' To Go Steady With The Blues / Dream / Madre De Dios / You'll Never Walk Alone / Danny Boy / Broken Heart Anonymous |
| 07/1995 | CD COLLECTABLES 5558 (US) | | RUNNING BEAR - Running Bear / Cradle Of Love / Feel So Fine / Leave My Kitten Alone / Charming Billy / Chief Heartbreak / Do What You Do / That's All I Want / I Want A Rock & Roll Guitar / Kissin' Tree / My Heart Knows / Hearts Of Stone / Just Little Boy Blue / Sitting Here Crying / Chosen Few / Up In The Air / Four Letter Word / A New Baby For Christmas |
| 09/1996 | CD STARDUST 5001 (US) | | ALL TIME GREATEST HITS - Running Bear / Cradle Of Love / Feel So Fine / Charming Billy / Leave My Kitten Alone / A New Baby For Christmas / That's All I Want / Just Little Blue / Danny Boy / Broken Heart Anonymous |
| 03/1998 | CD BEAR FAMILY BCD-16234 (D) | | CHARMING BILLY - THE STEREO RECORDING - Charming Billy / Feel So Good / Leave My Kitten Alone / The Angels Gave You To Me / That's All I Want / Just Little Boy Blue / Hearts Of Stone / Chosen Few / Chief Heartbreak / The Twist / Up In The Air / Four Letter Word / Do What You Did / Over And Over / Sitting Here Cryin' / (I Want A) Rock And Roll Guitar / Dream / I Feel Good / Let Them Talk / Lucky In Love / I Played Around With My Love / A New Baby For Christmas / She Once Belonged To Me / I'm Startin' To Get Steady With The Blues / Mother Of God / Pretend / You'll Never Walk Alone / What Am I Living For / Please Believe Me / My Imagination / Earh Angel / Token Of Love / Guardian Angel / Danny Boy |
| 11/2002 | 2 CD CASTLE 605 (UK) | | FEEL SO FINE - THE MERCURY RECORDINGS 1959-1962 - Running Bear / My Heart Knows / Cradle Of Love / City Of Tears / Feel So Fine / I'm Starting To Go Steady With The Blues / Charming Billy / Up In The Air / (I Want A) Rock And Roll Guitar / New Baby For Christmas / Leave My Kitten Alone / Token Of Love / I Feel Good / Willy Walk / She Once Belonged To Me / Let Them Talk / Free Me / Kissin Tree / Broken Hearts Anonymous / Lets Leave It That Way / Let The Big Boss Man (Pull You Through) / The Day After Forever / What Am I Living For / Earth Angel / Guardian Angel / Hearts Of Stone / Chief Heartbreak / The Twist / You'll Never Walk Alone / Pretend / Danny Boy / Dream / Madre De Dios (Mother Of God) / Just Little Boy Blue / That All I Want / The Angels Gave You To Me / Please Believe Me / My Imagination / Sitting Here Cryin / Do What You Did / Kissin Tree (alt. take) / Four Letter Word / I Played Around With My Love / Chosen Few / Over And Over / Lucky In Love |
| 03/2003 | CD STOMPER TIME 6 (UK) | | THE BEST OF JOHNNY PRESTON - Do What You Did / Feel So Fine / Running Bear / Hearts Of Stone / Cradle Of Love / That's All I Want / I Wan't A Rock 'n' Roll Guitar / Charming Billy / Leave My Kitten Alone / Chief Heartbreak / A New Baby For Christmas / Madre De Dios (Mother Of God) / Chosen Few / You'll Never Walk Alone / Little Boy Blue / Four Letter Word / Dream / Sitting Here Crying / City Of Tears / Kissin' Time |
| 07/2005 | CD PEGASUS 557 (US) | | CRADLE OF LOVE - Running Bear / Cradle Of Love / Feel So Fine / My Heart Knows / Just A Little Boy Blue / Chosen Few / Dream / Sitting Here Cryin' / Kissin' Tree / Broken Hearts Anonymous / City Of Tears / Four Letter Word / Over And Over / The Angels Gave You To Me / Pretend / What Am I Living For? / Token Of Love / Free Me / The Day After Forever / Guardian Angel / Please Believe Me |
© Rocky Productions 2/05/2011