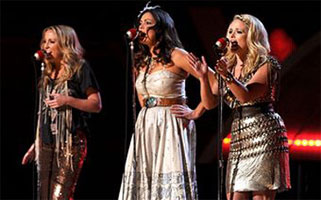 Trio Country US formé en 2011 et composé de Miranda Lambert, Ashley Monroe et Angaleena Presley.

When Pistol Annies debuted in 2011, the trio appeared to be a Miranda Lambert project. At the time, her bandmates, Ashley Monroe and Angaleena Presley, were known within Nashville as songwriters, not performers, but Pistol Annieswound up elevating the profiles of the two singer/songwriters so they were rightly seen as creative equals to Lambert. Despite having their first album, Hell on Heels, reach the top of Billboard's Country Albums chart in 2011, the group didn't function as a commercial powerhouse. By following a distinctly different course than the trio members' individual albums, Pistol Annies defined themselves as modern outlaws for the 21st century.
Miranda Lambert first crossed paths with Ashley Monroe when she was writing songs for her third album, 2009's Revolution. Monroe landed two credits -- "Me and Your Cigarettes" and "Heart Like Mine" -- on Revolution, establishing a partnership with Lambert. Monroe's publisher introduced her to Angaleena Presley, a songwriter from Kentucky who had a contract with the same house. Presley collaborated with Lambert on "Fastest Girl in Town," a cut on the star's 2011 album Four the Record -- Monroe landed "Better in the Long Run" on the same LP -- but before that album arrived in November, the trio revealed that they had formed a band called Pistol Annies.
Making their debut on a Girls' Night Out: Superstar Women of Country television special from the Academy of Country Music in April 2011, Pistol Annies released their first single, "Hell on Heels," the next month, with the full-length album Hell on Heels appearing in August. Debuting at the top of Billboard's Country Albums chart, the record also peaked at five on the Top 200 on its way to a gold certification. During the next two years, the group appeared as support on recordings by the Chieftains, Jewel, and Lambert's then-husband, Blake Shelton. The group also contributed "Run Daddy Run" to The Hunger Games: Songs from District 12 and Beyond, a tie-in to the blockbuster film. The band's success also secured Ashley Monroe a deal with Warner Nashville, which released Like a Rose in March 2013.
Two months after Like a Rose, Pistol Annies returned with their second album, Annie Up. Debuting at two on the Billboard Country Albums chart, it also saw its lead single, "Hush Hush," reach 43 on the Country Airplay chart; it was their first single to reach a country chart. The group's supporting tour for Annie Up was cut short in June 2013 and the band entered an unofficial hiatus. Presley signed a deal with Slate Creek Records, releasing her debut album, American Middle Class, in 2014. That same year, Lambert released her sixth album, Platinum, which contained two credits with Monroe. In 2015, Monroe released The Blade, which featured a Lambert credit on its closing "I'm Good at Leaving." Lambert's 2016 double album, The Weight of These Wings, featured two songs co-written with Monroe.
All three Pistol Annies collaborated on "Dreams Don't Come True," the first song on Presley's second album, 2017's Wrangled. It was the first sign of an Annies reunion that slowly came into focus over the next year. The group contributed a version of "Tulsa Time" to the 2017 Don Williams tribute Gentle Giants: The Songs of Don Williams, then Presley co-wrote a song on Monroe's fourth album, Sparrow, which appeared in April 2018. That November, the trio returned with Interstate Gospel, which earned the group a nomination (their very first) for Best Country Album at the 62nd Grammy Awards.
After a few years of the trio pursuing their own individual projects, Pistol Annies returned in October 2021 with the Christmas album Hell of a Holiday.
https://en.wikipedia.org/wiki/Pistol_Annies
Style musical : Country-Pop, Contemporary Country

http://youtu.be/m8kRnYXP4sU
Years in activity :
| | | | | | | | | | | | |
| --- | --- | --- | --- | --- | --- | --- | --- | --- | --- | --- | --- |
| 1910 | 20 | 30 | 40 | 50 | 60 | 70 | 80 | 90 | 2000 | 10 | 20 |
DISCOGRAPHY
Albums
08/2011
CD COLUMBIA 88697-94916-2 (US)
HELL ON HEELS - Hell On Heels / Lemon Drop / Beige / Bad Example / Housewife's Prayer / Takin' Pills / Boys From The South / The Hunter's Wife / Trailer For Rent / Family Feud
05/2013
CD RCA 88765-44705-2 (US)
ANNIE UP -

I Feel A Sin Comin' On / Hush Hush / Being Pretty Ain't Pretty / Unhappily Married / Loved By A Workin' Man / Blues, You're A Buzz Kill / Don't Talk About Him, Tina / Trading One Heartbreak For Another / Dear Sobriety / Damn Thing / Girls Like Us / I Hope You're The End Of My Story

11/2018
CD RCA RCA19075-89142-2 (US)

Interstate Gospel - Interstate Prelude / Stop Drop And Roll One / Best Years Of My Life / 5 Acres Of Turnips / When I Was His Wife / Cheyenne / Got My Name Changed Back / Sugar Daddy / Leavers Lullaby / Milkman / Commissary / Masterpiece / Interstate Gospel / This Too Shall Pass

10/2021
CD RCA RCA19439-92617-2 (US)

Hell Of A Holiday - Hell Of A Holiday / Snow Globe / Harlan County Coal / Come On Christmas Time / If We Make It Through December / Make You Blue / Leanin' On Jesus / The Only Thing I Wanted / Believing / Happy Birthday / Sleigh Ride / Joy / Auld Lang Syne
© Rocky Productions 17/11/2021