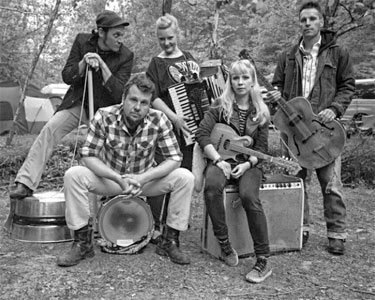 Groupe Country Rock US formé en 1998 à Huntsville (Alabama).

Taking inspiration from roots music and Southern tales of the supernatural, the Pine Hill Haints play a self-described style of "Alabama ghost country" that touches upon honky tonk, rockabilly, folk, and bluegrass. As a child, Jamie Barrier (Vocals, guitar) often joined his grandfather in attending local hootenannies, where he was exposed to the musical traditions of his native Alabama. Later, Barrier honed his own voice by singing in a graveyard — the Pine Hill Cemetery — and formed the raucous rockabilly outfit the Wednesdays while still in elementary school. The Wednesdays would go on to release several albums in the 2000s, but Barrier nevertheless formed the Pine Hill Haints in 1998 as a second (and considerably different) project, piecing together a revolving lineup that ultimately solidified around core members Matt Bakula (washtub bass, banjo), Ben Rhyne (snare drum), and Jamie's wife, Katie Barrier (washboard, mandolin). The band issued its earliest recordings (three full-lengths, a 12" vinyl, and several split albums) on Barrier's own Arkam Records before attracting attention from K Records' founder Calvin Johnson, who recorded the band's next release — You Bury Your Hate in a Shallow Grave — for free. The disc was released on Portland's LELP label, as was the band's follow-up EP, Pine Hill Haints Meet Clampitt, Gaddis & Buck. While the Pine Hill Haints retreated back to Arkam for 2005's Those Who Wander, they were subsequently picked up by K Records and released Ghost Dance, an eclectic album of 20 lo-fi songs, in November 2007.
One year later, the band retreated to Florence, Alabama, to record at the Black Owl Trading Co. The resulting record, To Win or to Lose, marked the Haints' second release for K Records in summer 2009. The band continued their prolific streak, working on more albums for K with 2011's Welcome to the Midnight Opry and 2014's The Magik Sounds of the Pine Hill Haints, along with various lesser releases in the years between. More touring also ensued, including a run through Japan scheduled for the fall of 2014.
http://www.thepinehillhaints.com/
http://www.myspace.com/pinehillhaints
Talents : Jamie Barrier : Vocals, Guitars - Katie "Kat" Barrier : Washboard, Mandolin - Matt Bakula : Washtub, Bass, Banjo - Ben Rhyne : Snare, Drum - Former Members : Travis Hightower : washtub - Roger Holcombe : Snare - Rymodee : Saw - Bradley Williams : Washtub
Style musical : Alternative Country Rock, Roots Rock, Rockabilly Revival

https://youtu.be/Ky4mKVtLrmM
Years in activity :
| | | | | | | | | | | |
| --- | --- | --- | --- | --- | --- | --- | --- | --- | --- | --- |
| 1910 | 20 | 30 | 40 | 50 | 60 | 70 | 80 | 90 | 2000 | 10 |
DISCOGRAPHY
Single & EP
2002
EP Nation Of Kids

13 (US)

Alabama Ghost Country Music -

Whiskey You're The Devil / Wreck Of The Old 97 / Poor Wayfaring Stranger / They've Tried To Kill My Momma's Son
2003
EP ARKAM 19 (US)

The Mystery Of Mardi Gras In Mobile As Told By The Pine Hill Haints / Dave Dondero Sings -

Merry Widows Of Joe Cain (

Pine Hill Haints

) / Johnny (

Pine Hill Haints

) / South Of The South (Dave

Dondero

)
08/2004
CD LELP 1984 (US)

Wayfaring Stranger / Wade In The Water / You Bury Your Hate In A Shallow Grave / Lady Of Cypress Creek / Where The Roses Never Fade

05/2005
CD LELP 1986 (US)
Your Wicked Heart (CLAMPITT, GADDIS & BUCK) / The Darkest Hour (CLAMPITT, GADDIS & BUCK) / Squirrel Hill Special (CLAMPITT, GADDIS & BUCK) / Homeward Track (The PINE HILL HAINTS) / Catfish Angels (The PINE HILL HAINTS) / Queen Of Bell Witch Opry (The PINE HILL HAINTS)
2005
EP ARKAM ARK 29 (US)

Jack Of Diamonds -

Poor Old Kate / Six More Miles To The Graveyard / Jack Of Diamonds / If I Had A Million Dollars, I'd Be Worthless
2007
EP

33

t. Sunburst ‎SBR-001 (US)

Darktime Came To The Hills -

Darktime Came To The Hills / Pretty Polly / If They Don't Lock You Up They'll Drop You Down / The Streets Of Laredo
2009
EP

33

t

.

ARKAM ARK 38 (US)

Riding The Long Southern Train Blues -

Riding The Long Southern Train Blues / I See Red, Kill-Kill-Kill / Right Now Blues / I'm Going Where The Wind Blows
2010
EP 33 t. Let's Pretend LPR-039 (US)

| | |
| --- | --- |
| | The Pine Hill Haints and Trainwreck Riders - Trainwreck Riders : Barnacle Blues / World Got Round / Pine Hill Haints : Wild Bill Jones / Tennessee River Rambler |

2010
EP Razorcake 12 (US)

Black Casket - The Ditch Is Better Than The Road / Satchel And Babe / Why Should I Worry / Black Casket

09/2011
EP 10" YaDig? YD002 (US)

| | |
| --- | --- |
| | The Pine Hill Haints / Serious Sam Barrett ‎ - Pine Hill Haints : 16 Coal Black Horses / The Nail That Rises Up Will Be Hammered Down / Serious Sam Barrett : Rock 'n' Roll Heart / Truckstop Sunrise |

11/2011
SP K ‎IPU 138 (US)

Tales Of Crime

-

Tales Of Crime (Part One) / Tales Of Crime (Part Two)

04/2014
EP 33 t. SNUFFY SMILES 128 (JAP)

The Fadeaways / The Pine Hill Haints -

Fadeaways :

Get Off My Back / Lie, Beg, Borrow And Steal / My Little Bird /

Pine Hill Haints :

Don't Disappear / Wanderin Star / Full Moon Pie
2014
EP 33 t. ARKAM ARK 56 (US)

Can I Have Your Board When You Are Dead? -

Rabbit In The Pea Patch / I'm A Rambler I'm A Gambler / Can I Have Your Board When You Are Dead / Mary
10/2016
SP ARKAM 71 (US)

Blue Halloween / Death And Destruction
Albums
03/2002
LP 12" ARKAM ARK-8 (US)

GOD, THE DEVIL AND THE TWO BY THE GATE -

What Is A Haint? / Opelika Train / Livin' Like I Wanna Die / That Trail Leads To Me / The Sickness / Porch Music / Teardrops On The Rails / Ol' White Thang / Honky Tonk Girl / Sad Eye / Ghost Train
200?
LP 12" ARKAM ARK-8 (US)

GOD, THE DEVIL AND THE TWO BY THE GATE -

What Is A Haint? / Opelika Train / Livin' Like I Wanna Die / That Trail Leads To Me / The Sickness / Porch Music / Teardrops On The Rails / Ol' White Thang / Honky Tonk Girl / Sad Eye / Ghost Train
03/2002
CD ARKAM ARK-11 (US)

| | |
| --- | --- |
| | THE PINE HILL HAINTS / THE NATCHEZ SHAKERS - NATCHEZ SHAKERS : Poor Ole Kate / Cegohill Rambler / Billy Tomb / Evyline / The Devil's Backbone / Date Song / God's Own Country / Priest-God / The Last / PINE HILL HAINTS : Whiskey Broke My Fall / The Cold, Cold Hand / Somebody Lied / God, The Devil And The Two By The Gate / God Bless The Pine Hill Saints / Livestock Abduction / Your Wicked Heart Has Done Me Wrong / Ghost Train |

04/2003
LP 12" ARKAM ARK-15 (US)

Tales From The Front Porch - The Crypt Kickers - Plain Clothes Creeps String Trio - The Pine Hill Haints - Crypt Kickers : Grave Robbin' Rebels / Rattle Them Bones / Snoopy vs. The Red Baron / 2000 Miles / Walkin' Talkin' Dead Man / Grave Diggin' 101 / Plain Clothes Creeps String Trio : You're The One / My Well Has Run Dry / Pine Hill Haints : White Lightnin' Strikes And The Earth Quakes / Crush My Heart / When I Lay My Burden Down / Rollin' And Tumblin / Silver Watch

04/2003
CD ARKAM ARK-17 (US)
TRAINS HAVE NO NAME - Tennessee River Rambler / They Tried To Kill My Momma's Son / Trains Have No Names / Wrestle With The Angels / Troubled Kid / Coon Dog Cemetery / Crush My Heart / Fountains Of Smoke, Rivers Of Beer / White Lightnin' Strikes, The Earth Quakes / Back In The Saddle Again / What Is A Haint? (Live)
06/2005
CD ARKAM ARK-20 (US)
THOSE WHO WANDER - You Will Never See The Morning / Merry Widows Of Joe Cain / My Heroes Have Always Been Wolves / Don't Wait For Six Strong Men To Carry To Church / I Ride And Old Paint / All My Rowdy Friends Are Dead / Last Of The Natchez Shakers / Where The Soul Of Man Never Dies / Ol' Suzanah - Camptown Races / I Will Never Be There / If You Don't Keep Score You'll Never Lose / Banshee's Wail / Goodnight Irene
11/2007
LP 12" & CD K KLP-186 (US)
GHOST DANCE - Spirit Of 1812 / For Every Glass That's Empty / I Never Thought / The Day Woudl Come When You Could Hate Me So Dearly / Say Something, Say Anything / St. Louis Blues / Phantom Rules / When You Fall / Death By Stereo / Garden Of The Dead / Whisper In The Dark / You're Gonna Need Somebody On Your Bond / Catfish Angels / St. James Infirmary Blues / Cuckoo Bird / Columbus Stockade Blues / Walkin' Talkin' Deadman / Ol' White Thang Blues / Raggle Taggle Gypsy / Leo O'Sullivan's Story / Wake Up
07/2009
LP 12" & CD K KLP-208 (US)

To Win or To Lose - Intro / Not So Lucky And The Invisible Kid / Charley Horse / Borello Blackwindow / Scar / Halloween-Time All The Time / Never Cry / Revenge Of The Spider-Web Boy / Je Passe Devant Ta Porte / Never Gonna Die / My Bones Are Gonna Rise Again / How Much Poison Does It Take / Ranger's Command / Screaming Jenny / Doublehead / You Are My Thief

09/2011
LP 12" ARKAM ARK-44 (US)

The Evening Star - Tennessee River Rambler / They Tried To Kill My Momma's Son / I Like The Ditch / Darktime Came To The Hills / Streets Of Laredo / Why Should I Worry / I See Red (Kill-Kill-Kill) / Black Casket / Satchel And Babe / Wayfaring Stranger / Riding The Long Southern Train Blues / Parting Glass / Wild Bill Jones

10/2011
LP 12" K KLP-236 (US)

Welcome to the Midnight Opry - I Wish I Was A Jack-O-Fire / Desperation Blues / My Heart Is A Star Beneath The Frost On The Ground / You Were Born To Suffer / 6 Angel Opera / Low / 7 'O Clock In The Evening / Red Light / Day The Sun Did Not Come Up / Moon Shadow / Handsome Molly / Carols To Crack Ice / Ghost Town / 1/2 Crime, Pt. 2 / Midnight Opry / I Know That You're Gone But Last Night I Dreamed You Were Here

09/2014
LP 12" & CD K KLP-254 (US)

The Magik Sounds Of The Pine Hill Haints -

Mrs. Pac-Man / Galaxy Buffalo / Rattle Them Bones / The Villian Vs The Kid / Shattered Waltz / Blow / Can I Have Your Board When You Are Dead? / Total Zero / Coffin Black / Dead Ringer / Lady Bug / Scarlet Fever / What Am I Gonna Do But Wait Right Here / 7 On A Pair Of Dice
© Rocky Productions 19/02/2017