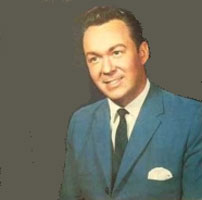 Chanteur Country Canadien né le 19 Janvier 1933 à St. Eustace (Quebec).

Born 19 January 1933, St. Eustace, near Montreal, Quebec, Canada. St. Eustace was an area dominated by the French and Phillips grew up bilingual. (He later also recorded in both German and Afrikaans). He was influenced by the singing of Gene Autry but first sang in a Montreal church choir. In his early teens, his father, a railroad architect, relocated for a time to Calgary. When the family returned to Montreal, Phillips remained in Calgary and often fondly refers to it as his home town. He learned to play guitar and worked on various jobs until eventually being hired by CFRN Edmonton as a newsreader, general handyman and engineer. When a disc jockey failed to show Phillips, without authority, deputised singing some of his own songs. Although reprimanded, it led to Stu For Breakfast, an early morning show which launched his career. Realising there were not many Canadian songs, he began to write and gained his inspiration from books on Canadian folklore. In 1956, after spells at CJIB Vernon, British Columbia and CHED Edmonton, he began presenting live television shows on the newly opened CHCT-TV in Calgary. Soon after Don Cameron, the regional director of CBC, offered him a CBC radio show singing folk and children's songs as the Travelling Balladeer. This proved so successful it also led to him presentingThe Outrider, a network weekly television show. He also became involved with the Calgary Stampede and presented the prime time CBC televisionRed River Jamboree.
Phillips made his first recordings for Rodeo Records in Halifax and later recorded for London Records and Columbia Records (Canada) gaining some success with 'Squaws Along The Yukon'. In spite of Canadian stardom, he wished to emulate his fellow Canadian Hank Snow and join Nashville's Grand Ole Opry. After visiting Nashville, in the early 60s, where Chet Atkins signed him to RCA Records, Phillips finally relocated there in 1965. He worked his own morning show on WSIX-TV with his band comprising Jimmy Capps, Jerry Reed and Henri Strzelecki. He gained his first Billboard hits in 1966 with 'Bracero' and 'The Great El Tigre'. He toured to England in 1967 and on his return, he found he had been signed as a member of theOpry. Between 1967 and 1968, he registered six further hits the biggest being 'Juanita Jones' (number 13) and 'Vin Rose' (number 21). After 'Bring Love Back Into Our World' (number 68), he left RCA and recorded for Capitol Records but had no single releases or further chart entries.
In the 70s, he toured and presented his own television seriesMusic Place from WAVE-TV Kentucky. In the early 80s, he began to study to become a minister of the Episcopalian church, which saw him cut back drastically on his personal appearances but he still performed at the some major venues including the Calgary Stampede and London's Wembley Festival. In the 90s, he continued to live in Nashville and maintained his popularity with theOpry audiences while also fulfilling his church duties. He made further recordings for Broadland and, in 1994, Bear Family Records issued a 35-track CD, which represented a reissue (minus one track) of three Rodeo albums, which contained some of the songs he wrote of Canadian folklore early in his career.
https://en.wikipedia.org/wiki/Stu_Phillips_(country_singer)
Talents : Vocals, Songwriter
Style musical : Contemporary Country, Tex Mex

https://youtu.be/rCDOpMIKB84
Years in activity :
| | | | | | | | | | | | |
| --- | --- | --- | --- | --- | --- | --- | --- | --- | --- | --- | --- |
| 1910 | 20 | 30 | 40 | 50 | 60 | 70 | 80 | 90 | 2000 | 10 | 20 |
DISCOGRAPHY
Singles
| | | | |
| --- | --- | --- | --- |
| 1956 | SP RODEO 172 (CAN) | . | The Champlain And St. Lawrence Line / Priest Who Slept 100 Years |
| 1956 | SP RODEO 178 (CAN) | . | Bill Miner / Riverboat Captain |
| 1958 | SP RODEO 195 (CAN) | . | |
| 1958 | SP RODEO 198 (CAN) | . | When the Ice Worms Nest Again / The Eskimo Song |
| 1959 | EP PYE NEP 44001 (UK) | | Bull Train / John Ware / The Eskimo Song / Star Child |
| 03/1962 | SP COLUMBIA 4-42393 (US) | . | One Day Early / This Heart Of Mine |
| 1964 | SP COLUMBIA 4-42978 (US) | . | Here She Comes Again / Heart |
| 07/1965 | SP RCA VICTOR 47-8640 (US) | . | Kathy Keep Playing / Ask And You Will Receive |
| 1965 | SP RCA VICTOR 47-8640 (GER) | | Kathy Keep Playing / Ask And You Will Receive |
| 02/1966 | SP RCA VICTOR 47-8771 (US) | . | Bracero / Angel Of Love |
| 06/1966 | SP RCA VICTOR 47-8868 (US) | . | The Great El Tigre (The Tiger) / Another Day Has Gone |
| 1966 | SP RCA VICTOR 47-8868 (US) | | The Great El Tigre / Another Day Has Gone |
| 01/1967 | SP RCA VICTOR 47-9066 (US) | . | Walk Me To The Station / Guess Things Happen That Way |
| 05/1967 | SP RCA VICTOR 47-9219 (US) | . | Vin Rose / I Wish I Had Never Seen Sunshine |
| 09/1967 | SP RCA VICTOR 47-9333 (US) | . | Juanita Jones / Castle A Cabin |
| 1967 | SP RCA VICTOR 47-15010 (US) | | Irgendwann Sagt Man Goodbye / Ol' Kentucky |
| 02/1968 | SP RCA VICTOR 47-9481 (US) | . | Our Last Rendezvous / Note In The Box Number Nine |
| 06/1968 | SP RCA VICTOR 47-9557 (US) | . | Top Of The World / That Completely Destroys My Plans |
| 11/1968 | SP RCA VICTOR 47-9673 (US) | . | Bring Love Back Into Our World / Speak Softly My Love |
| 03/1969 | SP RCA VICTOR 74-0134 (US) | . | Rings Of Grass / Let The Guitars Play |
| 08/1969 | SP RCA VICTOR 74-0227 (US) | . | Little Tin God / Secret Of The Summer Wind |
| 1980 | SP INTERCAN CAN-10003 (CAN) | . | I Will / There's More To Love |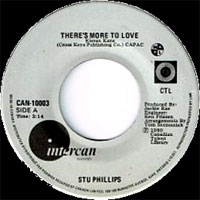 Albums
1956
LP 12" RODEO 5RLP-17 (CAN)

Stu Phillips Sings Echoes Of The Canadian Foothills - Star Child / Almighty Voice / Albert Johnson / The Chief's Lament / Bill Miner / Ernest Cashel / The Lost Lemon Mine / White Stallion Legend / Nigger John / Bull Train / The Banff Cave / The Fireworks

1957
LP 12" RODEO RLP-20 (CAN)

Visit Old Quebec With Stu Phillips - The Village Blacksmith / The Champlain And St. Lawrence Line / En Roulant Ma Boule / Donkey Riding / Legend Of Percé Rock / The Horse Trader / Canada-I-O / The Phantom Priest / Dollard Des Ormeaux / Madeleine De Verchères / The Winner Camp / The Priest Who Slept 100

1958
LP 12" RODEO RLP-29 (CAN)

A Visit To British Columbia With Stu Phillips - The Riverboat Captain / The Okanagan Valley / Simon Gun-A-Noot / Mountain Boy / Bill Miner / Catherine O'Hare Schubert / When The Ice Worms Nest Again / Legend Of The Fernie Fire / The Grand Hotel / Bill Barker's Party / Alexander Mackenzie / Moon Over The Rockies / Fraser's Highway

1962
LP 12" Banff RBF-1085 (CAN)

Old Songs For Young Folks - Go On Blue / Old Darby / Big Rock Candy Mountain / Fox Is On The Town O / The Lost Lemon Mine / 5900 / The Blue And The Grey / Tweedlo-Twill / Pitching Bundles / The Streets of Laredo

1962
LP 12" RODEO RCW 1001 (CAN)

Stu Phillips Sings Big Rock Candy Mountain - Go On Blue / Fox Is On The Town O / The Lost Lemon Mine / Old Darby / The Okanagan Valley / Simon Gun-A-Noot / 5900 / The Blue And The Grey / Tweedlo Twill / Streets Of Laredo / When The Ice Worm Nests Again / The Riverboat Captain

08/1966
LP 12" RCA VICTOR LPM-3619 (mono) / LSP-3619 (stereo) (US)
SINGIN' - Bracero / Kathy Keep Playing / Ask And You Will Receive / Crystal Chandeliers / That's The Chance I'll Have To Take / Some Of Me / Great El Tigre (The Tiger) / Think I'll Go Somewhere And Cry Myself To Sleep / Another Day Has Gone / Old French Quarter / I Will / Four Strong Winds
03/1967
LP 12" RCA VICTOR LPM-3717 (mono) / LSP-3717 (stereo) (US)
GRASSROOTS COUNTRY - Green Green Grass Of Home / She Loves The Love I Give Her / Through The Night / Soft Spot In My Heart (For Molly) / Each Season Changes You / Last Thing On My Mind / Walk Me To The Station / Guess Things Happen That Way / I'd Just Be Fool Enough (To Fall) / Bad Seed / Four Initials On A Tree / That's Why I Still Love You
1968
LP 12" RCA VICTOR LSP-4012 (US)
OUR LAST RANDEZVOUS - That Completely Destroys My Plans / Juanita Jones / Top Of The World / Note In Box No 9 / Adios Alita / Castle A Cabin / Our Last Rendezvous / Vin Rose / To Get To You / I Lose More Girls That Way / Angel Of Love / Rock-A-Bye Heartache
1973
LP 12" Canadian Cavalcade CCLP-2005 (CAN)

Early Stu Phillips - The Early Stu Phillips Folk Songs (From Unreleased Masters) - The Girl In The Blue Velvet Band / Green Grow The Lilacs / Simon Gun-A-Noot / Ghost Town / Northland Maiden / Barbara Allen / The Three Bells / The Overland Trail / I Am A Roving Gambler / Dust In My Eyes / I Left My Girl In The Mountains / Scarlet Ribbons

1976
LP 12" PARAGON PR-33024 (US)
HAVE A NICE DAY - It Is No Secret / Have A Nice Day / We Have This Moment Today / Learning To Live Like A Child Of The King / If You Can't Believe In Love / Until Then / Sunday Afternoon Boatride In The Park On The Lake / Because He Lives / Travelin' Balladeer / Looking At The World Throught The Eyes Of Love / Evidence
1980
LP 12" Canadian Talent Library CTLS-5228 (CAN)

Born To Be A Man - Born To Be A Man / There's More To Love / I Will / Lovin' You Lovin' Me / That's How It Goes / Let's Do It Once Again / Just A Feelin' / Sweet As The Honeysuckle Vine / That's The Way Of A Woman / To Make A Long Story Longer / Anyone

1980
LP 12" Pickwick PC-66003 (US)

Born To Be A Man -

Born To Be A Man / There's More To Love / I Will / Lovin' You Lovin' Me / That's How It Goes / Let's Do It Once Again / Just A Feelin' / Sweet As The Honeysuckle Vine / That's The Way Of A Woman / To Make A Long Story Longer / Anyone
1993
CD BROADLAND BRI-CD-1293-2 (CAN)
DON'T GIVE UP ON ME -

Featuring The Songs Of Marshall Clary

- Don't Give Up On Me / Rio Tijuana / Having You With Me / Love Is / It's Your Wedding Day / There She Comes / Come Let Me Hold You For Real / Country Music Makes It All OK / Foolish Feet / Love Again
07/1993
CD BEAR FAMILY BCD 15721 (GER)
A JOURNEY THROUGH THE PROVINCES - Village Blacksmithchamplain And St Lawrence Line / En Roulant Ma Boule / Donkey Riding / Legend Of Perce Rock / Horse Trader / Canada I-O / Phantom Priest / Dollard Des Ormeaux / Madeleine De Vecheres / Winter Camp / Priest Who Slept One Hundred Years / Riverboat Captain / Okanagan Valley / Simon Gun-A-Noot / Mountain Boy / Bill Miner / Cathrine O'Hare Schubert / When The Iceworms Nest Again / Legend Of The Fernie Fire / Grand Hotel / Bill Barker's Party / Alexander Mackenzie / Moon Over The Rockies / Fraser's Valley / Star Child / Almighty Voice / Albert Johnson / Chief's Lament / Ernest Cashel / White Stallion Legend / Nigger John / Bull Train / Banff Cave / Fireworks
08/1997
CD ROYALTY 336 (CAN)
BLUE CANADIAN ROCKIES - Blue Canadian Rockies / Heart Over Mind / A Castle A Cabin / The Great El Tigre' / Dust In My Eyes / Colorado / That's The Chance I'll Have To Take / Rangeland / Have I Told You Lately (That I Love You) / You Win Again / Release Me
08/1998
CD Watermark W345D (US)
YOU LOVE THE HURT AWAY - You Love The Hurt Away / Church In The Wildwood / When I've Learned / Only God / What A Friend We Have In Jesus / I Want To Thank You, Lord / Jesus / Do I Ever Need A Savior / Supper Time / No One Ever Told Me / Love Isn't Love / Where No One Stands Alone / Softly And Tenderly
© Rocky Productions 6/02/2017