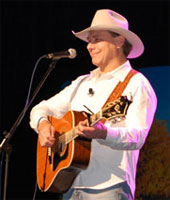 Chanteur Country US né Michael James Peterson, le 7 Août 1959 à Tuckson (Arizona).

Though Michael Peterson is an Arizona boy who got into the music business through a college football teammate, he wound up with one of the most popular country hits of 1997. Born in Tucson, Peterson grew up in Washington state, listening to his grandmother's wide-ranging music collection, overloaded with classic American songwriters, including Cole Porter and Harold Arlen, as well as obvious choices like Roger Miller and Willie Nelson. After earning a football scholarship to Pacific Lutheran University (and winning a national championship), he hooked up with former teammate Brad Westering, who was working as a producer for Deniece Williams and others. Peterson wrote several songs for potential use by Westering, and began traveling occasionally to Nashville.
Michael Peterson began working professionally as a songwriter in late 1995, after making connections with writers like DeWayne Blackwell, Josh Leo, and Robert Ellis Orrall. Encouraged by Leo and Ellis Orrall to try his hand at recording as well, Peterson made a demo and soon found a contract with Warner Bros. His self-titled debut album appeared in mid-1997, heralded by the rough-and-rowdy hit single "Drink, Swear, Steal & Lie," plus a duo with Travis Tritt. Peterson's sophomore effort, Being Human, appeared in 1999.
https://www.michaelpetersonmusic.com/
https://en.wikipedia.org/wiki/Michael_Peterson_(singer)
Talents : Vocals, Songwriter, Guitar, Piano
Style musical : Contemporary Country

https://youtu.be/xCEMEn-HCXE
Years in activity :
| | | | | | | | | | | | |
| --- | --- | --- | --- | --- | --- | --- | --- | --- | --- | --- | --- |
| 1910 | 20 | 30 | 40 | 50 | 60 | 70 | 80 | 90 | 2000 | 10 | 20 |
DISCOGRAPHY
Singles
| | | | |
| --- | --- | --- | --- |
| 04/1997 | SP REPRISE 7-17379 (US) | | Drink, Swear, Steal & Lie / For A Song |
| 1997 | CD REPRISE PRO-CD 8680 (US) (promo) | | Drink, Swear, Steal & Lie |
| 1997 | CD REPRISE PRO-CD-9473-R (US) (promo) | . | By The Book |
| 03/1999 | SP REPRISE 7-16995 (US) | . | Somethin' 'bout A Sunday / Lost In The Shuffle |
| 03/1999 | CD REPRISE 9 16995-2 (US) | | Somethin' 'bout A Sunday (album version) / Lost In The Shuffle (edit) |
| 08/1999 | SP REPRISE 7-16933 (US) | | Sure Feels Good / Laughin' All The Way To The Bank |
| 07/2002 | CD MONUMENT NSK 16696 (US) | . | Modern Man |
Albums
02/1986
CD SPARROW SPR 1119 (US)
MICHAEL PETERSON - Autumn Falls / Nail Without A Carpenter / Speak Softly / Never Go Away / Faith Is / Give My Best To You / Draw Me Near / Give It Up / Beyond The Very Best
07/1997
CD REPRISE 9-46618-2 (US)
MICHAEL PETERSON - Lost In The Shuffle / Love's Great / When The Bartender Cries / Drink Swear Steal And Lie / I Finally Passed The Bar / From Here To Eternity / That's What They Said About The Buffalo / Too Good To Be True / Since I Thought I Knew It All / By The Book / For A Song
06/1999
CD REPRISE 9-47353-2 (US)
BEING HUMAN - Laughin' All The Way To The Bank / You Find Love When You Make It / I Owe It All To You / Somethin' Bout A Sunday / Let Me Love You One More Time / Sure Feels Real Good / Being Human, Stomp / Two Of The Lucky Ones / Slow Dance / Before Another Day Goes By
05/2000
CD WARNER BROS. 47715 (US)
SUPER HITS -

Vol. 5 -

Drink Swear Steal And Lie / From Here To Eternity / Somethin' Bout A Sunday / I Owe It All To You / Too Good To Be True / Laughin' All The Way To The Bank / I Finally Passed The Bar / Sure Feels Real Good / When The Bartender Cries / Two Of The Lucky Ones
2004
CD AGR TELEVISION AGR-2020 (GER)
MODERN MAN - No More Looking Over My Shoulder, Travelers Prayer, Modern Man, If My Memory Serves Me Well, Rome Burns, Nothing Compares To Loving You, Right About Now, Play, Let Your Imagination Run Away With Me, What Makes A Man, Lesson In Goodbye, About Caroline, Good Thing When It's Gone, Oklahoma Stray
2006
CD Beyond Music 19122 (US)

Down On The Farm - What Should I Do With My Life? / Down On The Farm / The Warriors Anthem (I Am An American) / News / The Perfect Weekend / When You Walk Like That / I Cut Myself Off At The Past / I Hope They're Wrong / Sometimes Love / From The Grave To The Cradle (live)

2007
CD Auto production (US)

In Black - Marriage Is The Leading Cause Of Divorce / If You're Willing / I Remember America / To Satisfy Me / Alcohyol Abuse / From The Word Go / Girl Of Summer / Only Time Will Tell / Price Of Admission / In Black / Stones

2008
CD Beyond Music 7 96873 03136 3 (US)

Grave To The Cradle - We Found Love / I Wouldn't Do Nothing Else / Good Day For Leaving / What'll You Have / Your Watch And Your Opinion / If You Want Me / I Can't Fight Loving You / She Can't Remember And He Can't Forget / Between Going And Being Gone / From The Grave To The Cradle / Happy Father's Day Mama

12/2009
CD HotDisc HD 132 (UK)

Baby I'm Stickin' With You - Baby I'm Stickin' With You / Tell Me What You Got In Mind / Good Day For Leaving / Better Than Me For You / Why Didn't You Think Of This Before? / Support The Wildlife, Throw A Party / The Little We've Got (with The Classic Imperials) / News / I Hope You Know What You Are Doing / The Perfect Weekend / Freight Train

07/2014
CD ? (US)

We Are Veterans
© Rocky Productions 30/01/2017