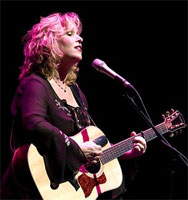 Chanteuse Country US née le 14 Nocembre 1957 à Westchester County (New York).

Known as a writer of intelligent and introspective songs in the country/folk/pop vein, Gretchen Peters achieved renown through country stars covering her material. Among the artists to have hits with her songs were Trisha Yearwood, Pam Tillis, George Strait, Martina McBride, and Patty Loveless. Peters was born in Westchester County, New York, and lived there until her parents divorced when she was eight, at which point she moved with her mother to Boulder, Colorado, where, as a teenager, she wrote songs and performed in the town's thriving live music scene. She moved to Nashville in 1988 and signed several writing deals before moving to Sony in 1992. Having written a string of critically acclaimed hits, Peters received her first Grammy nomination for Song of the Year in 1995 for "Independence Day" (recorded by McBride), her powerful anthem about a women who fights back against an abusive husband. At the Country Music Awards that year, the song took home the same award, as well as a CMA Video of the Year in 1994. She was nominated again for a Song of the Year Grammy in 1996 with the Loveless chart-topper "You Don't Even Know Who I Am." Peters' scope wasn't limited to the country music arena, as she demonstrated by co-writing "Rock Steady" with rock artist Bryan Adams -- a song that appeared on Bonnie Raitt's Road Tested. Peters released her debut album, The Secret of Life, on Imprint Records in 1996. Her self-titled sophomore effort was issued five years later. The impressive Burnt Toast & Offerings appeared in 2007. She released a seasonal offering called Northern Lights, which featured non-traditional material of her own as well as covers. In 2009, she collaborated with Tom Russell on One to the Heart, One to the Head, and released a best-of collection entitled Circus Girl -- all while touring incessantly. 2011 saw the release of the live DVD Wine, Women and Song with pals Suzy Bogguss and Matraca Berg. Peters released a studio album of her own new material in January, 2012 entitled Hello Cruel World.
In October of 2014, Peters was inducted into the Nashville Songwriter's Hall of Fame. In February of 2015, she released Blackbirds, an album of new material co-produced with guitarist Doug Lancio and keyboardist Barry Walsh. Issued on her Scarlet Letter Records label, it featured guest appearances from Jerry Douglas, Jason Isbell, Kim Richey, Jimmy LaFave, and Suzy Bogguss.
http://www.gretchenpeters.com/
Talents : Vocals, Guitar, Piano, Dobro, Songwriter
Style musical : Contemporary Country, Country-Folk, Americana

https://youtu.be/lZpfTkYM6Gk
Years in activity :
| | | | | | | | | | | | |
| --- | --- | --- | --- | --- | --- | --- | --- | --- | --- | --- | --- |
| 1910 | 20 | 30 | 40 | 50 | 60 | 70 | 80 | 90 | 2000 | 10 | 20 |
DISCOGRAPHY
Singles
03/1996
CD IMPRINT 18001 (US)
.

When You Are Old / I Was Looking For You

1996
CD CURB CUBC 17 (UK)

When You Are Old / I Ain't Ever Satisfied / Waiting For The Light To Turn Green

10/2000
CD Grapevine CDGPS283 (UK)

In A Perfect World /

Secret Of Life / Like Water Into Wine
2000
CD Grapevine CDGPS 295 (UK)

Souvenirs / Picasso And Me

2001
CD Grapevine CDGPS 312 (UK)

I Don't Know / Waiting For Amelia

12/2004
CD WEA 674563 (UK)
Tomorrow Morning / Child Of Mine
2009
CD 15 Bottles ? (US)

Gretchen Peters, Suzy Bogguss, Matraca Berg - The Sewanee Sessions - Hammer And Nail / Tomorrow Morning / Camille / Wild Horses / Heartache / Farther Along

2012
CD SCARLET LETTER ? (US) (promo)
Dark Angel (with Rodney CROWELL)
2015
CD SCARLET LETTER ? (US)

Hits And Misses - If Heaven / The Secret Of Life / On A Bus To St. Coud / Independance Day

2015
CD PROPER PRPCD124RP1 (UK) (promo)

When All You Got Is A Hammer [radio edit]
Albums
06/1996
CD IMPRINT IMPCD-10000 (US)
THE SECRET OF LIVE - Waiting For The Light To Turn Green / Border Town / I Ain't Ever Satisfied / I Was Looking For You / On A Bus To St. Cloud / Over Africa / This Uncivil War / The Secret Of Life / A Room With A View / Circus Girl / When You Are Old
02/2001
CD VALLEY VE 15133 (US)
GRETCHEN PETERS - Souvenirs / In A Perfect World / I Don't Know / Love And Texaco / Love Is A Drug / Like Water Into Wine / Eddie's First Wife / Picasso And Me / Lilies Of The Field / Waiting For Amelia / Revival
2001
CD VALLEY 15143 (US)
THE SECRET OF LIFE - Waiting For The Light To Turn Green / Border Town / I Ain't Ever Satisfied / I Was Looking For You / On A Bus To St. Cloud / Over Africa / This Uncivil War / Secret Of Life / Room With A View / Circus Girl / When You Are Old / Independence Day
05/2004
CD CURB CURCD-151 (GER)
HALCYON - Tomorrow Morning / The Aviator's Song / Blessing In Disguise / Child Of Mine / A Cool Goodbye / Imogene / This Used To Be My Town / If Heaven / Germantown / Drowning In You / Museum
08/2005
CD CURB CURCD-188 (GER)
GRETCHEN PETERS TRIO - RECORDED LIVE - Museum / Circus Girl / Like Water Into Wine / Souvenirs / Main Street / You Don't Even Know Who I Am / Secret Of Life / Revival / Over Africa / This Used To Be My Town / American Tune / On A Bus To St Cloud / When You Are Old
04/2007
CD CURB CURCD-228 (GER)
BURNT TOAST & OFFERING - Ghost / Sunday Morning (Up And Down My Street) / Summer People / Jezebel / Thirsty / England Blues / Lady Of The House / One For My Baby / Way You Move Me / This Town / Breakfast At Our House / To Say Goodbye
08/2007
CD SCARLET LETTER 120653-7 (US)
BURNT TOAST & OFFERING - Ghost / Sunday Morning (Up And Down My Street) / Summer People / Jezebel / Thirsty / England Blues / Lady Of The House / One For My Baby / Way You Move Me / This Town / Breakfast At Our House / To Say Goodbye
10/2008
CD SCARLET LETTER 208143-2 (US)

Northern Light - Song For A Winter's Night / Coventry Carol (prelude) / Coventry Carol / I Wonder As I Wander / December Child / (Charlie's) Angels / Waitin' On Mary / In The Bleak Midwinter / Careful How You Go / Northern Lights / Christmas Time Is Here / Silent Night

02/2009
CD SCARLET LETTER CD3-1208 (US)

ONE TO THE HEART, ONE TO THE HEAD -

Tom RUSSELL & Gretchen PETERS - North Platte / Prairie In The Sky / Billy 4 / Blue Mountains Of Mexico / These Cowboys Born Out Of Their Time / Guadalupe / Sweet And Shiny Eyes / Wolves / Snowin' On Raton / Old Paint / My Last Go Round / North Platte (reprise) / If I Had A Gun / Prairie Melancholy
2009
CD SCARLET LETTER SCARLCD1 (US)
THE SECRET OF LIVE - Waiting For The Light To Turn Green / Border Town / I Ain't Ever Satisfied / I Was Looking For You / On A Bus To St. Cloud / Over Africa / This Uncivil War / The Secret Of Life / A Room With A View / Circus Girl / When You Are Old / BONUS TRACK :

Independence Day

05/2009
CD SCARLET LETTER SCARLCD6 (US)
CIRCUS GIRL - THE BEST OF GRETCHEN PETERS - Circus Girl / The Aviator's Song / Sunday Morning (Up And Down My Street) / The Secret Of Life / If Heaven / On A Bus To St Cloud / In A Perfect World / This Town / Picasso And Me / When You Are Old / Independence Day / Tomorrow Morning / The Way You Move Me / BONUS TRACKS : Don't You Know / Nobody's Girl
05/2009
2 CD SCARLET LETTER SCARLCD7 (US) (limited edition)
CIRCUS GIRL - THE BEST OF GRETCHEN PETERS :

CD 1 : Circus Girl / The Aviator's Song / Sunday Morning (Up And Down My Street) / The Secret Of Life / If Heaven / On A Bus To St Cloud / In A Perfect World / This Town / Picasso And Me / When You Are Old / Independence Day / Tomorrow Morning / The Way You Move Me / BONUS TRACKS : Don't You Know / Nobody's Girl
CD 2 : First radio interview (KBCO Boulder 1977) / Black Eyed Susan (Home cassette recording 1978) / Out To Sea (demo 1989) / Ships (demo 1992) / Circus Girl (Work tape 1993) / You Don't Even Know Who I Am (demo 1993) / Let That Pony Run (Acoustic cassingle version 1996) / If I Could Just Get Over You (Live from The Bluebird 1996) / Die Young (Live from Green's Grocery 1996) / Sharing Time (Live from King Tut's 1997) / Beloved Enemy (Live from Caffe Milano 1998) / Tattoo (demo 2001) / Breakfast At Our House (Work tape 2005) / Jezebel (Work tape 2006) / Jesus On My Dashboard (Work tape 2007) / Mother (For Mother Jones, master 2008)

01/2012
CD SCARLET LETTER PRPCD094 (US)
HELLO CRUEL WORLD - Hello Cruel World / Saint Francis / The Matador / Dark Angel / Paradise Found / Woman On The Wheel / Five Minutes / Camille / Natural Disaster / Idlewild / Little World
2013
CD + DVD SCARLET LETTER ? (US) (limited edition)

Woman On The Wheel - Live From The Hello Cruel World Tour 2012 :

CD : Introductions / Hello Cruel World / Saint Francis / The Matador / Dark Angel / Paradise Found / Woman On The Wheel / Five Minutes / Camille / Natural Disaster / Idlewild / Little World /

bonus Tracks :

On A Bus To St. Cloud / To Say Goodbye / Wild Horses
DVD : Woman On The Wheel (Live performances and documentary and music videos)

02/2015
CD Proper PRPCD 124 (UK)

Blackbirds -

Blackbirds / Pretty Things / When All You Got Is A Hammer / Everything Falls Away / The House On Auburn Street / When You Comin' Home (featuring Jimmy

LaFave

) / Jubilee / Black Ribbons / Nashville / The Cure For The Pain / Blackbirds (reprise)
01/2016
2 CD Proper PRPCD 134 (UK)

The Essential Gretchen Peters - Blackbirds / The Aviator's Song / The Secret Of Life / If Heaven / When All You Got Is A Hammer / On A Bus To St. Cloud / The Matador / Sunday Morning (Up And Down My Street) / Guadalupe (with Tom RUSSELL) / Hello Cruel World / When You Love Someone (with Bryan Adams) / Five Minutes / When You Are Old / The Way You Move Me (demo) / Ring Around The Moon / Pretty Things (radio edit) / The Cruel Mother / Woman On The Wheel (live) / When You Wish Upon A Star / I Saw Your Light / Love / The Chill Of An Early Fall (demo) / Independence Day (acoustic version) / Wild Horses (with Matraca Berg & Suzy Bogguss) / The Answer (Work tape) / Blackbirds (with Ben Glover) (Work tape) / Five Minutes (Work tape)
© Rocky Productions 28/01/2017