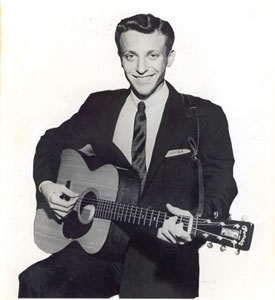 Chanteur Rockabilly US né Allen Richard Penner en 1936 à Chicago (Illinois), Dick Penner a débuté en 1957 à la Sun Records de Memphis (Tennessee). Il a aussi enregistré avec Wade Moore dans le duo Wade & Dick, toujours à la Sun. En 1990, Dick était professeur d'anglais à Knoxville (Tennessee).

Dick Penner isn't exactly a household name, even in rockabilly circles, but any man who could co-write a classic like "Ooby Dooby" has carved some kind of a place for himself in the history of the music. Despite his having been born in Chicago, Dick Penner got a shot at being an authentic country music and rockabilly legend when he was a year old and his family moved to Dallas, TX. It was there that he was exposed to country music on the radio, and by age 16 he'd taken up the guitar. At 18 he entered North Texas State University in Denton, TX, where he hooked up with Wade Moore and later met Roy Orbison, who at that time was leading a group called the Wink Westerners, who subsequently transformed themselves into the Teen Kings.
In collaboration with Moore, Penner co-authored a song called "Ooby Dooby," which Orbison and his band later turned into one of the best-selling rockabilly singles of all time at Sun Records. Making the switch from country music to rock & roll, Penner and Moore formed a duo and recorded for Sun in 1957, sometimes as Wade & Dick and sometimes as the College Kids. Wade & Dick recorded six songs, and Penner did a handful of songs on his own, all of which displayed a hard, youthful edge and were aimed at the new teen market, but none of them were notably successful. Penner's three singles (on at least one of which he shared guitar chores with Don Gilliland), "Move Baby Move," "Fine Little Baby," and "Someday Baby," all seemed to hook around a certain thematic similarity. They weren't in a league with "Ooby Dooby," however, which made a respectable showing on the national charts in Orbison's hands and has since come to be regarded as a classic of the genre. Moore continued working in music with Orbison, but Penner decided on a career in academia and reportedly became a professor of English.
Talents : Vocals, Guitar
Style musical : Rockabilly
Years in activity :
| | | | | | | | | | |
| --- | --- | --- | --- | --- | --- | --- | --- | --- | --- |
| 1910 | 20 | 30 | 40 | 50 | 60 | 70 | 80 | 90 | 2000 |
DISCOGRAPHY
Singles
12/1957
SP SUN 282 (US)
Cindy Lou / Your Honey Love
197?
SP SUN 615 (US)
Move Baby Move / Fine Little Baby
1999 ?
SP NORTON 842 (US)
Move Baby Move (Dick

Penner

) / This Chick (Ray

Garden

)
Unissued Tracks
| | | |
| --- | --- | --- |
| 1956 | SUN unissued - (Charly CD 8317 (#19) / Sun (England) LP 1024 (#3)) | Don't Need Your Lovin' Baby |
| 1957 | SUN unissued - (AVI CD 5019 (#10) / Charly CD 713 (#46) / Charly CD 8352 (#13) / Charly LP 30147 (#13) / Emusic/Charly MP 11312766 (#13) / Sun (England) 10 501 (#2) / Sun (England) LP 1010 [1st] (#13)) | Fine Little Baby |
| 1957 | SUN unissued - (AVI CD 5019 (#11) / Bear Family CD 16210 (#2) / Charly CD 8352 (#19) / Charly LP 30116 (#7) / Emusic/Charly MP 11312766 (#19) / Sun (England) 10 501 (#4)) | Move Baby Move |
| 1957 | SUN unissued - (Charly CD 8137 (#26)) | Someday Baby |
© Rocky Productions 12/03/2002