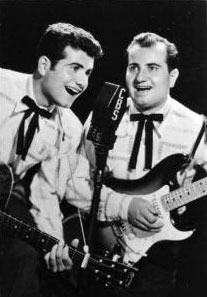 Duo Countryl US, Hank (né Anthony Pellegrino en 1936) et Sonny Pell (né Michael Pellegrino en 1929, décédé en 1994), les Pell Brothers sont originaires de Greenpoint Brooklyn (New York).

The Pell Brothers were natives of Greenpoint Brooklyn, New York. They were Hank and Sonny Pell, but their real names were Anthony Pellegrino and Michael Pellegrino. Hank was born in 1936. Sonny was the older brother, born in 1929 and died in July of 1994.
Growing up in an Italian family, the Pell Brothers found the roots of their musical careers. Their dad was a land surveyor who also played cornet. An uncle played the piano, xylophone and musical saw. They played mainly for their own family enjoyment. It seemed natural to them that they would end up plyaing music.
When the brothers were very young, of his brother getting a ukelele for Christmas. Both brothers learned to play the ukelele and from that they learned to play the guitar.
Hank tells us that they were influence by radio station WAAT out of Newark, New Jersey. On the air at the time was a show called the "Home Town Frolic". Their aunt used to listen to the station he says.
During that era or time, Hank recalls they would hear such artists as Roy Acuff, Montana Slim, Elton Britt, Denver Darling and Gene Autry.
They were also musically influence by another legendary station in the east - WWVA out of Wheeling, West Virgina, home of the famed WWVA Original Jamboree.
Hank recalls that their first paying job was in a bar in Brooklyn, called the Lincoln Rondevous. He said it was a rough place at that time, "...full of sailors and women." They were making $80.00 each for six nights of work back in 1955. They got the job at the Lincoln Rondevous from a friend named Carmine Pellegrino, (who was not related to them). He called himself "Slim Carter" at the time. Hank said he was a Yodeling Cowboy. When "Slim" got sick, they helped him out for a couple of weeks and worked there.
The first record label the Pell Brothers recorded for was Event Records, in Westbrook, Maine. (The tunes were "Itch to Leave" and "Pretend").
By that time they had become acquainted with Shorty and Smokey Warren, who owned a club called "The Copa" in Secaucus, New Jersey. They worked for them quite a Bit.
Smokey Warren was also a Booking Agent who kept them busy Working in the New Jersey area. The Warren brothers also had their own TV Show on WATV, Channel 13. The brothers made an appearance on their show with Marvin Rainwater.
In 1959 they appeared with Faron Young at the Terrace Ballroom in Newark New Jersey and also in Newburgh, New York at the Newburgh Armory. Those appearances with Faron Young were booked by the host of the "Home Town Frolic" show, legendary east coast DJ Don Larkin.
In 1965 the Pell Brothers joined an Irish Showband. They played steadily in New York at the City Center Ballroom. With this showband, they played a variety of musical styles including Irish, Beatles, Top 40 and Country music.
They traveled very little but Hank tells us of one memorable trip. They were known as the "Hudson River Boys" at the time and were traveling from New York to Boston, Massachusetts. They were traveling in a Limo, but their driver got lost. After finally finding their way, they ended up being a few hours late for the personal appearance. But since they were late getting there, that meant they had to go on stage without getting cleaned up after that long journey. Hank recalls, "It wasn't funny then but seems funny now."
Talents : Hank : Vocals, Guitar - Sonny : Vocals, Guitar
Style musical : Rockabilly, Traditional Country
Years in activity :
| | | | | | | | | | | |
| --- | --- | --- | --- | --- | --- | --- | --- | --- | --- | --- |
| 1910 | 20 | 30 | 40 | 50 | 60 | 70 | 80 | 90 | 2000 | 10 |
DISCOGRAPHY
Singles & EP
| | | |
| --- | --- | --- |
| 1958 | SP EVENT E 4276 (US) | Itch To Leave / Pretend |
| 04/1959 | SP JAY 2-29-59 (US) | HANK & SONNY - THE PELL BRO'S - I'm The One You Love / Sweetheart Love |
| 09/1959 | EP JAY YEP259 (US) | PELL BROTHERS - HANK & SONNY - Let's Rock Tonight / Dearest Love / We Were Walking And A Talking / My Beloved |
| 1960 | SP JAY 200A-60 (US) | HANK & SONNY - THE PELL BRO'S - Country Kid / Whispering Wishes |
| 1961 | EP JAY KB 2233 (US) | HANK & SONNY - THE PELL BRO'S - On Your List Of Broken Hearts / Don't Be Downhearted / Left To Be Blue / To See The Light |
| 1961 | EP JAY KB 2373 (US) | HANK & SONNY - THE PELL BRO'S - Daddy / I Ain't Gonna Cry No More / My Darling / The Train Crew Of Midland |
| 1968 ? | SP WESTERN RANCH MUSIC WRM-116 (US) | Big Earl / + ELLIOT BROTHERS BAND |
Album
| | | | |
| --- | --- | --- | --- |
| 2013 | CD BACM CD D 435 (UK) | | Brooklyn Hillbillies - I Told Them All About You / In The Jailhouse Now / My Shoes Keep Walking Back To You / Let's Rock Tonight / Girls Of Texas / What's It Like To Be In Love / Why / This Feeling Inside / Happiness Called / The Sparkle In Your Eyes / I'm Just Girl Crazy / That's Where I Belong / Where Has Your Little Heart Gone / Will You Care For Me Tomorrow / You Treat Me Like A Fish In The Ocean / Journey Of Love / Please Show Me The Way Back Home / Crazy Arms / My Beloved / Walkin' And A Talkin' / Dearest Love / The World Is Mine / Happy Valley / If I Could Only Wrap Your Kisses In Cellophane / Foolish Mistakes / Blue Guitar / Dinosaur Rock / Down In Rio De Janeiro |
© Rocky Productions 4/01/2017