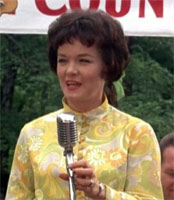 Chanteuse Country US née Bonnie Campbell, le 1er Octobre 1929 à Blanchard (Oklahoma). Bonnie Owens fut l'épouse de Buck Owens et de Merle Haggard. Elle est décédée le 24 Avril 2006 à Bakersfield (Californie), un mois après le décès de son premier mari, Buck Owens.

Apart from her solo career, singer Bonnie Owens is well known for the work she did with her former husbands, Buck Owens and Merle Haggard. Born Bonnie Campbell on October 1, 1929, in Oklahoma City to a pair of sharecroppers and one of eight children, she first met Buck in the mid-'40s when he had a local daily 15-minute radio show. Once Buck discovered that Bonnie could sing, he helped her get a job with him on another radio show in 1947. The following January, Buck and Bonnie married, but the union was short-lived. By 1951, after giving birth to two sons, the marriage was over. Since neither could afford a divorce, they stayed legally married, but separated, for several years. Bonnie and the two boys left for Bakersfield, where she worked as a cocktail waitress. It was during this period that Bonnie met Fuzzy Owen and guitarist Roy Nichols, who would be instrumental in the career of Haggard.
By the late '50s Bonnie was recording on the Mar-Vel label with Fuzzy and his band, the Sun Valley Playboys. She cut a well-received duet album with Fuzzy, her sometime boyfriend, on Tally Records, which would later be re-released on Capitol Records as "Just Between the Two of Us." In 1961, Bonnie saw Haggard singing for the first time at a Lefty Frizzell concert. At the time, Haggard was just a few months out of San Quentin prison for breaking and entering. By 1964 Fuzzy was managing Haggard and suggested that Bonnie and Haggard re-record "Just Between the Two of Us." Taking Fuzzy's advice paid off; the song hit the top of the country charts but not for long. It was replaced by "(My Friends Are Gonna Be) Strangers," Haggard's breakthrough single.
In 1965 Haggard signed with Capitol Records, married Bonnie, and signed the Strangers (including Bonnie) with a booking agency owned in part by Buck. Bonnie's marriage to Haggard lasted until 1978, but the two had already separated in 1975. Eventually Bonnie resumed touring with the Strangers in the late '70s and remarried for the final time to Fred McMillenher. She continued to tour regularly with Haggard and the Strangers. While Bonnie released half a dozen albums and numerous singles on Capitol Records in the mid- to late '60s, she remained satisfied singing backup as a member of the Strangers.
https://en.wikipedia.org/wiki/Bonnie_Owens
Talents : Vocals
Style musical : Traditional Country, Bakersfield Sound
Years in activity :
| | | | | | | | | | | | |
| --- | --- | --- | --- | --- | --- | --- | --- | --- | --- | --- | --- |
| 1910 | 20 | 30 | 40 | 50 | 60 | 70 | 80 | 90 | 2000 | 10 | 20 |
DISCOGRAPHY
78 t. & Singles
1953
78 t. & SP MAR-VEL 102 (US)

Bonnie & Fuzzy OWENS - A Dear John Letter / Wonderful World

1953
78 t. & SP GRANDE GR-104 (US)
Bonnie & Fuzzy OWENS - A Dear John Letter / Wonderful World
1953
78 t. & SP MAR-VEL MV-615 (US)
A Dear John Letter (Bonnie & Fuzzy OWENS) / Turkeys In The Pea Patch (George

Wilson

with Bill

Lillpop's Western Band

)
06/1954
SP "X" 4X-0028 (US)
I Traded My Heart For His Gold / Take Me
10/1954
SP "X" 4X-0065 (US)
No Tomorrow / Just A Love For Someone To Steal
05/1956
78 t. TALLY 101 (US)

Bonnie & Jo Ann

– The

Kern County Sweethearts

- Father / Please Don't Take Him From Me
05/1956
SP TALLY 45-101 (US)

Bonnie & Jo Ann – The Kern County Sweethearts - Father / Please Don't Take Him From Me

1960
SP DEL-FI 4142 (US)
Miss Bonnie OWENS - Just For The Children's Sake / This Other
03/1963
SP PIKE 5917 (US)
Look Homeward Dear Angel (Tommy

Dee

) / Missing On A Mountain (Tommy

Dee

with Bonnie

Owens

)
05/1963
SP TALLY T-149 (US)
Waggin' Tongues / Why Daddy Don't Live Here Anymore
02/1964
SP TALLY T-156 (US)
Don't Take Advantage On Me / Stop The World
09/1964
SP TALLY T-181 (US)
Bonnie

Owens

& Merle HAGGARD - Just Between The Two Of Us / Slowly But Surely
1964
SP TALLY T-184 (US)
Lie A Little / I'll Try Again Tomorrow
07/1965
SP CAPITOL 5459 (US)
Number One Hell / Longer You Wait
11/1965
SP CAPITOL 5529 (US)
Souvenirs / Excuse Me For Living
03/1966
SP CAPITOL 5618 (US)
Merry-Go-Round Of Love / Livin' On Your Love
07/1966
SP CAPITOL 5688 (US)
Bonnie OWENS & The STRANGERS - What's It Gonna Cost Me / You Don't Even Try
10/1966
SP CAPITOL 5755 (US)
Bonnie OWENS & The STRANGERS - Consider The Children / I Know He Loves Me
03/1967
SP CAPITOL 5847 (US)
Bonnie OWENS & The STRANGERS - Someone Else You've Known / Best Part Of Me
08/1967
SP CAPITOL 5977 (US)
Bonnie OWENS & The STRANGERS - I'd Be More Of A Woman / Everything That's Fastened Down Is Comin' Loose
11/1967
SP CAPITOL 2029 (US)
Bonnie OWENS & The STRANGERS - Somewhere Between / Don't Tell Me
06/1968
SP CAPITOL 2210 (US)
Bonnie OWENS & The STRANGERS - How Can Our Cheatin' Be Wrong / Yes I Love You Only
12/1968
SP CAPITOL 2340 (US)
Bonnie OWENS & The STRANGERS - Lead Me On / I'll Always Be Glad To Take You Back
08/1969
SP CAPITOL 2586 (US)
My Hi-Fi To Cry By / It Don't Take Much To Make Me Cry
01/1970
SP CAPITOL 2716 (US)
That Little Boy Of Mine / Philadelphia Lawyer
Albums
10/1965
LP 12" CAPITOL T-2403 (mono) / ST-2403 (stereo) (US)
DON'T TAKE ADVANTAGE OF ME - Number One Heel / Pins And Needles / Don't Take Advantage Of Me / Lie A Little / You Don't Have Very Far To Go / Stop The World And Let Me Off / Longer You Wait / Begging To You / Why Don't Daddy Live Here Anymore / Waggin' Tongues / I'll Try Again Tomorrow / I Want To Be A Cowboy's Sweetheart
04/1966
LP 12" CAPITOL T-2453 (mono) / ST 2453 (stereo) (US)
JUST BETWEEN THE TWO OF US - Bonnie OWENS & Merle HAGGARD - Just Between The Two Of Us / House Without Love Is Not A Home / Slowly But Surely / Our Hearts Are Holding Hands / I Want To Live Again / Forever And Ever / That Makes Two Of Us / I'll Take A Chance On Loving You / Stranger In My Arms / Too Used To Being With You / So Much For Me So Much For You / Wait A Little Longer Please Jesus
01/1967
LP 12" CAPITOL T-2660 (mono) / ST 2660 (stereo) (US)
ALL OF ME BELONGS TO YOU - All Of Me Belongs To You / Best Part Of Me / Will You Want Me Just As Much / Consider The Children / I Won't Go Lookin' For You / Souvenirs / What's It Gonna Cost Me / Any Part Of You / Somebody Else You've Known / Excuse Me For Living / You Don't Even Try / I Know He Loves Me
02/1968
LP 12" CAPITOL T-2861 (mono) / ST 2861 (stereo) (US)
SOMEWHERE BETWEEN - Somewhere Between / Gone Crazy / Hangin' On / I'd Be More Of A Woman / I Wish I Felt This Way At Home / Wabash Cannonball / Don't Tell Me / Just One Time / I Let A Stranger Buy The Wine / Everything That's Fastened Down Is Comin' Loose / Whatever Happened To Me / If You Really Want Me To I'll Go
03/1969
LP 12" CAPITOL ST-195 (US)
LEAD ME ON - Lead Me On / I Couldn't Keep From Crying / Tonight I'll Throw A Party / Merry-Go-Round Of Love / I'll Look Over You / Yes I Love You Only / How Can Our Cheatin' Be Wrong / I'll Always Be Glad To Take You Back / Back Of My Hand / No 82 / Livin' On Your Love
11/1969
LP 12" CAPITOL ST-341 (US)
HI-FI TO CRY BY - My Hi-Fi To Cry By / Now I Lay Me Down To Sleep Alone / Philadelphia Lawyer / What Else Can I Do / It Don't Take Much To Make Me Cry / How Many / I'll Kiss My Wedding Ring Tonight / That Little Boy Of Mine / Jealous Heart / I Don't Care If Tomorrow Never Comes
09/1970
LP 12" CAPITOL ST-557 (US)
MOTHER'S FAVORITE HYMNS - I Saw The Light / Where We'll Never Grow Old / Where The Soul Never Dies / Where Could I Go But To The Lord / Farther Along / What A Friend We Have In Jesus / I'll Fly Away / Medals For Mothers / Wait A Little Longer Please Jesus / Gathering Flowers For The Master's Bouquet
1972
LP 12" Hilltop JS-6106 (US)

That Makes Two Of Us - Merle HAGGARD & Bonnie OWENS - That Makes Two Of Us / I'll Take A Chance / I Wanta Live Again / Forever And Ever / Wait A Little Longer, Please Jesus / Just Between The Two Of Us / Stranger In My Arms / Too Used To Being With You / So Much For Me, So Much For You

1999
CD CAPITOL / BONNIE OWENS BOCD 101 (US)
THE BEST OF BONNIE OWENS - Gone Crazy / That Little Boy Of Mine / Stop The World / Jealous Heart / I'll Always Be Glad To Take You Back / Beggin' To You / Lead Me On / Wabash Cannonball / I Let A Stranger Buy The Wine / I'll Look Over You / Yes I Love You Only / You Don't Have Far To Go / I Want To Be A Cowboy's Sweetheart / Tonight I'll Throw A Party / Lie A Little / Just One Time / Philadelphia Lawyer / All Of Me Belongs To You / Consider The Children / Number One Heel / Why Don't Daddy Live Here Anymore / Livin' On Your Love / Souvenirs / Medals For Mothers / Don't Take Advantage Of Me / Somewhere Between / My Hi-Fi To Cry By
2000
CD King KSCD-5119 (US)
JUST BETWEEN THE TWO OF US - Bonnie OWENS & Merle HAGGARD - Just Between The Two Of Us / House Without Love Is Not A Home / Slowly But Surely / Our Hearts Are Holding Hands / I Want To Live Again / Forever And Ever / That Makes Two Of Us / I'll Take A Chance On Loving You / Stranger In My Arms / Too Used To Being With You / So Much For Me So Much For You / Wait A Little Longer Please Jesus
09/2007
CD BEAR FAMILY BCD 16178 (GER)

Queen Of The Coast :

CD 1 : A Dear John Letter (& Fuzzy

Owen

) / Wonderful Word (& Fuzzy

Owen

) / I Traded My Heart For His Gold / Take Me / Just A Love For Someone To Steal / No Tomorrow (& Fuzzy

Owen

) / Father (The K

ern County Sweethearts

) / Please Don't Take Him From Me (The

Kern County Sweethearts

) / That Little Boy Of Mine / Wait A Little Longer, Please Jesus / Looking Back To See (& Fuzzy

Owen

) / Just For The Children's Sake / This Other / Missing On A Mountain (& Tommy

Dee

) / Why Don't Daddy Live Here Anymore / Waggin' Tongues / Stop The World (And Let Me Off) / Don't Take Advantage Of Me / Lie A Little / I'll Try Again Tomorrow / The Longer You Wait / You Don't Have Far To Go / Number One Heel / Beggin' To You / I Want To Be A Cowboy's Sweetheart / Pins And Needles
CD 2 : Slowly But Surely (& Merle

Haggard

) / Just Between The Two Of Us (& Merle

Haggard

) / So Much For Me, So Much For You (& Merle

Haggard

) / A House Without Love Is Not A Home (& Merle

Haggard

) / I Want To Live Again (& Merle

Haggard

) / Number One Heel / Pins And Needles / Lie A Little / Stranger In My Arms (& Merle

Haggard

) / Souvenirs / Merry Go Round Of Love / She Don't Deserve You / Excuse Me For Living / I'll Take A Chance (& Merle

Haggard

) / Our Hearts Are Holding Hands (& Merle

Haggard

) / Too Used To Being With You (& Merle

Haggard

) / That Makes Two Of Us (& Merle

Haggard

) / Forever And Ever (& Merle

Haggard

) / Wait A Little Longer, Please Jesus (& Merle

Haggard

) / Living On Your Love / What's It Gonna Cost Me / You Don't Even Try / Someone Else You've Known / Whatever Happened To Me / Just For The Children's Sake / Consider The Children / I Know He Loves Me / The Best Part Of Me
CD 3 : Will You Want Me Just As Much / Any Part Of You / I Won't Go Lookin' For You / Gone Crazy / The Best Part Of Me / All Of Me Belongs To You / If You Really Want Me To / Adios, Farewell Goodbye, Good Luck, So Long / If You Really Want Me To / Everything That's Fastened Down Is Comin' Loose / I'd Be More Of A Woman / I Wish I Felt This Way At Home / Hangin' On / The Back Of My Hand / I Let A Stranger Buy The Wine / Number 82 / Don't Tell Me / Just One Time / Somewhere Between / Wabash Cannon Ball / Tonight I'll Throw A Party
CD 4 : Yes, I Love You Only / How Can Our Cheatin' Be Wrong' / When Billy Comes Home To Arkansas / I'll Look Over You / I'll Always Be Glad To Take You Back / I Couldn't Keep From Cryin' / Lead Me On / Now I Lay Me Down To Sleep Alone / I'll Kiss My Wedding Ring Goodbye / That Little Boy Of Mine / Jealous Heart / I Don't Care If Tomorrow Never Comes / How Many / What Else Can I Do / It Don't Take Much To Make Me Cry / My Hi-Fi To Cry / Philadelphia Lawyer / Where Could I Go But To The Lord / What A Friend We Have In Jesus / Medals For Mothers / I'll Fly Away / Wait A Little Longer, Please Jesus / Gathering Flowers For The Masters Bouquet / Where We'll Never Grow Old / Where The Soul Never Dies / I Saw The Light / Farther Along / Faded Love
© Rocky Productions 10/10/2016