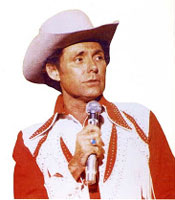 Chanteur Country US né le 21 Avril 1941 à Robards (Kentucky). Jim Owen est décédé le 7 Mars 2020.

Born 21 April 1941, Robards, Kentucky, USA. When he was eight years old, Owen saw Hank Williams sing and from that time he became completely fascinated by the star and his music. After completing his education, he worked variously as a journalist and as a golf coach until 1969 when, with Mel Tillis' help, he relocated to Nashville to work as a songwriter. Over the next few years, several artists had chart hits with his songs. These included 'Too Lonely Too Long' and 'One More Drink' (both Mel Tillis), 'Little Boy's Prayer' (Porter Wagoner), 'Sweet Baby On My Mind' (June Stearns), 'Southern Loving' and 'Broad Minded Man' (both Jim Ed Brown), 'The Telephone' (Jerry Reed) and arguably the best-known of all, 'Louisiana Woman, Mississippi Man' (Conway Twitty and Loretta Lynn). He never lost his obsession with Hank Williams and encouraged by his wife, who once dreamed that she saw Owen onstage at the Grand Ole Opry but that it was Williams' voice that she heard coming from him, he began to recreate his idol. He talked with people that had known or worked with Williams and practised his mannerisms and stage presentation. In 1976, he presented Hank, a one-hour PBS television special that won him an Emmy award for the best show of the year on public television. He then produced a 90-minute one-man live stage show, An Evening With Hank Williams, which had backing tracks provided by Hank's band, the Drifting Cowboys. He commenced touring extensively with the show and regularly drew audiences of thousands at countless venues. He also starred in the 1980 film Hank Williams:The Man And His Music, for which he received an Emmy nomination. In 1978, his Epic recording of 'Lovesick Blues', recorded with the Drifting Cowboys, was a minor chart hit and in the early 80s, he scored two more minor hits with 'Ten Anniversary Presents' and 'Hell Yes, I Cheated'. In 1985, he wrote and produced a 10-hour Hank Williams radio show which, on New Year's Day, was broadcast on various US stations as a tribute. Owen has also appeared as Williams for the notedLegends In Concert at the Imperial Palace, Las Vegas, and made many appearances on theOpry, including a special one on 1 January 1993, the 40th anniversary of Williams' death, which gained him a standing ovation. He continued to tour into the 90s, still writes songs and, at times, works as an auctioneer near his Henderson, Tennessee home. He is also noted for his collection of classic cars.
Jim Owen passed away on March 7, 2020.
https://en.wikipedia.org/wiki/Jim_Owen_(singer-songwriter)
Talents : Vocals, Guitar, songwriter
Style musical : Traditional Country, Honky Tonk, Western Swing

https://youtu.be/oejRD1voDQo
Years in activity :
| | | | | | | | | | | | |
| --- | --- | --- | --- | --- | --- | --- | --- | --- | --- | --- | --- |
| 1910 | 20 | 30 | 40 | 50 | 60 | 70 | 80 | 90 | 2000 | 10 | 20 |
DISCOGRAPHY
Singles
| | | |
| --- | --- | --- |
| 11/1973 | SP ACE OF HEARTS 0476 (US) | Roberto's Gone / Love Song |
| 03/1974 | SP ACE OF HEARTS 0482 (US) | I've Got A Woman To Lean On / Love Song |
| 01/1978 | SP EPIC 8-50498 (US) | Lovesick Blues / A Gift In Name Of Love |
| 04/1978 | SP EPIC 8-50543 (US) | Rag Mop / Mud Hut |
| 10/1980 | SP SUN 1157 (US) | 10th Anniversary Presents / Please, Don't Go |
| 04/1981 | SP SUN 1163 (US) | Serena / Honky Tonk Heart |
| 12/1981 | SP SUN 1171 (US) | Hell, Yes, I Cheated / Draggin' These Chains |
| 06/1982 | SP SUN 1174 (US) | Coal Miner's Blues / Ain't No Cowboy Blues |
| 12/1982 | SP SUN 1179 (US) | Bogalusa / ? |
| 1982 | SP Denali 3001 (US) | Alaska / My Heart Beats For You |
| 19?? | SP BUDDY 45-2001 (US) | Waltz Of The Roses / I Loved You Once |
| 19?? | SP Owe Man OM-1 (US) | The Key's In The Mail Box / I'll Try Not To Cry |
Albums
1977
2 LP 12" Epic PEG 34852 (US)

A SALUTE TO HANK WILLIAMS - A Song For Us All - JIM OWEN & The DRIFTING COWBOYS :

DISC 1 : Your Cheatin' Heart / Hey, Good Lookin' / Cold, Cold Heart / Long Haired Country Boy / Sing Me A Sad Song, Hank Williams / Take These Chains From My Heart / I Saw The Light / Wedding Bells / Corn Club
DISC 2 : Settin' The Woods On Fire / My Heart Would Know / Rag Mop / Move It On Over / Why Should We Try Anymore? / Black Mountain Rag / Lovesick Blues / Mud Hut / Long Gone Lonesome Blues / Jambalaya (On The Bayou) / A Gift In The Name Of Love

1981
LP 12" SUN 146 (US)
JIM BOWEN AS "HANK" - VOL. 1 - Hey Good Lookin' / I Can't Help It / Half As Much / You Win Again / Move It On Over / Long Gone Lonesome Blues / My Bucket's Got A Hole In It / I Saw The Light
1981
LP 12" Gold NR-6774 (US)

Jim Owen As "Hank" - Move It On Over / Lovesick Blues / My Bucket's Got A Hole In It / Half As Much / Hey Good Lookin' / Long Gone Lonesome Blues / Jambalaya / Honky-Tonk Blues / Moaning The Blues / You Win Again / Why Don't You Love Me? / I Can't Help It / Cold Cold Heart / I Saw Light / I'm So Lonesome I Could Cry / Your Cheatin' Heart

1996
CD no label BO-585 (US)

Jim Owen Sings He Stopped Loving Her Today And Other Favorites - He Stopped Loving Her Today / She Called Me Baby / Welcome To My World / I'm Movin On / Legend In My Time / Six Days On The Road / Silver Wings / Engine, Engine #9 / Hello Walls / Born To Lose / Waltz Across Texas / Blue Eyes Cryin In The Rain

2001
CD Jim Owen ? (US)

Six Guns and Trail Songs - Back In The Saddle Again / Tumbling Tumbleweeds / Ghost Riders In The Sky / Cross The Brazos At Waco / Don't Fence Me In / Pistolero / Billy The Kid / Big Iron / Cool Water / Saddle Tramp / Vera Cruz / Running Gun

2001
CD Jim Owen ? (US)

It's The Gospel Truth - Closer Walk With Thee / Daddy Sang Bass / Mansion Over The Hilltop / This Ole House / A Satisfied Mind / Precious Memories / Amazing Grace / In The Garden / I Prayed And Prayed / Peace In The Valley / McMullin Chapel Church

10/2006
CD Jim Owen ? (US)

Jim Owen Sings With Friends and Heroes - One More Drink (with Mel Tillis) / Abilene (with George Hamilton IV) / Snake Song (Jim Owen) / Louisiana Woman, Mississippi Man (with Barbara Fairchild) / Six White Horses (with Tommy Cash) / Morning (with Terri Gibbs) / Country Singers / Teddy Bear Song (with Barbara Fairchild) / Act Naturally (with Johnny Russell) / We Must Have Been Out Of Our Minds (with Mary Lou Turner) / Six Guns And Trail Songs / Last Night I Had The Strangest Dream (with George Hamilton IV, Barbara Fairchild, Kris Owen) / Sixteen Tons / Pistolero / Swinging Doors / Chasing Rainbows (with Mel Tillis) / Crazy / Hank, George, Lefty, And Me / Southern Lovin' (with Ferlin Husky) / Through My Eyes / Papa Garr's (with Johnny Russell) / Silver Moon Over Hawaii (with George Hamilton IV) / Wings Of A Dove (with Ferlin Husky)

08/2007
CD Jim Owen ? (US)

Hank Williams You Wrote My Life - Hank Williams, You Wrote My Life / Your Cheatin' Heart / I'm So Lonesome I Could Cry / Crazy Heart / Take These Chains From My Heart / They'll Never Take Her Love From Me / Lovesick Blues / No Teardrops Tonight / You Win Again / What's The Use In Just Me Trying / I Can't Help It (If i'm Still In Love With You) / Someday You'll Call My Name
© Rocky Productions 6/10/2016