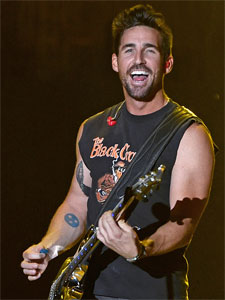 Chanteur Country US né Joshua Ryan Owen, le 28 Août 1981 à Vero Beach (Floride).

When plans for a professional golfing career were derailed by an injury, country songwriter Jake Owen picked up a guitar and never looked back. A native of Vero Beach, Florida, Owen and his fraternal twin Jarrod grew up in the Florida sun playing sports like baseball and football before Jake turned to golf and Jarrod to tennis. They continued their respective sports together as students at Florida State University, until a water-skiing accident resulted in reconstructive surgery for Jake. Off the golf team and struggling with depression, he borrowed a neighbor's guitar and passed the time teaching himself to play by listening to childhood favorites like Waylon Jennings, Merle Haggard, Vern Gosdin, and Keith Whitley.
Ambitious but inexperienced, with good looks and a smooth baritone, Owen was soon to be found playing country covers in campus bars for free beer and a few bucks. Growing tired of covers, he began penning his own songs, which were met with a positive response. This motivated him even more to follow his new dream of becoming a singer, eventually causing him to skip out on his remaining college classes -- only nine credit hours remained on his English and political science degree -- and head to Nashville. He constantly wrote songs in his Bellevue apartment, and a chance lunch meeting found producer Jimmy Ritchey (Clay Walker, Mark Chesnutt) befriending the young musician. For over a year, the two wrote songs together, including a track called "Ghost" (also co-written by Chuck Jones) that Kenny Chesney almost wound up recording -- the track would later be included on Owen's own album.
Eventually, his friendship with Ritchey led to a meeting with Sony/BMG Nashville and resulted in a record contract for the determined 24-year-old, who already had his album basically finished. His debut, Startin' with Me, appeared in summer 2006 on RCA, spearheaded by the single "Yee Haw." As the song climbed higher in the charts, Owen supported the record on the road by opening for Kenny Chesney. In 2007, the title track ballad became the album's second single, reaching number six and spending a whopping 35-plus weeks on the Billboard country chart. "Don't Think I Can't Love You" appeared in the summer of 2008, heralding the release of his second full-length, Easy Does It, in February of 2009. Easy Does It spawned a number two hit in "Don't Think I Can't Love You," and "Eight Second Ride" peaked at number 11 in early 2010.
He delivered his third album, Barefoot Blue Jean Night, in the summer of 2011. Barefoot Blue Jean Night was his biggest hit to date, launching number one country singles in its title track and "Alone with You." As the summer of 2012 wound to its end, he released the Endless Summer EP; the collection of four new songs came out that September. Owen returned in December of 2013 with his fourth studio album, the Joey Moi-produced Days of Gold; it was preceded by its title track lead single, which only reached 19 on the charts. The album's next single, "Beachin'," did much better, reaching number one on Billboard's country chart and earning a platinum certification; "What We Ain't Got" closed out the album's cycle by making it to 19.
Owen started to unveil new material in the summer of 2015 with "Real Life," a single that went to 17 on Billboard. This single didn't appear on Owen's fifth full-length album but his next single, "American Country Love Song," came out in early 2016 and provided the anchor for American Love, which arrived in July of that year. Two further singles -- "If He Ain't Gonna Love You" and "Good Company," which both reached the lower rungs of Billboard's Country Airplay Top 40 -- followed before the album's cycle closed. In November 2017, Owen's first five albums were sampled on Greatest Hits, which also featured two new songs.
https://en.wikipedia.org/wiki/Jake_Owen
Talents : Vocals, Guitar, Songwriter
Style musical : Contemporary Country, Traditional Country
Years in activity :
| | | | | | | | | | | | |
| --- | --- | --- | --- | --- | --- | --- | --- | --- | --- | --- | --- |
| 1910 | 20 | 30 | 40 | 50 | 60 | 70 | 80 | 90 | 2000 | 10 | 20 |
DISCOGRAPHY
EP
2012
CD ? (US
.

Jake Owen & Bob Charles - West - West / Sweet Chariot / The Way You Do / Run From Me

09/2012
CD RCA

546509 (US)

ENDLESS SUMMER EP - Summer Jam / Pass A Beer / Steal My Kisses / Surefire Feeling
Album
07/2006
CD RCA 82876-81172-2 (US)
STARTIN' WITH ME - The Bad In Me / Something About A Woman / Startin' With Me / Yee Haw / Ghosts / Eight Second Ride / Hard Not To Love You / The Bottle And Me / Places To Run / Long Night With You / You Can Thank Dixie
02/2009
CD RCA 8869-7-31287-2 (US)
EASY DOES IT - Tell Me / Eight Second Ride / Easy Does It / Don't Think I Can't Love You / Cherry On Top / Who Said Whiskey (Was Meant to Drink A Woman Away) / Green Bananas / Anything For You / Every Reason I Go Back / Nothin' Grows In Shadows
08/2011
CD RCA 88697-89547-2 (US)
BAREFOOT BLUE JEAN NIGHT - Anywhere With You / Keepin' It Country / Wide Awake / Barefoot Blue Jean Night / Heaven / Apple Pie Moonshine / The Journey Of Your Life / Alone With You / Settin' The World On Fire / Nobody Feelin' No Pain / The One That Got Away
12/2013
CD RCA / Sony 8888-3-75341-2 (US)

Days of Gold -

Days Of Gold / Beachin' / 1972 / Ghost Town / Life Of The Party / Good Timing / Tall Glass Of Something / One Little Kiss (Never Killed Nobody) / What We Ain't Got / Tipsy / Drivin' All Night / Sure Feels Right

12/2013
CD RCA 88883-78551-2 (US) (deluxe edition)

Days of Gold -

Days Of Gold / Beachin' / 1972 / Ghost Town / Life Of The Party / Good Timing / Tall Glass Of Something / One Little Kiss (Never Killed Nobody) / What We Ain't Got / Tipsy / Drivin' All Night / Sure Feels Right /

Target Exclusive Bonus Tracks

: After The Music's Stopped / I Like You A Lot / Summer Jam (featuring Florida Georgia Line) / Surefire Feeling
07/2016
CD RCA / Sony 8887 5 07015 2 (US)

American Love -

American Love / After Midnight / Where I Am / Everybody Dies Young / VW Van / Good Company / Lax / If He Ain't Gonna Love You / When You Love Someone / You Ain't Going Nowhere / American Country Love Song
11/2017
CD Nashville / RCA / Sony 8898 5 49165 2 (US
GREATEST HITS - Yee Haw / Don't Think I Can't Love You / Eight Second Ride / Barefoot Blue Jean Night / Alone With You / The One That Got Away / Anywhere With You / Days Of Gold / Beachin' / What We Ain't Got / American Country Love Song / Subliminal Love / Long As You're In It
© Rocky Productions 2/12/2017