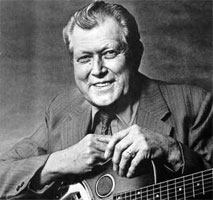 Chanteur et guitariste US né Beecher Ray Kirby, le 26 Décembre 1911 à Sevierville, Sevier County (Tennessee). Bashful Brother Oswald est décédé le 17 Octobre 2002 à Madison (Tennessee).

For nearly 60 years, Bashful Brother Oswald was one of the most influential and talented dobro players in country music. For the majority of his career, he was the dobroist for Roy Acuff's Smoky Mountain Boys, becoming the leading dobroist in country as well as one of the most popular members of the band. Over the course of his career, Oswald released only a handful of solo recordings, but left behind enough music to illustrate why he was one of the most influential players of his era.
Bashful Brother Oswald (born Beecher Ray Kirby) was the son of an Appalachian musician. As a child, he learned how to play dobro and banjo, as well as sing gospel music. When he was a teenager, he began playing square dances with various country groups. In the late '20s, Oswald moved to Flint, Michigan, to work in a Buick factory. After the Great Depression hit, he lost his job and became a musician at the radio station WFDF. Because Hawaiian music was very popular, the station manager decided to feature it prominently during regular programming, thus inspiring Oswald to buy his first steel guitar. In 1933, he performed at the Chicago World's Fair and found himself greatly influenced by the wide variety of music he heard there. The following year, he went to Knoxville and began playing dobro with several different bands, including Acuff's Crazy Tennesseans. Oswald became a permanent member of Acuff's band after the singer was invited to join the Grand Ole Opry in the late '30s.
As a vocalist, Oswald gained recognition for singing a few lines on Acuff's classic "Precious Jewel" (1940) and on "Wreck on the Highway" (1942). named his sideman "Brother Oswald" in a ruse to convince audiences that he was the brother of the band's singer, Rachel Veach, to obscure the fact that Veach was an unmarried woman. The dobroist happly complied in creating the Oswald character, and began wearing a floppy mountain hat, tattered overalls, and enormous shoes while adopting a braying horse laugh. The cartoonish character became a favorite of audiences immediately, and it stayed popular throughout his career.
Oswald continued performing and recording with Acuff until the '80s, but began a solo career in the '60s. After working as a session musician, he released a few albums of his own, beginning with 1962's Bashful Brother Oswald. In the early '70s, the Nitty Gritty Dirt Band had Oswald perform on their 1972 hit album, Will the Circle Be Unbroken. Also in 1972, guitarist and dobro player Tut Taylor produced Oswald's Brother Oswald album. In the late '70s, he began playing in the Opryland theme park with former Smoky Mountain bandmate Charlie Collins. During the 1980s, Oswald continued performing with Collins at the Opryland and Acuff at the Opry. Following Acuff's death in 1992, he and Collins earned a regular slot on the Opry's main stage. Oswald died ten years later.
https://en.wikipedia.org/wiki/Bashful_Brother_Oswald
Talents : Vocals, Guitar, Dobro, Banjo
Style musical : Old-Time Country, Traditional Country

https://youtu.be/qkfTvvcqghc
Years in activity :
| | | | | | | | | | | | |
| --- | --- | --- | --- | --- | --- | --- | --- | --- | --- | --- | --- |
| 1910 | 20 | 30 | 40 | 50 | 60 | 70 | 80 | 90 | 2000 | 10 | 20 |
DISCOGRAPHY
Single
Albums
1962
LP 12" STARDAY SLP-192 (US)
BASHFULL BROTHER OSWALD - Southern Moon / Weary, Weary Blues / Island March / Mountain Dew / Rabbit In The Log / Late Last Night / Sunday In The Mountains / I Like Mountain Music / Columbus Stockade Blues / Beneath The Willow / Why Not Confess / Black Smoke / Oswald's Dobro Chimes / Lonesome Valley
1963
LP 12" GUEST STAR GS 1474 (US)

Greatest Comedy Stars Of The Grand Ole Opry -

Homer & Jethro, Bashful Brother

Oswald

, Lonzo & Oscar,

C

ousin

Jody

-

Boll Weevil (

Homer & Jethro

) / Unpucker (

C

ousin

Jody

) / Lady Cop (

C

ousin

Jody

) / Television Set (

C

ousin

Jody

) / Gotta Find Julie (

Lonzo & Oscar) / Mountain Dew (Bashful Brother

Oswald

) / Back In Bee Log (Bashful Brother

Oswald

) / Ain't Marriage Grand (Bashful Brother

Oswald

) / Goin' To Mississippi (Bashful Brother

Oswald

) / Washington (Bashful Brother

Oswald

)
1972
LP 12" ROUNDER ROUN0013 (US)
BROTHER OSWALD - End Of The World / Island March / Sailing Along The Highway / Kansas City Kitty / My Blue Eyes Crying In The Rain / Farewell Blues / Echo Chimes / Wabash Cannonball / Prairie Queen / Tennessee Waltz / Song Of The Islands / Dobro Chimes / I'll Be All Smiles Tonight / Two Different Worlds / Carry Me Back To The Mountains
1974
LP 12" Tennessee NR-4990 (US)

Banjo And Dobro - Cluck Old Hen / Old John Henry / In The Hills Of Old Kentucky / Lay Down My Old Guitar / Free Little Bird / Nobody's Business / Steel Guitar Rag / Just One Way To The Pearly Gates / Rock Me In The Cradle Of Kalua / Never Grow Old / No One Will Ever Know / Hilo March

1975
LP 12" ROUNDER ROUN0041 (US)
THAT'S COUNTRY - Brother Oswald BASHFUL & Charlie COLLINS - Nobody's Business / Wabash Cannonballl / Saint Ann's Reel / Why Not Confess? / Cora Is Gone / Kahola March / I Like Mountain Music / Whistling Rufus / Columbus Stockade Blues / Fort Smith / Old John Henry / Grey Eagle / Beautiful Brown Eyes / Remember Me / Southern Moon / Aloha Oe
1976
LP 12" ROUNDER ROUN0060 (US)
OZ

And

CHARLIE - Brother Oswald BASHFUL & Charlie COLLINS -

Mountain Dew / Indian Killed The Woodcock / Homestead On The Farm / Hilo March / Nobody's Darling But Mine / Stoney Point / Black Smoke / Oswald's Special / Polly Wolly Doodle / Hills Of Old Kentucky / Snowflake Reel / Mother The Queen Of My Heart / Coo Coo's Nest / What A Friend We Have In Jesus

1978
LP 12" ROUNDER ROUN0080 (US)
DON'T SAY ALOHA - I'm So Lonesome I Could Cry / Isle Of Golden Dreams / The Girl I Love Don't Pay Me No Mind / You Are the Star In My Blue Heaven / Bible In The Barn / Amazing Grace / Cripple Creek / Mansion On The Hill / Rose Of San Antone / French Song / That High Born Gal Of Mine / Should I Tell My Wife I'm Dying? / The Old Rugged Cross
1986
LP 12" Country Heritage CH-002 (US)

The Best Of Oswald - Euneta / The Best Of Oswald / Isle Of Golden Dreams / End Of The World / Oswald's Special / Mansion On The Hill / Great Speckled Bird / Wabash Cannon Ball / King's Serenade / Song Of The Islands / Farewell Blues / I Walk Alone / Island March / Aloha

1987
LP 12" Country Heritage CH-003 (US)

Dobro Dreamland - Bev & Joe In The Land Of Os - Brother OSWALD, Beverly King & Joe Kinight - Fireball Mail Medley / Nobody's Darling But Mine / In The Pines / Silver Haired Daddy Of Mine / The Stramlined Cannonball / When My Blue Moon Turns To Gold Again / Pins And Needles In My Heart / I'm So Lonesome I Could Cry / Blue Eyes Crying In The Rain / Beneath The Willow / Low And Lonely / My Tennessee Sweetheart

1989
LP 12" Country Heritage CH-006 (US)

Bashful Brother Oswald's Golden Anniversary Album - Brother OSWALD, Beverly King & Joe Kinight - As Long As I Live / The Waltz You Saved For Me / Maggie / Live And Let Live / Prisoner's Song / Where We'll Never Grow Old / The Lonely Mound Of Clay / Silver Threads Among The Gold / Waltzing Dobro / Lonesome Reuben / The Last Letter / Rubber Dolly

08/1995
CD RME MUSIC RME-195 (US)
CARRY ME BACK - Columbus Stockade Blues / The Precious Jewel / No Letter In The Mail / Stuck Up Blues / Eunita

(instrumental) /

Late Last Night / When My Blue Moon Turns To Gold Again / No Not A Word / Mountain Dew / Carry Me Back To The Mountains
1995
CD ROUNDER CD 0013 (US)
BROTHER OSWALD - End Of The World / Island March / Sailing Along The Highway / Kansas City Kitty / My Blue Eyes Crying In The Rain / Farewell Blues / Echo Chimes / Wabash Cannonball / Prairie Queen / Tennessee Waltz / Song Of The Islands / Dobro Chimes / I'll Be All Smiles Tonight / Two Different Worlds / Carry Me Back To The Mountains
2008
CD Gusto GT 0632-2 (US)

Dobro's Best - Columbus Stockade Blues - Beneath The Willow / Late Last Night / Sunday In The Mountains / Mountain Dew / Black Smoke / Rabbit In The Log / Oswald's Dobro Chimes / Weary, Weary Blues / Island March / Why Not Confess / Walk That Lonesome Valley
© Rocky Productions 30/09/2016