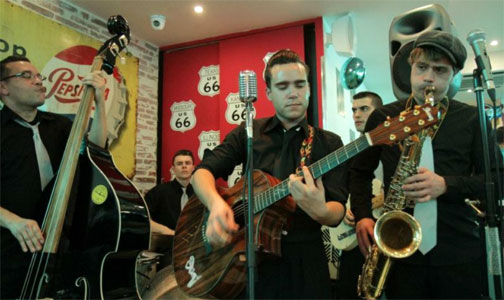 Formé en janvier 2010, le groupe comprend alors deux membres, Eddie au chant et à la guitare et Thierry à la contrebasse et aux chœurs. C'est en décembre de la même année que Marcelo le batteur les rejoint.
Les Ol' Bry s'appellent alors Les Bryoles et commencent à parfaire leur répertoire tout en jouant dans différents concerts et soirées privées (Fête de l'Humanité, Fête de la ville de Bonneuil sur Marne...). Quand ils décident d'enregistrer quelques morceaux en juin 2011, ils s'adjoignent la présence de Rémy au saxophone qui restera avec eux. En mai 2012 ils rencontrent Diego qui deviendra leur guitariste soliste.
Amoureux de la musique des années 50, leur répertoire comprend des chansons puisées dans le Rhythm and Blues, le Rockabilly ou le Doo Wop. Ils mélangent les genres tout en gardant une unité. Ne s'arrêtant pas aux reprises, ils composent également des morceaux originaux.

Formed in January 2010, the group then comprises two members, Eddie on Vocals and guitar and Thierry double bass and backing Vocals. In December of the same year as the drummer Marcelo joins them.
The Ol 'Bry are then called The Bryoles and begin to hone their repertoire while performing in various concerts and private events (Fête de L'Humanité, Fête de la Ville de Bonneuil sur Marne ...). When they decide to record some pieces in June 2011, they appoint the presence of Rémy saxophone that will stay with them. In May 2012 they met Diego who became their lead guitarist.
Lovers of music of the 50s, their repertoire includes songs drawn from the Rhythm and Blues, Rockabilly or Doo Wop. They mix genres while maintaining unity. Not stopping reprises, they also compose original songs.
Informations envoyez par le DJ Catalan EddieCesc (Francesc Josep) (gràcies)
Talents : Eddie: Vocals, Guitar - Thierry : Double Bass - Marcelo : Drums - Rémy : Saxophone - Diego: Guitar
Style musical : Rockabilly, Rock 'n' Roll, Doo Wop

https://youtu.be/2pq66KOjZ6Q
Years in activity :
| | | | | | | | | | | |
| --- | --- | --- | --- | --- | --- | --- | --- | --- | --- | --- |
| 1910 | 20 | 30 | 40 | 50 | 60 | 70 | 80 | 90 | 2000 | 10 |
DISCOGRAPHY
Albums
| | | | |
| --- | --- | --- | --- |
| 11/2012 | CD ROCK PARADISE RPRCD 22 (F) | | WE DON'T CARE - Cry To Me / Let Me Dance / My Girl / Carolina / Reet Petite / She Don't Care / Cute & Pretty / Number Nive Train / Ghost Highway / Rainin' In My Heart / Bim Bam / North Side Gal / Take My Shoes |
| 01/2015 | CD ROCK PARADISE RPRCD 35 (F) | | BOPPIN' N' SHAKIN' - Boppin 'n' shakin' / Mr Boogie / When I Was With You / I Found A Girl / I Need My Baby / Am I Blue / My Pain / Bob's Bubble / If You Were Mine / Baila Commingo / I'm Going Home / For So Long / Do It Wild |
© Rocky Productions 10/07/2015