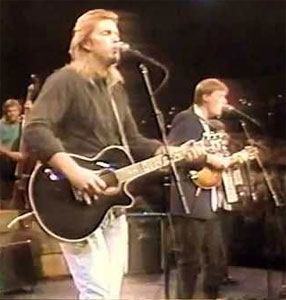 Duo Country US formé en 1986 à Nashville (Tennessee) comprenant Kieran Kane (né le 7 octobre 1949 à Queens (New York)) et Jamie O'Hara (né le 8 août 1950 à Toledo (Ohio)).

During their relatively brief time together, Kieran Kane and Jamie O'Hara, otherwise known as the O'Kanes, produced three albums of absolutely superb country music. The self-titled, first, and arguably strongest effort contains everything that is best about the O'Kanes' sound. It is rich in country music's finest traditions, yet it is by no means a nostalgia album. It is sparse in instrumentation, yet richly textured. Most of all, the album contains direct, honest music whose emotional intensity stays with the listener long after the sound waves have stopped vibrating. The O'Kanes' Vocals recall the best of country harmony. Some critics liken them to the Louvin Brothers. Others, because of the more driving sound of their backing, compare them to the Everlys. The instrumental sound ranges from bluegrass (prominent mandolin) to the tense drive of Sun rockabilly (their hit "O Darlin'" is evidence of this). The addition of an accordion adds both Tex-Mex and unmistakably bluesy feels to the proceedings. This is truly hybrid music.
Out of the core members of the O'Kanes, Kane was always the more musically inclined of the two. At the age of nine, he began playing drums in his older brother's rock & roll band. By the time he was in his teens, he was also playing bluegrass and folk, performing at festivals across the Northeast. Eventually, his reputation had grown large enough that he was opening for rock & roll groups like Country Joe & the Fish and the Steve Miller Band. When he was 21, he moved to Los Angeles, where he worked as a session guitarist and a professional songwriter. Eight years later, he relocated to Nashville, where he also worked as a session musician and songwriter. Within two years, he had landed a contract with Elektra, and over the next three years, he had a string of minor hits for both Elektra and later Warner. For his part, O'Hara didn't begin playing guitar when he was 22 years old, following a knee injury that prevented him from pursuing a career as a professional football player. After writing several original songs, he began to play clubs across the Midwest, while working odd jobs. In 1975, he arrived in Nashville, landing a publishing contract with Tree Publishing. By the early '80s, artists had begun to cover his songs, with Ronnie McDowell taking "Wandering Eyes" and "Older Women" to the Top Ten in 1981.
Kane and O'Hara began collaborating in 1985, when the two songwriters worked on "Bluegrass Blues" for Tree. Southern Pacific and the Judds would both later record the song. Throughout 1985, the pair wrote songs and recorded demos together, deciding to become a performing duo in 1986. Columbia signed the duo, and their eponymous debut consisted entirely of their demo tapes. "Oh Darlin'," the first single from the record, became a hit, climbing into the Top Ten; the album also reached the country Top Ten as well. In 1987, the group had three Top Ten hits -- including the number one "Can't Stop My Heart From Loving You," "Daddies Need to Grow Up Too," and "Just Loving You" -- all taken from The O'Kanes. The following year, they released their second album, Tired of the Runnin', which produced an additional two Top Ten singles in "One True Love" and "Blue Love." However, the third single from the record, "Rocky Road," didn't even make the Top 40.
Following the recording of their third album, Kane and O'Hara parted ways in 1989; the third record, Imagine That, was released posthumously to little attention in 1990. Following the group's breakup, both members continued to work as professional songwriters. In 1993, Kane released his eponymous solo debut on Atlantic Records; O'Hara released his first solo album, Rise Above It, the following year on RCA.
Style musical : Contemporary Country, Traditional Country, Country-Rock

https://youtu.be/TR9AG_R6eO0
Years in activity :
| | | | | | | | | | | |
| --- | --- | --- | --- | --- | --- | --- | --- | --- | --- | --- |
| 1910 | 20 | 30 | 40 | 50 | 60 | 70 | 80 | 90 | 2000 | 10 |
DISCOGRAPHY
Singles
| | | | |
| --- | --- | --- | --- |
| 07/1986 | SP COLUMBIA 38-06242 (US) | | Oh Darlin' / When I Found You |
| 07/1986 | SP COLUMBIA 38-06242 (US) (promo) | | Oh Darlin' / Oh Darlin' |
| 1986 | SP CBS 650777 7 (UK) | | Oh Darlin' (Why Don't You Care For Me No More) / When I Found You |
| 01/1987 | SP COLUMBIA 38-06606 (US) | | Can't Stop My Heart From Lovin' You / Bluegrass Blues |
| 01/1987 | SP COLUMBIA 38-06606 (US) (promo) | | Can't Stop My Heart From Lovin' You / Can't Stop My Heart From Lovin' You |
| 06/1987 | SP COLUMBIA 38-07187 (US) | . | Daddies Need To Grow Up Too / Oh Darlin' |
| 06/1987 | SP COLUMBIA 38-07187 (US) | . | Daddies Need To Grow Up Too / Daddies Need To Grow Up Too |
| 09/1987 | SP COLUMBIA 38-07611 (US) | . | Just Lovin' You / When We're Gone Long Gone |
| 02/1988 | SP COLUMBIA 38-07736 (US) | . | One True Love / If I Could Be There |
| 06/1988 | SP COLUMBIA 38-07943 (US) | . | Blue Love / Highway 55 |
| 10/1988 | SP COLUMBIA 38-08099 (US) | . | Rocky Road / All Because Of You |
| 01/1990 | SP COLUMBIA 38-73216 (US) | . | Why Should I? / This Ain't Love |
| 01/1990 | SP COLUMBIA 38-73216 (US) (promo) | . | Why Should I? / Why Should I? |
| 04/1990 | SP COLUMBIA 38-73304 (US) | . | Diddy All Night Long / Why Sould I? |
| 08/1990 | SP COLUMBIA 38-73445 (US) | . | Tell Me I Was Dreaming / This Ain't Love |
| | |
| --- | --- |
| | |
Albums
| | | | |
| --- | --- | --- | --- |
| 1986 | LP COLUMBIA FC 40459 (US) | | O'KANES - Oh Darlin' (Why Don't You Care For Me No More) / Just Lovin' You / Daddies Need To Grow Up Too / Can't Stop My Heart From Lovin' You / Bluegrass Blues / Oh Lonesome You / When We're Gone Lone Gone / That's All Right Mama / Gonna Walk That Line / When I Found You |
| 1988 | LP COLUMBIA FC 44066 (US) | | TIRED OF THE RUNNIN' - One True Love / All Because Of You / If I Could Be There / Blue Love / Rocky Road / Highway 55 / Tired Of The Runnin' / In My Heart / I'm Lonely / Isn't That So |
| 01/1990 | LP COLUMBIA FC 45131 (US) | | IMAGINE THAT - Why Should / Imagine That / Nobody Wins / Diddy All Night Long / Will You Travel Down This Road With Me / Is The Party Over / Better To Love You / Tell Me I Was Dreaming / Climbing Mountains / This Ain't Love |
| 1997 | CD K-TEL 4013 (US) | | BACK TO BACK - Oh Darlin' (Why Don't You Care For Me No More) / Can't Stop My Heart From Loving You / Daddies Need To Grow Up Too / One True Love / Blue Love / + EXILE : Give Me One More Chance / She's A Miracle / It'll Be Me / I Can't Get Close Enough / Just One Kiss |
| 09/2000 | LP LUCKY DOG 61489 (US) | | THE ONLY YEARS - Oh Darlin' (Why Don't You Care For Me) / Bluegrass Blues / One True Love / Highway 55 / All Because Of You / When I Found You / Tired Of The Runnin' / Rocky Road / This Ain't Love / When We're Gone Long Gone |
| 2003 | CD SONY 54636 (US) | | BATTLE OF THE BANDS - SWEETHEARTS Of The RODEO - The O' KANES - Chains Of Gold / I Can't Stop My Heart From Loving You / Midnight Girl - Sunset Town / One True Love / Satisfy You / Just Lovin' You / Blue To The Bone / Daddies Need To Grow Up Too / I Feel Fine / Oh Darlin' |
© Rocky Productions 27/07/2016