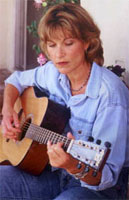 Chanteuse Country US de Californie

In 2007, Lisa O'Kane became a rising star on the American country music scene with the release of her album It Don't Hurt, and although she was born and raised in California, her strong, passionate, but refined Vocals style won her a loyal following in Europe and the United Kingdom years before she began tasting success at home. O'Kane was born in Fish Camp, CA, a tiny community in the Yosemite National Forest with a population of less than 40 people. She grew up listening to a variety of music on the radio with her family, and developed a passion for performing as a girl; in fourth grade she began studying the violin at the encouragement of her grandfather, and advanced to keyboards when her family invested $150 in a second-hand piano. While attending high school in Fresno, CA, O'Kane eventually became concert mistress with the city's Junior Philharmonic Orchestra, and revealed her skills as a vocalist when she began singing with the California Girls' Choir. Despite her talent and love for music, career and a family were first priorities for O'Kane, and she put her musical ambitions aside until a chance encounter with a local bar band gave her the opportunity to sing in front of an audience for the first time in years on her birthday.
O'Kane loved the experience and began playing local gigs, which brought her to the attention of record producer Edward Tree. Tree was impressed with O'Kane's voice, and with his help she recorded her debut album, Am I Too Blue, in 2002; the album became a chart success overseas, and O'Kane was invited to tour France, Spain, and the Netherlands by promoters eager to build on her success. Bob Harris, the veteran BBC disc jockey and former host of The Old Grey Whistle Test, became a fan of O'Kane's work, and her second album, 2004's Peace of Mind, earned enthusiastic reviews and impressive sales in England. In 2007, O'Kane signed a record deal with the Universal-distributed New Light Entertainment label, and with her third album, It Don't Hurt, she seemed poised to achieve the same recognition in America that she already enjoyed in Europe.
http://www.myspace.com/lisaokane
Talents : Singer, Guitar
Style musical : Contemporary Country

https://youtu.be/V5TOGjXk5YQ
Years in activity :
| | | | | | | | | | | |
| --- | --- | --- | --- | --- | --- | --- | --- | --- | --- | --- |
| 1910 | 20 | 30 | 40 | 50 | 60 | 70 | 80 | 90 | 2000 | 10 |
DISCOGRAPHY
Albums
| | | | |
| --- | --- | --- | --- |
| 12/2001 | CD RAISIN' KANE 404929 (US) | | AM I TOO BLUE - Romance & Finance / Little Black Cloud / Am I Too Blue / My Sweet Love Ain't Around / Pineola / Lovin' You Again / Wall Of Tears / All The Way With You / Wanting, Wanting You / Like An Old Fashioned Waltz / Old Crossroad Is Waitin' / The Valley |
| 09/2004 | CD EARTHLING 4129 (US) | | PEACE OF MIND - No Tomorrow / Foggy River / Long Gone / Settle Down / Stronger Than Your Memory / Peace Of Mind / Wrap Me Up / A Room Up For Rent / Little White Lies / Softer Place To Fall / Coercion Street / Everyone Says Goodbye / Sometimes / Highland Ground |
| 10/2007 | CD NEW LIGHT / UNIVERSAL 910052 (US) | | I DON'T HURT - Ain't Done Nothin' / Speed Of The Sound Of Loneliness / Give Me This Night / Misery And Happiness / I'm Done / It Don't Hurt / Got The Car Running / Uninvited Guests / Pay For My Sins / Paper Thin / Remember This |
© Rocky Productions 25/10/2007