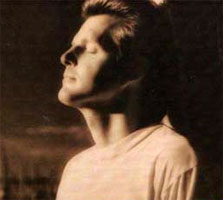 Chanteur Country US né le 8 Août 1950 à Toledo (Ohio). Jamie O'Hara fut membre du duo Country O'Kanes avec Kieran Kane. Il est décédé le 7 Janvier 2021.

Singer/songwriter Jamie O'Hara was born August 8, 1950, in Toledo, OH. Originally a college football star, a knee injury forced him to look for career opportunities outside of the NFL. He picked up a guitar and eventually began to sing and play his songs at shows throughout the Midwest. Other performers took notice, and O'Hara began to establish himself as a songwriter. In 1975, he signed a publishing contract with Nashville's Tree Records.
In 1985, O'Hara and another Tree songwriter named Kieran Kane collaborated on the song "Bluegrass Blues," which the Judds would eventually record. That meeting led the duo to begin writing and performing together as O'Kanes. They secured a deal with Columbia and went on to release three acclaimed country albums between 1987 and 1990. After the O'Kanes broke up, O'Hara returned to his duties as a songwriter. But he also found time to release his solo debut. Rise Above It appeared on RCA in 1994; O'Hara wrote the entire album himself. While the album was a success, its follow-up didn't appear until 2001, when O'Hara released the richly textured Beautiful Obsession.
He passed away on January 7, 2021.
Talents : Vocals, Songwriter
Style musical : Contemporary Country, Traditional Country, Pop Rock

https://youtu.be/6BI-kG7XMiw
Years in activity :
| | | | | | | | | | | | |
| --- | --- | --- | --- | --- | --- | --- | --- | --- | --- | --- | --- |
| 1910 | 20 | 30 | 40 | 50 | 60 | 70 | 80 | 90 | 2000 | 10 | 20 |
DISCOGRAPHY
Single
| | | |
| --- | --- | --- |
| 1993 | SP RCA 07863 62610-7 (US) | What's A Good Ol' Boy To Do / For Reasons I've Forgotten |
Albums
| | | | |
| --- | --- | --- | --- |
| 02/1994 | CD RCA 07863-66297-2 (US) | | RISE ABOVE IT - Rise Above It / It Ain't Over (Till Your Heart Says It's Over) / What's A Good Ol' Boy To Do / Cold Hard Truth / Miles Of Heartache / Some People (Just Can't Walk The Line) / My Little Lady (Ain't My Little Lady No More) / 50000 Names / For Reasons I've Forgotten / I'm Livin' For You |
| 09/2001 | CD VALLEY 15149 (US) | | BEAUTIFUL OBSESSION - Come Swim The Rivers With Me / Beautiful Obsession / I Surrender / Don't Make Me Break Her Heart / Can't Get You Out Of My Mind / Lovin' You Against My Will / That Ain't The Way I Heard It / See If I Care / Pretend / Blessing And The Curse / If It Will Make You Mine / Mantra |
| 07/2012 | CD 18th Wave 97087 (US) | | Dream Hymns - Hosanna In The Deepest / Descension / Howl / Sacred You / How Broken / Orphan Child / Mary Tell Your Son / For Mercy / Living Water / Something Ancient / My Beloved |
© Rocky Productions 27/07/2016