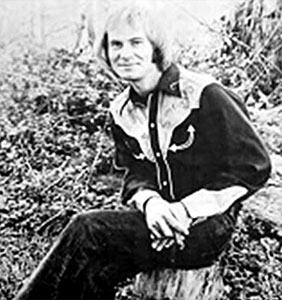 Chanteur et compositeur Country né Kenneth Gist Jnr. en 1946 dans Oklahoma.

Kenny O'Dell (born Kenneth Gist Jr., 1946, Oklahoma) is an American country music singer and songwriter.Early in his career he worked with guitar legand,Duane Eddy,and his own band,Guys and Dolls. He is best known for writing the country hit "Behind Closed Doors", which Charlie Rich recorded, and "Mama He's Crazy", for The Judds. "Behind Closed Doors" won a Grammy Award in 1973 for Best Country & Western Recording.
Rich also scored a Top 10 hit in 1972 with the O'Dell penned song "I Take It on Home". O'Dell was inducted into the Nashville Songwriters Hall of Fame. His only Billboard Hot 100 chart appearance came in 1967, when "Beautiful People" climbed to number 38, and 1968 the local hit "Springfield Plane"
When O'Dell first moved to Nashville, he ran Bobby Goldsboro's publishing company. He's had other hit covers including "Trouble in Paradise" by Loretta Lynn in 1974.
Talents : Singer, Guitar, Songwriter
Style musical : Contemporary Country

http://www.youtube.com/watch?v=jE9rLew3yZg
Années en activité :
| | | | | | | | | | | |
| --- | --- | --- | --- | --- | --- | --- | --- | --- | --- | --- |
| 1910 | 20 | 30 | 40 | 50 | 60 | 70 | 80 | 90 | 2000 | 10 |
DISCOGRAPHY
Albums
| | | | |
| --- | --- | --- | --- |
| 1968 | LP 12" VEGAS V-401S (US) | | BEAUTIFUL PEOPLE - Beautiful People / Kentucky Woman / Sunshine Dreamin' / I'm Gonna Take It / Different Drum / Flower Girl / Take Another Look / Massachusetts / You'll Break Me Yet / Next Plane To London / If My World Falls Through |
| 1974 | LP 12" CAPRICORN CP 0140 (US) | | KENNY O'DELL - Soulful Woman / Everything I Am / I'll Find Another Way (To Say I Love You) / Lord, Am I Dreamin' / Let's Get On The Road / Easy Street / Behind Closed Doors / House Of Love / Let's Go Find Some Country Music / I Take It On Home / You Bet Your Sweet, Sweet Love |
| 1978 | LP 12" CAPRICORN -CPN 0211 (US) | | LET'S SHAKE HANDS & COME OUT LOVIN' |
© Rocky Productions 30/07/2010