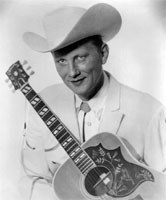 Chanteur Country US né Armond A. Noack Jr., le 29 Avril 1930 à Houston (Texas). Eddie Noack a débuté en 1949 chez Gold Star de Bill Quinn. Il continue ensuite chez Four Star, Starday, D, K-Ark et Decca Records. Eddie fut rapidement oublié et devint alcoolique. Il est mort d'une cirrhose le 5 Février 1978 à Houston(Texas).

Eddie Noack had a valiant run at country stardom in the '50s, cutting a bunch of good, straight-ahead honky tonk sides for Gold Star, Starday, D, and Mercury before dropping into the minor leagues in the '60s. During the '50s, he came close to reaching national charts with "Gentlemen Prefer Blondes" and "Too Hot to Handle," but much of his recognition arrived as a songwriter. He penned "These Hands," which turned into something of a '60s standard -- it was cut by Johnny Cash, Hank Snow, Lefty Frizzell, and Bob Dylan -- and "Have Blues, Will Travel" and "Relief Is Just a Swallow Away" were popularized by George Jones, who had mogul/manager Pappy Daily in common with Noack. All of these are sturdy credits in a Nashville second-stringer but for later generations, they're all overshadowed by one thing: Eddie Noack is the singer who cut the first version of Leon Payne's unsettling "Psycho." Noack recorded "Psycho" in 1968 for K-Ark, a label so small it was almost non-existent, so it isn't a surprise that the single disappeared upon its release, but it somehow made its way up toward Michigan, where singer Jack Kittel cut his own version in 1974. This is likely the rendition that made its way to Elvis Costello, who released a live cover of "Psycho" in 1981 that promptly made the disturbing song a cult favorite, eventually buttressing the reputation of the forgotten Noack, who had died under tragic circumstances in 1978.
So powerful is "Psycho" -- and so little known is Noack -- that it's tempting to view Noack's entire career through its prism, thinking of him as an outsider artist when it's better to think of him as a lifer so determined to have a career in country music that he hung onto any thread offered to him, including recording for such fly-by-night labels as K-Ark. Born DeArmand Alexander Noack in Houston, Texas on April 29, 1930, Noack may have spent the first ten years of his life as a drifting grifter raised by his single mother Ethel during the great depression. Ethel found another husband in the early '40s and the new family settled down in Noack's birthplace of Houston. At the age of 15, he took a dare to sing at a talent contest and it struck a chord within the fledgling musician. Soon enough, he was working Houston's burgeoning country music scene, getting himself onto radio broadcasts by 1948. He had just turned 18 and decided to make a go of it as a recording artist, calling up Gold Star and asking for an audition. Bill Quinn, the label's head, liked what he heard and signed Noack, releasing "Gentlemen Prefer Blondes" in 1949. It was the first of four singles that would appear over the next three years. These singles didn't get heard much outside of Texas but they helped establish him on the circuit, eventually leading to a steady gig with R.D. Hendon's western swing group the Western Jamboree Cowboys. With Hendon, he had his first genuine hit with "I Can't Run Away," a song Noack co-wrote and sang on record with Gig Sparks.
"I Can't Run Away" gained the ear of Pappy Daily, the Texas music man who was moving from juke boxes to management and A&R at this stage of his career. Daily had the Western Jamboree Cowboys record several sides for 4-Star, none of which went anywhere and in 1952, Noack left the band. He had been enrolled at the University of Houston since the previous year and he split his time between college and pursuing a solo career recording for 4-Star. These singles only appeared in Texas and went nowhere, but his colleague Sonny Burns recorded Noack's original "Too Hot to Handle" -- Eddie cut it back at Gold Star but it was never released -- and it buttressed Eddie's reputation as a writer and helped him move from 4-Star to Starday in 1954, the same year he graduated from University of Houston with a Bachelor's in English. "Don't Trade," his first single for Starday, was a minor regional hit, but before his career could take off, he was drafted into the military to serve in the Korean war. He was stationed in Germany in 1955 and 1956, then returned to Texas.
While in Germany, he received yet another break as a songwriter, when Hank Snow recorded "These Hands" and brought it into the Billboard Top 10 in the spring of 1956. At the end of the year, he was back in the U.S. and recording for Starday, but by that point, rock & roll was steamrolling over the kind of pure country that was Noack's stock in trade. On the heels of George Jones' success, Pappy Daily aligned Starday with Mercury Records and several of the label's acts found a new home there, but not Noack. He was assigned to Starday's Dixie imprint, where he sang knock-off covers of then-current hits; he also appeared on the lesser-known Faith label singing country-gospel. Sales steadily dwindled -- his last single, "Dust on the River," sold only 185 copies -- and Eddie ended his association with Starday in 1957. Next up was Pappy Daily's new label D, where he recorded a teeny-bopping novelty, "My Steady Dream," that flopped, but Noack had better luck with "Have Blues, Will Travel" and "Relief Is Just a Swallow Away," which Jones soon cut himself. Covers like this were steady, but nothing Noack released for D between 1958 and 1961 turned into a hit. He spent time playing on country music revues sharing bills with the likes of George Jones, who turned into a friend of Eddie's.
Pappy Daily managed to give Noack one last shot, this time on Mercury in 1961 via the single "Where Do You Go (When You Say Goodnight)"/"Shotgun House." This too stiffed and Noack began sliding down the rungs of country stardom. Next up was a stint at Allstar, a label that specialized in "song poems" -- i.e., for a fee they'd set a submitted poem or lyric to music and send some pressed singles back to the hopeful songwriter. Noack dodged these flights of fancy, recording almost entirely originals between 1962 and 1965, but moving from a major to a fly-by-night indie was a blow to his ego. He adapted with the shifting tides, adjusting his sound to fit the train-track rhythms coming out of Bakersfield, but he was ready to jump ship when Lefty Frizzell offered him a job as the manager of his new music publishing company Golden Eye in 1966. That was short-lived, and in 1967, he was back out looking for a contract, finding one with the cheap independent K-Ark. In early 1968, he started releasing singles on the label and by the summer he had found the song that brought him notoriety, Leon Payne's "Psycho." Loosely based on serial killers Ed Gein and Richard Speck, the song was written from the killer's perspective -- a risky enough subject for a crossover hit -- but Noack's flat, affectless delivery made it chilling. It would later become a cult hit but it stiffed, as did Noack's original follow-up, "Dolores," which was another murder ballad. This also didn't gain any success, nor did the last handful of songs Noack released on K-Ark. At the end of the decade, he left the label.
Early in 1970, he cut a tribute album to Jimmie Rodgers but made moves to once again reside behind the scenes, teaching songwriting classes at the University of Tennessee and becoming a lifetime member of the Nashville Songwriters Association in 1970. He continued to record on occasion, as well as produce acts for Pappy Daily, until the record man retired in 1971. The next few years were marked by alcoholism and personal tragedy, and although he rallied for a British tour in 1976, he succumbed to his demons in 1978. His work remained out of print until Bear Family reissued his '50s and '60s work on two separate sets -- the former called Gentlemen Prefer Blondes and the latter Psycho -- in 2012 and 2013.
https://en.wikipedia.org/wiki/Eddie_Noack
Talents : Vocals, Guitar, Songwriter
Style musical : Honky Tonk, Traditional Country, Bakersfield Sound
Years in activity :
| | | | | | | | | | | | |
| --- | --- | --- | --- | --- | --- | --- | --- | --- | --- | --- | --- |
| 1910 | 20 | 30 | 40 | 50 | 60 | 70 | 80 | 90 | 2000 | 10 | 20 |
DISCOGRAPHY
78 t. & Singles
1949
78 t. GOLD STAR 1352 (US)
.

Gentlemen Prefer Blondes / Triflin' Mama Blues

1949
78 t. GOLD STAR 1357 (US)
.

Simulated Diamonds / The Pyramid Club

1949
78 t. GOLD STAR 1371 (US)
.

Hungry But Happy / Raindrops In A River

1950
78 t. & SP GOLD STAR 1391 (US)
.

Tragic Love / Green Back Dollar

1951
78 t. & SP GOLD STAR 711 (US)
.

Frown On The Moon / Unlucky Me

01/1952
78 t. 4-STAR 1595 (US)
.
R.D. HENDON & His WESTERN JAMBOREE COWBOYS - (Vocals Eddie NOACK) - I'd Still Want You / Music Making Mama From Memphis
01/1952
SP 4-STAR 45-1595 (US)
.

R.D. HENDON & His WESTERN JAMBOREE COWBOYS - (Vocals Eddie NOACK) - I'd Still Want You / Music Making Mama From Memphis

03/1952
78 t. 4-STAR 1599 (US)
.
R.D. HENDON & His WESTERN JAMBOREE COWBOYS - (Vocals Eddie NOACK) - Please Mr . Postman / There's A Place In My Heart
03/1952
SP 4-STAR 45-1599 (US)
.
R.D. HENDON & His WESTERN JAMBOREE COWBOYS - (Vocals Eddie NOACK) - Please Mr . Postman / There's A Place In My Heart
03/1952
EP 4-STAR ET-103 (US)

Please Mr Postman / There's A Place In My Heart + 4 tracks by other artists

04/1952
SP 4-STAR X-41 (US)
.

R.D. HENDON & His WESTERN JAMBOREE COWBOYS - I'm Going To See My Baby [Vocals : Eddie NOACK] / Nervous Breakdown

05/1953
SP 4-STAR X-73 (US)
.

I'd Change My Rambling Ways For You / I Awake And Find You Gone

02/1954
SP TNT TNT-110 (US)
.

Too Hot To Handle / How Does It Feel To Be The Winner

04/1954
SP 4-STAR X-84 (US)
.

Eddie NOACK & The PECOS VALLEY BOYS - Paul Jones / Pride

04/1954
EP 4-STAR ET-123 (US)
.

Paul Jones / Pride + 4 tracks by other artists

08/1954
78 t. STARDAY 159 (US)
.
Don't Trade / Take It Away Lucky
08/1954
SP STARDAY 45-159 (US)
.

Don't Trade / Take It Away Lucky

12/1954
78 t. STARDAY 169 (US)
.
Left Over Lovin' / I'll Be So Good To You
12/1954
SP STARDAY 45-169 (US)
.

Left Over Lovin' / I'll Be So Good To You

08/1955
78 t. STARDAY 201 (US)
.
If It Ain't On The Menu / Wind Me Up
08/1955
SP STARDAY 45-201 (US)
.

If It Ain't On The Menu / Wind Me Up

11/1955
78 t. STARDAY 213 (US)
.
Fair Today, Cold Tomorrow / Don't Worry About Me, Baby
11/1955
SP STARDAY 45-213 (US)
.

Fair Today, Cold Tomorrow / Don't Worry About Me, Baby

02/1956
78 t. STARDAY 225 (US)
.
When The Bright Lights Grow Dim / It Ain't Much But It's Home
02/1956
SP STARDAY 45-225 (US)
.

When The Bright Lights Grow Dim / It Ain't Much But It's Home

06/1956
78 t. STARDAY 246 (US)
.
For You I Weep / You Done Got Me
06/1956
SP STARDAY 45-246 (US)
.

For You I Weep / You Done Got Me

12/1956
78 t. STARDAY 276 (US)
.
The Worm Has Turned / She Can't Stand The Light Of Day
12/1956
SP STARDAY 45-276 (US)
.
The Worm Has Turned / She Can't Stand The Light Of Day
08/1957
SP STARDAY 45-316 (US)
.

Think Of Her Now / Scarecrow

11/1957
SP STARDAY 45-334 (US)
.

Dust On The River / What's The Matter, Joe

05/1958
SP D 45-1000 (US)
.
Tommy WOOD - Can't Play Hookey / My Steady Dream
05/1958
EP DIXIE 531 (US)
.

The Story Of My Life / Once More / I Can't Help It Dixie + 3 tracks by other artists

05/1958
EP DIXIE 532 (US)
.

Oh, Lonesome Me Dixie / Stairway Of Love + 4 tracks by other artists

09/1958
EP DIXIE 535 (US)
.

Blue Blue Day / Squaws Along The Yukon + 4 tracks by other artists

09/1958
EP DIXIE 536 (US)
.

Invitation To The Blues / Gonna Have Myself A Party / Blue Boy + 3 tracks by other artists

09/1958
EP DIXIE 537 (US)
.

City Lights / Alone With You + 4 tracks by other artists

10/1958
SP D 1019 (US)
.

Have Blues - Will Travel / The Price Of Love

11/1958
SP D 1037 (US)
.

Walk 'em Off / I Don't Live There Anymore

11/1958
SP GLAD 1037 (US)
.
Walk 'em Off / I Don't Live There Anymore
05/1959
SP D 1060 (US)
.
A Thinking Man's Woman (A Loving Man's Girl) / Don't Look Behind
05/1959
SP GLAD 1060 (US)
.
A Thinking Man's Woman (A Loving Man's Girl) / Don't Look Behind
08/1959
SP D 1094 (US)
.

Relief Is Just A Swallow Away / Man Off The Wall

02/1960
SP D 1124 (US)
.

Shake Hands With The Blues / Sunflower Song

06/1960
SP D 1148 (US)
.

Firewater Luke / Too Weak To Go

10/1960
SP MERCURY 71705X45 (US)
.

I Slipped Out Of Heaven / Firewater Luke

1960
EP TOP RANK JKP 2063 (UK)

Country And Western Express Vol. 4 -

Family Bible (Claude GRAY) / Crying In The Night (Claude GRAY) / Have Blues Will Travel (Eddie NOACK) / A Thinking Man's Woman (Eddie NOACK) / Man On The Wall (Eddie NOACK)
04/1961
SP MERCURY 71805 (US)
.

Shotgun House / Where Do You Go

11/1961
SP D 1220 (US)
.

It's Hard To Tell An Old Love Goodbye / Love's Other Face

1961
SP STONEWAY 1002 (US)
.

Mama Stays Home (Papa He Goes) / Through These Days

1962
SP STONEWAY 1008 (US)
.

The Countdown / Honeymoon With The Blues

1962
SP ALLSTAR 7252 (US)
.

Too Hot To Handle / Tell Her

1962
SP ALLSTAR 7266 (US)
.

We Are The Lonely Ones / Chaperoned By A Memory

1962
EP STARDAY 68.005 (NL)

Justin Tubb : One For You, One For Me / Your Side Of The Story / Eddie Noack : City Lights / Invitation To The Blues

1965
SP D 1294 (US)
.

Raise The Taxes / We'll Still Be On Our Honeymoon

04/1963
SP RIVIERA No. 33 (US)
.

When I Get To Nashville / Christ Is The Only Ark

1963
SP RIVIERA 301 (US)
.

Papa's Hands / Would You Crucify Jesus Again

1963
SP ALLSTAR A-7296 (US)
.

The Fall-Out (Keeps Hurtin') / Think Of Her Now

1964
SP ALLSTAR 7299 (US)
.

When The Bright Lights Grow Dim / You Can't Keep A Good Man Down

1966
SP ALLSTAR 7322 (US)
.

Two Bright Lights / Prisoner Of War

1966
SP REM 407 (US)
.

Snowbird / Prisoner Of War

1968
SP K-ARK 813 (US)
.

Cotton Mill / The End Of The Line

1968
SP K-ARK 841 (US)
.

Love / Buzz Buzz Buzz

1968
SP K-ARK 842 (US)
.

Does It Matter / Two Brown Eyes

1968
SP K-ARK 843 (US)
.

Psycho / Invisible Strippes

1969
SP K-ARK 885 (US)
.

House On The Mountain / Stolen Rose

1970
SP K-ARK 902 (US)
.
Beer Drinking Blues / Dolores
1970
SP Wide World 1005 (US)
.

Any Old Time / Why Did You Give Me Your Love

1970
SP Wide World 1009 (US)
.

Mother, The Queen Of My Heart / Treasures Untold

1971
SP K-ARK 964 (US)
.

Barbara Joy / Sleeping Like A Baby (With A Bottle In Your Mouth)

1971
SP Wide World 1017 (US)
.

He's Getting Smaller (With Each Drink) / Your Share

1972
SP Wide World 1020 (US)
.

Whispers / Sing Me A Picture (Paint Me A Song)

1972
SP Tellet Country 1001 (US)
.

One Light In Your Neighborhood / East Texas

1972
SP Tellet Country 1002 (US)
.

Ain't Reaping Ever Done / Before You Use That Gun

1973
SP Tellet Country 1005 (US)
.

These Memories Are Restless Tonight / Born Yesterday

1973
SP Wide World 802 (US)
.
These Memories Are Restless Tonight / Born Yesterday
1974
SP Wide World 803 (US)
.

These Hands / The Waltz Of Goodbye

1974
SP RESCO 635 (US)
.

A Few Good Funerals / For Better Or Worse

08/2013
SP BEAR FAMILY BLE 005 (GER) (limited edition)
Psycho/ Dolores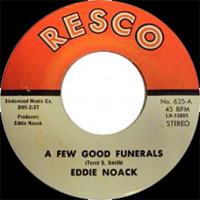 Albums
1970
LP 12" Wide World WFS-2001 (US)

Remembering Jimmie Rodgers - Any Old Time / Why Did You Give Me Your Love / Mother Queen Of My Heart / Waiting For A Train / I'm Sorry We Met / Train Whistle Melody / Why Should I Be Lonely / Blue Yodel Melody / My Carolina Sunshine Girl / Mississippi River Blues / Treasures Untold / My Old Pal

1976
LP 12" Look LK-6041 (UK)

Eddie Noack - These Hands / Too Hot To Handle / When The Bright Lights Grow Dim / Have Blues Will Travel / No Blues Is Good News / If It Ain't On The Menu / God's Eyes / Flower's For Mama / The Poor Chinese / Barbara Joy / A Day In The Life Of A Fool / We'll Still Be On Our Honeymoon

1980
LP 10" ACE 10 CH-21 (UK)
EDDIE NOACK - Take It Away, Lucky / Wind Me Up / Left Over Lovin' / It Ain't Much But It's A Home / Don't Trade / Don't Worry Bout Me Baby / When The Bright Lights Grow Dim / You Done Got Me / Worm Has Turned / For You I Weep / What's The Matter Joe / Think Of Her Now / If It Ain't On The Menu / Fair Today Cold Tomorrow
1985
LP 12" ACE CHD-149 (UK)

Gentlemen Prefer Blondes - Gentlemen Prefer Blondes / Million Friends But No Sweethearts / Shake Hands With The Blues / Scarecrow / Wanderin' Oakie / If Hearts Could Talk / Life You've Lived / Dust On The River / Thinking Man's Woman / Walk 'Em Off / Man On The Wall / Too Weak To Go / Firewater Like / Have Blues Will Travel / Price Of Love / Relief Is Just A Swallow Away

03/2009
CD Cactus EN-1 (US)

Eddie Noack - vol.1 – The Starday and D Sessions - Take It Away Lucky / Don't Trade / Left Over Lovin' / A Million Friends (But No Sweetheart) / If It Ain't On The Menu / Wind Me Up / Fair Today, Cold Tomorrow / Don't Worry 'bout Me Baby / It Ain't Much But It's Home / When The Bright Lights Grow Dim / You Done Got Me / For You I Weep / The Worm Has Turned / She Can't Stand The Light Of Day / Scarecrow / Think Of Her Now / Dust On The River / What's The Matter Joe? / Can't Play Hookey (as by Tommy Wood) / My Steady Dream (as by Tommy Wood) / Gentlemen Prefer Blondes / Have Blues Will Travel / The Price Of Love / Walk 'em Off' A Thinking Man's Woman / Don't Look Behind / The Man On The Wall / Relief Is Just A Swallow Away / Shake Hands With The Blues / Sunflower Song

03/2009
CD Cactus EN-2 (US)

Eddie Noack - vol. 2 - Psycho / Invisible Stripes / Dolores / Beer Drinking Blues / House On A Mountain / Stolen Rose / Barbara Joy / Sleeping Like A Baby / Firewater Luke / Too Weak To Go / A Million Friends But No Sweethearts / I Don't Live Here No More / Wanderin' Oakie / If Hearts Could Talk / Me And My New Baby / The Life You've Lived / Shotgun House / Firewater Luke / Too Hot To Handle / (When The Band Played) The Paul Jones / City Lights / Squaws Along The Yukon / Oh Lonesome Me / Invitation To The Blues / Gonna Have Myself A Party / The Fall-Out (Keeps On Hurtin') / Think Of Her Now / When The Bright Lights Grow Dim / You Can't Keep A Good Man Down / Waiting For A Train / Train Whistle Medley / Blue Yodel Medley

2009
CD BACM CD D-277 (UK)

Have Blues Will Travel - Have Blues Will Travel / Price Of Love / Walk 'em Off / I Don't Live There Anymore / Don't Look Behind / A Thinkin' Man's Woman A Loving Man's Girl / Man On The Wall / Relief Is Just A Swallow Away / Unlucky Me / Frown On The Moon / Triflin' Mama Blues / Green Back Dollar / Nothing; First And Last Thing / As The Band Played Paul Jones / Pride / I'll Be So Good To You / How Does It Feel To Be The Winner / Too Hot To Handle / I Want You, I Need You, I Love You / Twenty Feet Of Muddy Water / There You Go / Train Of Love / Curtain In The Window / Stairway Of Love / Blue Blue Day / Oh Lonesome Me / Alone With You / Wanderin' Okie

11/2012
3 CD BEAR FAMILY BCD 17142 (GER)

Gentlemen Prefer Blondes :

CD 1 : Gentlemen Prefer Blondes / Triflin' Mama Blues / Pyramid Club / Simulated Diamonds / Hungry But Happy / Raindrops In The River / Frown On The Moon / Unlucky Me / Green Back Dollar / Tragic Love / I Can't Run Away / I'd Still Want You / Music Makin' Mama From Memphis / Please Mr. Postman / There's A Place In My Heart / I'm Going To See My Baby / Too Hot To Handle / How Does It Feel To Be A Winner / Nothing / First And Last Thing / (As The Band Played) Paul Jones / Pride / Spoken message to Don Pierce / Don't Worry 'bout Me Baby / As Long As You Call / Forlorn, Forgotten, and Forsaken / Walking The Street / Simulated Diamonds / Moonlight On The Water / Hungry But Happy / Raindrops In The River / Gentlemen Prefer Blondes / Unlucky Me
CD 2 : Fair Today, Cold Tomorrow / Gentlemen Prefer Blondes / Take It Away Lucky / Don't Trade / Left Over Lovin' / Don't Worry 'bout Me Baby / I'll Be So Good To You / Think Of Her Now / Wind Me Up / If It Ain't On The Menu / Me And My New Baby / The Life You've Lived / You Done Got Me / The Life You've Lived / If Hearts Could Talk / When The Bright Lights Grow Dim / Think Of Her Now / It Ain't Much But It's Home / For You I Weep / You Done Got Me / The Worm Has Turned / She Can't Stand The Light Of Day / Think Of Her Now / Scarecrow / Dust On The River / What's The Matter Joe / Gentlemen Prefer Blondes [alt] / For You I Weep [alt] / Can You Answer To God / Lucky In Cards / Mister Nice Guy / Six Feet Down / Relief Is Just A Swallow Away / Are You Really Here / It's Hard To Tell An Old Love Goodbye / That Certain You Know What
CD 3 : Can't Play Hookey / My Steady Dream / Wonderin' Oakie / Have Blues -- Will Travel / The Price Of Love / Relief Is Just A Swallow Away / It's Hard To Tell An Old Love Goodbye / Love's Other Face / I Don't Live There Any More / Walk 'em Off / The Man On The Wall / Shake Hands With The Blues (1) / A Million Friends But No Sweetheart / Don't Look Behind / A Thinkin' Man's Woman (A Lovin' Man's Girl) / Shake Hands With The Blues (2) / Sunflower Song / Too Weak To Go / Firewater Luke / The Price Of Love [alt] / The Same Old Mistakes / Invisible Stripes / So Funny I Could Cry / Shotgun House / I Slipped Out Of Heaven / Firewater Luke / Invisible Stripes / The Same Old Mistakes / Shotgun House / Where Do You Go (When You Say Goodnight) / Love Is For Fools / The Life You've Lived / I Speak Your Name / The Same Old Mistakes / You've Got A Woman

03/2013
CD BEAR FAMILY BCD 17204 (GER)

Psycho - The K-Ark and Allstar Recordings 1962-69 - Psycho / Invisible Stripes / Dolores / Beer Drinkin' Blues / House On A Mountain / Stolen Rose / Cotton Mill / The End Of The Line / Barbara Joy / Sleeping Like A Baby (With A Bottle In My Mouth) / Too Hot To Handle / Tell Her / Chaperoned By A Memory / We Are The Lonely Ones / The Fall-Out (Keeps On Hurting) / Think Of Her Now / When The Bright Lights Grow Dim / You Can't Keep A Good Man Down / Two Bright Lights / Prisoner Of War / Buzz Buzz Buzz / Love / Two Brown Eyes / Does It Matter

2014
4 CD Real Gone

‎

RGMCD145 (UK)

The Singles Collection 1949-1962 :

CD 1 :

Gold Star

:

Gentlemen Prefer Blondes / Triflin' Mama Blues / Simulated Diamonds / The Pyramid Club / Hungry But Happy / Raindrops In The River / Tragic Love / Green Back Dollar / Frown On The Moon / Unlucky Me /

Four Star

:

I Can't Run Away / I'd Still Want You / Music Makin' Mama From Memphis / Please Mr. Postman / There's A Place In My Heart / I'm Going To See My Baby / First And Last Thing / Nothing / Too Hot To Handle / How Does It Feel To Be A Winner / (As The Band Played) Paul Jones / Pride
CD 2 :

Starday

:

Don't Trade / Take It Away Lucky / Left Over Lovin' / I'll Be So Good To You / If It Ain't On The Menu / Wind Me Up / Fair Today, Cold Tomorrow / Don't Worry 'bout Me Baby / When The Bright Lights Grow Dim / It Ain't Much But It's Home / For You I Weep / You Done Got Me / She Can't Stand The Light Of Day / The Worm Has Turned / Think Of Her Now / Scarecrow / Dust On The River / What's The Matter Joe
CD 3 :

Dixie EP Tracks

:

Curtain In The Window / Oh, Lonesome Me / Starway Of Love / Blue, Blue Day / Squaws Along The Yukon / Invitation To The Blues / Gonnna Have Myself A Party / City Lights / Alone With You /

D

: Can't Play Hookey / My Steady Dream / Have Blues - Will Travel / The Price Of Love / Walk 'em Off / I Don't Live There Any More / A Thinkin' Man's Woman (A Lovin' Man's Girl) / Don't Look Behind / Relief Is Just A Swallow Away / The Man On The Wall

CD 4 :

D

: Shake Hands With The Blues / Sunflower Song / Firewater Luke / Too Weak To Go / It's Hard To Tell An Old Love Goodbye / Love's Other Face /

Mercury

:

I Slipped Out Of Heaven / Firewater Luke / Shotgun House / Where Do You Go (When You Say Goodnight) /

Stoneway

:

Mama Stays Home (Papa He Goes) / Firewater Luke / The Countdown / Honeymoon With The Blues /

Allstar

:

Too Hot To Handle / Tell Her / We Are The Lonely Ones / Chaperoned By A Memory

05/2015
LP 12" The Iron Mountain Analogue Research Facility ‎– IMAR 101LP (AUS)

Ain't The Reaping Ever Done (1962-1976) -

Barbara Joy / Too Hot To Handle / When The Bright Lights Grow Dim / Have Blues - Will Travel / No Blues Is Good News / If It Ain't On The Menu / These Hands / God's Eyes / Ain't The Reaping Ever Done / Before You Use That Gun / A Few Good Funerals / For Better Or For Worse / Raise The Taxes / One Light On In The Neighborhood / When I Get To Nashville / The Memories Are Restless Tonight
© Rocky Productions 27/01/2021