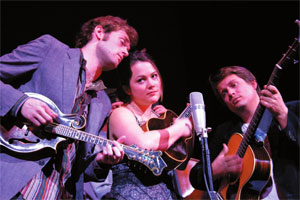 Trio Country US formé en 1989 à San Diego (Californie). Nickel Creek est composé de Sean Watkins, de sa jeune soeur Sara Watkins et de Chris Thile. Le groupe a été dissout en 2007.

Distinguished by their youth and eclectic taste, Nickel Creek became a word-of-mouth sensation on the progressive bluegrass scene and soon found their appeal spreading beyond the genre's core audience. Guitarist Sean Watkins, fiddler Sara Watkins (his younger sister), and mandolin/banjo/bouzouki player Chris Thile first started performing together in 1989, when all three were preteens and taking music lessons in their native San Diego. They met while watching the local band Bluegrass Etc., which put on weekly performances in a pizza parlor. A bluegrass promoter liked the idea of such a young band, and thus Nickel Creek were formed, with Thile's father Scott joining them on bass.
Nickel Creek were regulars on the festival circuit through most of the '90s, and during that time, Thile recorded two solo albums, 1994's Leading Off... and 1997's Stealing Second. In 1998, with help from Alison Krauss, Nickel Creek landed a record deal with the roots music label Sugar Hill. Krauss produced their self-titled debut album, which was released in 2000; with the kids apparently all right, Scott subsequently retired from the band. Though it was decidedly a bluegrass record, Nickel Creek boasted elements of classical, jazz, and rock & roll both classic and alternative; naturally, the influence of progressive bluegrass figures like Krauss, Edgar Meyer, and Béla Fleck was also apparent. Perhaps aided by the success of O Brother, Where Art Thou?, which brought traditional roots music to a whole new collegiate audience, Nickel Creek became a slow-building hit; by early 2002, it had gone gold, climbed into the country Top 20, and earned a Grammy nomination for Best Bluegrass Album. Meanwhile, Sean released his solo debut, Let It Fall, in 2001, and Thile followed suit with Not All Who Wander Are Lost.
Nickel Creek released their sophomore set, This Side, in 2002; it debuted in the Top 20 of the pop charts and went all the way to number two on the country listings. Even more eclectic than its predecessor, the Krauss-produced album turned indie rock fans' heads with a cover of Pavement's "Spit on a Stranger." This Side won a Grammy for Best Contemporary Folk Album in early 2003, after which Sean issued his second solo album, 26 Miles. In 2005, the group worked with producers Tony Berg and Eric Valentine (the latter had worked with Smash Mouth and Queens of the Stone Age) to produce Why Should the Fire Die?, a dark and introspective collection of new material that found the trio steering even further away from their bluegrass beginnings.
In mid-2006, Nickel Creek announced they would be taking an indefinite hiatus following a scheduled tour the next year so the bandmembers could concentrate on solo work. Thile eventually formed Punch Brothers, releasing a debut album, Punch, on Nonesuch in 2009. Sara Watkins also released an album on Nonesuch in 2009, the self-titled Sara Watkins, which was produced by John Paul Jones of Led Zeppelin fame. Sean Watkins, who had formed Fiction Family with Jon Foreman (of Switchfoot), also released an album in 2009, the duo's self-titled Fiction Family from the ATO label. Meanwhile, siblings Sara and Sean continued to host a monthly revue called The Watkins Family Hour at Hollywood's Largo club, playing free-form and impromptu sets with a wide array of musicians who might be in town for the evening, including at different times Gabe Witcher, Benmont Tench, Greg Leisz, Jon Brion, Michael Witcher, Jackson Browne, Glen Phillips, Mark O'Connor, Ethan Johns, Matt Chamberlain, Tim O'Brien, and Tom Brosseau, among others.
Over the next few years, the members of the trio continued to record, with Thile particularly prolific. His work in this period included two further Punch Brothers albums, Antifogmatic and Who's Feeling Young Now?; The Goat Rodeo Sessions, a collaboration with classical cellist Yo-Yo Ma; and even a classical album of his own, of Bach Sonatas & Partitas transcribed for mandolin. Sara Watkins released a sophomore effort, Sun Midnight Sun, in 2012, and Sean Watkins released a second album with Fiction Family, Fiction Family Reunion, in 2013.
Early in 2014, Nickel Creek announced they were launching a reunion to celebrate their 25th anniversary. A new album called A Dotted Line appeared on Nonesuch on April 1, 2014, and the group supported the record with an extensive tour.
Talents : Sean : Guitar - Sara : Fiddle - Chris : Mandolin, Banjo, Bouzouki
Style musical : Bluegrass, Contemporary Country

https://youtu.be/A9gRnwmUl9A
Years in activity :
| | | | | | | | | | | | |
| --- | --- | --- | --- | --- | --- | --- | --- | --- | --- | --- | --- |
| 1910 | 20 | 30 | 40 | 50 | 60 | 70 | 80 | 90 | 2000 | 10 | 20 |
DISCOGRAPHY
Singles
2000
CD SUGAR HILL SUG-CD 3909S6 (US) (promo)
.

When You Come Back Down

2001
CD SUGAR HILL SUG-CD-3909S2 (US) (promo)
.

The Lighthouse's Tale (edit version) / The Lighthouse's Tale (album version)

06/2002
CD WEA 47186 (US)
.

The Lighthouse's Tale

2002
CD WEA PRO3080 (UK) (promo)

The Lighthouse's Tale (radio edit)

2002
CD WEA WEA352CD (EUR)
THE L

ighthouse Tale -

The Lighthouse's Tale (radio edit) / The Fox (live) / Let It Fall (live) / The Lighthouse's Tale (video)
2002
CD WEA PRO3081 (UK)
.
THE L

ighthouse Tale -

The Lighthouse's Tale (album version) / Reasons Why / When You Come Back Down / The Hang Song
Albums
12/1993
CD Choo Choo 0102 (US)

Little Cowpoke - THE NICKEL CREEK BAND - Ride Cowboy Ride / Pecos Bill / I'm An Old Cowhand / Chant Of The Wanderer / I Want To Be A Cowboy's Sweetheart / Back In The Saddle Again / Home On The Range / Git Along Little Dogies / Deep In The Heart Of Texas / Don't Fence Me In / Happy Trails

1997
CD No label no # (US)

Here To There - Here To There / You Don't Have To Move That Mountain / Found Soul / Old Cold Coffee On The Dashboard / He Will Listen To You / A Simple Song For Salty The Singing Seaslug / Moonfleet Beach / Natural Kind Of Love / The Narrow Way / Cross The Bridge

03/2000
CD SUGAR HILL SUG-CD-3909 (US)

| | |
| --- | --- |
| | NICKEL CREEK - Ode To A Butterfly / The Lighthouse's Tale / Out Of The Woods / In The House Of Tom Bombadil / Reasons Why / When You Come Back Down / Sweet Afton / Cuckoo's Nest / The Hand Song / Robin And Marian / The Fox / Pastures New |

2000
CD SUGAR HILL 0927454532 (EUR)
NICKEL CREEK - Ode To A Butterfly / The Lighthouse's Tale / Out Of The Woods / In The House Of Tom Bombadil / Reasons Why / When You Come Back Down / Sweet Afton / Cuckoo's Nest / The Hand Song / Robin And Marian / The Fox / Pastures New
08/2002
CD SUGAR HILL SUGCD-3941 (US)
THIS SIDE - Smoothie Song / Spit On A Stranger / Speak / Hanging By A Thread / Should've Known Better / This Side / Green And Gray / Seven Wonders / House Carpenter / Beauty And The Mess / Sabra Girl / Young / Brand New Sidewalk
2002
CD SUGAR HILL 0927491882 (EUR)
THIS SIDE - Smoothie Song / Spit On A Stranger / Speak / Hanging By A Thread / Should've Known Better / This Side / Green And Gray / Seven Wonders / House Carpenter / Beauty And The Mess / Sabra Girl / Young / Brand New Sidewalk
08/2005
CD SUGAR HILL SUGCD-3990 (US)
WHY SHOULD THE FIRE DIE ? - When In Rome / Somebody More Like You / Jealous Of The Moon / Scotch & Chocolate / Can't Complain / Tomorrow Is A Long Time / Eveline / Stumptown / Anthony / Best Of Luck / Doubting Thomas / First And Last Waltz / Helena / Why Should The Fire Die?
11/2006
CD + DVD SUGAR HILL SUGCD-4022 (US)
REASONS WHY - (THE VERY BEST) -

CD : The Lighthouse's Tale / Out Of The Woods / When In Rome / Helena / Smoothie Song / Somebody More Like You / Reasons Why / Can't Complain / I Should've Known Better / This Side / Jealous Of The Moon / When You Come Back Down / You Don't Have To Move That Mountain / The Fox
DVD : Reasons Why / When You Come Back Down / Lighthouse's Tale / This Side / Speak / Smoothie Song / When In Rome

04/2014
CD Nonesuch 7559795597 (US)

A Dotted Line -

Rest Of My Life / Destination / Elsie / Christmas Eve / Hayloft / 21st Of May / Love Of Mine / Elephant In The Corn / You Don't Know What's Going On / Where Is Love Now
2021
2 LP 12" NOT ON LABEL NC001 (US)

Live From The Fox Theater :

DISC 1 : Rest Of My Life / Scotch & Chocolate / This Side / Destination / Jealous Of The Moon / Smoothie Song / Reasons Why / 21st Of May / When In Rome / Tomorrow Is A Long Time / Ode To A Butterfly
DISC 2 :

You Don't Know What's Going Ons /

Somebody More Like You / The Lighthouse's Tale / Anthony / Elephant In The Corn / When You Come Back Down / Hayloft / The Fox / Helena / Cuckoo's Nest / Where Is Love Now

03/2023
2 LP 12" Repair RRLP3870 (US)

Celebrants - Strangers / Water Under The Bridge, Part 1 / The Meadow / Thinnest Wall / Going Out… / Holding Pattern / Where The Long Line Leads / Goddamned Saint / Stone's Throw / Goddamned Saint, Reprise / From The Beach / To The Airport / …Despite The Weather / Hollywood Ending / New Blood / Water Under The Bridge, Part 2 / Failure Isn't Forever
© Rocky Productions 24/03/2023