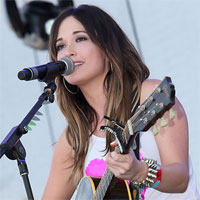 Chanteuse Country US née Kacey Lee Musgraves, le 21 Août 1988 à Sulphur Springs (Texas).

At the outset of her career, Kacey Musgraves bent country tradition to her will, writing songs that evoked the sound of classic country but were infused with progressive ideas that reflected her millennial perspective. "Merry Go Round" and "Follow Your Hits," the big singles from her 2013 major-label debut, Same Trailer Different Park, crystallized this gift and helped establish Musgraves as a major voice in country music: she was the rare country singer who could cross over to a rock audience without playing pop. By the end of the decade, she expanded her musical horizons so they mirrored her expansive lyrical stance, a shift showcased on her 2018 album, Golden Hour.
Born and raised in the East Texas town of Golden, Kacey Musgraves began writing songs when she was just eight years old, not long after she picked up a mandolin. By 12, she knew how to play guitar and began to write her own songs, teaming with Alina Tatum as Texas Two Bits for a self-released album called Little Bit of Texas in 2000. Throughout her adolescence, she'd write, sing, and play, performing at local festivals on occasion and releasing a series of independent albums -- Movin' On (2002), Wanted: One Good Cowboy(2003), and Kacey Musgraves (2007) -- along the way.
After graduating high school, Musgraves moved to Austin, where she would sing on songwriting demos while working on music of her own. She also took a stab at the televised musical competition Nashville Star, appearing on the fifth installment of the CMT series; she was eliminated four weeks into the season, placing seventh overall. Her appearance, along with her independent recordings, eventually attracted the attention of major labels, and she signed with Mercury Nashville in 2012. By the end of the year, she had supported Lady Antebellum on tour and released a debut single, "Merry Go Round." In March 2013, "Merry Go Round" peaked at number ten on Billboard's Country Airplay chart, setting up the release of her full-length debut, Same Trailer Different Park -- which also arrived that March -- quite nicely.
Produced by Shane McAnally, Luke Laird, and Musgraves, Same Trailer Different Park debuted at number two on Billboard's Top 200, earned positive reviews, and spawned two additional hit singles, "Blowin' Smoke" and "Follow Your Arrow," on its way to a gold certification. The album also snagged the Academy of Country Music Award for Album of the Year. The success of Same Trailer Different Park helped position Musgraves as one of the hottest stars in country music, raising expectations for her second album, Pageant Material. Arriving in June of 2013, the album debuted at three on the Top 200 but the record stalled out on the country charts; its lead single, "Biscuits," peaked at 41 on the Country Airplay chart, and "Dime Store Cowgirl" never made that chart.
Musgraves released the cheerfully retro A Very Kacey Christmas in October 2016, then set to work on her third album of original material in 2017. Produced by Daniel Tashian and Ian Fitchuk, 2018's Golden Hour boasted a sleek, modern sheen that sounded more contemporary than either of its predecessors, capturing fans in the pop and indie realms. The critically acclaimed crossover set went on to top numerous year-end lists and, in early 2019, won Album of the Year at the 61st Grammy Awards. In addition to that top honor, she also won for Best Country Album, Best Country Song ("Space Cowboy"), and Best Country Solo Performance ("Butterflies"). In the wake of her wins, "Rainbow" was pulled as the fifth single from Golden Hour; it made it to 33 on Country Airplay and 98 on the Billboard Hot 100.
At the end of 2019, Musgraves celebrated the holiday season with The Kacey Musgraves Christmas Show, a tongue-in-cheek television special for Amazon Prime that also had its audio track released as an album. As an album, The Kacey Musgraves Christmas Show peaked at 120 on Billboard.
During 2020, Musgraves indulged in a number of cameos, appearing on American Head by the Flaming Lips and on Shape & Destroy, the second album by her husband Ruston Kelly. The pair fell in love during the creation of Golden Hour and married in October 2017. By the time Shape & Destroy saw release in August 2020, the couple filed for divorce. Musgraves chronicled the dissolution of their marriage on Star-Crossed, the followup to Golden Hour. Released on September 10, 2021, Star-Crossed found Musgraves reuniting with Ian Fitchuk and Daniel Tashian, the co-producers of Golden Hour, for a contemplative, atmospheric record that expanded upon the genre-bending aesthetic of her Grammy-winning breakthrough.
https://www.kaceymusgraves.com/home
https://en.wikipedia.org/wiki/Kacey_Musgraves
Talents : Vocals, Guitar, Songwriter
Style musical : Americana, Contemporary Country, Contemporary Folk, Country Pop

http://youtu.be/s765qEuMn7o
Years in activity :
| | | | | | | | | | | | |
| --- | --- | --- | --- | --- | --- | --- | --- | --- | --- | --- | --- |
| 1910 | 20 | 30 | 40 | 50 | 60 | 70 | 80 | 90 | 2000 | 10 | 20 |
DISCOGRAPHY
Singles
2012
SP MERCURY B0016777-21 (US)

Blowin' Smoke

/

Dandelion

2012
CD Decca ? (UK) (promo)

Silver Lining

2013
CD KACEY MUSGRAVES (US) (deluxe edition)

Apologize (acoustic version)

/

See You Again (acoustic version)

2014
CD Decca ? (UK) (promo)

Merry Go 'round

2014
CD Decca ? (UK) (promo)

Follow Your Arrow

2014
CD Decca ? (UK) (promo)

Keep It To Yourself

2014
CD Decca ? (UK) (promo)

Step Off
Albums
07/2002
CD KACEY MUSGRAVES (US)

MOVIN' ON - I've Been Everywhere / Montana Medley / Sweet Prairie Muffin / Rainbow Connection / Chimebells / The Auctioneer / Olympic Yodel / Mama Was The Rose Of San Antone / Whatever Happened To The Yodelin' Cowgirls / Cowboy Moon / When The Bloom Is On The Sage / Can't Shed A Tear / I'll Be Movin' On / America Reach Out Your Hand

05/2003
CD KACEY MUSGRAVES (US)
WANTED - ONE GOOD COWBOY -

Life Of An Old Cowhand (original) / When It's Peach Pickin' Time In TX / If I Could Only Learn To Yodel / Blue Rose Of Texas / Texas Smile (original) / Yodeler's Lament / Wanted: One Good Cowboy / 'Til There's Not A Cow In Texas / Cowboy's Are A Girl's Best Friend / Texas Yodeler / Before My Time (original) / Cherokee Maiden / You're From Texas / Wayfaring Stranger

03/2007
CD KACEY MUSGRAVES (US)

KACEY MUSGRAVES -

Back To Texas / Honkytonk Heartache / Halfway To Memphis / Nothing More / Heart Of Gold / Next Time / You're Still On My Mind / Whispers Of Your Name / Falling / Back Home / Think Of Me / Pieces
03/2013
CD MERCURY B 001802902 (US)
SAME TRAILER DIFFERENT PARK -

Silver Lining / My House / Merry Go 'Round / Dandelion / Blowin' Smoke / I Miss You / Step Off / Back On The Map / Keep It To Yourself / Stupid / Follow Your Arrow / It Is What It Is

06/2015
CD Decca / Nashville 4723507 (US)

Pageant Material -

High Time / Dime Store Cowgirl / Late To The Party / Pageant Material / This Town / Biscuits / Somebody To Love / Miserable / Die Fun / Family Is Family / Good Ol' Boys Club / Cup Of Tea / Fine
10/2016
CD MERCURY 5708422 (US)

Very Kacey Christmas -

Have Yourself A Merry Little Christmas / Let It Snow! Let It Snow! Let It Snow! (Kacey

Musgraves

feat: The Quebe Sisters) / Christmas Don't Be Late / A Willie Nice Christmas (Kacey

Musgraves

feat: Willie

Nelson

) / Feliz Navidad / Christmas Makes Me Cry / Present Without a Bow (Kacey

Musgraves

feat: Leon

Bridges

) / Mele Kalikimaka (Kacey

Musgraves

feat: The Quebe Sisters) / I Want A Hippopotamus For Christmas / Rudolph The Red-Nosed Reindeer / Ribbons And Bows / What Are You Doing New Year's Eve?
03/2018
CD MCA 6733445 (US)

Golden Hour - Slow Burn / Lonely Weekend / Butterflies / Oh, What A World / Mother / Love Is A Wild Thing / Space Cowboy / Happy & Sad / Velvet Elvis / Wonder Woman / High Horse / Golden Hour / Rainbow

10/2020
CD MCA 003129302 (US)

The Kacey Musgraves Christmas Show - Let It Snow / Countdown (interlude) / Have Yourself A Merry Little Christmas / Getting Ready (interlude) / Present Without A Bow / Making A List (interlude) / Rockin' Around The Christmas Tree / (Not So) Silent Night / Christmas Makes Me Cry / Ramp It Up, Dan (interlude) / Christmas Fail (interlude) / Mele Kalikimaka / Cookies (interlude) / Glittery / I'll Be Home (intro) / I'll Be Home For Christmas / Nana! (interlude) / Ribbons And Bows

09/2021
CD Interscope / MERCURY 3581024 (US)

Star-Crossed - Star-Crossed / Good Wife / Cherry Blossom / Simple Times / If This Was A Movie... / Justified / Angel / Breadwinner / Camera Roll / Easier Said / Hookup Scene / Keep Lookin' Up / What Doesn't Kill Me / There Is A Light / Gracias A La Vida
© Rocky Productions 11/09/2021