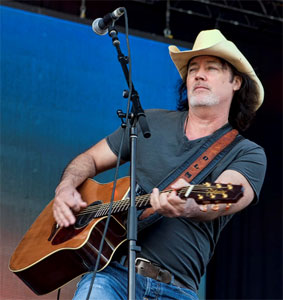 Chanteur Country US né le 7 Janvier 1959 à Herrin (Illinois) .

David Lee Murphy's polished blend of neo-traditional country and mainstream rock flourishes made the vocalist a star in the mid-'90s. Murphy moved to Nashville with hopes of become a star in 1983. For ten years he struggled in the Music City, honing his craft but never catching the attention of the music industry. By the early '90s, he had gained a reputation in Nashville and in 1992 signed with MCA Records. Murphy's first recording was a contribution to the soundtrack of the Luke Perry rodeo movie Eight Seconds.
Out With a Bang, his first album, was released in early 1995. "Party Crowd" became the most-played song on country radio in 1995, and the record's second single, "Dust on the Bottle," spent two weeks at number one. Out With a Bang would go platinum become the best-selling debut album by a male country single for the entire year of 1995. The Academy of Country Music nominated him for Top New Male vocalist at the end of the year.
Released in the summer of 1996, his second album, Gettin' Out the Good Stuff, wasn't quite as successful, although the single "The Road You Leave Behind" reached number 14.
Talents : Vocals, Guitar
Style musical : Contemporary Country, Traditional Country

https://youtu.be/x6DLsf8VG5Y
Years in activity :
| | | | | | | | | | | | |
| --- | --- | --- | --- | --- | --- | --- | --- | --- | --- | --- | --- |
| 1910 | 20 | 30 | 40 | 50 | 60 | 70 | 80 | 90 | 2000 | 10 | 20 |
DISCOGRAPHY
Singles
| | | |
| --- | --- | --- |
| 03/1994 | SP MCA S7-54794 (US) | Just Once / High Weeds And Rust |
| 07/1994 | SP MCA S7-54877 (US) | Fish Ain't Bittin' / Why Can't People Just Get Along |
| 11/1994 | SP MCA S7-54944 (US) | Dust On The Bottle / Mama'n Them |
| 02/1995 | SP MCA S7-54977 (US) | Party Crowd / Can't Turn It Off |
| 12/1995 | SP MCA S7-55153 (US) | Out With A Bang / Greatest Show On Earth |
| 03/1996 | SP MCA S7-55186 (US) | Every Time I Get Around You / Pirates Cove |
| 07/1996 | SP MCA S7-55205 (US) | Road You Leave Behind / Gettin' Out The Good Stuff |
| 11/1996 | SP MCA S7-55269 (US) | Genuine Rednecks / Genuine Rednecks (long version) |
| 02/1997 | SP MCA S7-72000 (US) | Breakfast In Birmingham / One Hundred Years Too Late |
| 06/1997 | SP MCA S7-72008 (US) | All Lit Up In Love / She's Really Something To See |
| 11/1997 | SP MCA S7-72024 (US) | Just Don't Wait Around Till She's Leavin' / Kentucky Girl |
Albums
| | | | |
| --- | --- | --- | --- |
| 08/1994 | CD MCA 11044 (US) | | OUT WITH A BANG - Can't Turn It Off / Party Crowd / Mama'n Them / High Weeds And Rust / Fish Ain't Bitin' / Out With A Bang / Greatest Show On Earth / Dust On The Bottle / Just Once / Why Can't People Just Get Along |
| 05/1996 | CD MCA 11423 (US) | | GETTIN' OUT THE GOOD STUFF - Every Time I Get Around You / Road You Leave Behind / She's Really Something To See / Genuine Rednecks / One Hundred Years Too Late / Born That Way / Breakfast In Birmingham / Gettin' Out The Good Stuff / I've Been A Rebel (And It Don't Pay) / Pirates Cove |
| 09/1997 | CD MCA 70002 (US) | | WE CAN'T ALL BE ANGELS - She Don't Try (To Make Me Love Her) / Just Don't Wait Around 'til She's Leavin' / We Can't All Be Angels / Bringin' Her Back / Kentucky Girl / That's Behind Me / I Could Believe Anything / All Lit Up In Love / Almost Like Being There / Velvet Lies / She's Not Mine / Just Don't Wait Around Till She's Leavin' |
| 02/1999 | CD MADACY 562 (US) | | DOUBLE BARREL COUNTRY - Mark COLLIE : Even The Man In The Moon Is Cryin' / She's Never Comin' Back / Born To Love You / Let Her Go / Hard Lovin' Woman / David Lee MURPHY : Party Crowd / Dust On The Bottle / Everytime I Get Around You / Out With A Bang / Just Once |
| 03/2004 | CD KOCH 8189 (US) | | TRYIN' TO GET THERE - I Like It Already / Same Ol' Same Ol' / Loco / Own Little World / Tryin' To Get There / Inspiration / Ghost In The Jukebox / She Always Said / Mama's Last / Beggin' For Affection / Might Be Me / Killin' The Pain |
© Rocky Productions 31/10/2004