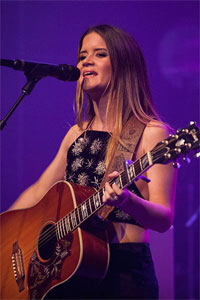 Chanteuse Country US née Maren Larae Morris, le 10 Avril 1990 à Dallas (Texas).

With her 2016 debut album, Hero, and its accompanying hit single "My Church," Maren Morris helped push country music into the 21st century. Morris' music was grounded in country -- prior to striking gold as a performer, she was a professional songwriter in Nashville -- but she also incorporated elements of pop, R&B, hip-hop, and rock, creating a distinctive, stylish hybrid that had wide appeal outside her chosen genre. This sly versatility was evident on her hit singles "80s Mercedes" and "Rich," while her ability to cross over was showcased in "The Middle," a 2018 dance-pop smash she recorded with Zedd and Grey. Even as she broke into the pop Top Ten with 2019's Girl, Morris maintained strong country roots, as evidenced by her pivotal part in the supergroup the Highwomen. She began the next decade with several collaborations and solo singles like 2020's "Better Than We Found It" and "Circles Around This Town," which heralded the release of her third album, Humble Quest, in 2022.
A native of the Dallas suburb of Arlington, Maren Morris was drawn to music as a child. Picking up guitar at the age of 12, she soon started writing songs. At 15, she released her first album, Walk On, on Mozzi Blozzi Music. A second independent album, All That It Takes, arrived on Smith in 2007, while Morris was attending the University of North Texas. Following a third indie album, Live Wire, in 2011, she relocated to Nashville. The New Music Seminar named her an "Artist on the Verge," which helped her secure work as a professional songwriter in the Music City.
Signing with Yellow Dog publishing, Morris quickly placed songs on albums by Tim McGraw (2014's Sundown Heaven Town) and Kelly Clarkson (2015's Piece by Piece). All the while, she continued to work on her own music, opening for a variety of artists while recording on her own. Morris placed "My Church" on streaming services in mid-2015 and it quickly went viral, earning over 2.5 million streams within a month and, along with it, the attention of major labels. Morris wound up signing with Columbia Nashville in September 2015, and the major put out an eponymous digital EP in November, working "My Church" as a single to country radio.
During the early months of 2016, "My Church" began its climb into Billboard's Country Top Ten -- it peaked at nine on Country Airplay, five on Country Songs -- setting up the release of Hero in June. Greeted by critical acclaim, Hero debuted at number one on Billboard's Country Albums chart and five on its Top 200, spinning off the hit "80s Mercedes" by the end of the year. All the activity elevated Morris to the front ranks of country music stars: she was nominated for four Grammy Awards, taking home the trophy for Best Country Solo Performance; she won New Artist of the Year from the Country Music Association; and she earned a performing slot on Saturday Night Live in late 2016. As a deluxe edition of Hero hit stores in early 2017, Morris toured both as a headliner and an opener for Sam Hunt, while "I Could Use a Love Song" made its way to number one on Country Airplay later in 2017 (it reached seven on Country Songs). Following the mass shooting at the Route 91 Harvest Festival in Las Vegas -- an event at which she played the night before the tragedy -- she wrote and recorded the topical "Dear Hate" with Vince Gill.
Morris broke into the pop mainstream in 2018 with "The Middle," an effervescent dance-pop tune she recorded with Zedd and Grey. Reaching number five on the Hot 100, "The Middle" introduced Morris to new audiences, who were then given "Rich" -- one of the album's glitziest, cleverest songs -- as a belated single from Hero; it went to four Country Airplay, eight on Country Songs.
Early in 2019, Morris announced her second album with the release of its title track, "Girl." An anthem of empowerment delivered in the midst of an ongoing controversy about the lack of women on country airwaves, "Girl" climbed to number one on Country Airplay. Its accompanying album debuted at number one on Billboard's Country charts, number four on the Top 200. The second single from Girl, "The Bones," only went to 57 on Country Airplay in mid-2019, but by that point Morris' attention had turned to the Highwomen, the supergroup that included her, Brandi Carlile, Amanda Shires, and Natalie Hemby. The Highwomen played their first live show at the 60th Newport Folk Festival in July 2019, with their eponymous debut album arriving in September; it was released on Elektra. In 2020, Morris picked up a Grammy nomination for her song "Common" off Girl, which featured Brandi Carlile. The non-album single "Better Than We Found It" arrived in October 2020. After a 2021 collaborative single with Joy Oladokun called "Bigger Man," Morris kicked off 2022 with her next solo track, "Circles Around This Town."
"Circles Around This Town" was the first single pulled from Humble Quest, an album Morris made in collaboration with Greg Kurstin, a pop producer best known for his work with Adele, Beck, Paul McCartney, and Foo Fighters.
https://en.wikipedia.org/wiki/Maren_Morris
Talents : Vocals, Guitar, Songwriter
Style musical : Contemporary Country, Country Pop

https://youtu.be/b2fPr0FHQEA
Years in activity :
| | | | | | | | | | | | |
| --- | --- | --- | --- | --- | --- | --- | --- | --- | --- | --- | --- |
| 1910 | 20 | 30 | 40 | 50 | 60 | 70 | 80 | 90 | 2000 | 10 | 20 |
DISCOGRAPHY
Singles & EP
2015
SP Columbia 88875-16993-7 (US)

My Church / 80's Mercedes

2016
CD SONY ? (EUR) (promo)

My Church / 80s Mercedes / Drunk Girls Don't Cry / I Wish I Was / Company You Keep

2017
SP Columbia

88985-44726-7 (US) (transparent red)

I Could Use A Love Song / Bummin' Cigarettes
Albums
2004
CD Mozzi Blozzi 5254 (US)
WALK ON - Hit the Ground / Girl I See / Thank You / This Livin' / Rain / Popular Girl / Barrelhouse Blues / Better Days / Walk On / Help Wanted
10/2007
CD Image Entertainment / Smith Entertainment 7073 (US)
ALL THAT IT TAKES - Don't Stay Away / Dangerous / Down On My Knees / Me & The Moon / Goodbye / Can't Do This Alone / What You Need / Oh Marie / All That It Takes / Here I Am / Fragile / Love That Was Never There / Maren Morris / Sunkissed Days
2011
CD Mozzi Blozzi MBR 040102 (US)

Live Wire -

Born Again / The Guitars Are Too Loud / The Willow Tree / Run To You / The Letter / Best Of Me / Moving On / Live Wire / Nothing At All / The Light / Truth
06/2016
CD Columbia 88875168852 (US)
HERO - Sugar / Rich / My Church / I Could Use A Love Song / 80s Mercedes / Drunk Girls Don't Cry / How It's Done / Just Another Thing / I Wish I Was / Second Wind / Once
03/2019
CD Columbia 19075901862 (US)
GIRL - GIRL / The Feels / All My Favourite People / A Song For Everyone / Common / Flavor / Make Out With Me / Gold Love / Great Ones / RSVP / To Hell & Back / The Bones / Good Woman / Shade
03/2022
CD SONY 19439965712 (US) (limited edition)

Humble Quest - Circles Around This Town / The Furthest Thing / I Can't Love You Anymore / Humble Quest / Background Music / Nervous / Tall Guys / Detour / Hummingbird / Good Friends / What Would This World Do?
© Rocky Productions 26/03/2022